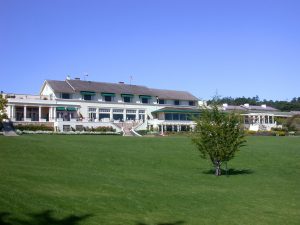 Two of golf's greatest courses in the world, Pebble Beach and Spyglass, are situated along 17-Mile Drive – the most beautiful stretch of oceanfront property in California's Monterey Peninsula.
Our Sloth Suite at The Lodge at Pebble Beach boasted stunning, panoramic views of the 18th hole and Pacific Coast, each depending on which window you gazed from our living room suite!
Neil Hotteling Director of Corporate Affairs at Pebble Beach placed us in the Sloath Suite- and what living this is! Since Pebble Beach Golf Links officially opened on February 22, 1919, it has been titleholder to one of the world's most prestigious turf spots to swing a stick.
The Pebble Beach we know today was the dream of Samuel Finley Brown Morse, a distant cousin of telegraph-inventor Samuel Morse. Until his death in 1969, he worked tirelessly to preserve the area's natural beauty by ensuring that easements would protect hundreds of acres of forest and coastline along the 17-Mile Drive for future generations to enjoy.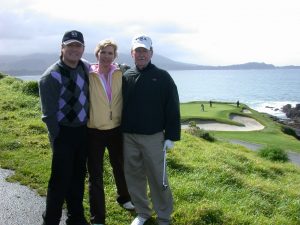 Second only to St. Andrews in Scotland, Pebble Beach has the history and pageantry to match the world-class qualities that lure golfers here. At an average of $500 per player, Pebble Beach is pricey, but we feel the experience is well worth it.
This is indeed a challenging course. We suggest you take a caddie who will help you shave at least 10 strokes off your score!
The 1st tee at Pebble Beach is possibly the most intimidating in the world. Your play is watched from the restaurant seats and townhouse suites and will be literally met with silence unless you hit a sweet drive that will garner subtle applause.
Carts must stay on the cart-path. There are times you will walk to your ball and realize you needed a different club, so your caddie will be worth the price here alone for club suggestions.
On this day we had intermittent drizzle and sunshine which only made the game more interesting. There are several areas that are downright hazardous featuring shear drops to the ocean below. Simply, drop a new ball and keep moving!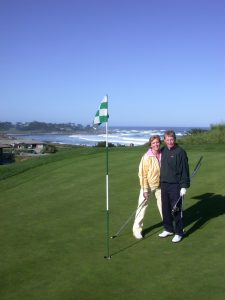 The tempo at Pebble Beach never stops moving and the friendly marshals will gently help you along if you get too distracted by the multi-million dollar houses and picture-perfect ocean scenery. Our favorite holes where the notorious par three 7th on the ocean and the challenging par five 18th.
At the end of your game, you are presented with a Pebble Beach / Spyglass medallion for your golf bag. This is a good time to hit the 19th hole to reminisce the day's achievements.
Take a walk and take in the history within The Lodge. There are several good restaurants and boutiques on premise. We suggest the sports bar Sticks for quick drinks. They have a wonderful ice-cream sundae that will put the calories back on for our next day's venture to Spyglass.
Spyglass is the "Diamond in the ruff" of 17-Mile Drive. During our 6:50am tee-off, the sparkling morning dew and white-tailed deer were in abundance. What an incredible 1st tee. We felt as if we had this course all to ourselves. There was absolute stillness. And with the canopy trees around Spyglass, one feels as if you are amongst the friends of nature. Exactly the way Samuel Finley Brown Morse envisioned it.
There was nothing but wide fairways and we saw a eight-point buck deer running down the middle as we approached the green.
With its large pine tree forest blending onto windswept beaches, and several holes mingled within-the layout at Spyglass is spectacular. We didn't use a caddie here and our carts were allowed to take us where ever the ball carried us.
The morning shadows and light make for some interesting perspectives when drawing near the greens. One needs to walk several feet around the ball to get a good feel of the angles. This course is famous for its perilously steep sand-traps. If you do not pitch out away from these deep traps, you will cascade into another and learn the true meaning of being trapped.
Water surrounds many of the inner course holes and there are several elevated tees to enjoy. Spyglass was the perfect "bookend" to our Pebble Beach adventure and we look forward to visiting these two gem courses again.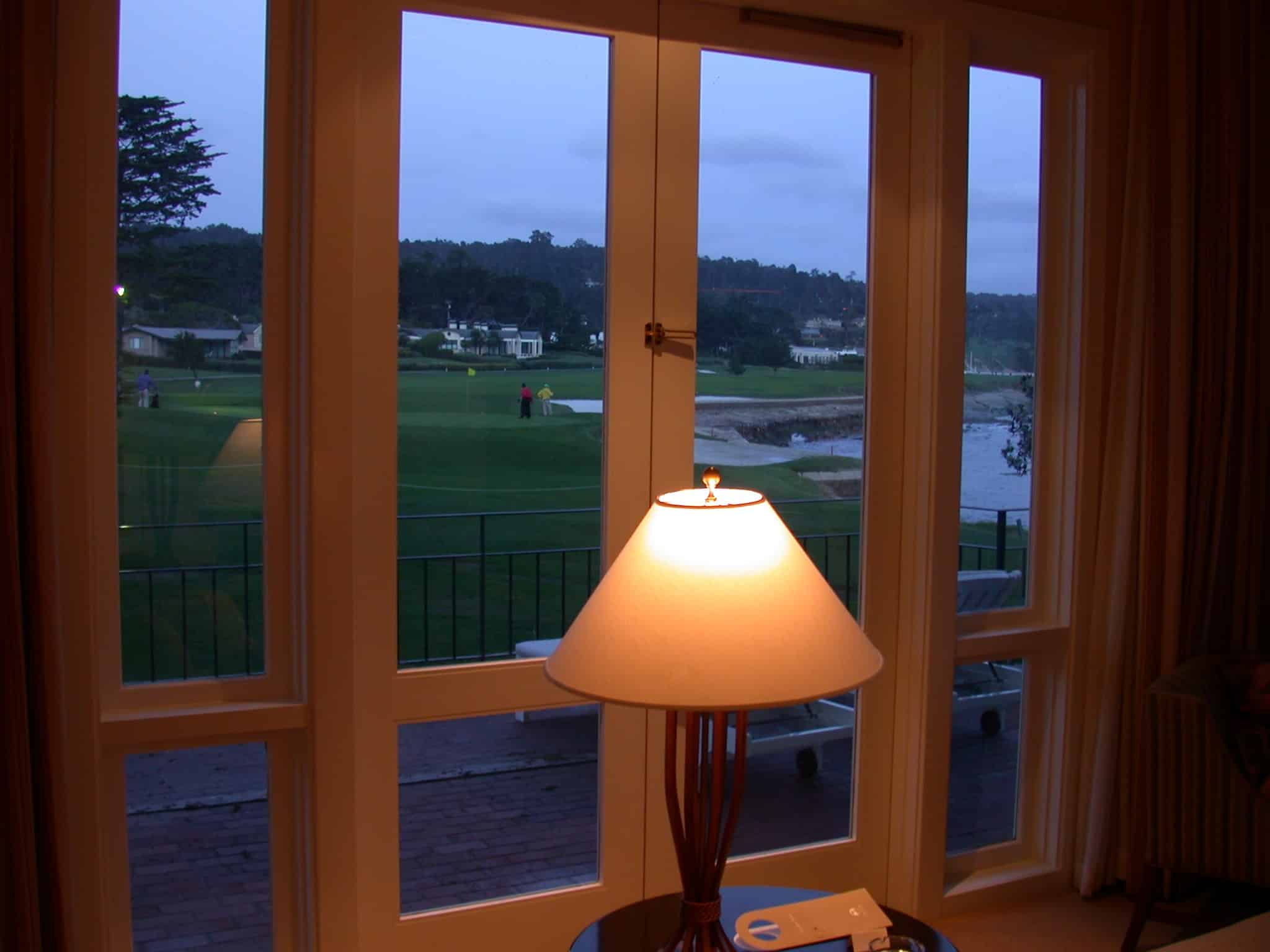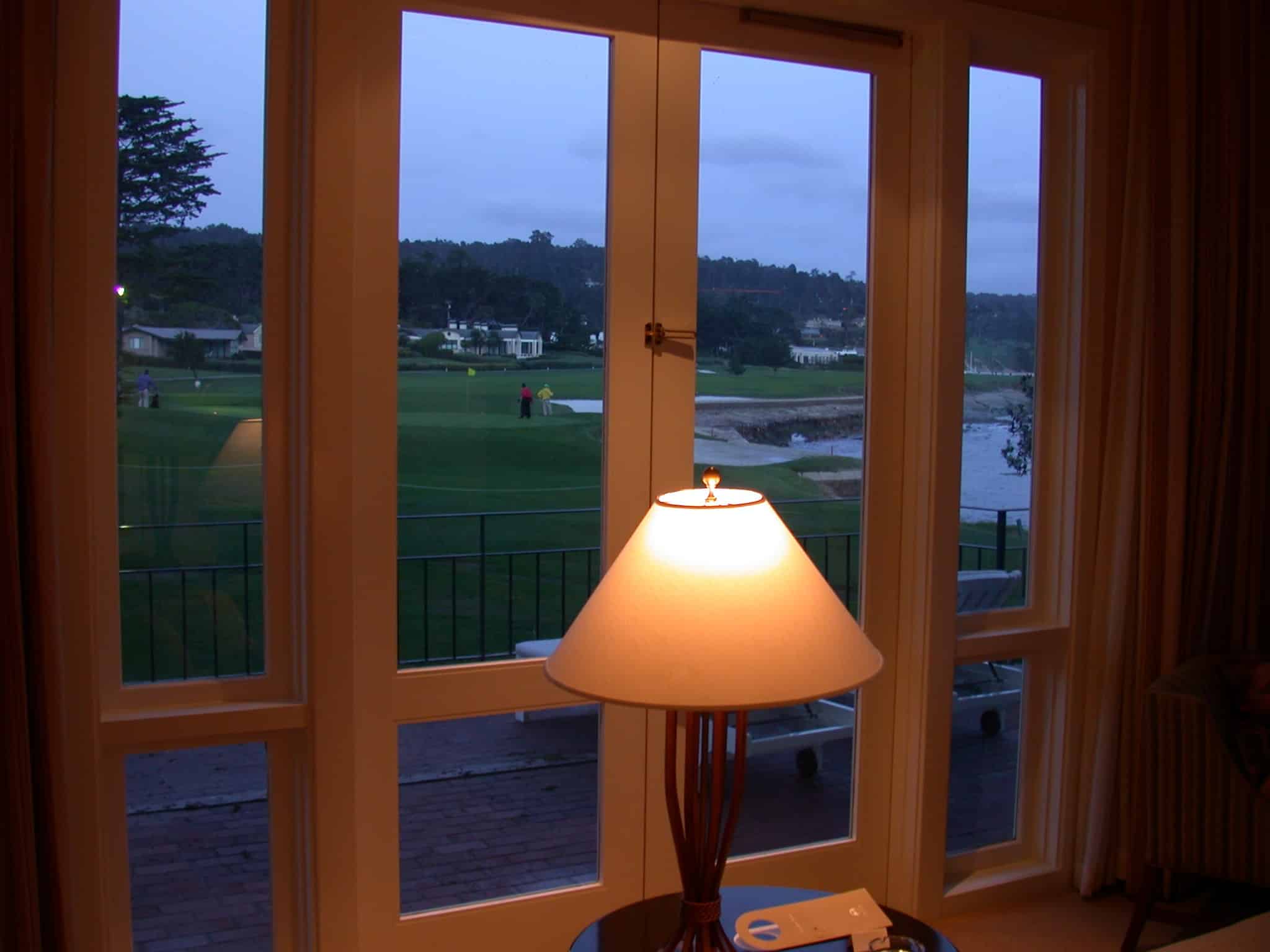 Pebble Beach and Spyglass
Article and Photos by Michael Castello