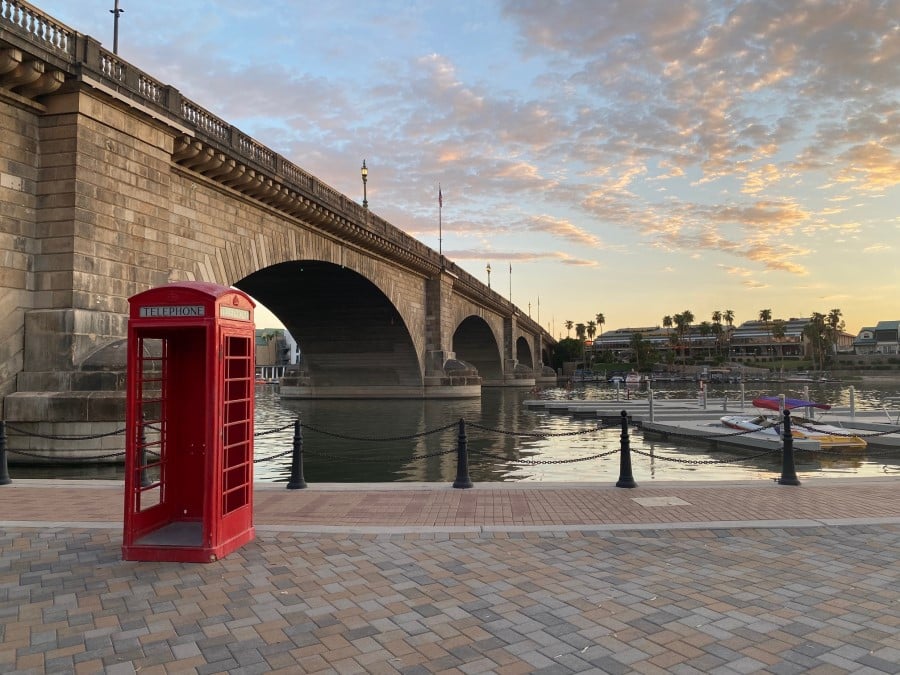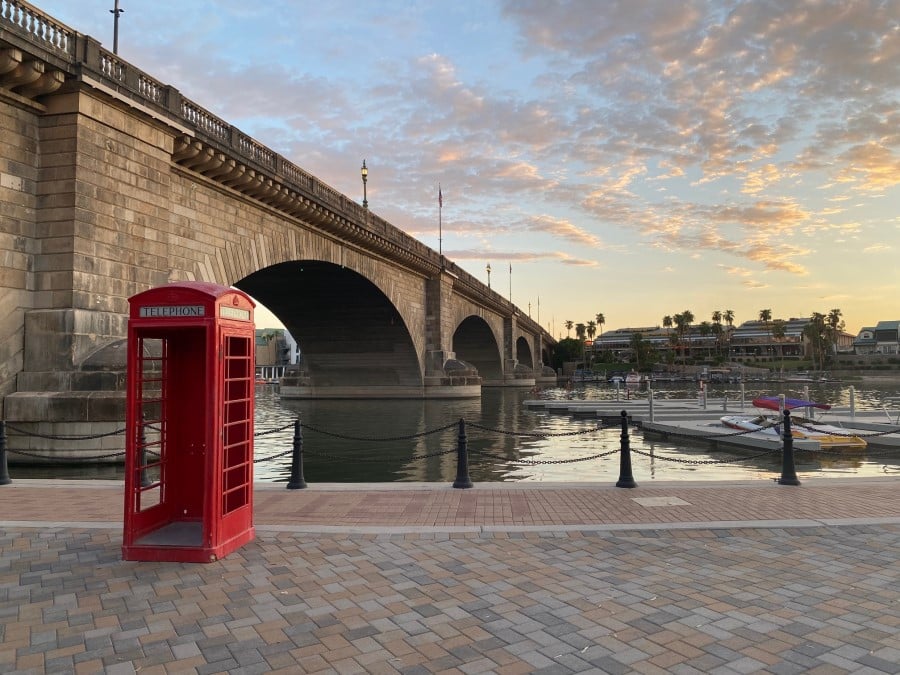 Most would find 118 degrees to be unbearable, but there are travel destinations in the world that routinely reach summer temperatures that high and many plan their holiday vacations there. California boasts Palm Springs and Arizona hosts the London Bridge at Lake Havasu City.
While I was visiting my in-laws in Ohio this summer, my long-time friend Keith texted me that he had just spent $100k on a new jetboat. I congratulated him for finally holding up his part of a deal we made some 22 years ago. Back in 2000, we had families with young children. We reasoned that it was the perfect time to purchase watercraft. We both lived near Marina del Rey in Los Angeles which is the largest man-made marina in the world with over 5000 boat slips. Marina del Rey was also where I met Keith, who was a bar manager at a restaurant called Casola's. He was kind enough to hire me as a bartender after moving there from New York City. Water was always our companion and Los Angeles also boasts nice freshwater reservoirs like Pyramid Lake.
I went out to the local Yamaha dealership and viewed a four-seat wave runner. I figured the craft could accommodate me, my wife and two children. It was a beast, but I quickly realized that children grow, and four people on that wave runner was going to get crowded real quick. I spotted a 20-foot boat that had 8 seats and 8 cup holders. That was the perfect boat for my family with tons of possibilities for the future.
Keith never did hold up his end of the deal at the time. No matter, we had 8 seats and were able to accommodate both families. I would say that the boat purchase was worth all the adventures and fun we had on the water over all those years. I still have that boat and have taken it with Keith to Lake Havasu several times since then.
Keith's new boat was a nice 25-foot Yamaha 252SD. Better late than never. He proceeded to tell me he had no idea how to drive a jet boat and asked if I could drive out to Lake Havasu for a few days before Labor Day to help him back up the boat into the water and show him how to operate it.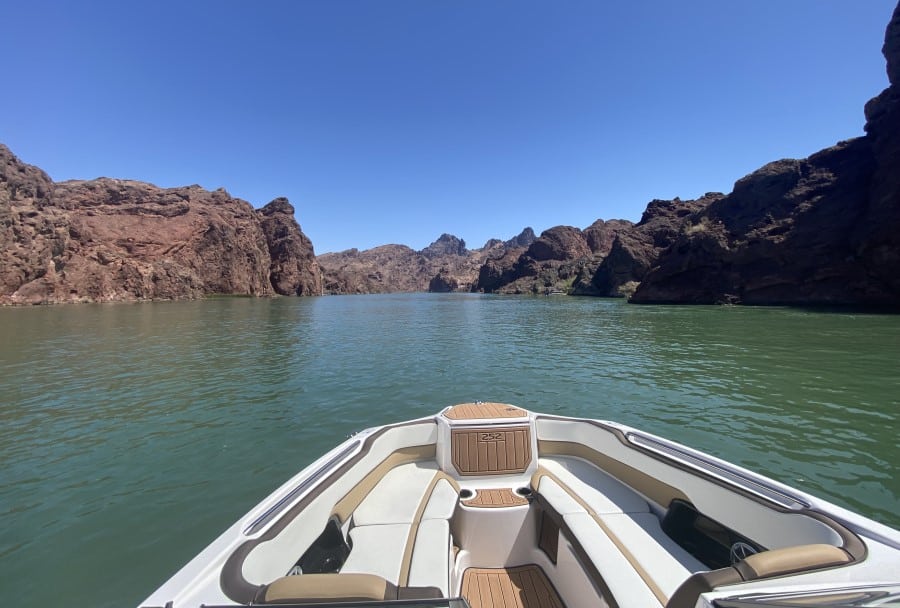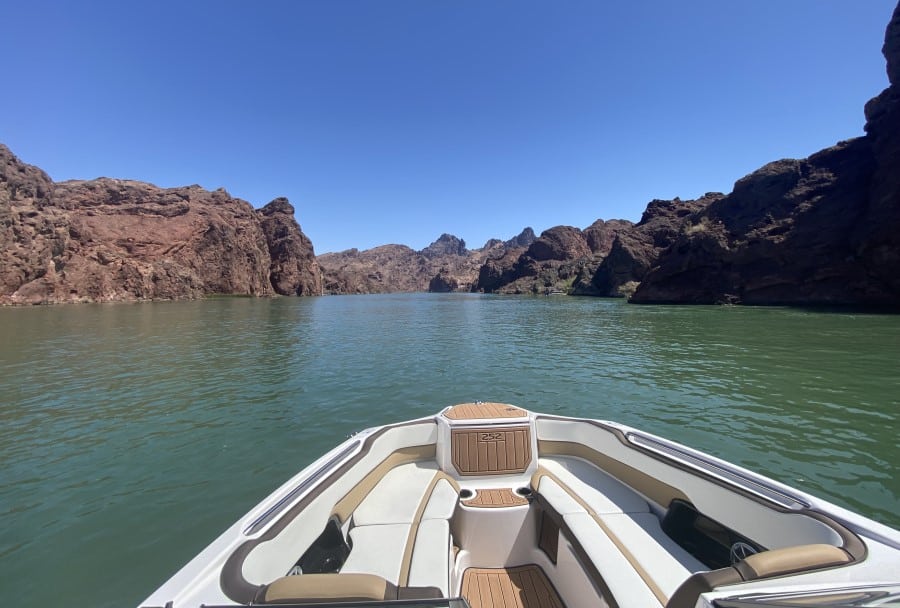 If anyone has ever dropped a boat at Havasu, they understand it's like driving for the first time in NYC after crossing the Hudson River-its super stressful. There are hundreds of trucks and boats quickly taking multiple parallel lanes at the boat ramps. You must quickly back up your boat into the water. New boat owners should avoid this chaos or else you are likely to crash into one pf the other boats. Labor Day along with July 4th and Memorial Day are, simply put – crazy in Havasu.
I understood Keith's reasoning in asking to go, so I agreed. I was to fly back from Ohio to LA late at night and then the next morning drive five hours to meet up with him. I like Lake Havasu. It has its own celebrity.
Lake Havasu was just another hot, dry swath of land in the desert. In 1958 real estate developer Robert P. McCulloch founded Lake Havasu City when he purchased 3,353 acres of property on the east side of the lake. McCulloch's real estate agent, Robert Plumer, was having a difficult time trying to persuade potential home and landowners to relocate to the area. While his property was essentially on the Colorado River, the area was hot, dry and quite far from other areas of development.
McCulloch's real estate agent learned that London Bridge was for sale and convinced McCulloch to buy it in a bid to bring it to the area to attract potential visitor and ultimately buyers. This particular London Bridge that was purchased was originally built in the 1830s and formerly spanned the River Thames in London, England.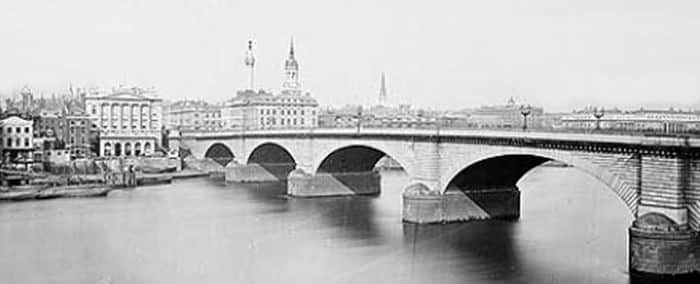 McCulloch agreed "to the craziest idea he had ever heard of" and purchased the bridge for $2.46 million (at that time) and exterior granite blocks from the original bridge were cut and transported to the Arizona area. The bridge along the canal was completed in 1971, connects the island to the main shore along the river. The river is the border is the state line between California and Arizona and is patrolled as a federal waterway by both the coastguard and state's sheriffs.
As I headed out to Havasu from the LA area, I was acutely aware of the long drought on the west coast and a heatwave that was hitting the desert the same time I was to be on the waterway. I've been to Havasu with my boat previously when it was 120 degrees, and I knew what I was in store for. Most new visitors don't realize that around 14 people a year die in the area for a multiple of reasons. One, being that people tend to drink a lot, and alcohol causes dehydration. Between being dehydrated and hot, one can pass out and drown. I even bring along water-filter straws in case I am in need of water and can drink directly from the river. It is important to bring lots of water, wear a life vest and be aware of your surroundings as the waterway hosts some of the fastest boats on the planet. People like their freedom in Havasu but that comes along with responsibilities. Heed the warnings and alerts so as to not be one of the statistics.
I looked up the water levels wondering if there was even enough water to enjoy the area without hitting the sand bars. The website showed that Lake Powel, which feeds in the river, was at 28% water capacity and Lake Mead, which feeds into Lake Havasu was at 32%. Surprisingly, the Colorado River from Lake Mead to Lake Havasu was at +6%! Lake Havasu does not vary more than 5 feet and, in the summer months, is consistently 98% or more full. California has the largest entitlements to these lakes, and Lake Havasu serves as a balancing reservoir.
Things were looking up.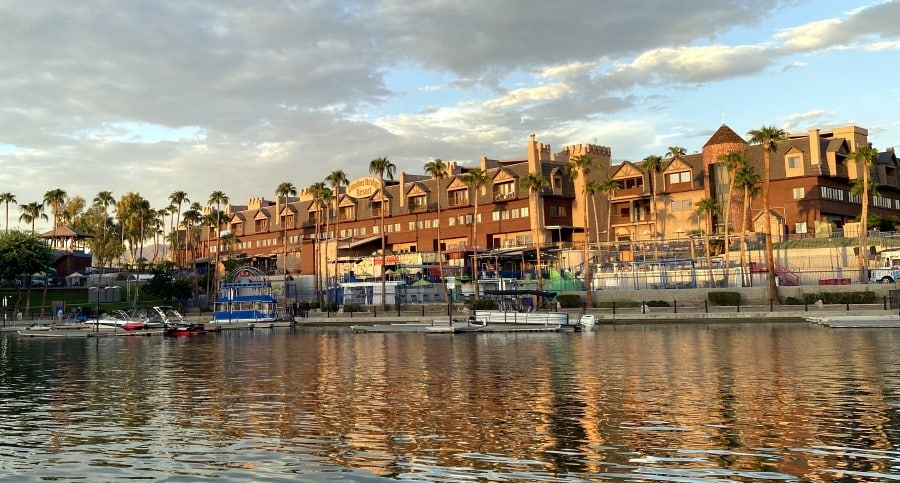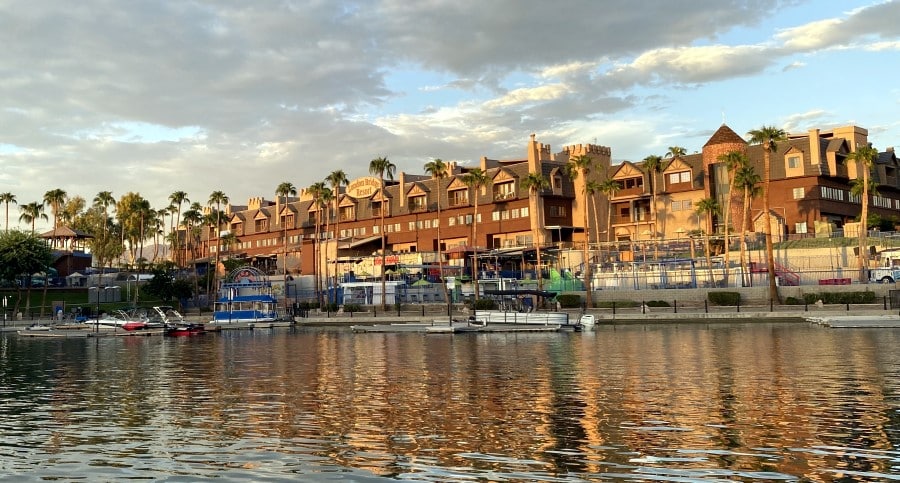 I had made reservations at the London Bridge Resort (SV) at 1477 Queens Bay, Lake Havasu City, Arizona 86403. I'd stayed there before and they have boat slips right on the river next to the bridge. Since there were three of us, I rented the two-bedroom Bridgeview resort suite. Two of us had our own rooms with a shared bathroom and the other had a pullout sofa bed with an additional bathroom and shower. There is a spiral staircase that leads to a large upper rooftop deck with a view. The price was $400 a night. Smaller rooms go for around $200 a night. The boat slip is an extra $50 a day.


The resort hosts many events around the pool area with outside service. The music and partying can get loud at times. If you are the partying type, you will love it. If you want more quietness, I suggest you reserve on the other side of the hotel. If you like golf, Bridgewater Links Golf Course is connected to the hotel and there are also beaches along the canal and adjacent island park.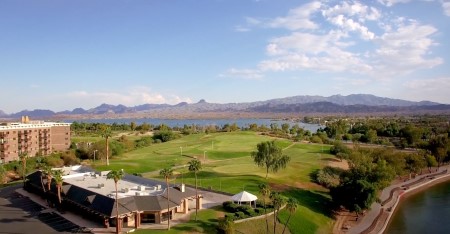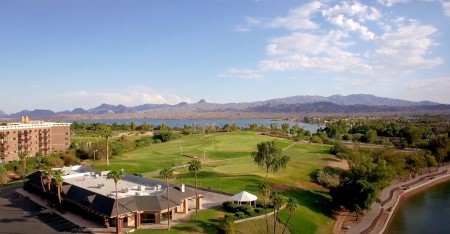 The first day I was there I helped get the boat into the water. Since it was a couple days before Labor Day, there was a slow stream of boaters dropping the craft into the water at Windsor Boat Launch (SV) at 699 London Bridge Rd, Lake Havasu City, AZ 86403. There are several separate ramps there and a huge parking lot to prep your boat.
Once I got the boat in the water, it was a short distance to the inlet to the canal that reaches the London Bridge. The slip was open and easy to tie up the boat. The 118 degrees the first day was brutal until I made it to the front desk where they gave me as much cold-water bottles as needed. Once you check in the front desk, they will give you stick-on tags to put on your car and boat which will allow you to park your car anywhere in their lot and dock your boat in any of their slips.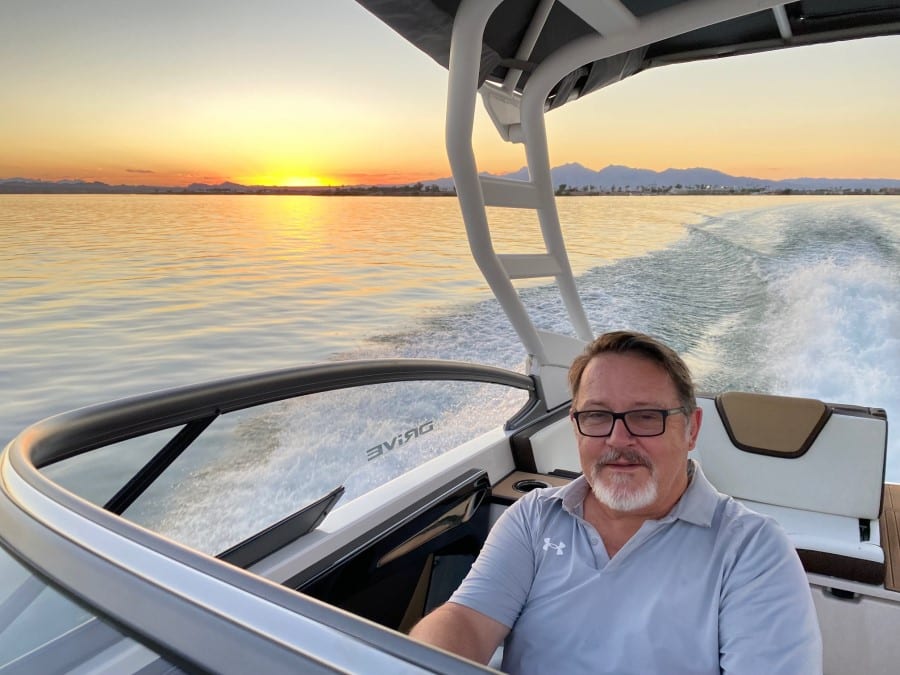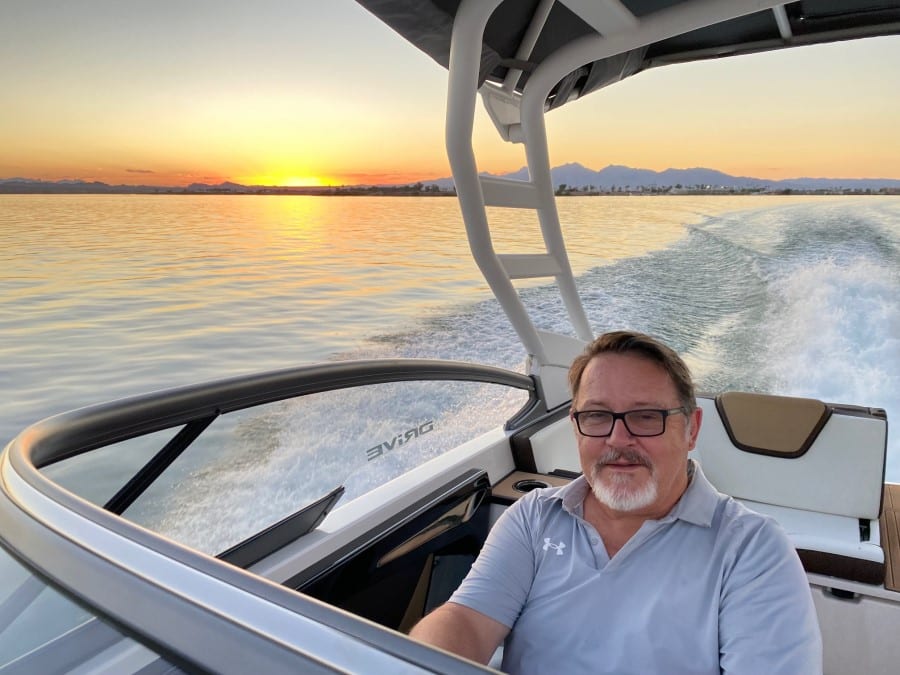 The three of us then took the boat out as the sun was setting. The mountains and desert along with the vast river are an awesome sight. I love the desert and its one of the reasons I registered PalmSprings.com back in the early 90s. The weather is similar but there is no Colorado River. As the sun went down we drove the boat to the middle of the river and put on the music, boat lights, installed the underwater boat seats, and waded in the 90-degree water. When wading in Lake Havasu, locals will zip up their life vests and put their legs through the arm holes to wear it like a diaper. It doesn't look like you are wearing a buoyancy vest and you can get a tan while bobbing around in the water. The water in Havasu doesn't get deeper than 40 feet and most areas are around 15 feet or less in depth. We headed back to our hotel slip and enjoyed a great dinner at the Martini Bay Bar and Grill which is located on the main floor of the hotel. Food and service were great and well worth it. We actually ate there each night it was so good.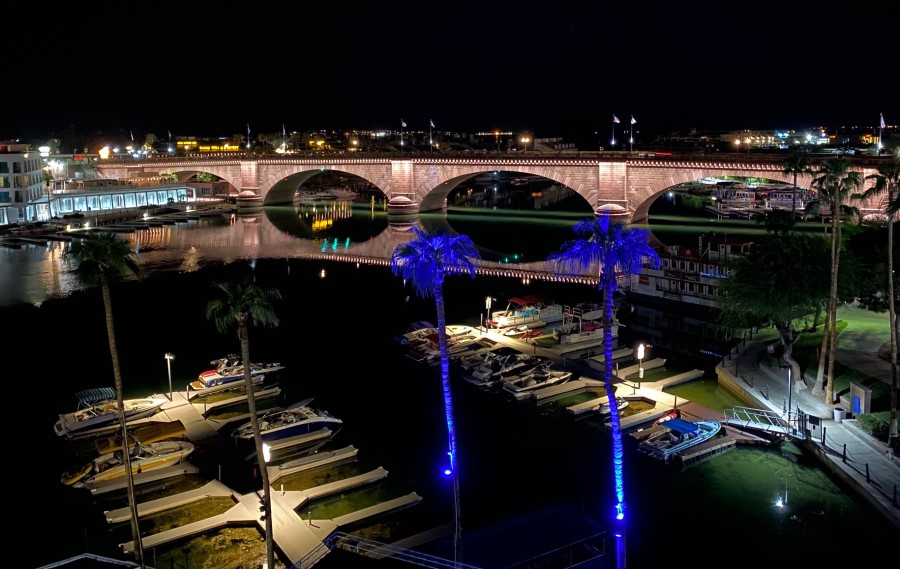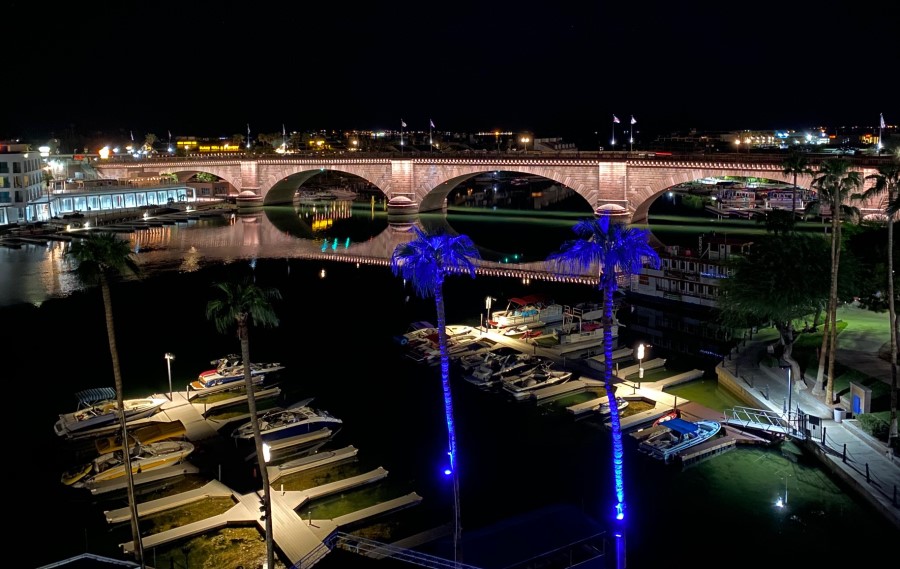 The next day we set out for the river. If you like driving a boat for endless miles, the Colorado River is the place for you. It's amazing to think this river flows down from the Grand Canyon. It is the most recreational river in the world in my opinion. Heading north, the river is somewhat narrow in areas, but the desert scenery is stunningly beautiful. In this desert, it is mostly blue skies, and you should have a Bimini top on your boat or you will literally fry. I watched the wave-runners, that are open to the elements, and hope they have a safe place close by to get out of the sun. You have to be prepared for the desert to enjoy it. I would not recommend tubing, waterboarding or skiing in the river when the river is busy during the summer weekends and holidays. The mix of heat, tanning oil, and beer drinking can make this river dangerous at times.
We stopped several times while heading north to swim in the water. When the temperature is 118 degrees, the faster you are moving, the hotter the air feels. It is like a blast furnace and the river water north of Havasu Island is much cooler and refreshing to swim in. There is a place about 7 miles further north called the Sand Bar. It's obviously shallow, maybe two to three feet deep and is marked by buoys. The Sand Bar gets pretty crazy when busy. Imagine Mardi Gras meets Ibiza. Beware and be aware, the sheriff boats can make a sudden surprise to make your time on the river limited if you are drinking or partaking in illegal activities. Remember, the river is a federal waterway and besides the sheriffs, the Coast Guard also has control over the water.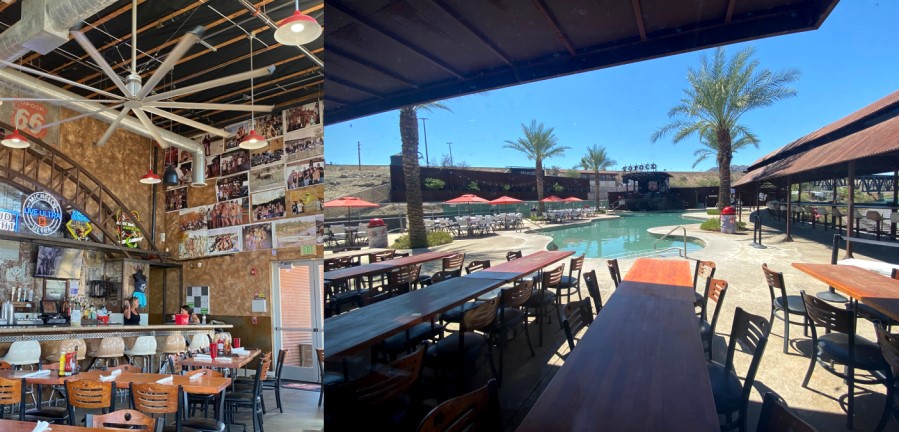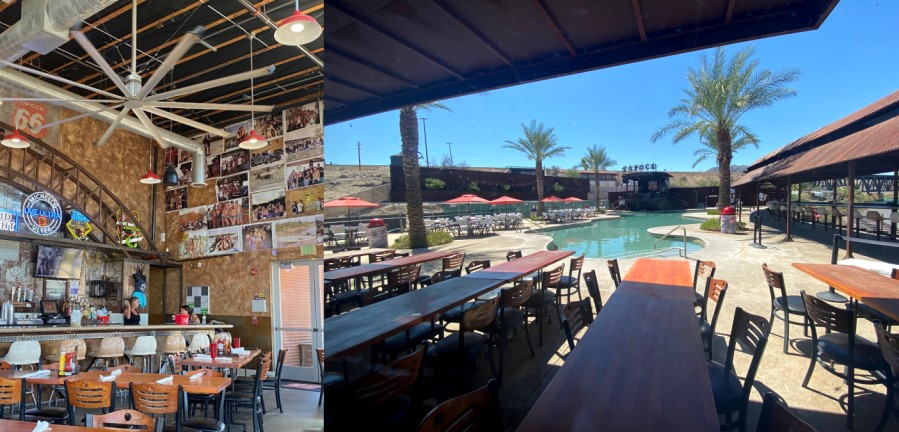 Another 15 miles further north you will see the 40-highway bridge that crosses the river. On the north right side of the river is a marina to gas up and a restaurant for a drink and a bite to eat. This place has grown over the years and is now called Topock66 (SV). Once a small watering hole on the famous Route 66, it is now somewhat of a tourist attraction with an interesting history. It can handle hundreds of people with a pool and inside and outside seating. You can drive your car to it but the adventure is in pulling your boat up to it. That is what makes it special.
I decided to venture north and came upon an area I was surprised to see- a political oasis on the river filled with RVs, boats and hammocks. To say these folk are politically right-leaning is an understatement. People with boats share a common slogan "Don't Tread on Me". People along the river here wear it on their sleeves and flags.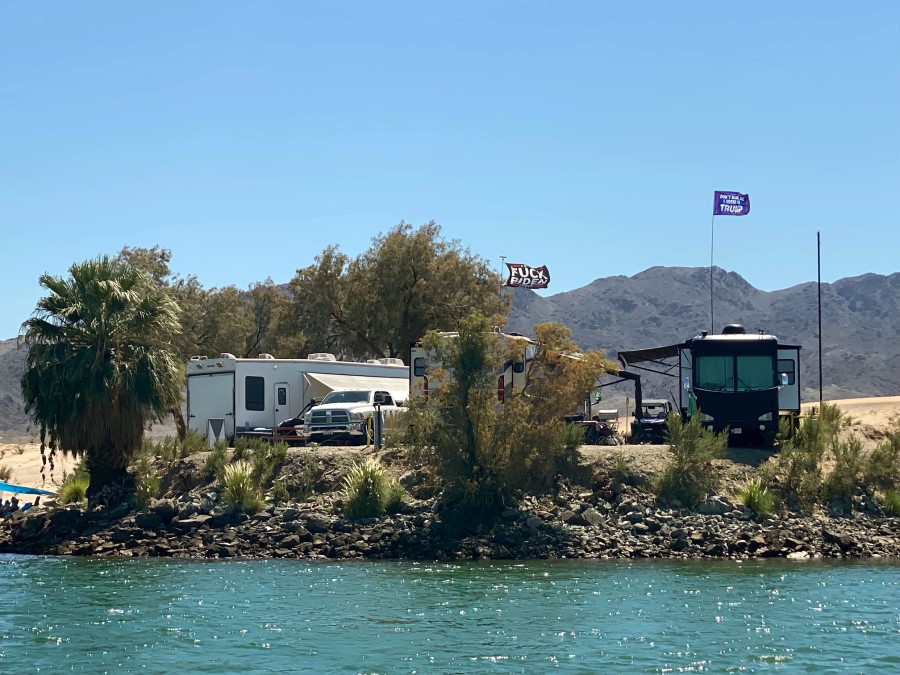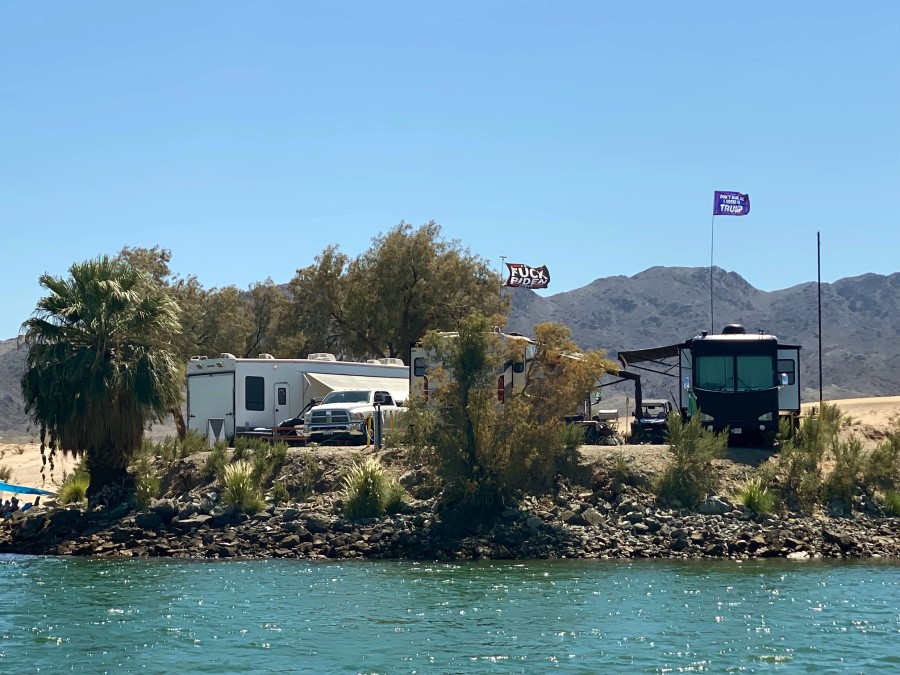 There was also a cove that I would have never seen but for the signage at the mouth of the entrance which read-Pirate Cove Resort (SV) 100 Park Moabi Rd, Needles, CA 92363. I was intrigued to slowly move my boat on into the narrow river. Could these be the desert pirates that I had always heard about? It was actually a small resort with several boats and people wading in the shallow water. There is a mockup pirate boat in the canal and a large platform for ziplining. Their website, that I later checked, never seems to work. That may be the reason there were few visitors staying there at that time, but this place has a lot of potential if they just knew how to market the place. It is way off the beaten path but may be a great place to stay and put in your boat on the river.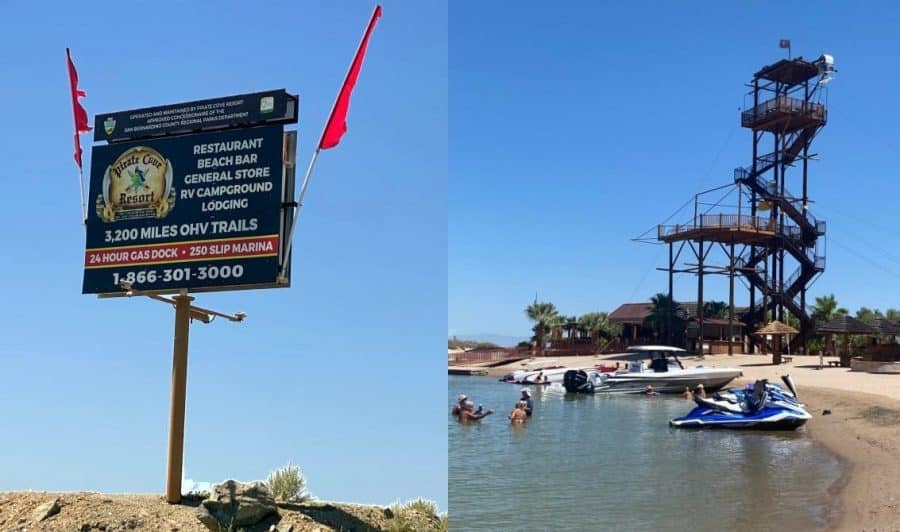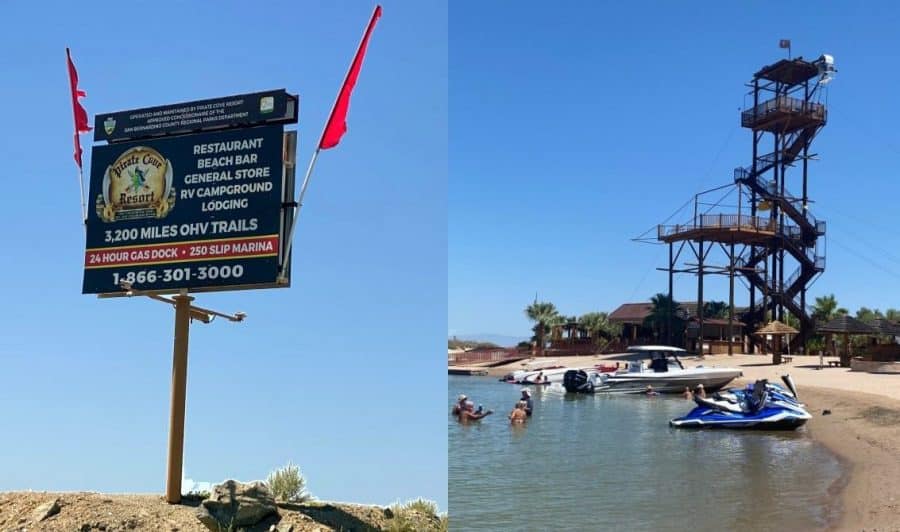 We ventured back to Havasu Island and decided to drive the boat to another well-known place on the river called Copper Canyon. It has a jagged 45-foot rock steeple to jump from to the delight of those that park their boats there but be warned-there is an underwater ledge from the jump point. You MUST jump out far enough or you can be maimed or killed. The other warning–once you are in the canyon, other boats will park in front and around you. There is only so much space in the canyon. On busy days you can get locked into the canyon without an escape until sunset.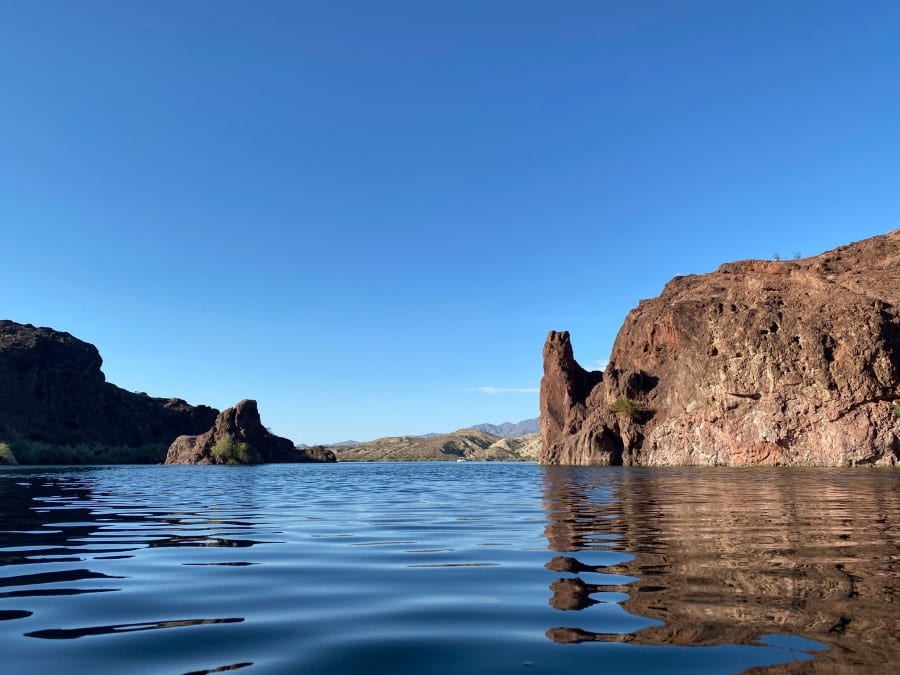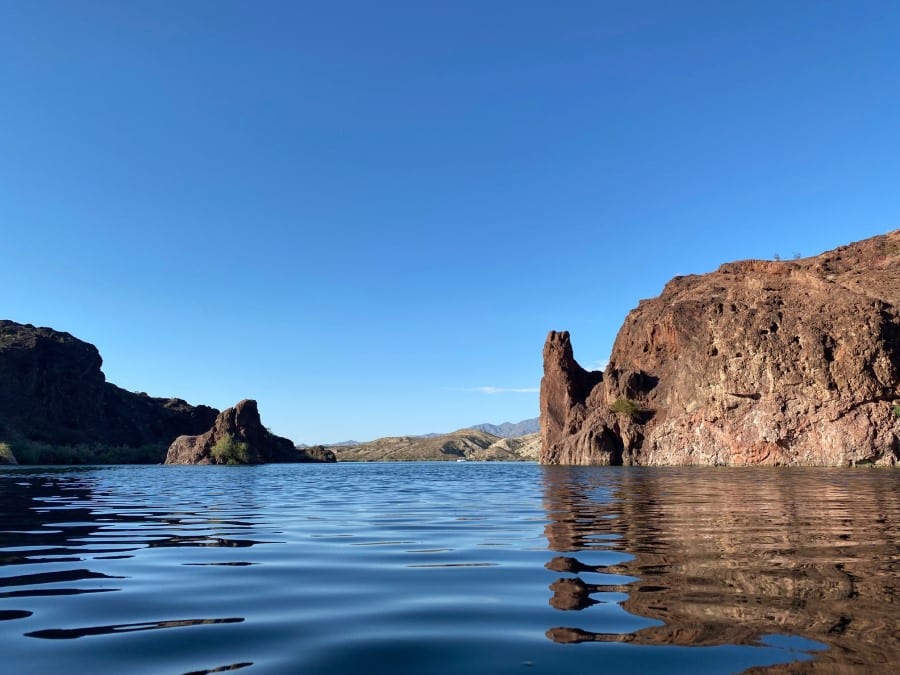 On the second night we went to a watering hole downtown which has been there for at least 20 years called the Desert Martini (SV) at 2120 McCulloch Blvd N, Lake Havasu City, AZ 86403. As their signature drink, they serve a large glass goblet filled with beer with a green olive as a garnish. We enjoyed playing their table shuffleboard which is still there after all these years.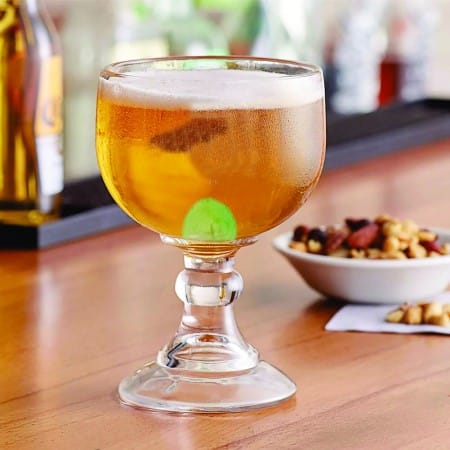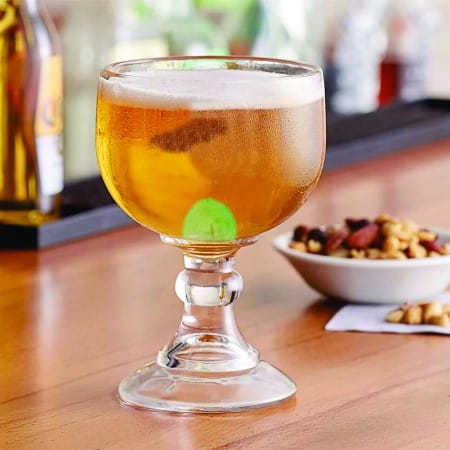 Our third and final day included an early morning meal at the best breakfast eatery in all of Lake Havasu. Makai Café (SV) 1425 N McCulloch Blvd, Lake Havasu City, AZ 86403 is located just across the London Bridge on the island. Great food and service. Our waitress Ciera was so charming I had to include her in my photo experience.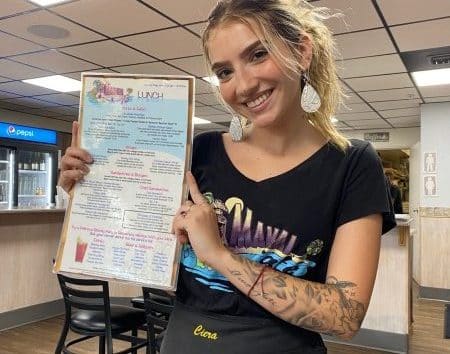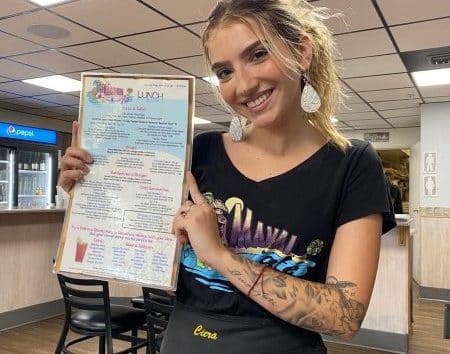 While the 5-hour ride back home to Los Angeles was long, I will continue to make that drive, with boat in tow, to visit Lake Havasu and its incredible Colorado River. There is really nothing like it and should be experienced.