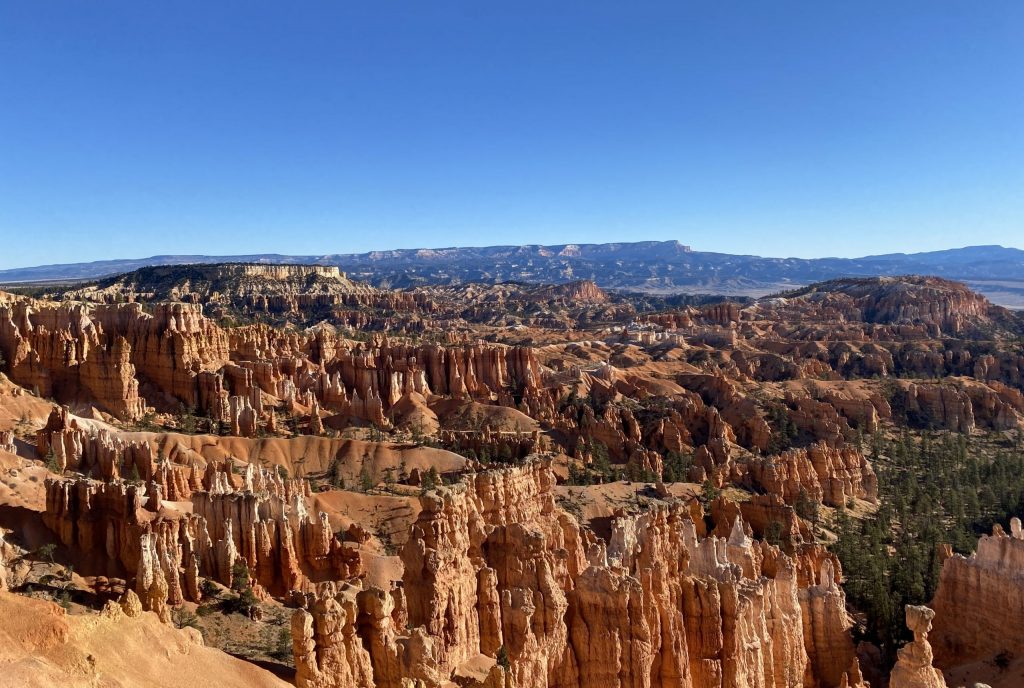 My Utah Road Trip
9 months in quarantine. March 2020 to December 2020. Stuck in California. I must admit, not a bad place to be stuck in. But as someone who likes to travel, I was feeling sad and wanted really badly to go somewhere new, but also do it safely amidst Covid. Turns out, my Utah road trip is one of my favorite trips so far.
That's when my boyfriend suggested driving up to Utah.
Honestly, it didn't sound like such a great idea. Utah. What's in Utah? But he said we can make our way up to Salt Lake City and see what all the hype is about. So that was what made it more tempting, seeing a new city. But I'm going to be quite honest with you, Salt Lake City was probably the thing I liked least about our Utah road trip.
A 6 day trip, 11 ½ hour drive both ways split up to make it more fun. I will warn you though, there is lots, and lots of driving for this trip, as we will be going all around Utah. I thoroughly enjoyed it, although maybe it was because I didn't do half as much driving as my boyfriend did, but still. If you want a really great Utah road trip, this is for you.
Because this road trip involved lots of driving, and in cold weather and possibly rain/snow, I convinced my boyfriend to rent a big chevy silverado pickup truck. I am so so glad we did this. It made for a comfier ride, safer ride, and you were just so high up in that big truck you could see everything. And only for $24 dollars a day! ( @ hertz ) Split between the two of us, $12. A STEAL!
LET'S START FROM THE BEGINNING.
Day
One
WHAT WE DID:
The Seven Magic Mountains
Located right outside Las Vegas, there are seven colorful and huge rock formations that are just begging you to take pictures. It was a perfect quick little stop on our long drive.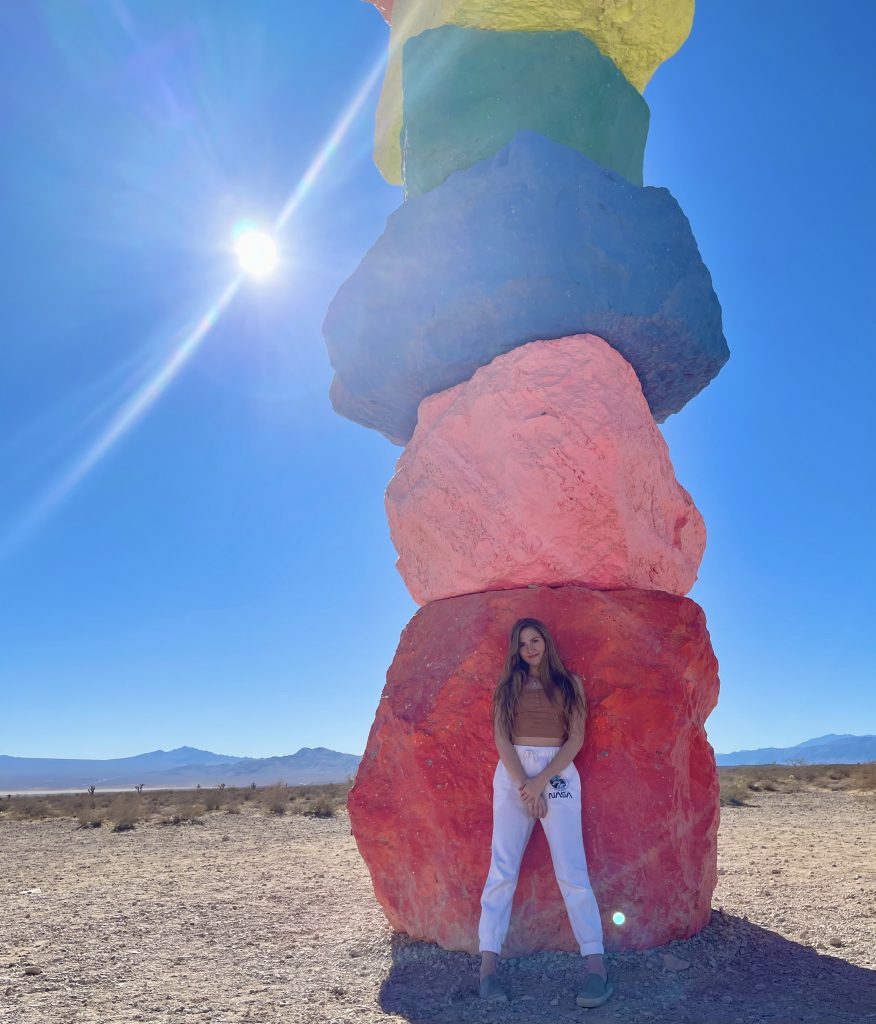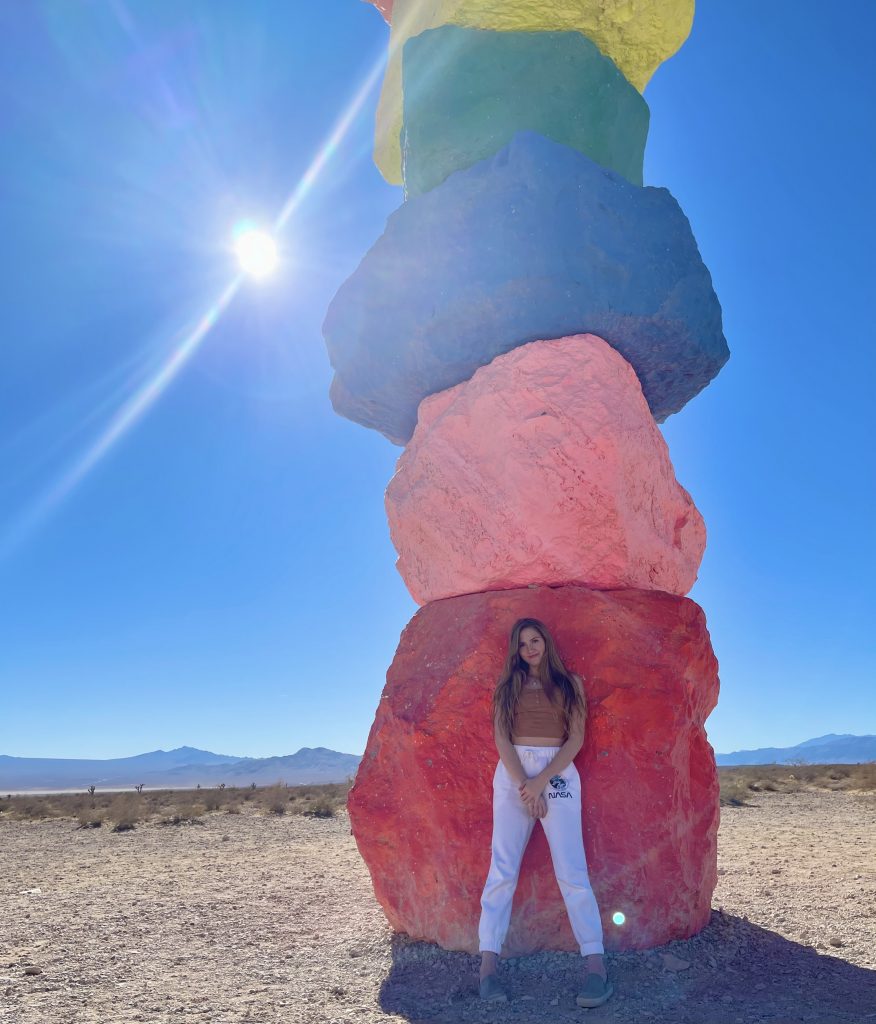 WHERE WE ATE:
Eat – the Breakfast and Lunch Joint
A cute place to eat in Vegas, but it's not on the strip. It's hard to tell if it's even an actual restaurant on the outside, but on the inside was very cozy. I got the caesar salad with tomato soup and my boyfriend got the grilled cheese with tomato soup. As a tomato soup connoisseur, I'd rate it a 4/10, and as a caesar salad connoisseur, I'm gonna go with a 5/10, because at this moment I don't even remember how it was. But obviously not memorable enough to be amazing or terrible. My boyfriend really enjoyed his grilled cheese. 7/10.
Dutch Bros
Another great stop on the drive to Utah. We stopped at the one at St. George. It's the best coffee with the nicest employees. If you know, you know. We got several Dutch Bros on this road trip. Unfortunately SoCal has no room for this amazing place with all the Starbucks around. Highly recommend.
WHERE WE STAYED
Bryce Canyon Best Western Plus Hotel
A very cute and very nice hotel to stay in, and only a 10 minute drive to Bryce Canyon National Park. We got pizza at a local diner (that had gluten free pizza because I am gluten free) and spent the rest of the night soaking in our hotel's hot tub.
Day
Two
WHAT WE DID:
Queens Garden to Navajo Trail
The best hike to do at Bryce Canyon. 2.9 miles and moderate difficulty. Crazy views the entire hike. It took us a bit longer to get through it because we stopped to take so many pictures. A must go to when in Utah. I know a lot of people like to visit Zion national park while in Utah, and if you have the time you should definitely go, but I would definitely suggest Bryce Canyon over Zion. It is a bit less hyped than Zion making it more of a unique experience, and, well, just LOOK at the views.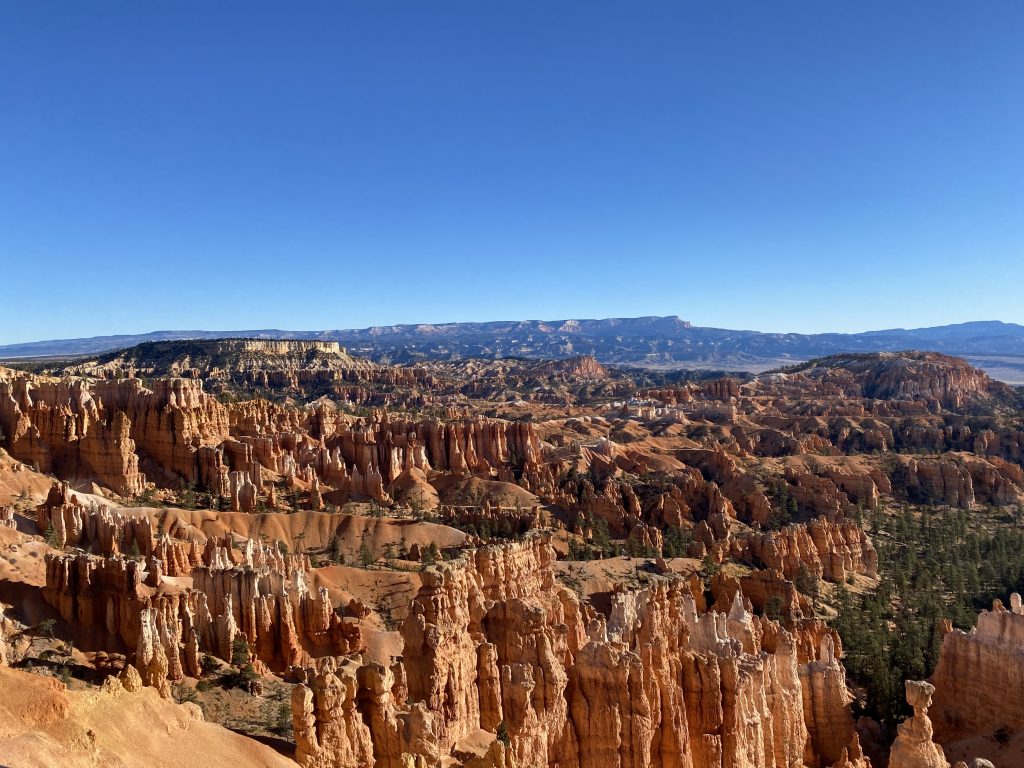 Coral Pink Sand Dunes
We had to backtrack from Bryce Canyon about an hour and a half to get here, but we preferred this order.
First off, AMAZING. I didn't know how much I had to research Utah to find out about this amazing place. So underrated. So much sand, everywhere, bright orange. It looked like we were just teleported to Mars. At first I was like, okay that's cool, a bunch of sand. But there's so much you can do. Rent off roading cars to zoom around in, sand sledding, and what we did, sandboarding. We really had a great time and this was a huge highlight on our Utah road trip.
If you're planning on going, I would suggest sandboarding vs sand sledding. When you sled, you lie down and all the sand goes into your face, hair, and mouth, and it's not yummy. Sandboarding looks harder but it's quite simple (even if the video below tells you otherwise), and a bit less messy.

SIDE NOTE
On the drive into Provo there are a lot cops hidden and pulled off to the side of the road waiting to pull you over. Just be careful!
WHERE WE ATE:
There weren't any staple places we ate at, since it was a lot of driving all day. For breakfast, the hotel we stayed at had a free breakfast buffet, and after our long hike we got hot dogs at a Bryce Canyon Diner right outside the national park.
IHop
When we finally made it to SLC, it was very late, and thankfully IHop is open 24 hours. Good gluten free pancakes, yummy bacon, and my boyfriend loved his waffles.
Dutch Bros
On our drive to SLC, there was a Dutch Bros in Provo that we stopped at. We had to get as much Dutch Bros as we could on that trip.
WHERE WE STAYED:
Airbnb
While I usually always advocate for getting an Airbnb over a hotel, (usually always cheaper, nicer and bigger), not this time. We got an Airbnb in Sugar House, a 10 minute drive to downtown SLC. Honestly, we got it for a pretty good deal, but it wasn't the best part of town.
On one day we went to breakfast at this beautiful hotel right in the city, and just for fun my boyfriend looked up room rates. It turns out, we could've stayed there for cheaper, and had a way nicer room, in the middle of the city. We were beating ourselves up over it. It was The Little America Hotel.
Day
Three
WHAT WE DID:
The Bonneville Salt Flats
The best spot on our entire road trip. It's only an hour and a half drive from SLC. We made the mistake of thinking we had enough gas, getting about half way there, and then having to turn all the way back around because there wasn't a gas station for MILES. We thought we were gonna miss the daylight, but luckily, we got there at the perfect time-right before sunset. And it was BEAUTIFUL, crazy and insane.
Right before you get there, you'll see the salt flats and you'll see cars pulled over taking pictures, and you will be tempted to do the same. Don't. You aren't there yet, and do not waste your time. It gets better….. MUCH better.
Once you actually arrive, you will be able to take your car and drive right on it. Don't freak out on me. Do it!! Once you're out there, it's gonna be a little weird, because it is basically a free for all. All these cars going in whichever direction, on these salt flats that extend for miles and miles and miles. But it's SO cool! So you just pick a direction, and drive as far as you want. That's what we did. We wanted to go far enough out to be completely surrounded by it, and also far enough out that any pictures we took there wouldn't be any cars or people in it, and if they were, looked like tiny little ants.
It was so surreal, and we kept talking about how we couldn't believe a place like this existed. In fact my boyfriend wanted to go back after we left. Some people took their RV's out there and camped out, which honestly sounds pretty cool. If you're going to SLC, or anywhere in Utah really, you have to go! You just have to.

Fat Cats
Back to SLC where we enjoyed mini golfing and bowling. The mini golfing wasn't anything huge or extravagant, but it was fun, and we were the only two playing. Bowling, pretty self explanatory, was just bowling, and also a lot of fun. A nice way to end the day!
WHERE WE ATE
Little America Coffee Shop
Located in the very cute hotel we wish we had stayed at, with brunch available. I had the traditional breakfast, eggs, bacon, sausage, but I also got frosted flakes. 10/10. My boyfriend got these insanely adorable tiny sandwiches (the kind you'd find at a queen's tea party) and they also offered a couple gluten free baked goods.
Fast Food
Nothing really exciting there, I think one of them was a Sonic Drive in.
Day
Four
WHAT WE DID
Big Cottonwood Canyon
We really wanted to see the snow, and it wasn't snowing in SLC just yet (in fact the week after we left is the week it started snowing), so we took a mini trip to the mountains. Sounds like a long drive but once again, insanely short! Only 30 minutes from SLC to get to this beautiful snow-filled wonderland. There were several hiking trails in the snow which is what we did. You can also go sledding at Donut Falls, which is a sledding hill there (and very kid friendly). Although if you do plan to do that, you have to bring your own sled/tube/whatever you plan to use as none are sold or rented there. We really enjoyed our hike, but about halfway through we were freezing and starving, so we turned back around.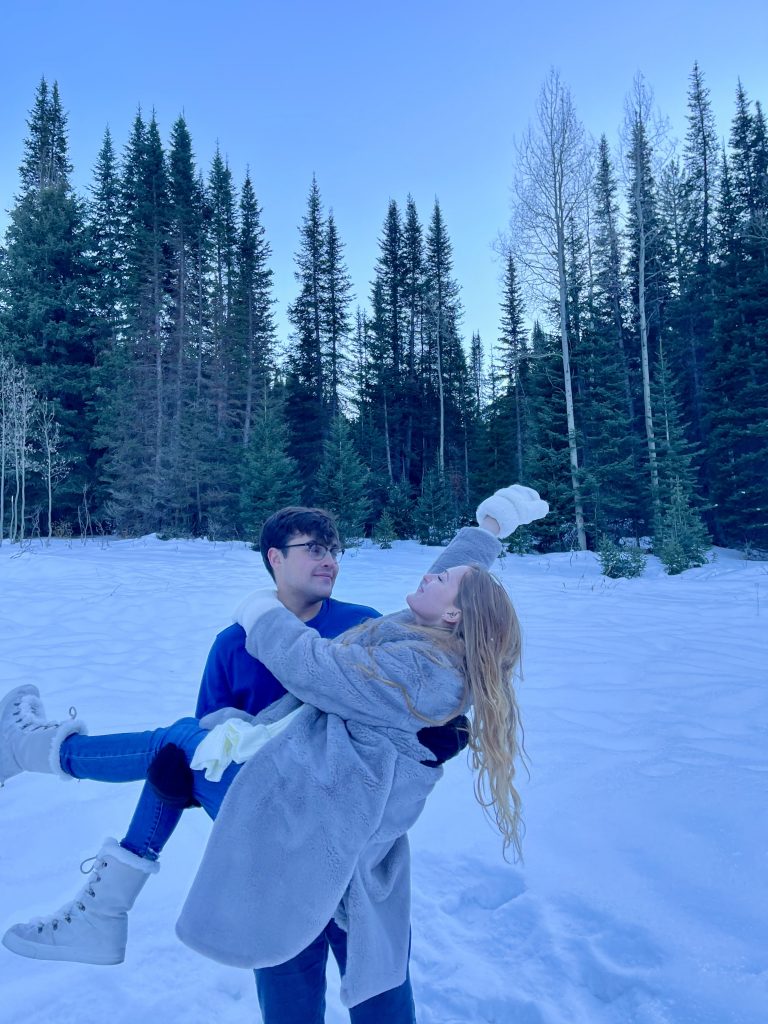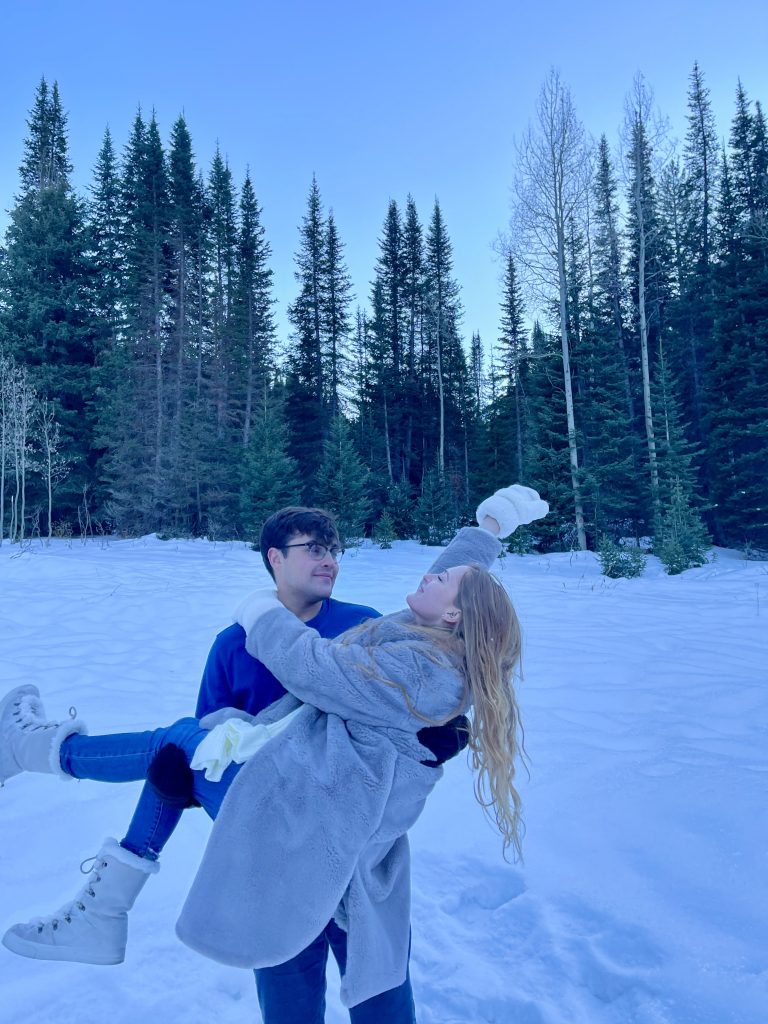 Olympic Oval
The speed skating rink that was used in the 2002 olympics. Being a figure skater myself, this was something I personally wanted to do and go see. We went skating which was pretty cool, but of course it's a speed rink so you can only go in circles. After a while, I got tired of skating in circles. But I am still glad I went!!
We accidentally fell asleep
…at our airbnb but awoke, hoping to enjoy some of the nightlife. So we got ready, drove 10 minutes downtown, only to find a ghost town. Everything was closed. No cars, no people, nothing. It turns out because of covid, all bars and restaurants must be closed by 10. We were disappointed, but hey, there was always tomorrow.
WHERE WE ATE:
Egg In The City
A very modern and cool breakfast spot! With the option of unlimited hot chocolate! The decor and vibe was super cute (my favorite word) and we both really enjoyed it. Also, the service was great!
Brio Italian Grille
It was located right around the shopping center in downtown SLC with a bunch of other restaurants, such as the Cheesecake Factory. But we wanted something just a tad less chainy, so we came here. It was a very nice dinner and the indoor vibe was lovely. We sat by the kitchen, which was out in the open, so you could watch the cooks prepare your meal. We really wanted wine with our pasta and calamari, but I had forgotten my ID back at the airbnb and unfortunately I look 16. So no wine for us.
Dutch Bros
Had to get in some hot delicious coffee after our time at the rink! Mmm. Dutch Bros.
Day
Five
WHAT WE DID:
The Homestead Crater
We reserved spots at this natural hot spring in Midway, Utah. About 50 minutes away from SLC.
Here's the thing. We really wanted to go to the Diamond Fork Hot Springs. They are these amazing hot springs only a hike away. Completely natural, beautiful, and in nature. Unfortunately due to Covid, the trail to it was closed down and there were rumors of people getting fined thousands of dollars for trespassing. I really considered going anyway, but I couldn't take that risk. So last minute I found the Homestead Crater.
The whole concept of it is really cool, a crater + a hot spring. But here's the other thing. It was just so commercialized. There were artificial lights everywhere, creating yellow tints, a large covering that they put over the top of the crater, so you couldn't even see the blue sky above you, plus floating balls in the water for the scuba divers. The water felt amazing, and it was awesome, but there were so many distractions.
Here's the biggest one. About twenty minutes into our one hour soak, a huge group of scuba divers came in and were getting their stuff ready and talking really loudly. This was supposed to be a peaceful, healing experience (which they advertised) but we couldn't even have our reserved time to ourselves. Not to mention it wasn't just me and my boyfriend, but about four other people in our time slot as well. Plus with the scuba divers it was just like… really? But I'm glad we did it and found an alternate hot spring to go to that was close by.
But I really cannot stress enough, if you have the ability to go to the Diamond Fork Hot Springs, go!! I really wish we were able to. On our next Utah Road Trip, you bet I will be there.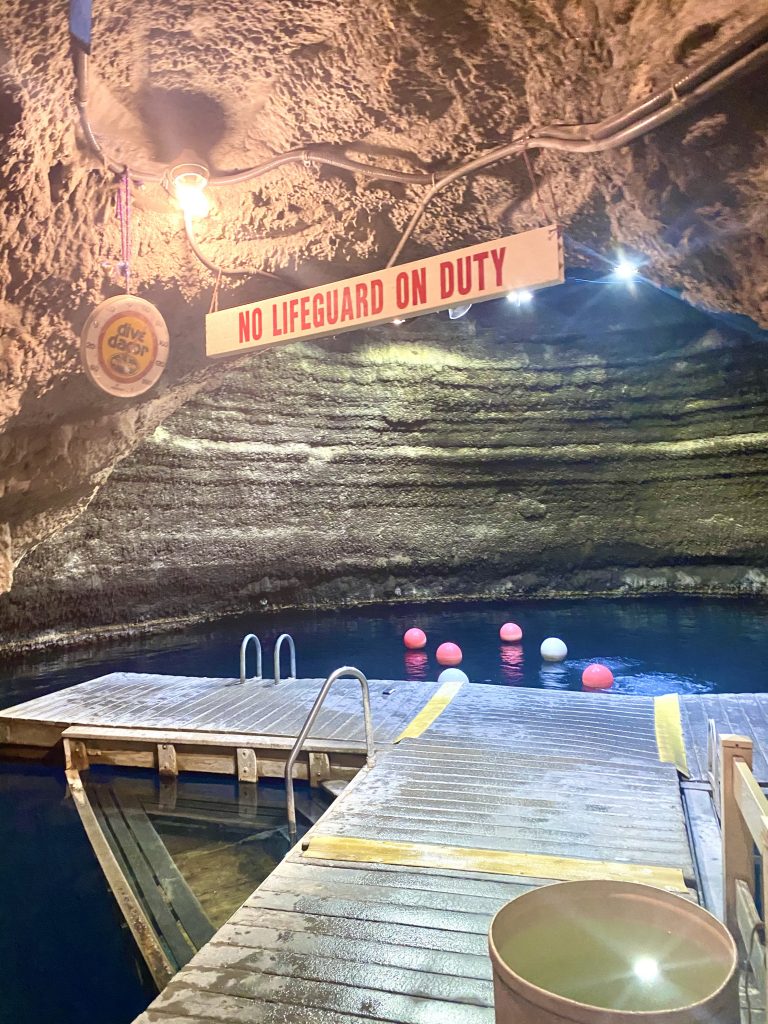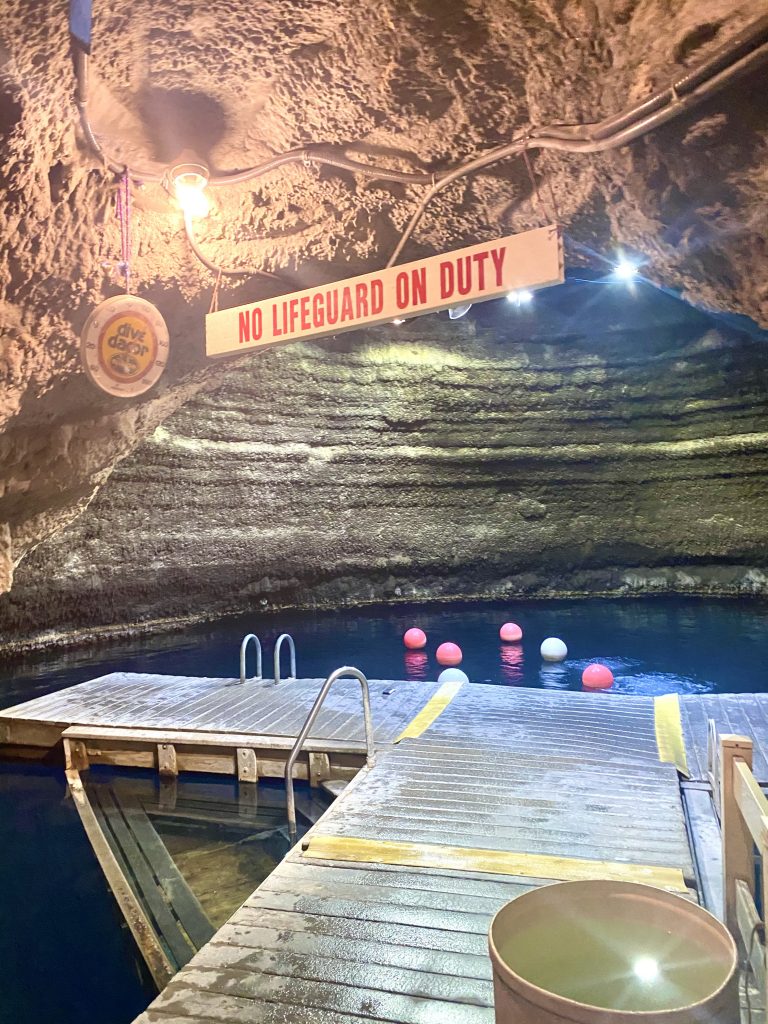 Park City
The cutest, CUTEST, little town ever. A very popular vacation spot during summer/winter, but especially winter for skiing. My boyfriend and I decided that if we were to ever come back to Utah, we will be staying in Park City. So many little shops, bars, restaurants, and twinkling lights.
Bar hopping
We went to one bar in Park City, and then two in downtown Salt Lake City. Main Street for both locations is the way to go. So many places to walk to. Park City in my opinion was way cuter, but SLC did have some very cool bars.
WHERE WE ATE/WHERE WE DRANK:
The Park Cafe
For breakfast. It looked cute inside, but unfortunately they were filled so we had to sit outside on their covid created patio.
Maxwell's
Pizza in Park city which was recommended to us. It did not disappoint. Amazing pizza. One would compare it to New York pizza. (Even had a gluten free option!)
No Name Saloon – Park City
It was really cute inside with the decorations and vibe, but we sat on the roof with the heaters and lights looking over Main Street. We wish we had more time there and a place to stay so that we could see all the other cool bars and pubs.
Cheers To You – Salt Lake City
A fun bar and lounge. The bar is filled with booths and fun decor and we enjoyed the vibe here. Unfortunately all the people inside were 99% male and me being the only female. Not that that's a problem or anything but some other girls would have been nice! I heard that this bar usually has activities such as Karaoke Fridays, but due to covid it was cancelled. If you plan to go after everything is lifted and passed, I'd recommend checking out what they have going on.
Whisky Street – Salt Lake City
This was the place to be. The whole right wall where the bar had shelves and shelves filled with different whiskeys and alcohol. The ambience was exciting and my rose cocktail was very pretty. We decided to get an appetizer while we were there and got the buffalo cauliflower. It was very, very good, and I will definitely be back next time I'm in SLC.
Day
Six
WHAT WE DID:
"
Salt Lake City Is For Lovers
" Sign
We did a little hunt for this very cute neon sign and we got some very aesthetic pictures and were satisfied.
DRIVE.
The majority of this day was just driving back home. But what made it fun was the stop in Las Vegas to eat for dinner. See below!:)
WHERE WE ATE:
Pig in a Jelly Jar
Such a fun, adorable little spot with beehive painting all over the walls, not to mention their breakfast potatoes were amazing.
Mon Ami Gabi
We decided to treat ourselves nicely for our last meal of the road trip. A magnificent french restaurant right on the strip. The whole interior feels like you are in the middle of a Parisian restaurant. The outdoor patio is dreamy and a perfect viewing for the infamous Vegas fountain show. It is definitely my favorite restaurant in Vegas, and you can't go wrong with the food there either.
Dutch Bros
One last stop right after dinner. Since then, that was the last time I had Dutch Bros. It's really bittersweet, but I'm so happy I got to have it so many times during this trip.
THIS CONCLUDES OUR ROAD TRIP!
It was an amazing road trip, especially in the middle of covid. We hardly were around or saw any people and the only time we had contact with others was with our servers at the restaurants. Other than that, as you can see by the pictures, we were pretty socially distanced!
THINGS WE WISH WE HAD DONE!
Utah Ice Castles. Amazing during the winter in Utah. A whole fortress made of ice, lit up with LED lights creating a truly beautiful and fairytale experience. Basically like you're stepping into Elsa's castle. It wasn't open in December when we went, but opened up in January when it got colder.
https://icecastles.com/utah
Diamond Fork Hot Springs. I mentioned it earlier, beautiful blue waters warm enough to soak in, even in winter. https://www.alltrails.com/trail/us/utah/fifth-water-hot-springs-trail
Woodward Park City Sledding. They have Utah's Longest Sledding lanes. I wish we could've gone sledding! A super fun winter activity. https://www.woodwardparkcity.com/tickets-passes/tubing
—-
QUICK LINKS:
Seven Magic Mountains
http://sevenmagicmountains.com/'
Bryce Canyon National Park
https://www.nps.gov/brca/index.htm
Coral Pink Sand Dunes
https://stateparks.utah.gov/parks/coral-pink/
Park City
https://www.visitparkcity.com/
LET'S CONNECT!
My IG: @jessicacastello
Twitter: @jessicacastello
Traveler.com's IG: @travelerlogue