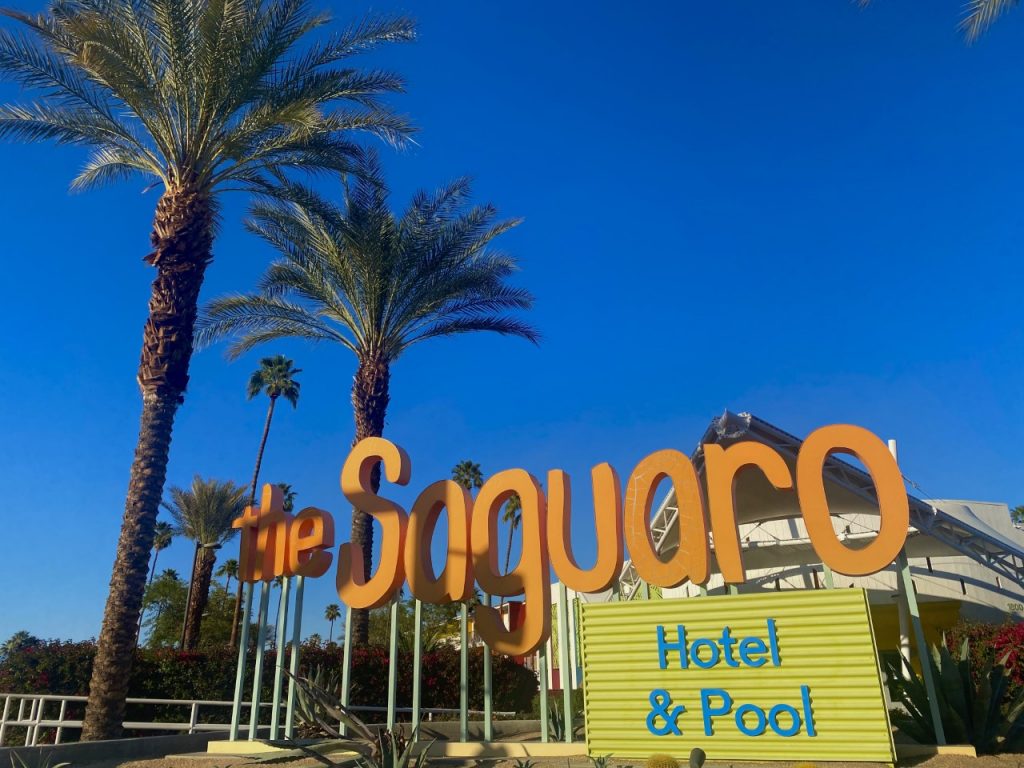 My Review Of The Saguaro Hotel in Palm Springs
The Saguaro Hotel is a very popular stay for guests looking for a fun, trendy place to stay in Palm Springs. The pictures of the pool next to the hotel's colorful walls will be enough for you to book your room. It is said to be every photographer's dream, and it really is the most aesthetically pleasing hotel I've seen. To see my full Palm Springs Guide featuring the Saguaro, click here.
I stayed here for 4 days, 3 nights for my birthday. Here are my thoughts.
THE ROOMS!
In choosing your room, you can either pick a room with a pool view, or mountain view. I went ahead with the pool view, as I know I can step outside and see the mountains any time. I'm super glad I made this decision. The pool area is just so pretty!
Something not so great….
I stayed in one of their suites, which is two rooms. A bedroom with a queen bed and then a separate living room, of course along with a bathroom. This was nice, although, I was hoping for a better view of the pool. Don't get me wrong, it was still a pretty view. But all of their suites that come with a separate living room, are going to be in only the corners of the hotel. So this makes for a bit of a blocked view due to the walls of the rooms on either side of the suite.
Unfortunately, I couldn't even pick a new room if I wanted to, because like I said, the suites are only in the corners. It was kind of disappointing considering that since this is a suite, you would expect better views.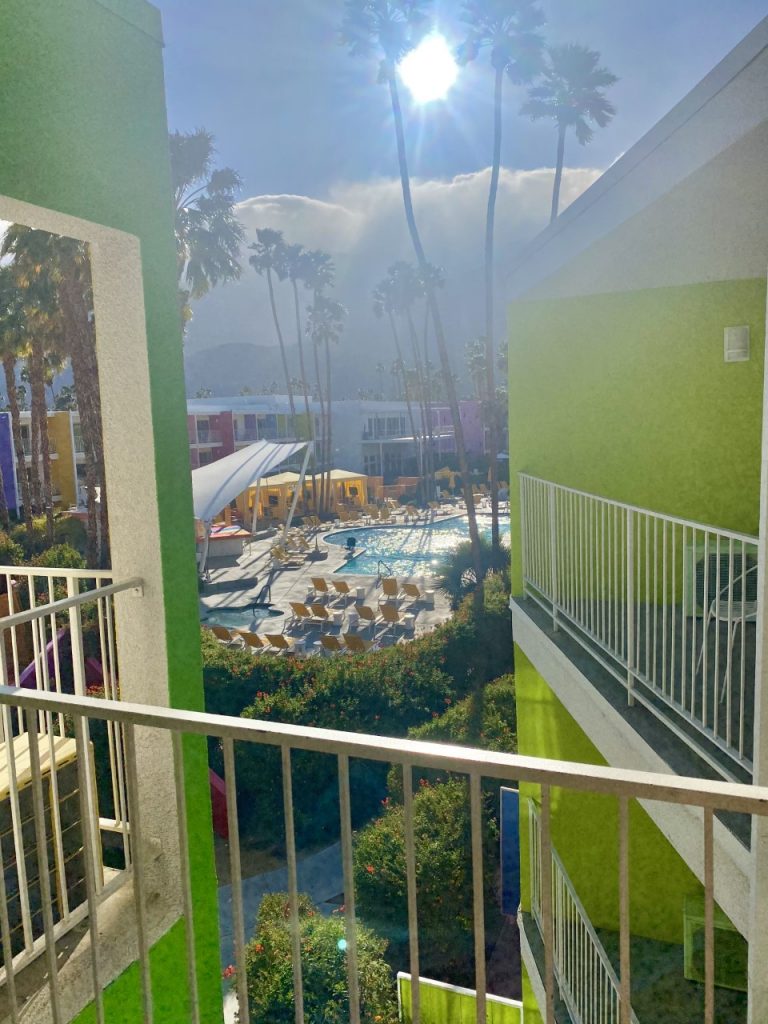 I was able to get this beautiful video below by stretching my arms out far enough.
Not only that, because these suits are in corners, the outside balcony is a little weird too. It isn't symmetrical, and the only thing separating our patio from the patio to the room on our right, was this unflattering fake wall. See below for reference.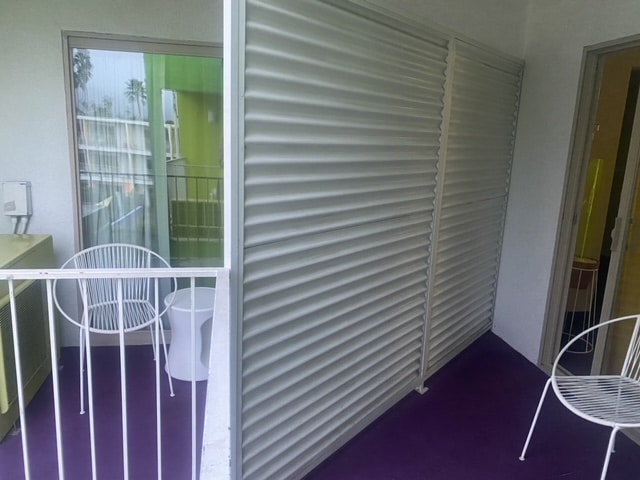 As you can see, our patio wasn't very private, and as you can also see, their patio is much worse and way smaller.
Fortunately, I spent way more time actually sitting by the pool and didn't sit on our patio once. Although in the mornings it was nice to open the curtains and step outside for a second.
The bedroom had these adorable pool robes and the bathroom had usable pool noodles decorated on the walls.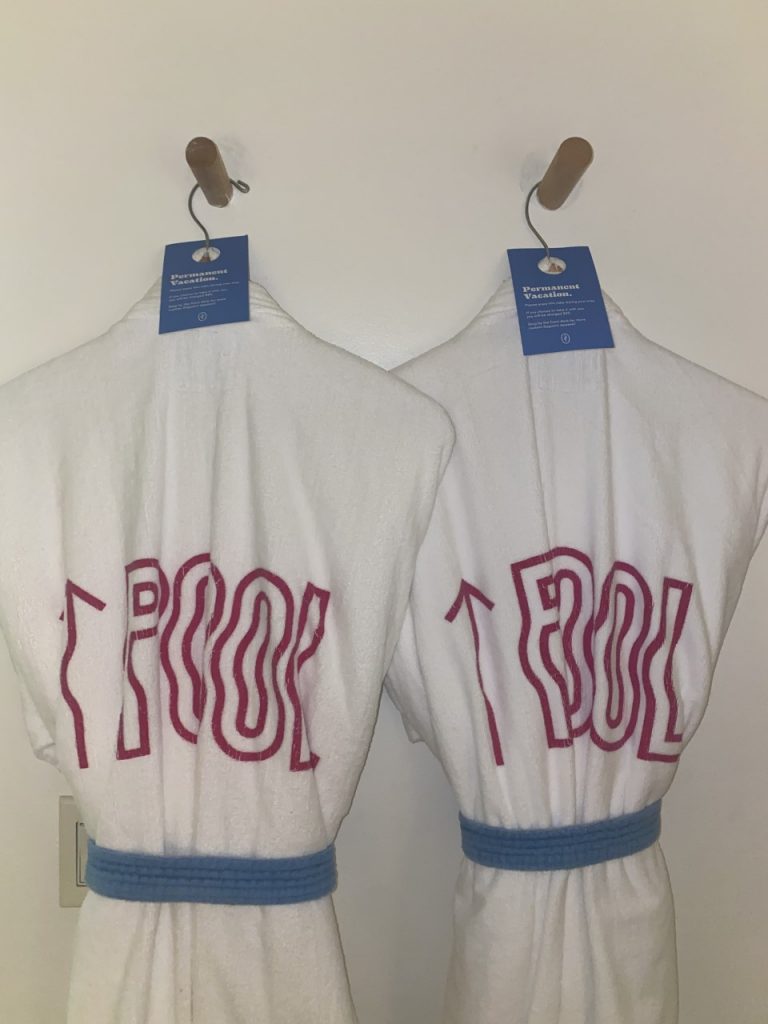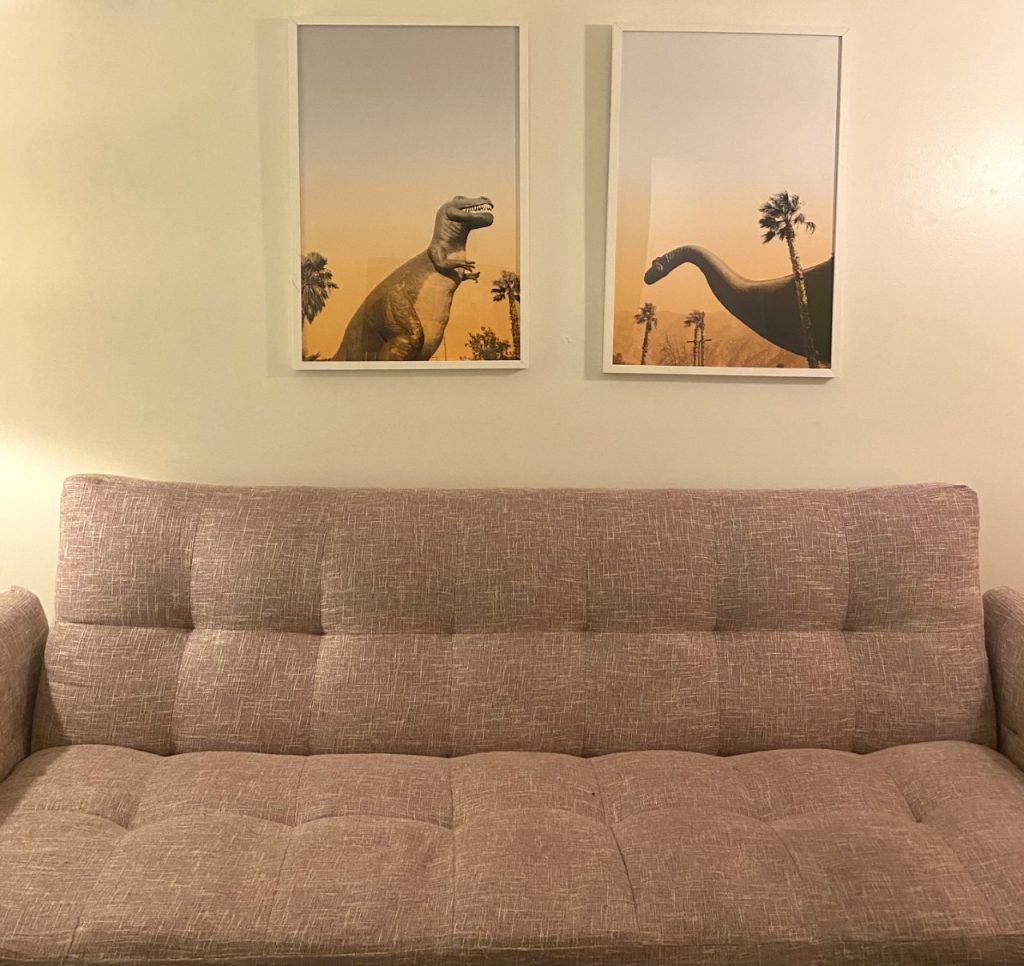 Another minor complaint that was annoying, is that the room cards are extremely sensitive. We had to go back to the front desk every day to get new cards because they would stop working. And we were on the opposite side of the hotel, so every single day we had to walk all the way around back to the front. It wasn't a short walk, and even though we were careful with our new cards, it kept happening over and over. The front desk employee even agreed they needed a new card system.
THE POOL!

The best part, and in my opinion, the most important part of any hotel.
The pool area is really what sold me on coming to the Saguaro Hotel. Surrounded by beautiful colors, the pool is relaxing and fun and lively. The hotel offers adorable pool floaties you can use, although due to Covid I had to bring my own. (NOTE: If you bring your own, the floatie has to have an open donut hole in the middle) They also have a poolside bar for all your cocktail needs.
To take it to the next level, they even have personal cabanas to reserve for the day with a bed and tv.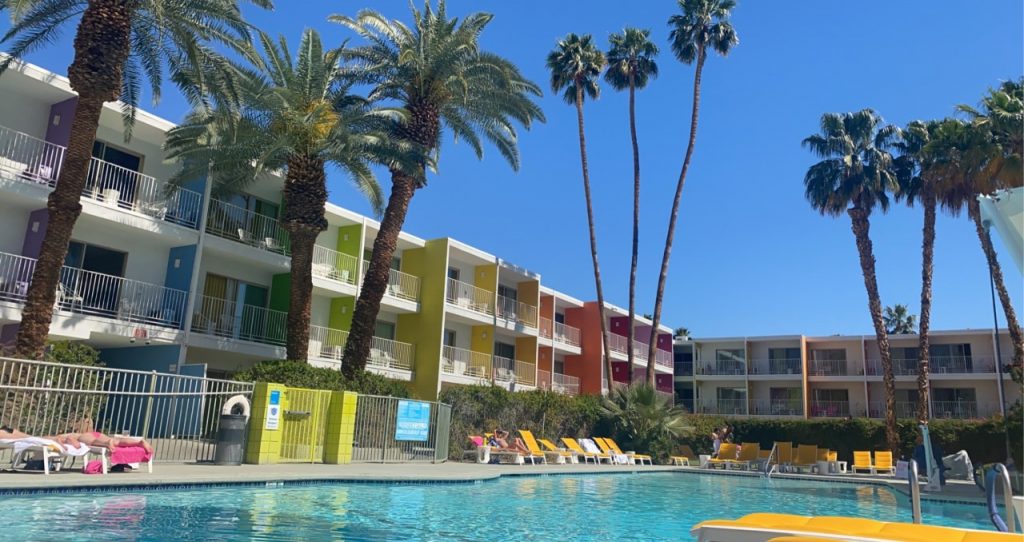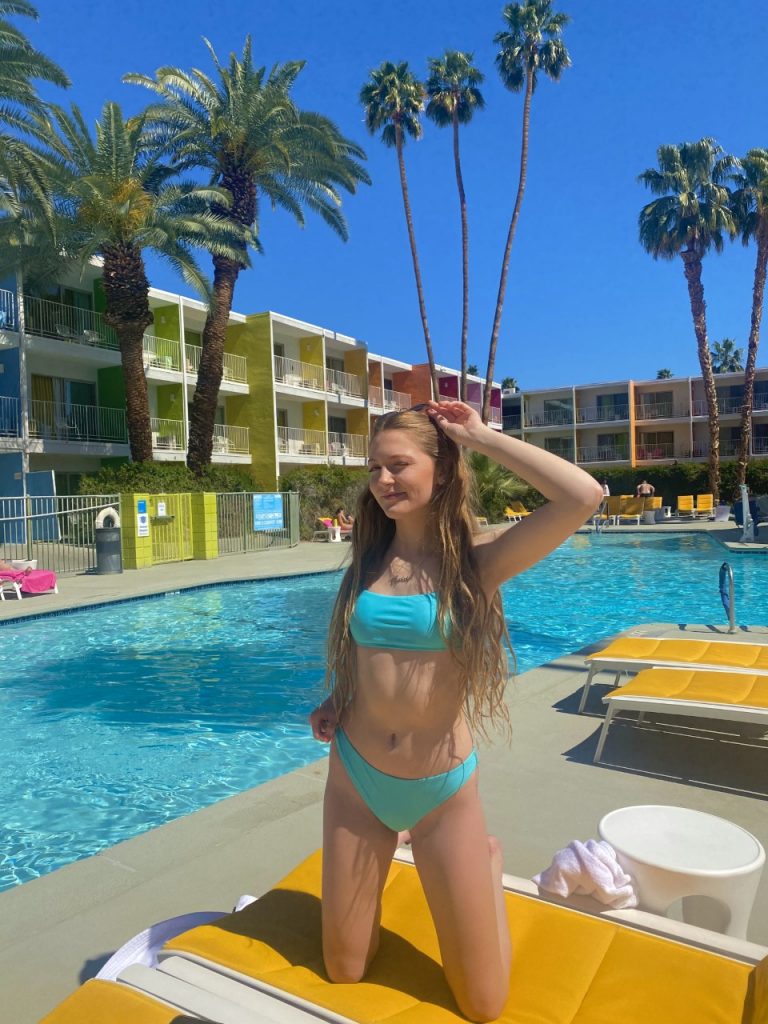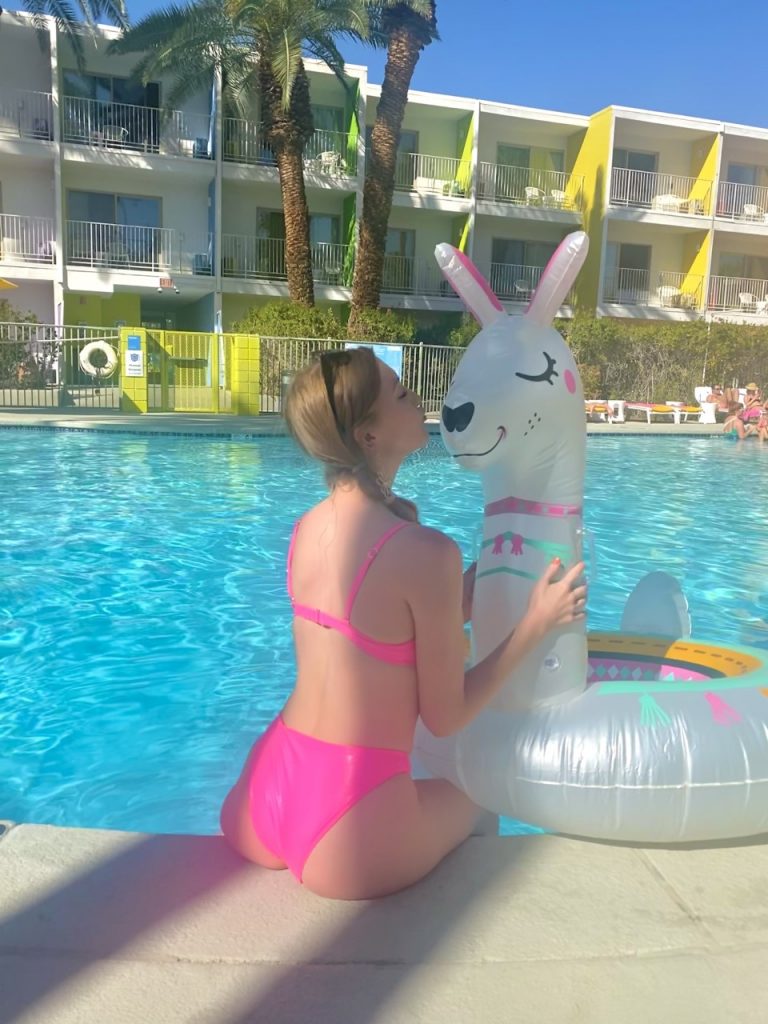 Right behind the pool area are a bunch of rainbow hammocks to lay and relax in the sun. Right next to the hammocks was the game Bocce Ball. Super cute area that I wish I spent more time at.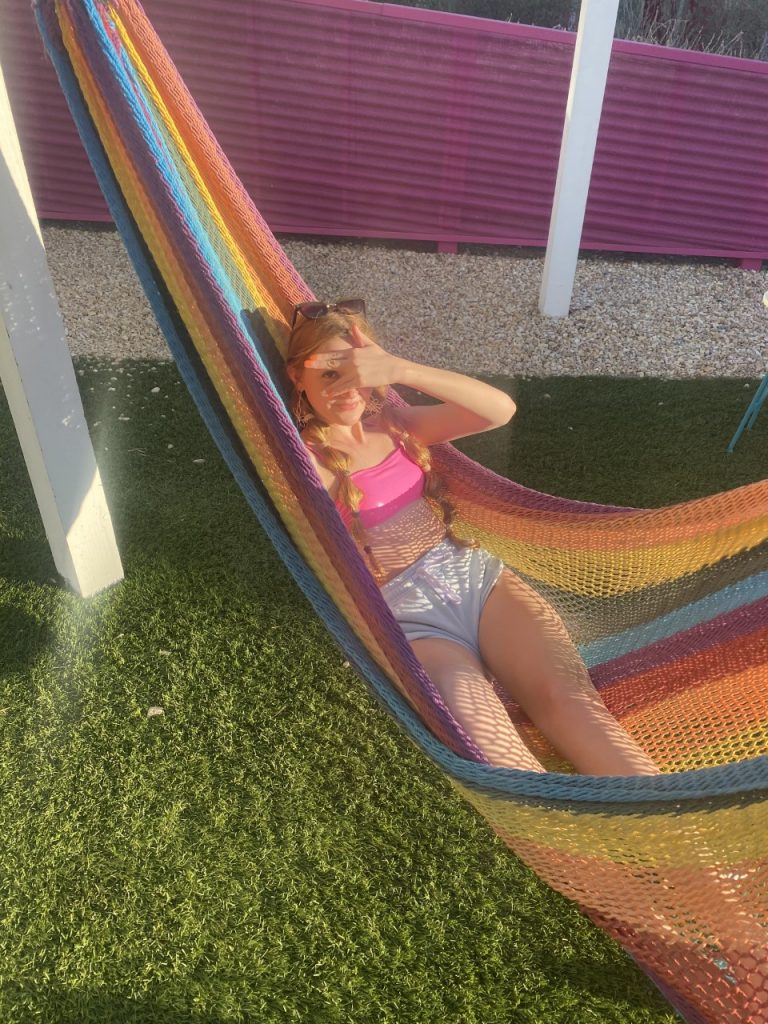 THE VIBE!
Everything here is a vibe. Everything. The aesthetic, the colors, the decor, it really is exciting on the eyes.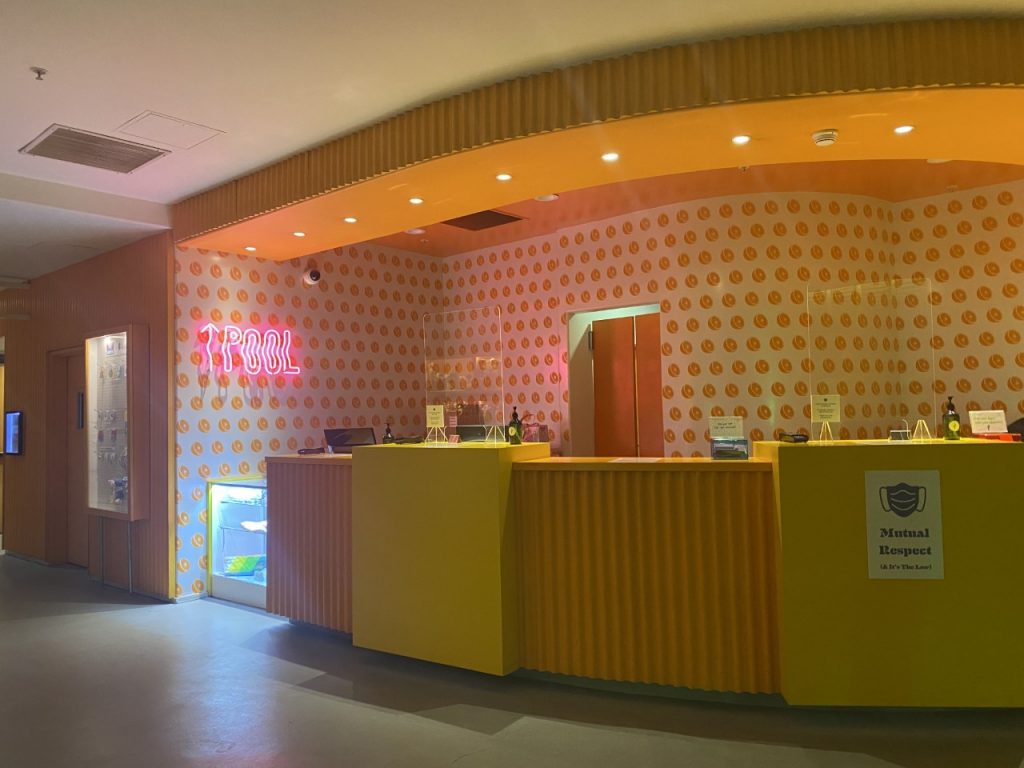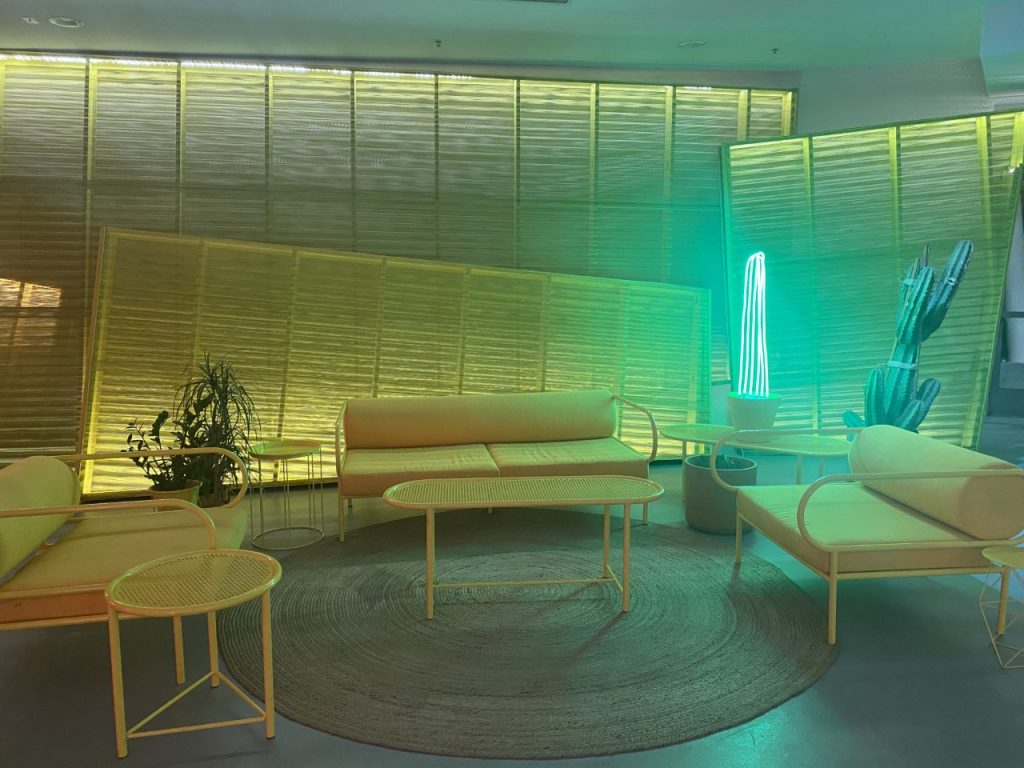 Each and every door/hotel room is a different color with a color scheme. For example the pink doors/rooms have pink color schemes and same with the purple, blue, and so forth.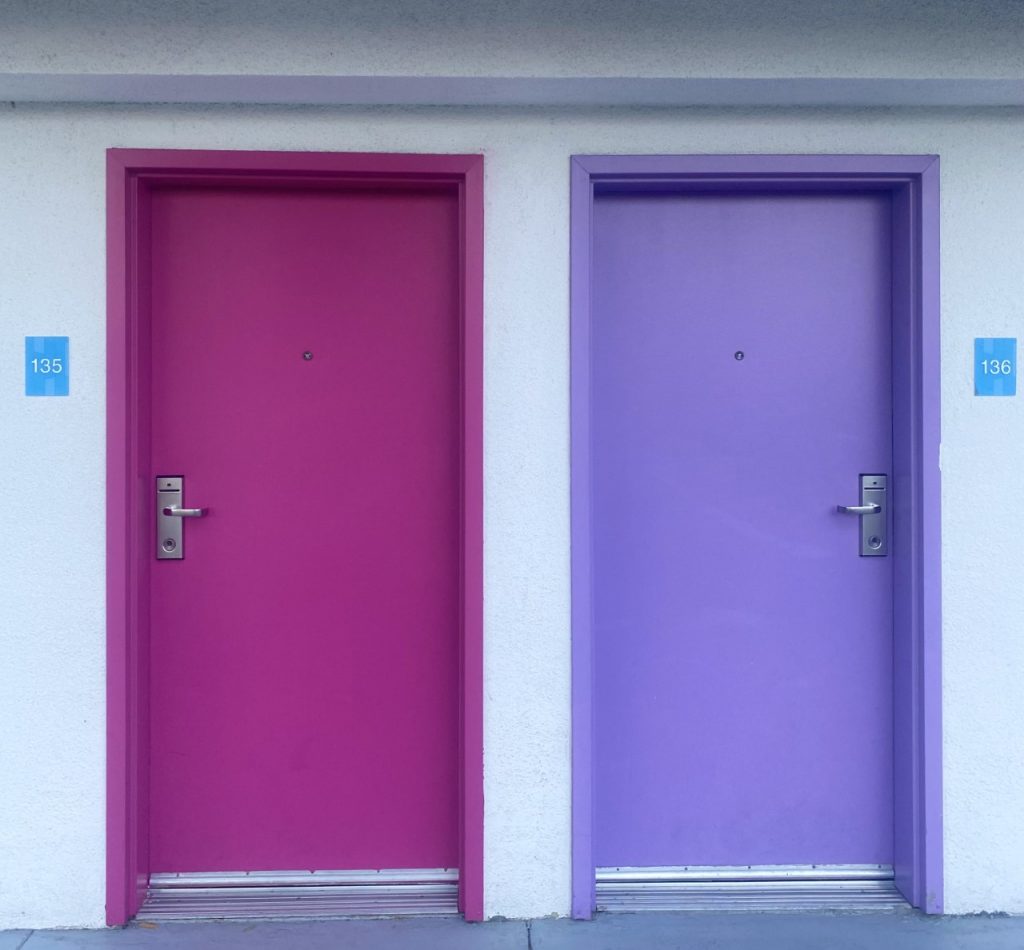 The only thing I wish were better were the hallways. The only color and vibe about them was the different colored doors. Otherwise, the carpet was a bit old and the walls were bare. If they added some artwork or pictures on the walls it would've been much cuter. There are so many local Palm Springs artists that they could really advertise and fill the walls with, so I wish I saw more of that.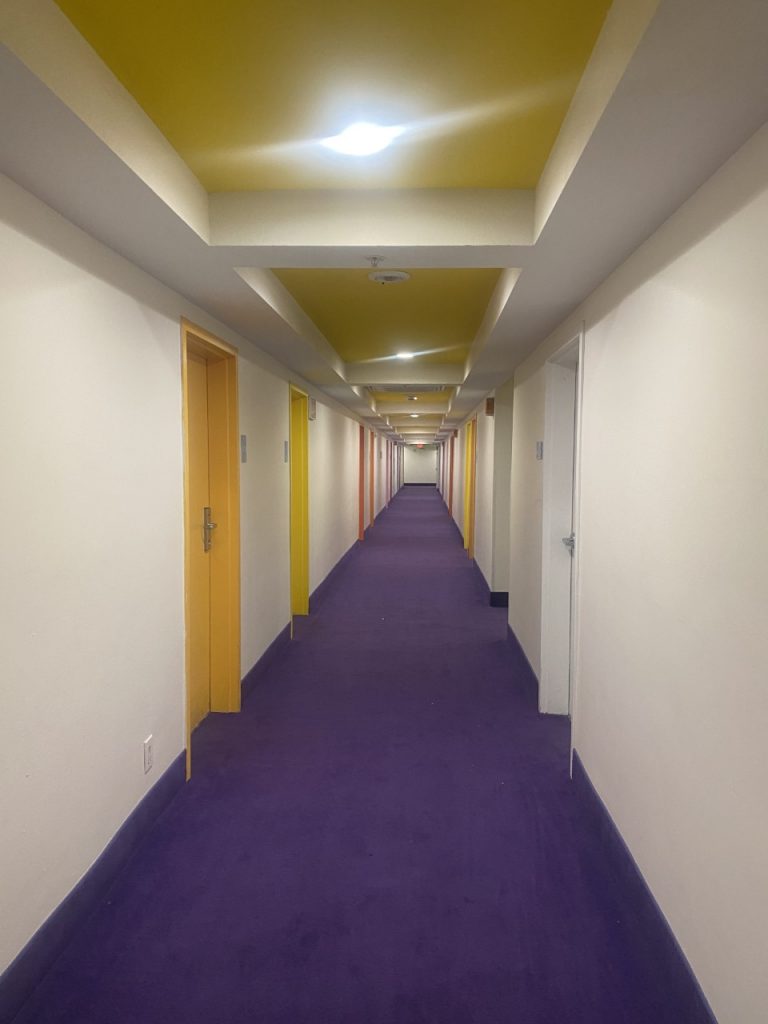 TACO TUESDAYS & THURSDAYS
Okay I love this. The hotel restaurant, El Jefe, sells discounted tacos every Tuesday and Thursday from 6-9pm. Each taco $4. The tacos were delicious and we paired it with some margs, which were unfortunately removed from the happy hour. For dessert, we got their churros with a side of chocolate dipping sauce. It was so good and I had a really great time here. Because of covid, it was all outdoor seating, but they had heaters and twinkling lights and it was still awesome! And only a 2 minute walk from my room.
El Jefe also does poolside service pre covid. During covid, you can just get the food to go and eat it by the pool, which we did. They have the best nachos. My boyfriend and I died over them and it was perfect to have sitting by the pool.
ALL
IN
ALL!
We had a great time staying at the Saguaro Hotel. It was super cute and fun and the vibes were immaculate. It is definitely the place to be in Palm Springs and they know how to party. I am planning on going back to Palm Springs later in the summer and I know I will be staying here. Thank you Saguaro! 🙂
If you'd like to see everything that I wore on this amazing Palm Springs trip, hit that link below!
/palm-springs-fashion-inspiration-what-i-wore/
QUICK LINKS!
The Saguaro Hotel – Palm Springs
https://www.thesaguaro.com/palm-springs/
LET'S CONNECT!
My IG: @jessicacastello
Twitter: @jessicacastello
Traveler.com's IG: @travelerlogue