Summer In Catalina Island – A Californian Vacation
Blue waves with underwater worlds, charming European-esque hills, and an enchanting clock tower that rings on every hour are few of the many wonders of this quaint and beautiful island. Summertime in Catalina is all the hype. I fell in love after my first trip during Wintertime. It was dazzling and enchanting and I knew I wanted to come back during Summer the moment I left.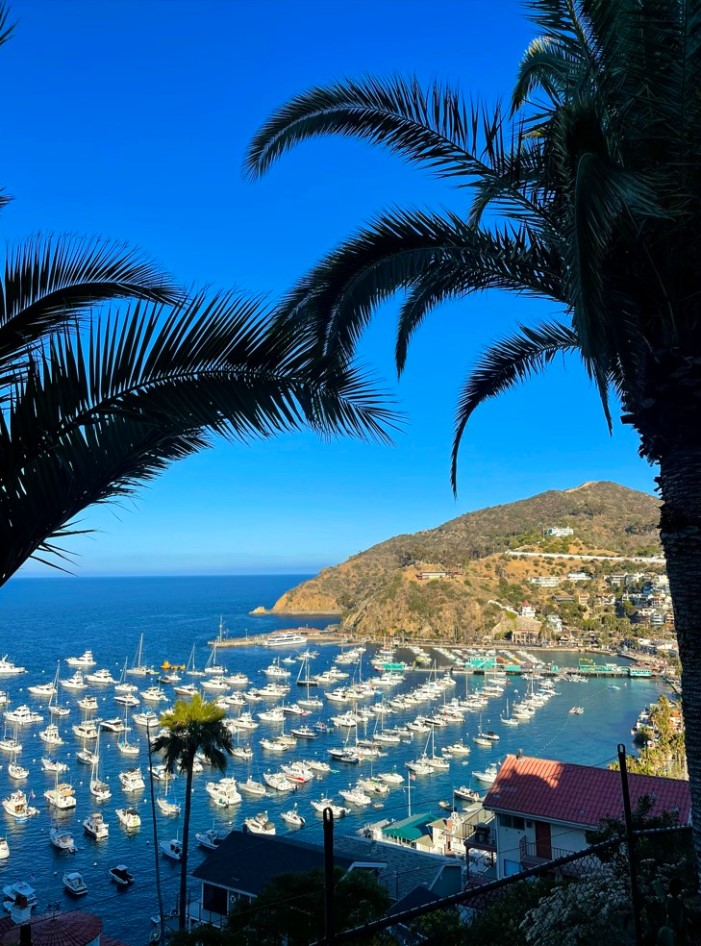 Back in December, the only activity we did was ziplining, which was so much fun. This time we decided to focus on other things, such as snorkeling, parasailing, and enjoying the private beach and poolside service of the Descanso Beach Club. It's amazing how much you can experience on Catalina Island. Even after doing these two trips, there's still so much I want to do when I come back!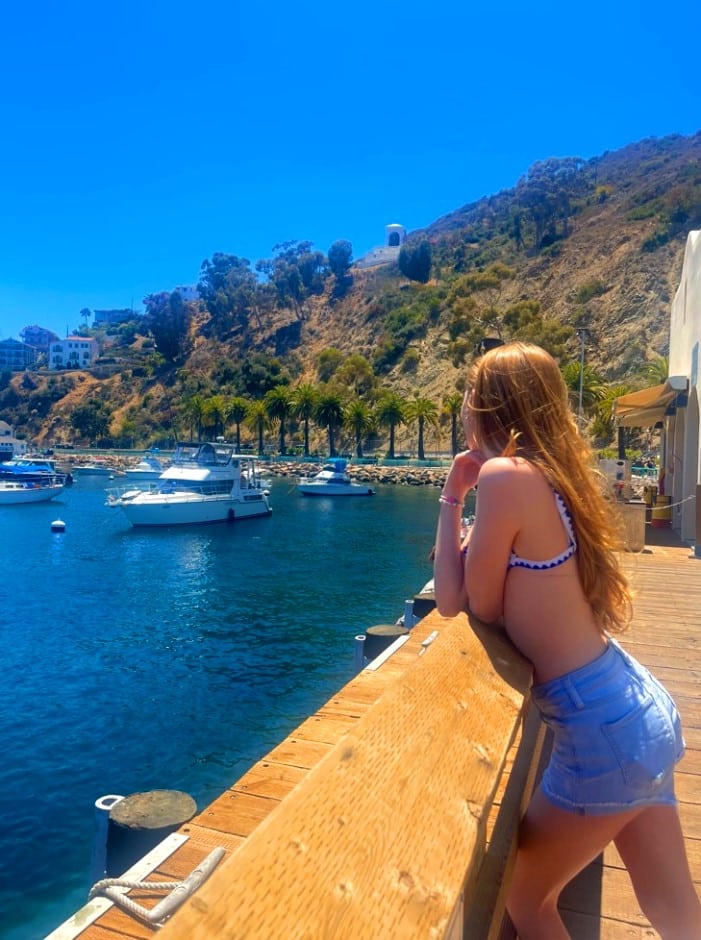 The Hotel We Chose
Hotel Mac Rae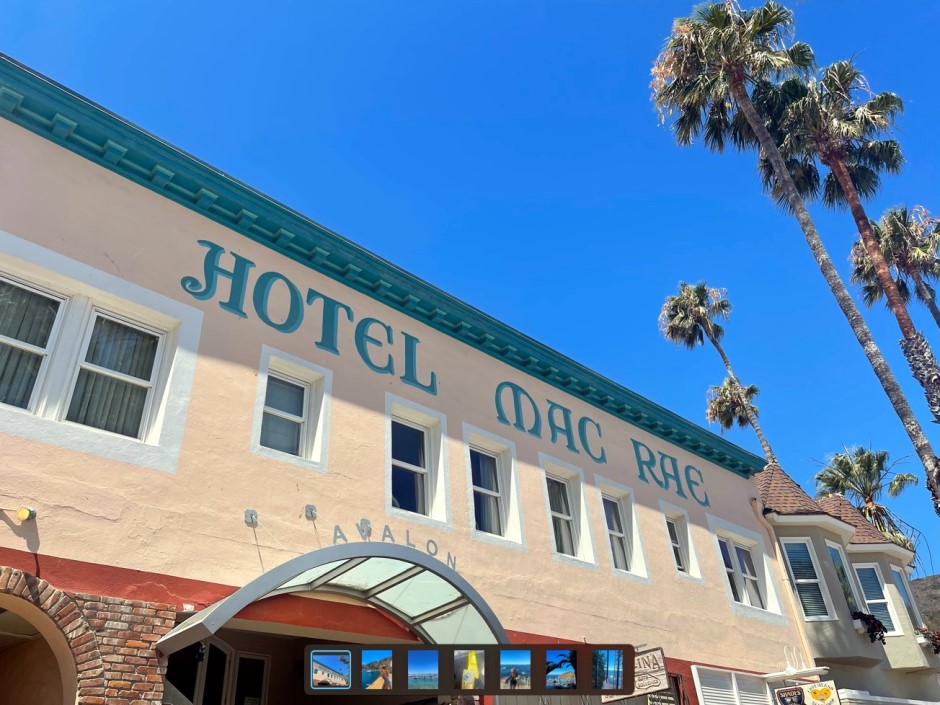 This hotel is right on the main street of Avalon facing the water. It is literally right on the strip. I was worried it was going to be noisy especially since we came for the weekend. But we went up the stairs, through this little outside seating area, down some other stairs, to our room. It was so cute and quiet and I didn't even know this space existed when looking at it from outside. It was a pleasant surprise!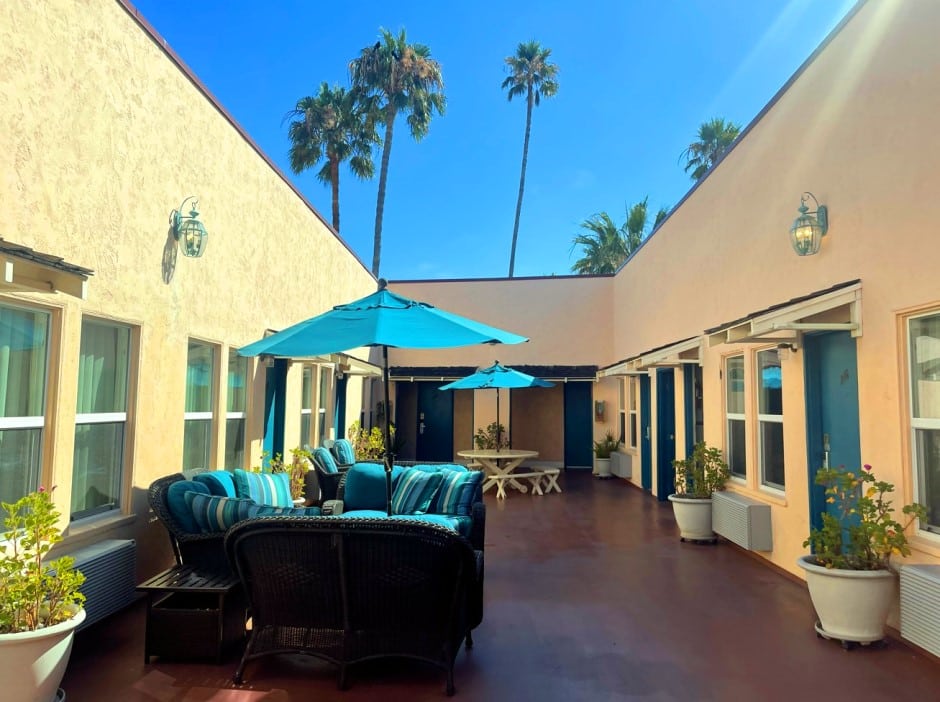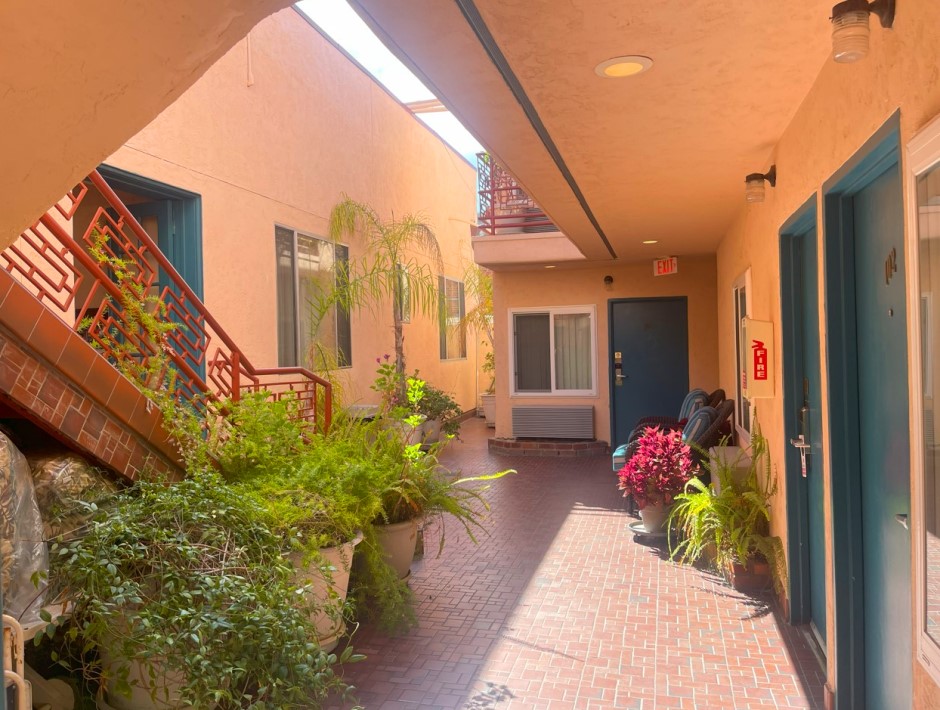 We arrived to Catalina Friday night . We were there for the weekend, July 8th-10th. We got settled into Hotel Mac Rae, which was only a 5 minute walk from the boat, by the way, and then we walked around and picked a spot for dinner: The Lobster Tail. (they have gluten free pasta!)
The Fun Summer Activities We Did
Catalina Island Parasailing
After dinner and heading to our favorite bar to play darts, we went to sleep excited for our morning plans. Parasailing!!!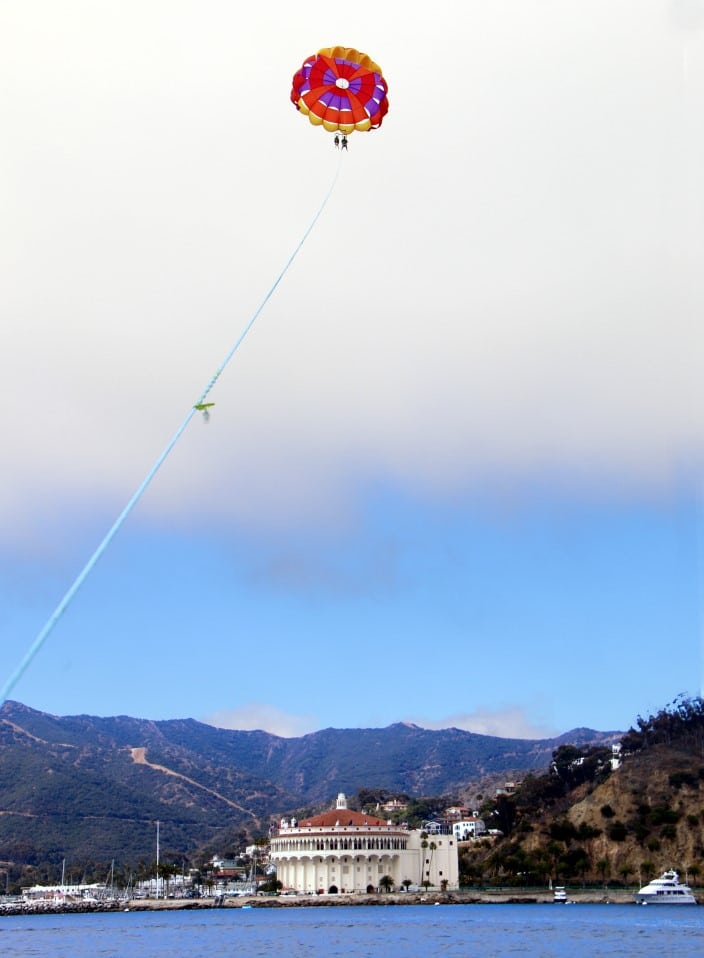 We booked with Catalina Tours and there are different times throughout the morning/afternoon to choose from. We wanted to go early, but not too early, so we opted for the 10:15am-11:30am. The only thing to consider with this is, the earlier you go, the cloudier it is. We were first to go up in the air, so unfortunately our pictures/vids are in part grey skies. By the last few people on our tour to go, the skies cleared up and was a beautiful blue. Knowing this, next time we might opt for a noon and on slot. Plus, it was so chilly up in the air with no sun!!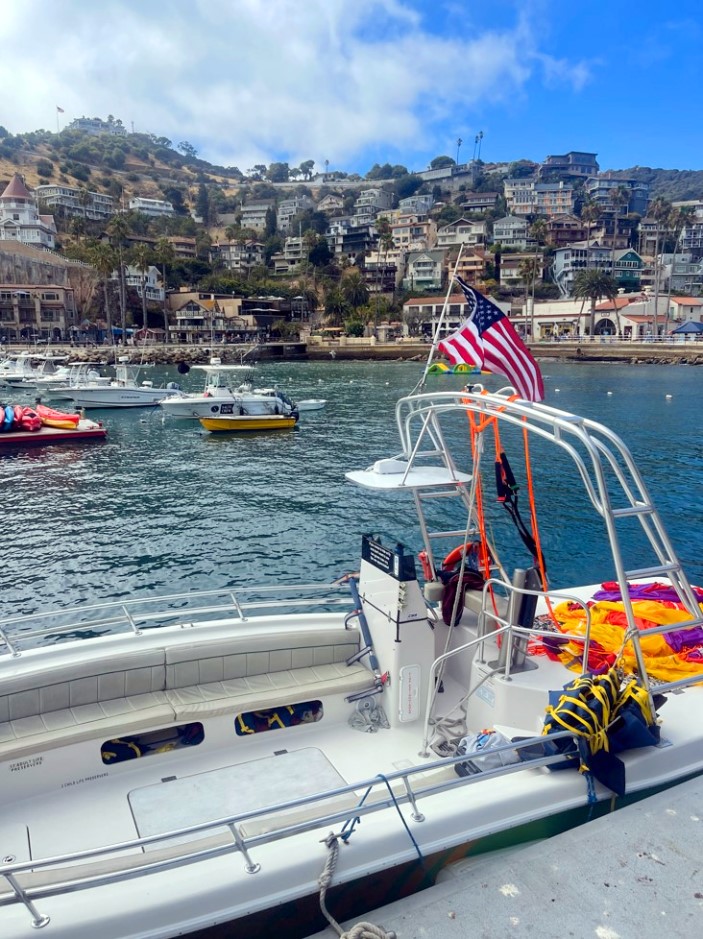 It was truly a one of a kind experience. Terrifying, yes, but freeing and beautiful and the perfect summer vacation activity!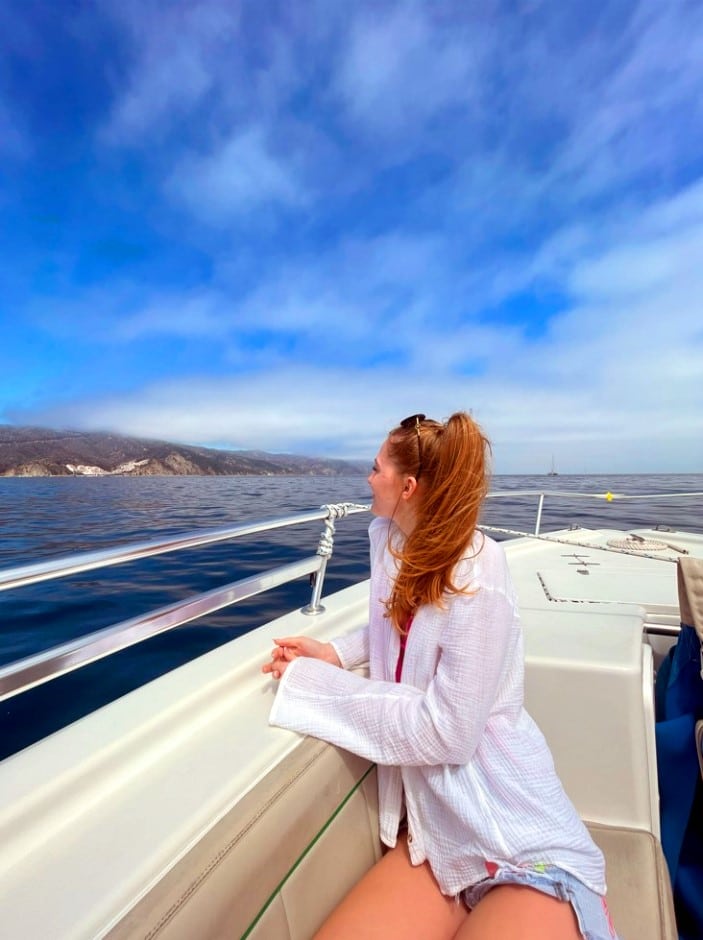 Snorkeling
This is by far one of my favorite things I did in Catalina over the summer. The water off of Catalina (more specifically Lover's Cove) is known for it's clean, beautiful clear waters bursting with life and coral reefs. You can either snorkel or scuba dive here. I opted for snorkeling, so we signed up for a specific time spot and went with an instructor and group.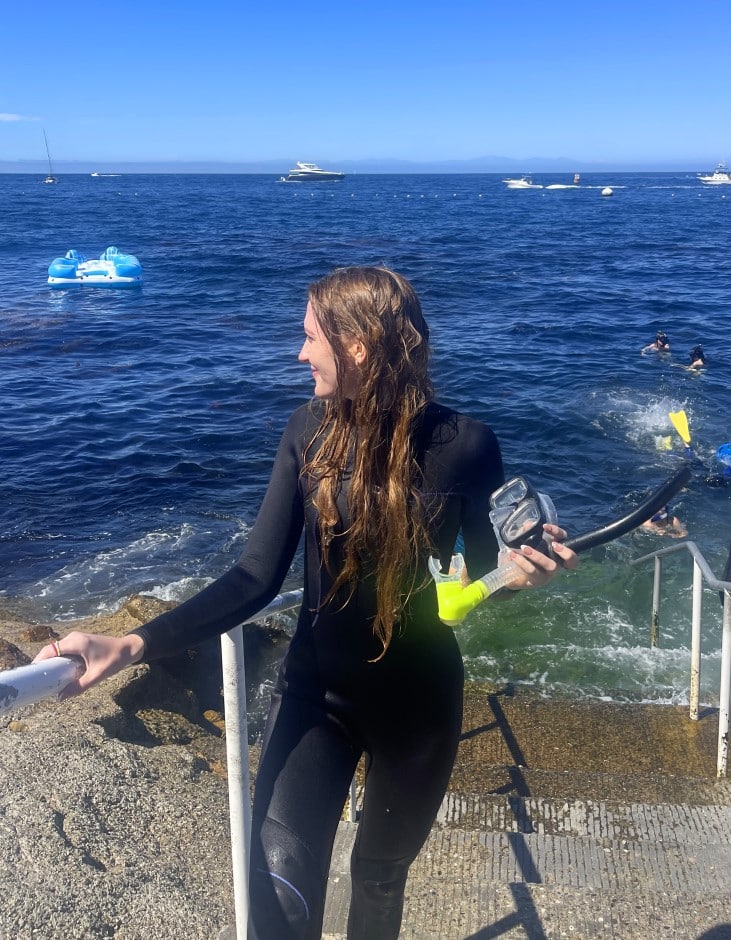 What was great about the instructor is that she was there in the water with us giving all sorts of information about the magical waters of Catalina, but insisted that we only needed to stay if we wanted to hear, and we were more than welcome to swim off on our own and explore. Be sure to bring an underwater film camera for some fun pics! I recommend scheduling the tour earlier in the day so that you can swim around and take your time as much as you'd like. We scheduled our tour for 2pm and I think they closed snorkeling after 4pm. We had so much fun we wanted to keep snorkeling! Check it out here.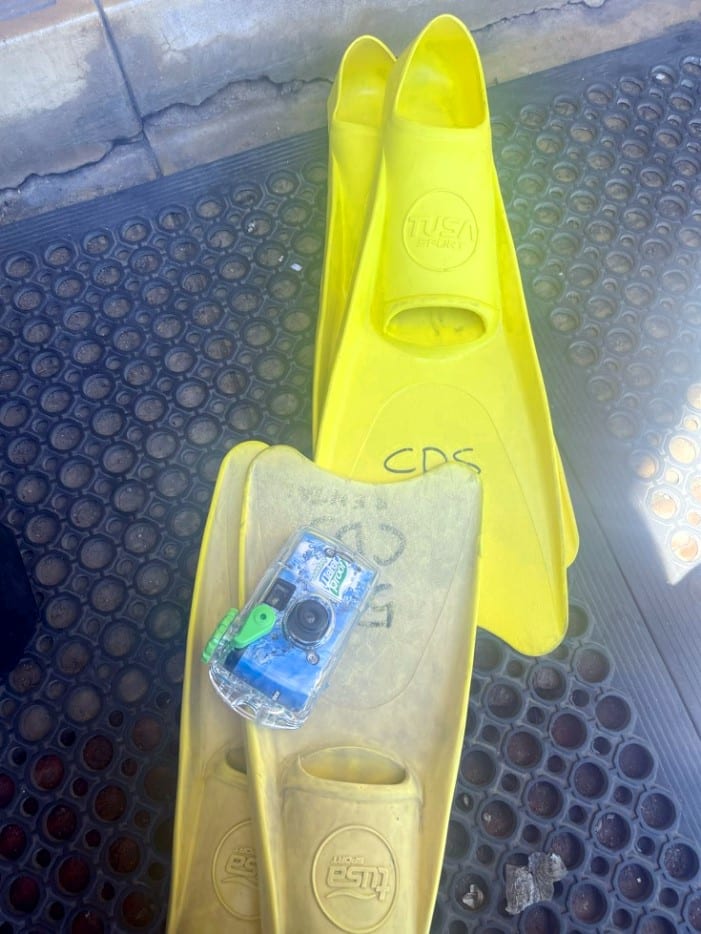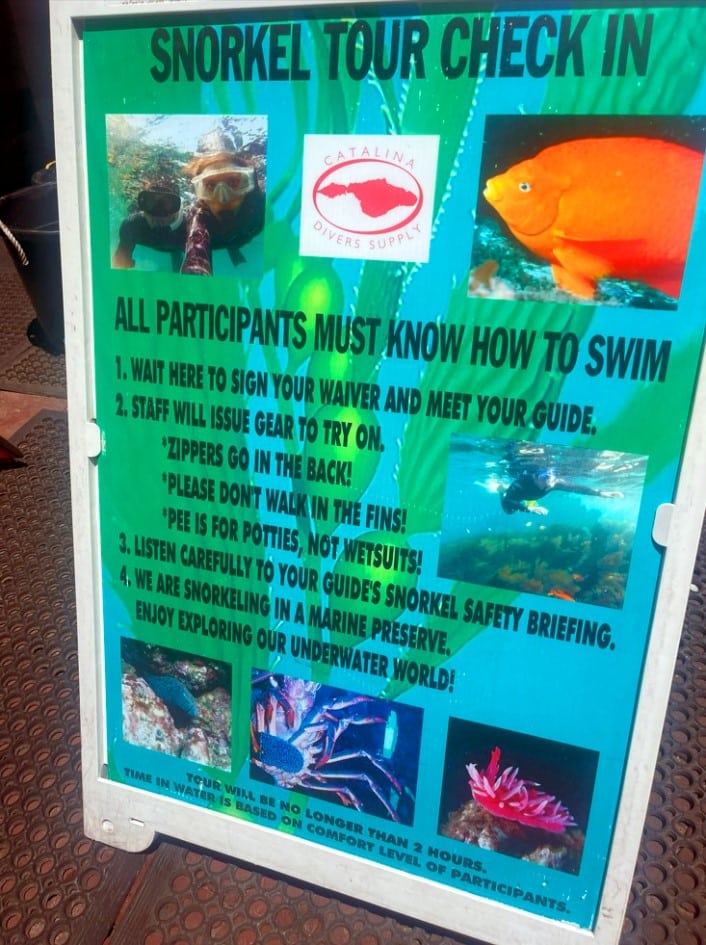 Descanso Beach Club
This was such a luxurious and wonderful part of the trip. I will always come back here during the summer.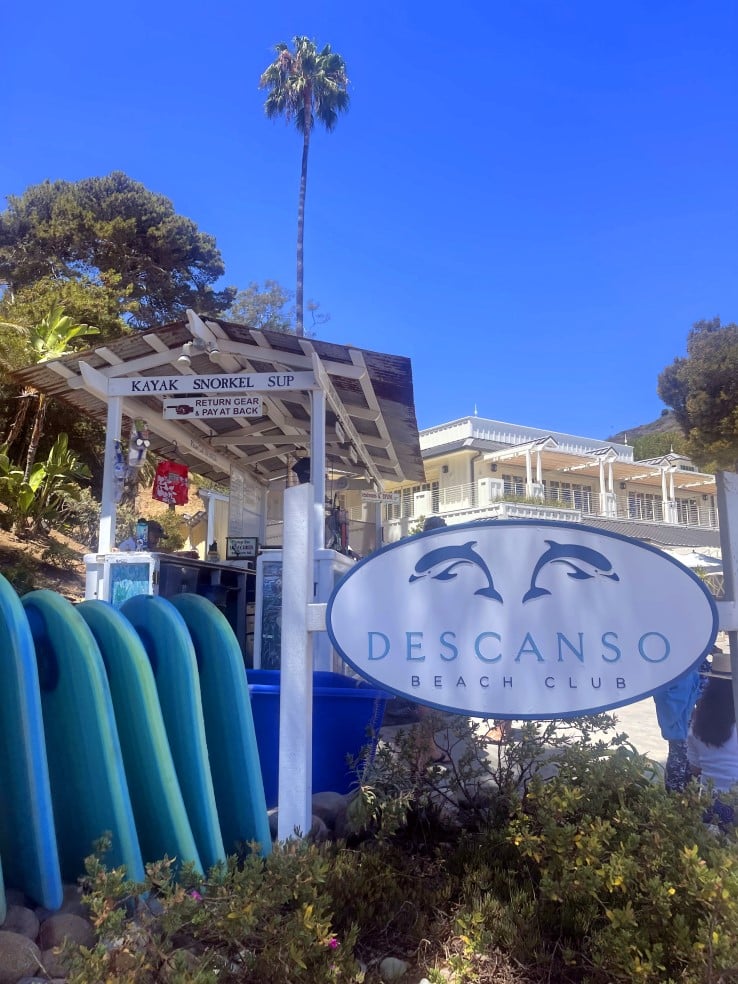 The Descanso Beach club is a beautiful, private beach club on the shore of Catalina Island that offers cabanas and beach chairs to rent. Not only that, they have beachside service that includes servers walking around that can take your food and drink orders without ever having to leave your chair.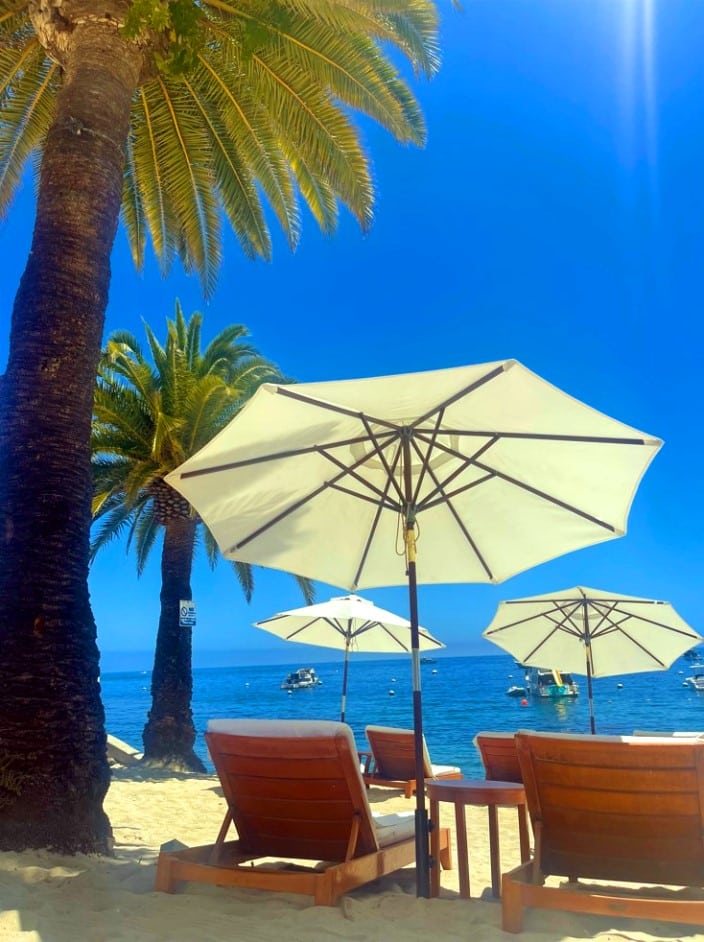 There is a restaurant and bar right there on the shore, a place to rent canoes, as well as a shop to purchase the cutest animal/food floaties to exceed your swimming experience. There is a public beach right beside the private beach too, but that doesn't include comfy chairs and tables, or service.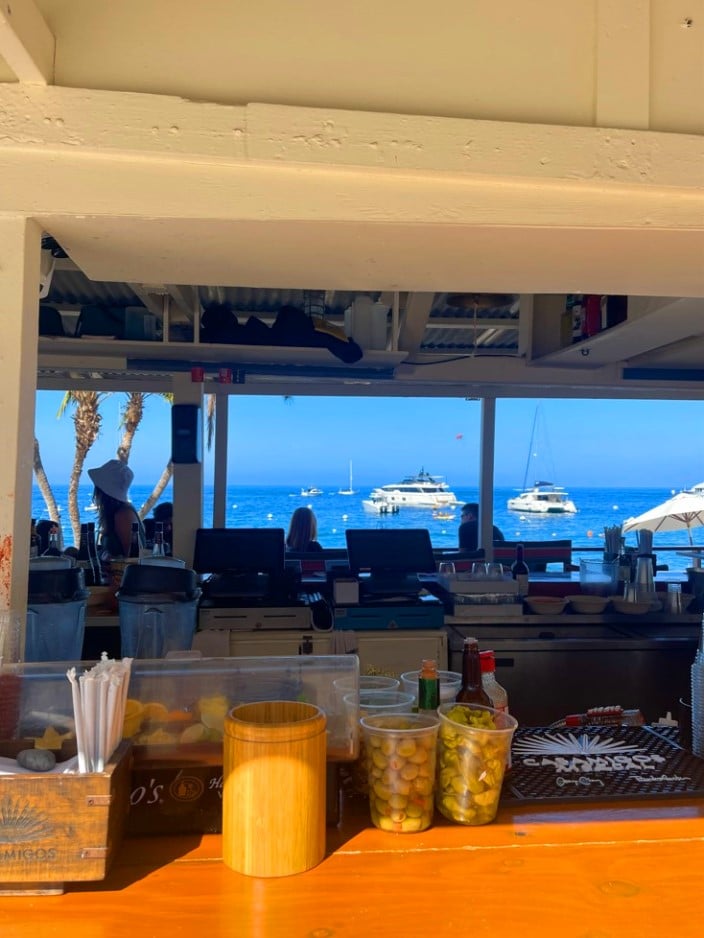 Make sure to book your cabana/chairs in advance because they do sell out over the summer. This is also because during the summer on some weekends, they host DJs and beach parties! It looks like a blast and I am dying to go to one on one of my next trips.
On arrival, our server delivered complimentary banana smoothies that were delicious. It was such a treat! I could spend all day in the sun there.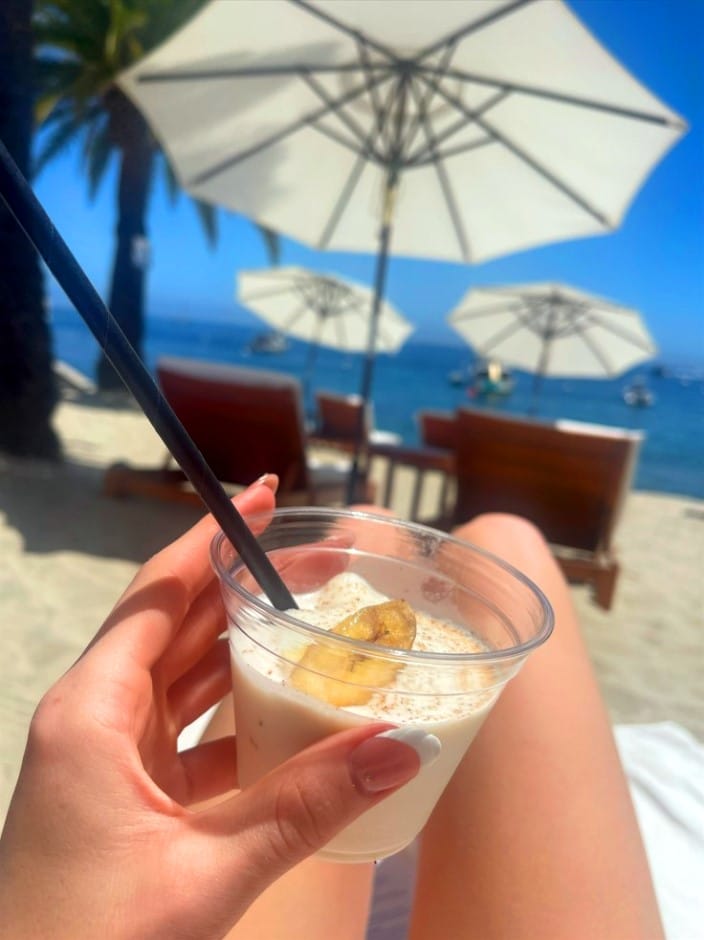 Catalina Island Mini Golf
My boyfriend and I went here to mini golf during our winter trip, and we had a blast. So of course, we had to run it back! Each course is so unique and weird and honestly, a bit complicated, which makes it so fun and easy to come back to. I definitely recommend coming to play. It doesn't take that long and it is just a perfect activity to do on a warm summer afternoon.
Catalina Island Zip Line Eco Tour
While we didn't do it this go around, we did the ziplining on our Winter trip, and it was just too much fun to not include! Be sure to check out ziplining in Catalina this summer! It was beautiful and it was exhilarating. Check it out here!
The Places We Ate At
The Naughty Fox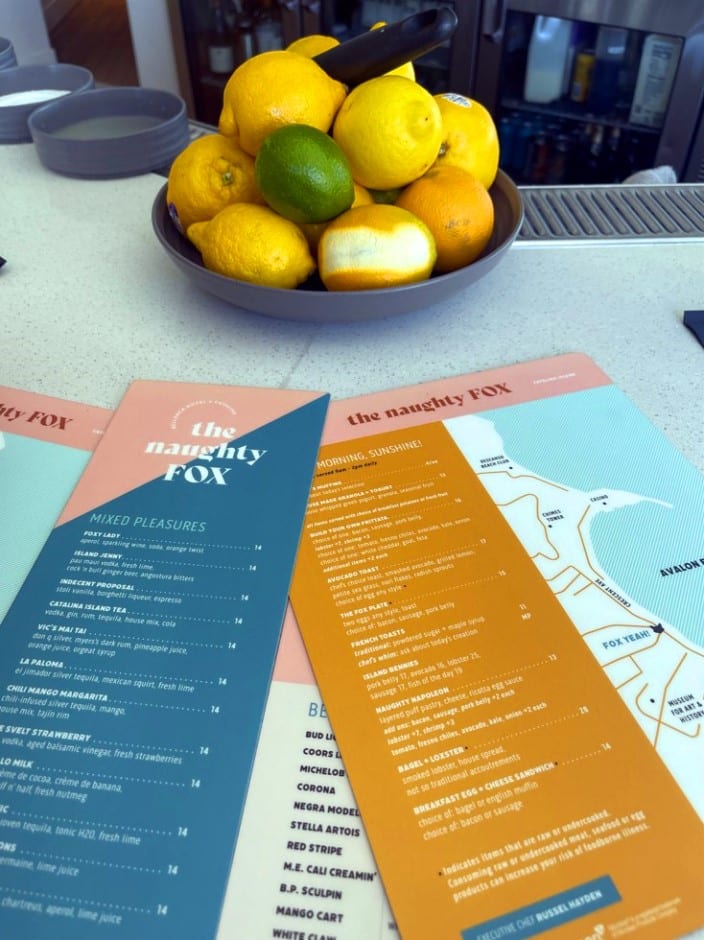 Located at the Bellanca Hotel, a cute food spot that we stopped by on the way to The Descanso Beach Club. They are open all week from 9am-7pm (9pm Friday and Saturday), so be sure to enjoy a lively and social experience!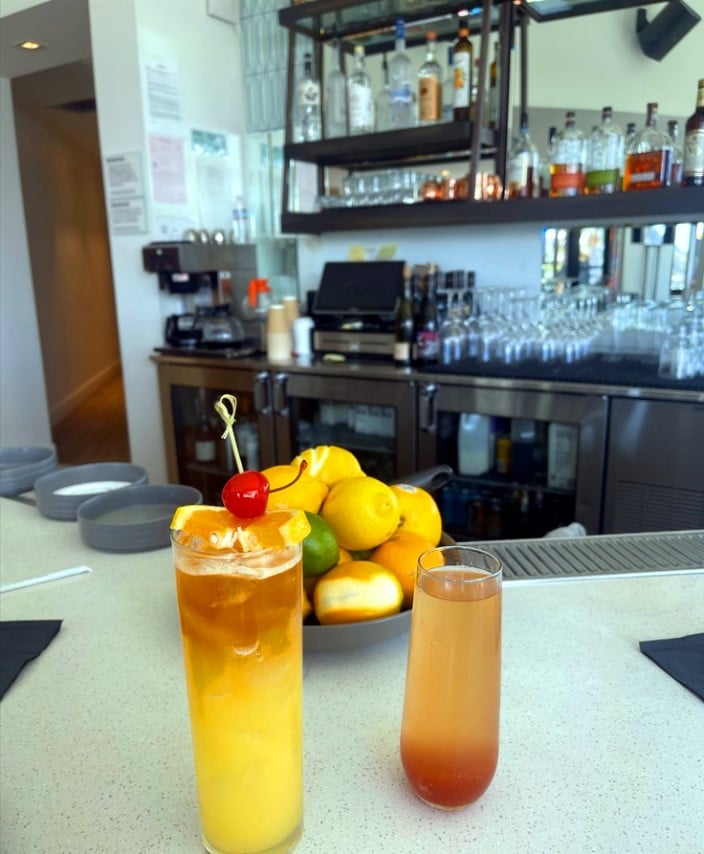 The Lobster Trap
The Lobster Trap is where we went first after getting in to Catalina late and checking into our hotel. Most of the other restaurants were closed by then, but not The Lobster Trap. They were open and had gluten free pasta!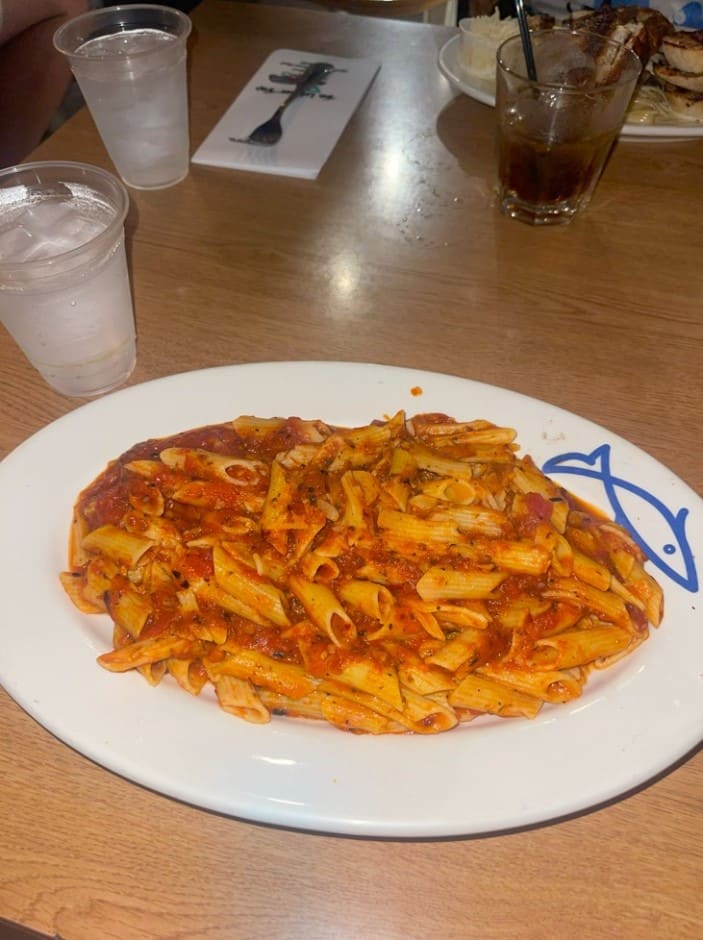 Catalina Coffee & Cookie Co
(SV)
I will never not talk about this place. I am obsessed with them. This is THE place to go in Catalina if you want coffee, a snack, or breakfast. You can build your own breakfast sandwich by just filling out a paper and dropping it off inside. They can make gluten free ones too, and it is just divine. I would go here for breakfast every day if I could. I try to branch out to get a taste of other breakfasts on the island, but I'd be lying if I said I didn't just want to eat at Catalina Coffee & Co.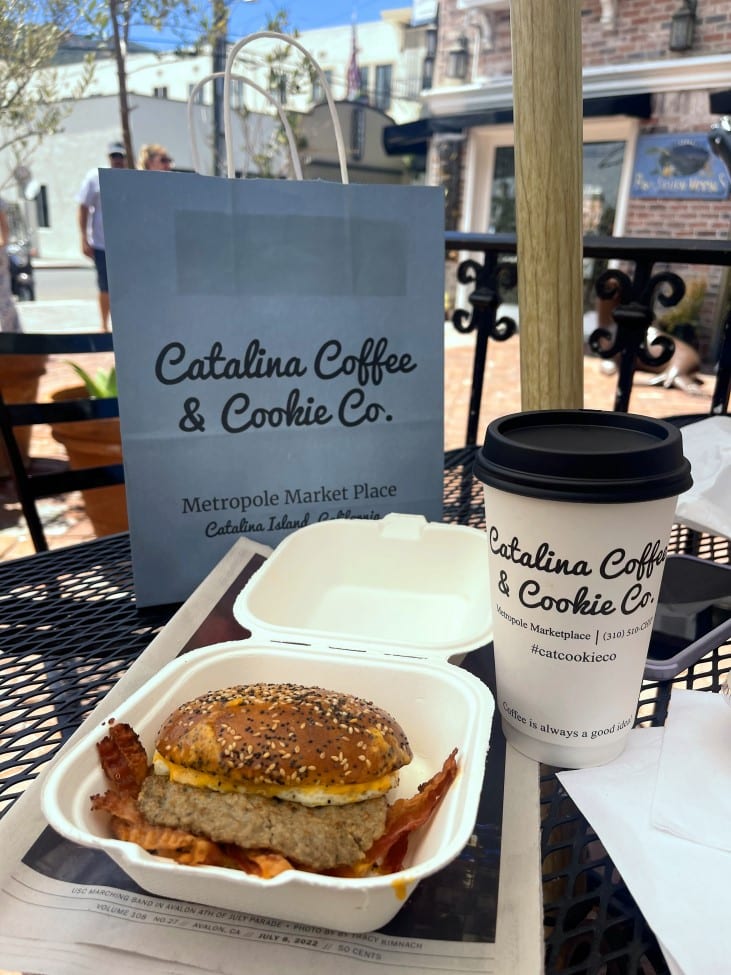 After parasailing, this was a quick, easy, and favorite breakfast to stop at.
Antonio's Pizzeria and Cabaret

(SV)
I <3 Antonio's! There are two locations in Avalon. One is more inwards away from shore, and is much smaller, but still incredibly cute. The other is much bigger and is right on the shore, giving the opportunity to be sat right on the water. It is so pretty and lovely and they have gluten free pizza!! You know how excited I get when I find gluten free options. Perfect for a relaxed date overlooking the glistening waters, talking over wine and pizza.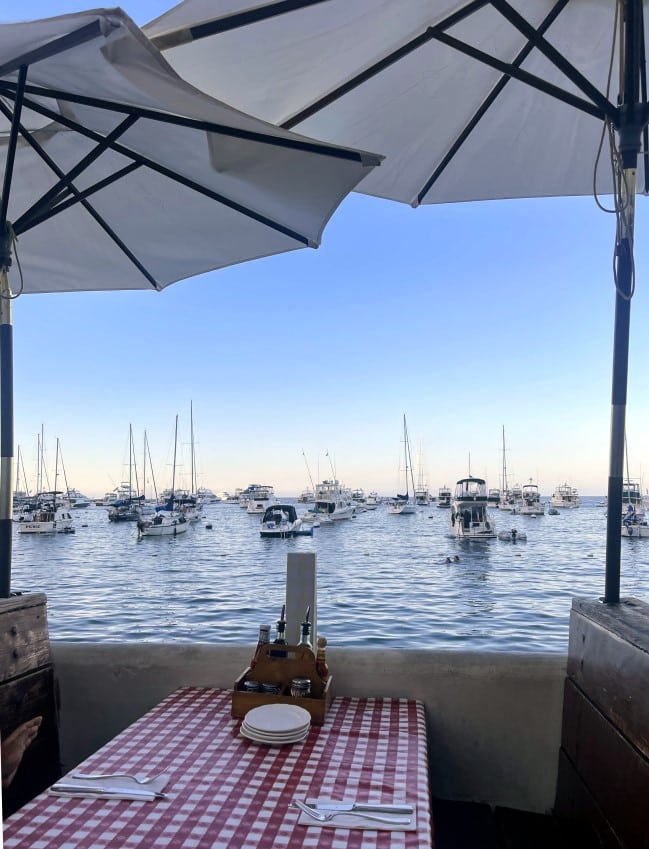 The End
And that's all of our summer on Catalina Island! There is still so much to do and see. I can't wait to come back, and next time, I'll be visiting Two Harbors!
xoxo,
Jess!