My boyfriend and I chose the cute, quaint, magical island of Catalina to spend our 2-year anniversary. It was absolutely magical in every way. Winter in Catalina is a real-life Christmas movie. I swear I said "we are in a Hallmark movie" about 20 times.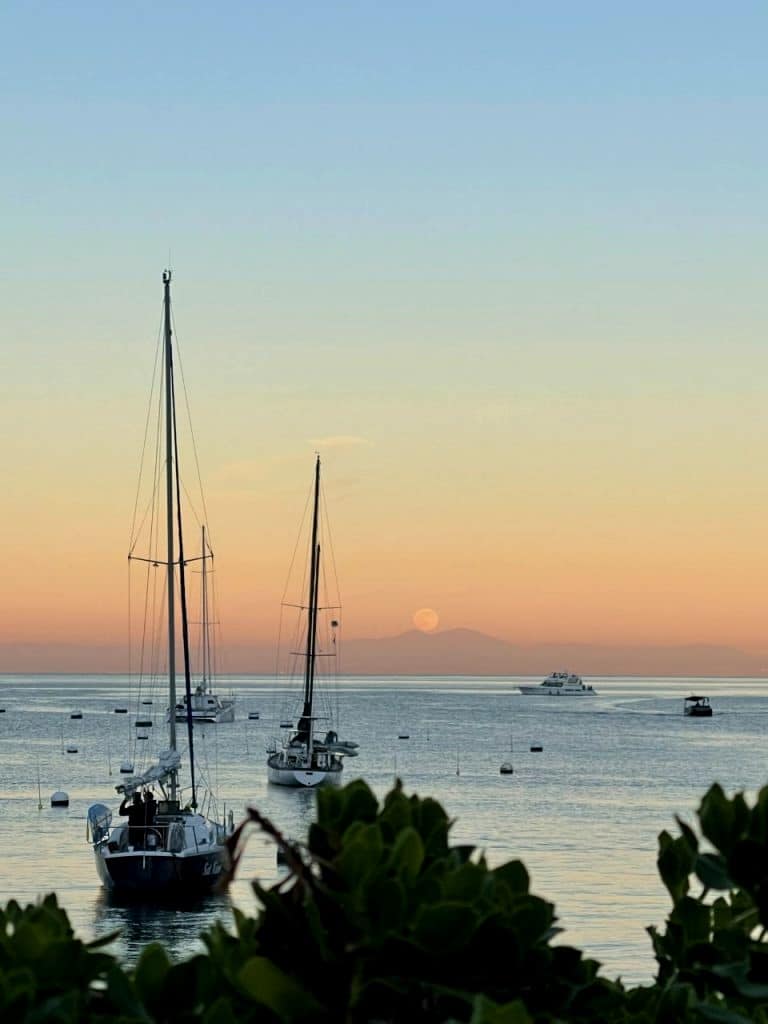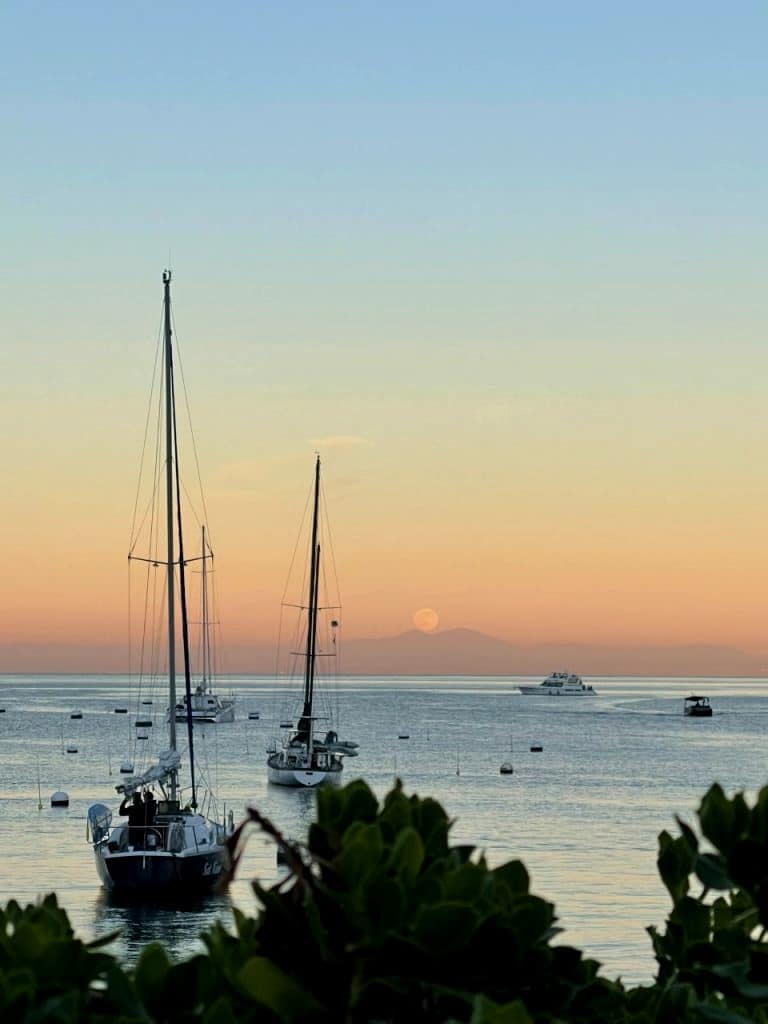 Our anniversary falls on December 19th. So it was nice and chilly, and smack in the middle of Christmas season.
Which turned out to be for the best.
We arrived Saturday, December 18th, and left Monday, December 20th. A short amount of time but a time I'll never forget.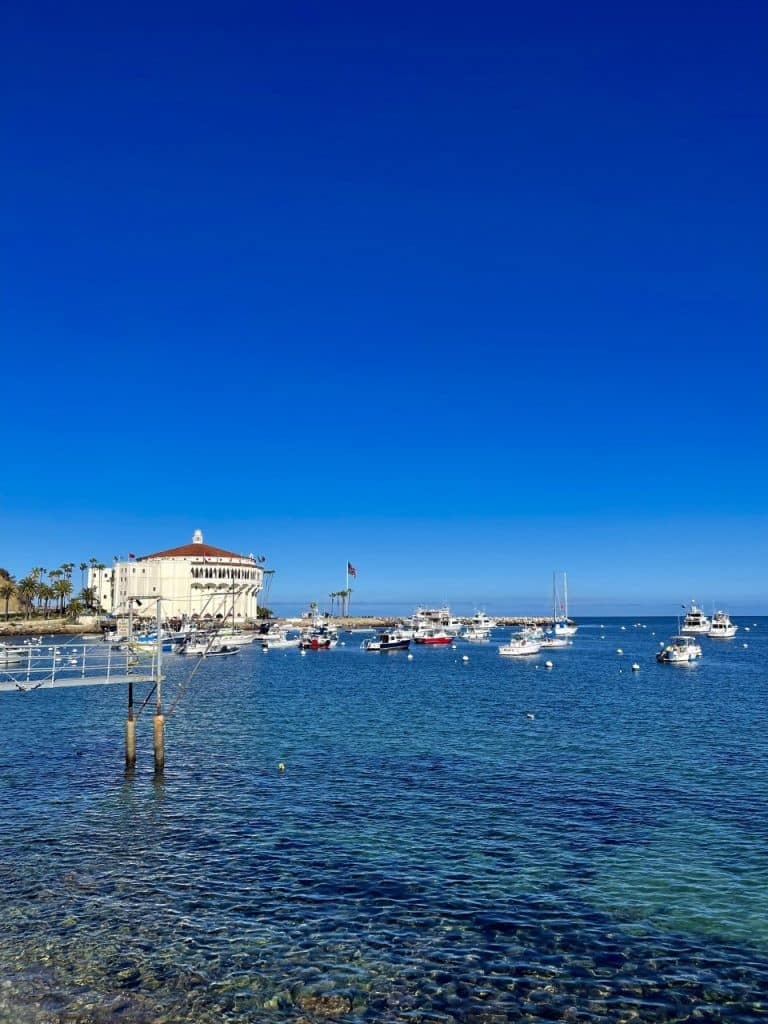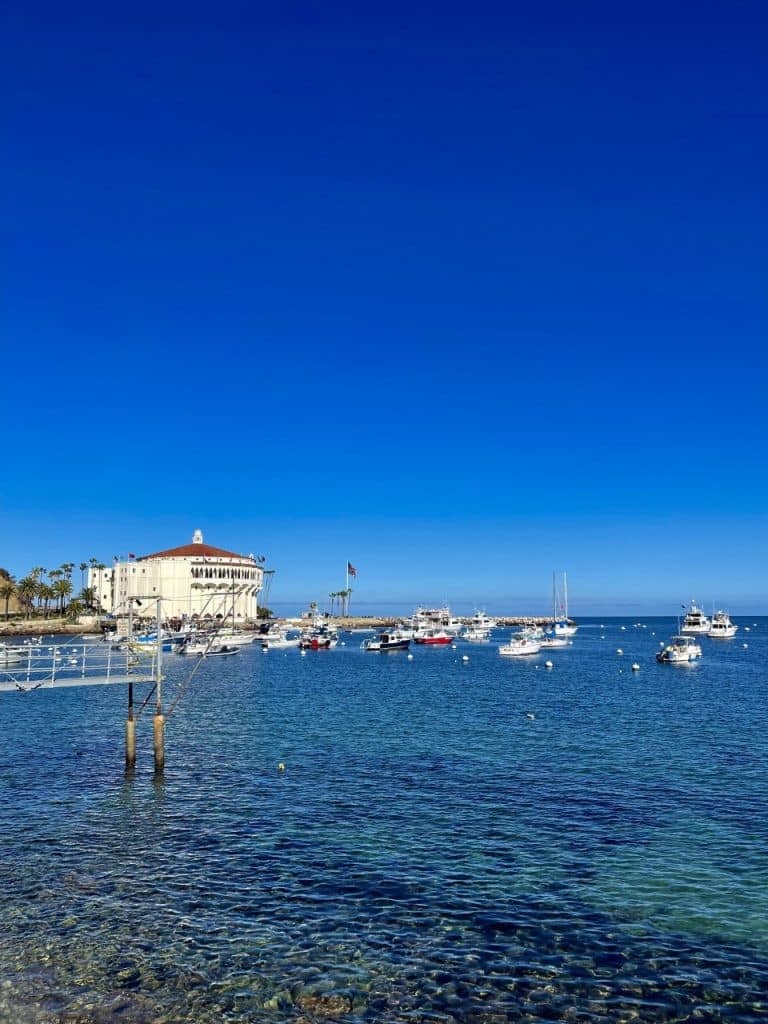 Let me show you everything we did from start to finish! And please enjoy a few token film pictures, as I bought a disposable film camera just for this trip! 🙂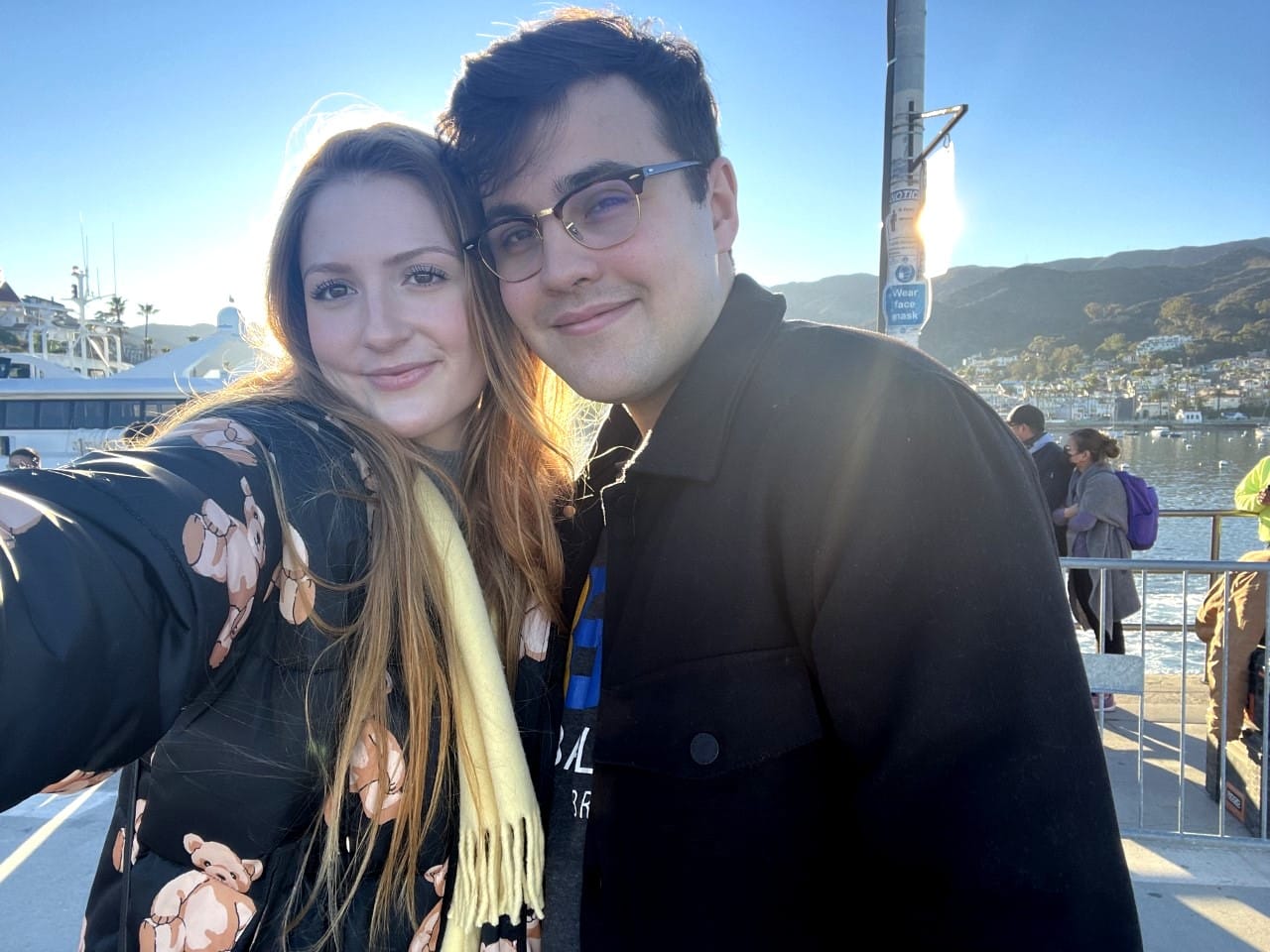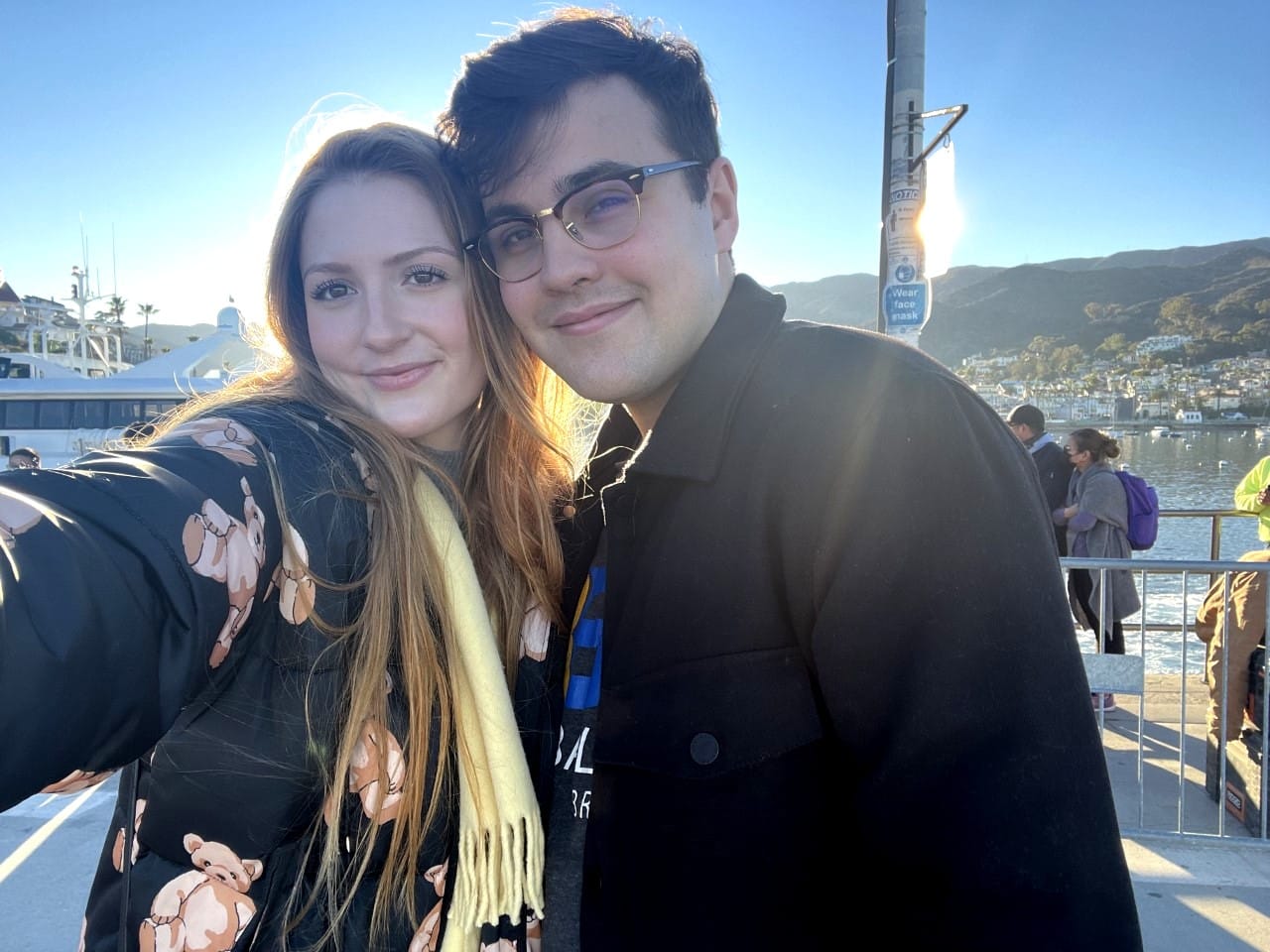 The Catalina Express – Sat Dec 18th, 2:00pm
Possibly the most anxious morning of my life. We thought we were going to miss the ferry! Luckily, we got there with 3 minutes to spare. Yes, 3. I don't recommend. Apparently, you need to plan to be earlier than early, because everything that could have gone wrong, went wrong.
But anyway! We made it. Unfortunately, no window seats were left, obviously, so we sat in the middle towards the front of the Catalina Express. Because we had forgotten our coffee at home, we decided to buy some hot cocoa at the drinks and snacks bar.
Thank goodness for that. It was such a nice surprise.
– and then we were off!
Long Beach ——-> Catalina Island, Avalon.
Total of 1hr & 10 minutes!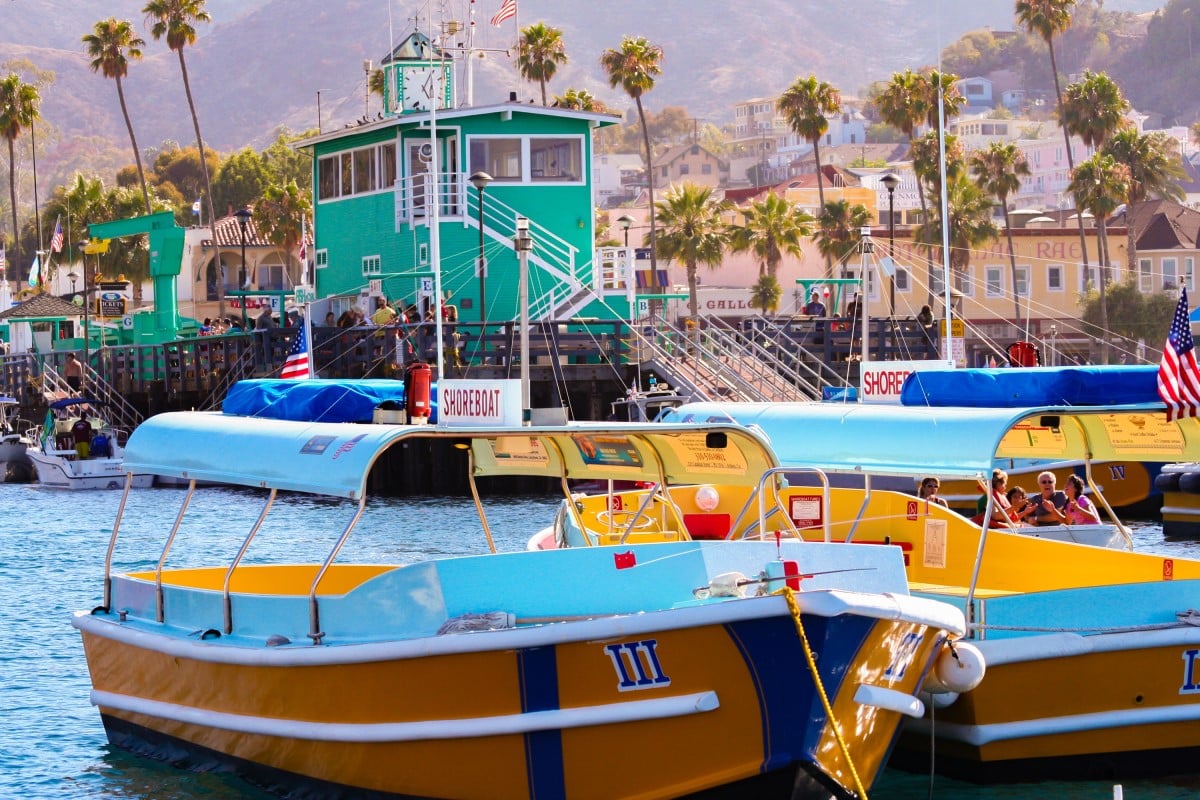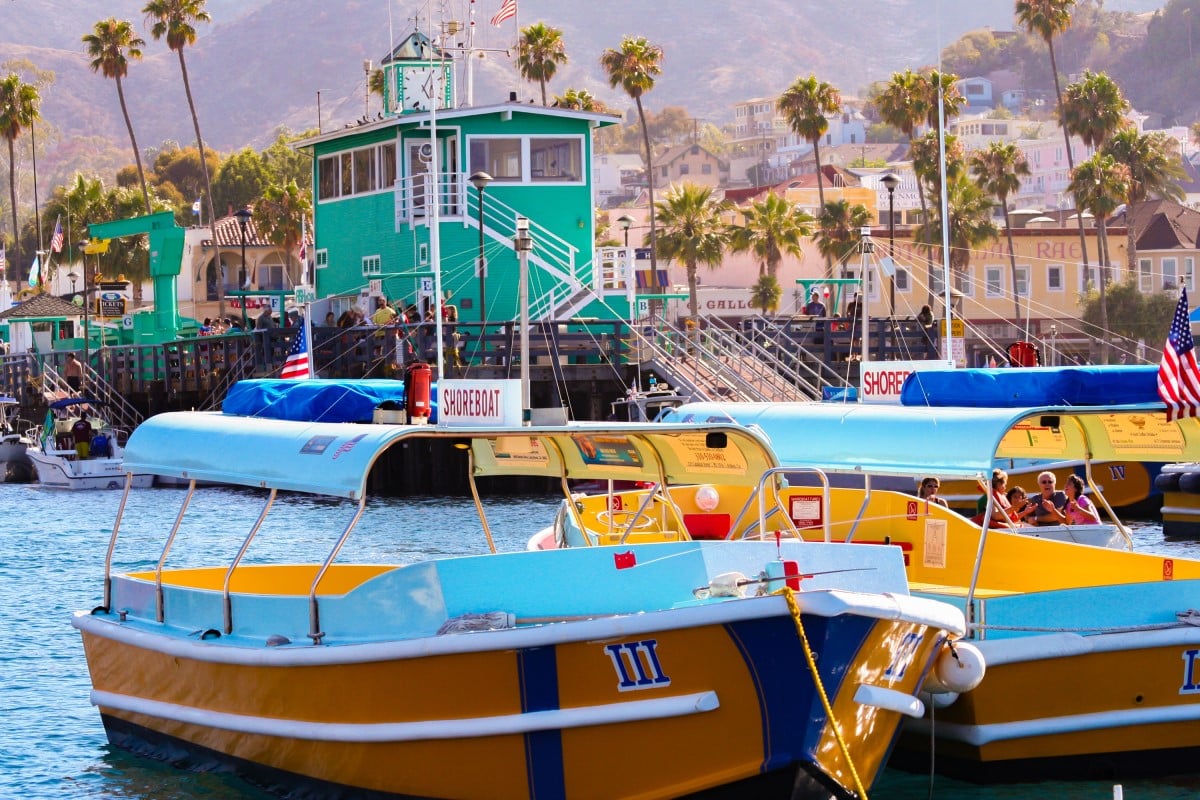 Hermosa Hotel – Catalina Island
Because Catalina is so quaint, you can literally walk everywhere.
So, we got off the ferry, put the hotel in our maps, and walked a total of six (6) minutes to get there.
It might have taken us a little longer though because we stopped for pictures!!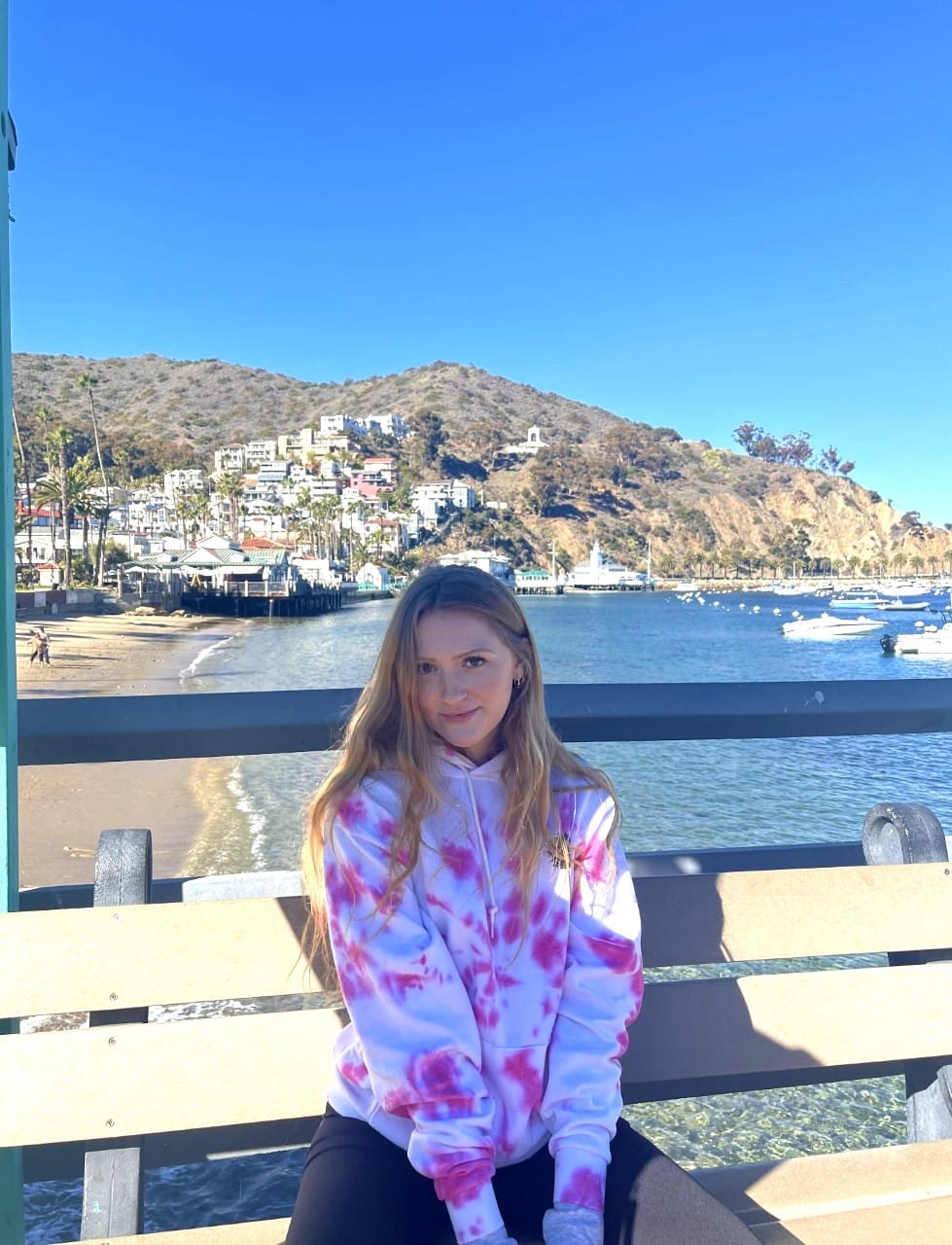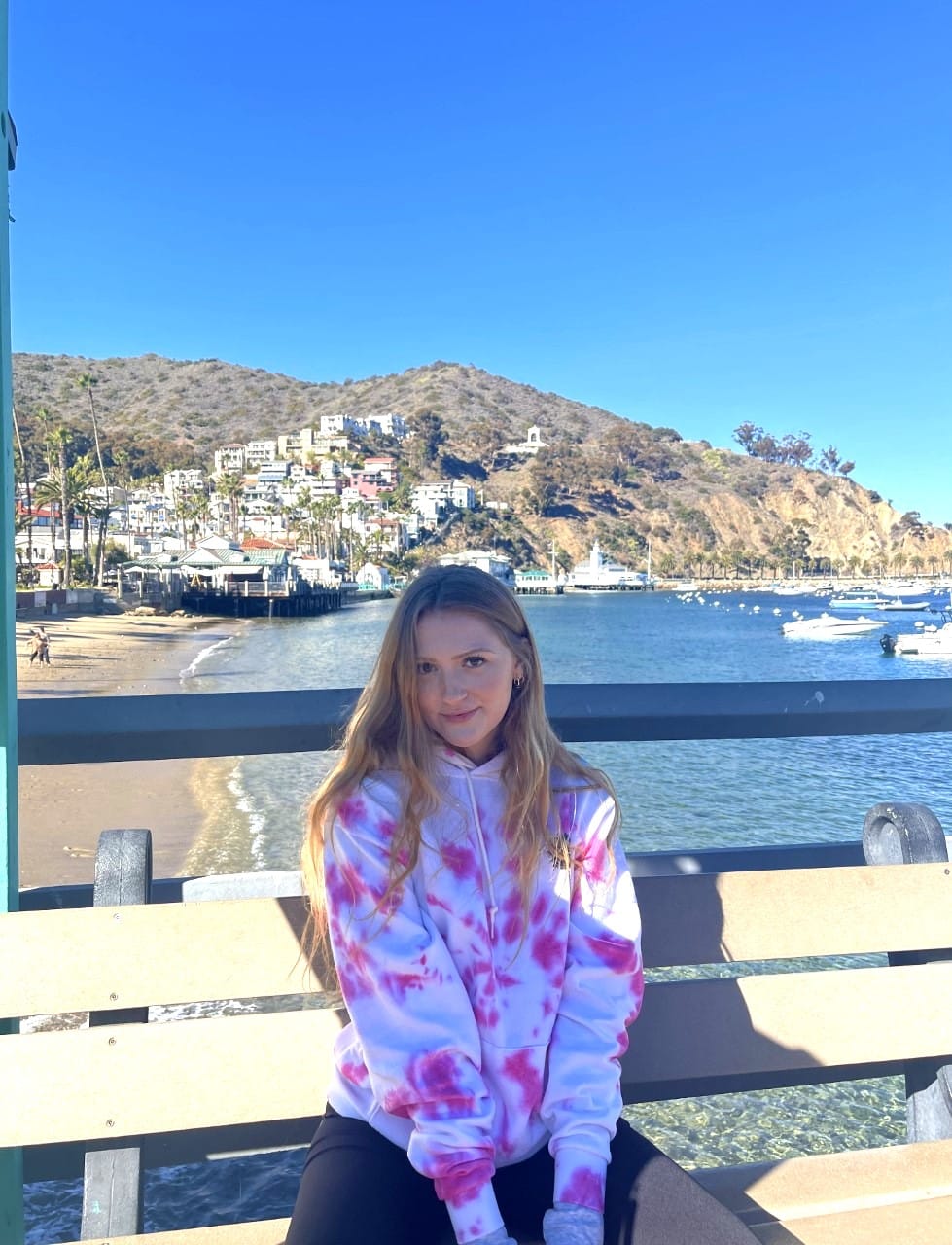 Right off the ferry are many pretty picture spots with a beautiful view of Avalon.
At last, we arrived to Hermosa Hotel. It was at a great spot in my opinion. It's not located on the main street by the ocean, but a little bit down one of the side streets, right next to the Art Museum.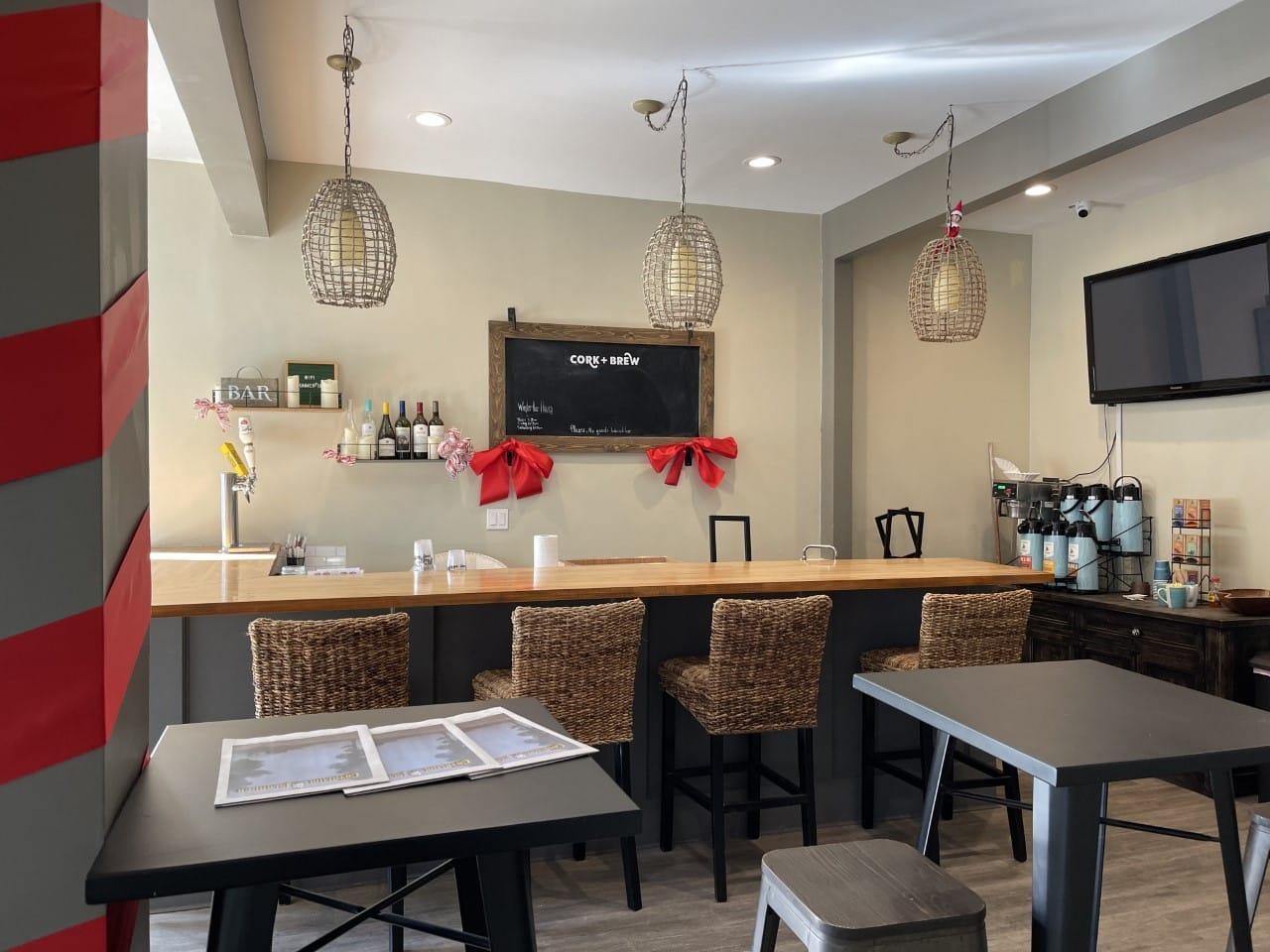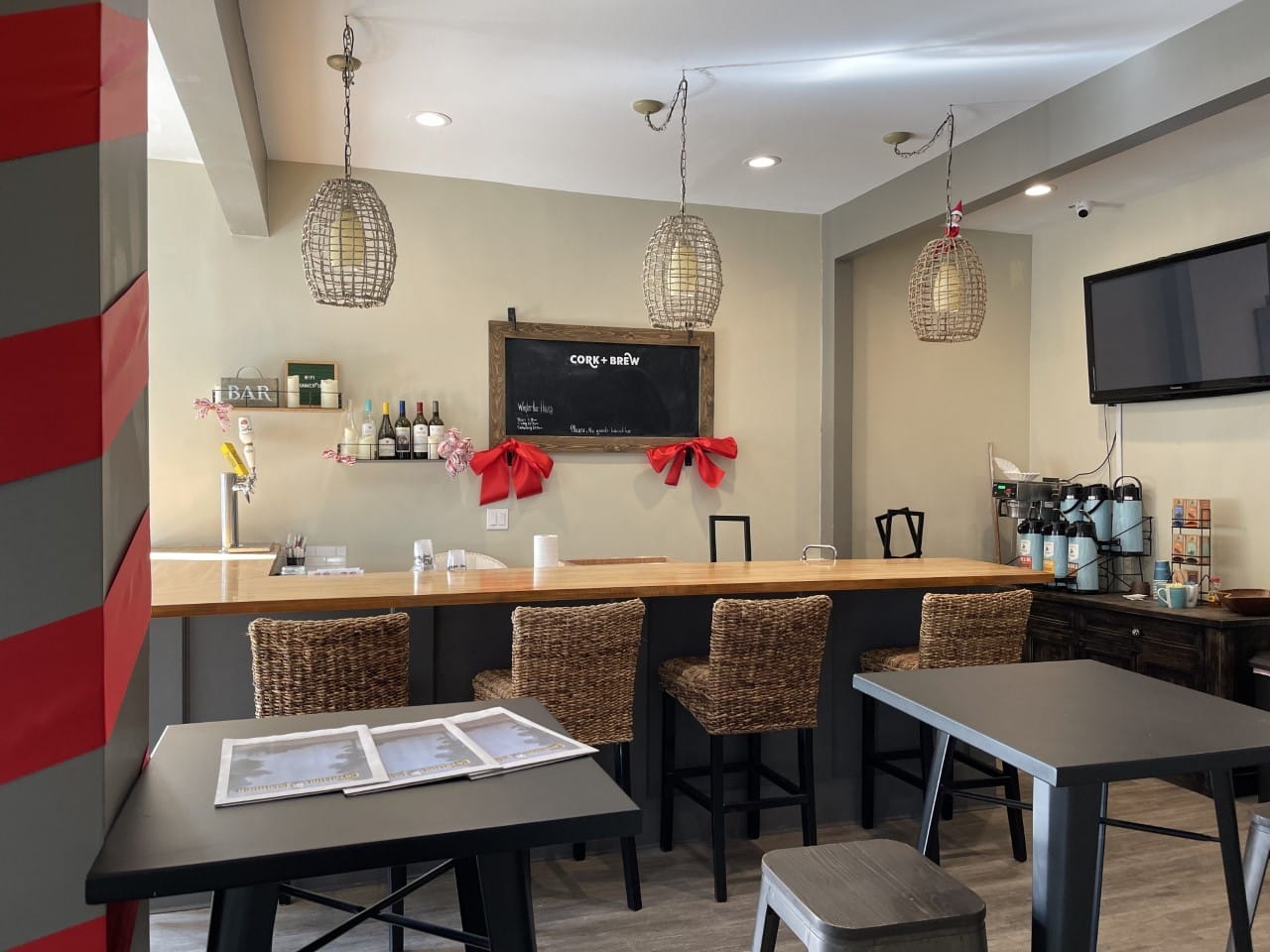 It was totally affordable, and when we checked in the woman working told us she upgraded us to a bigger room for free!
Now, this isn't some large resort room. It was very, very small. In fact, the upgraded room was still so incredibly small. But we had a tiiiiny bit of extra room due to the added kitchenette.
But that was all we needed. We weren't planning on spending that much time in our room. We just needed to come back and have a nice, warm place to sleep.
It was adorable though. It's not like a normal hotel. We walked a little bit down the street from where we checked in to get to the rooms. They're all separate, and they are all accessed from the outside.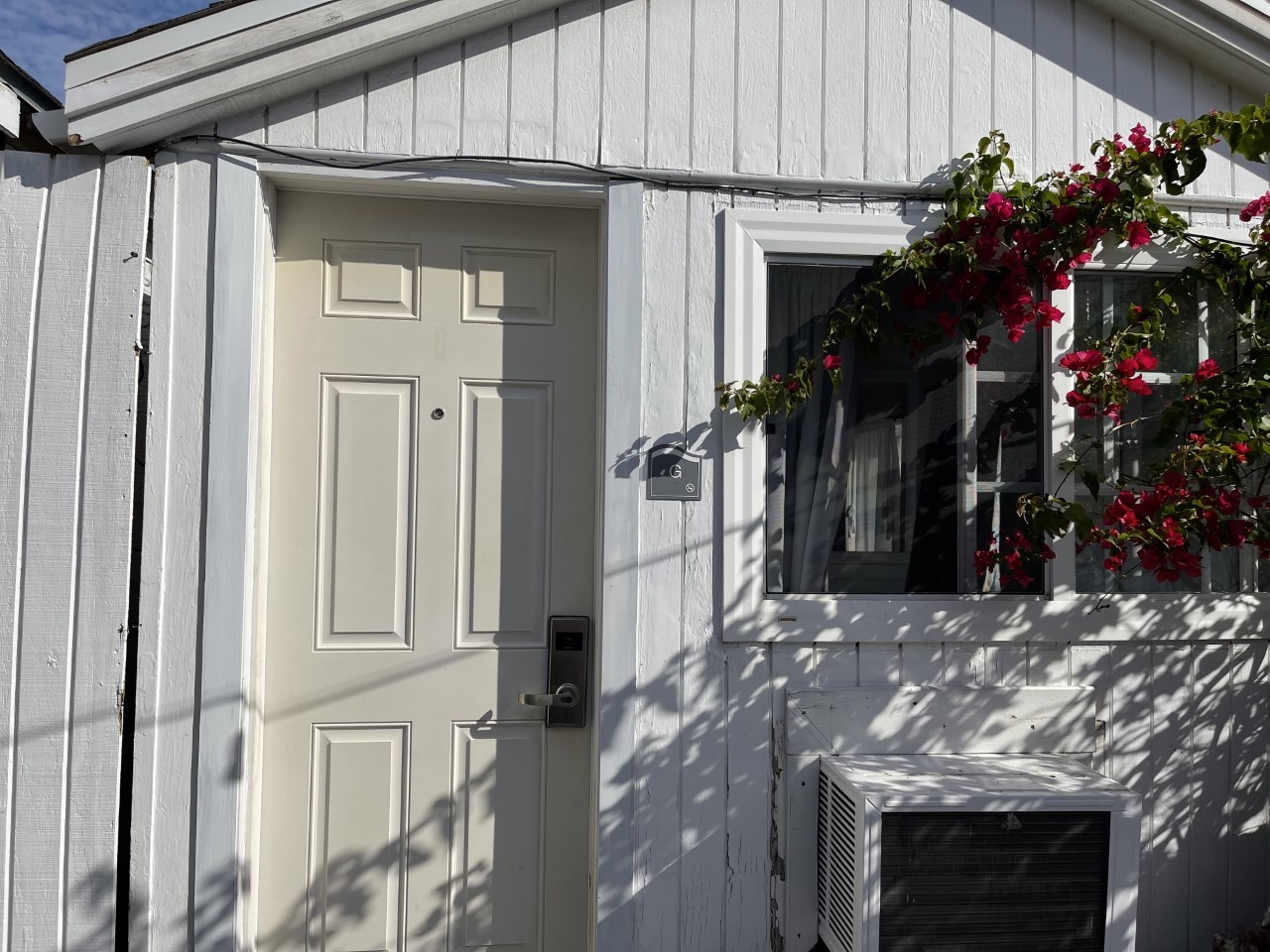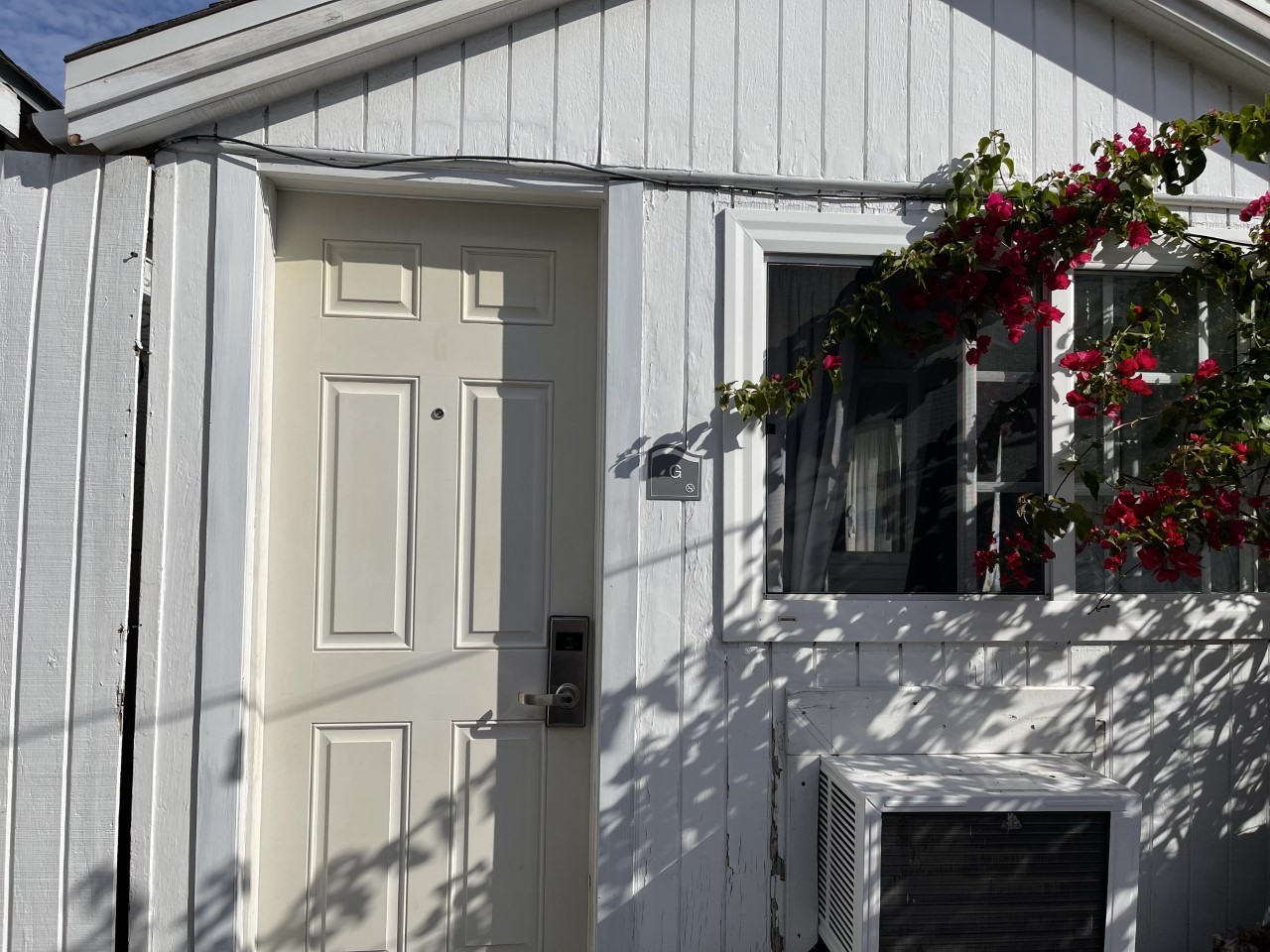 Maggie's Blue Rose – Mexican Food
It was only after we ate here that I heard from the locals this is one of the top two Mexican restaurants on the Island. Forgive me, I don't remember what they said the other one was, but I'm happy we guessed right on our first try!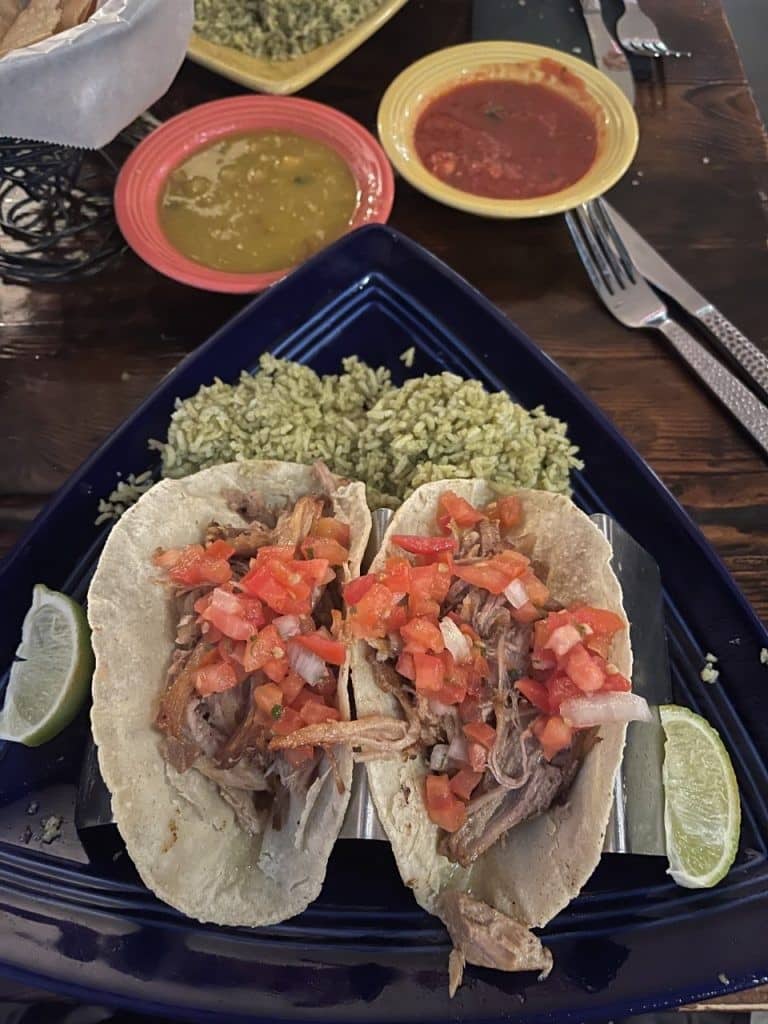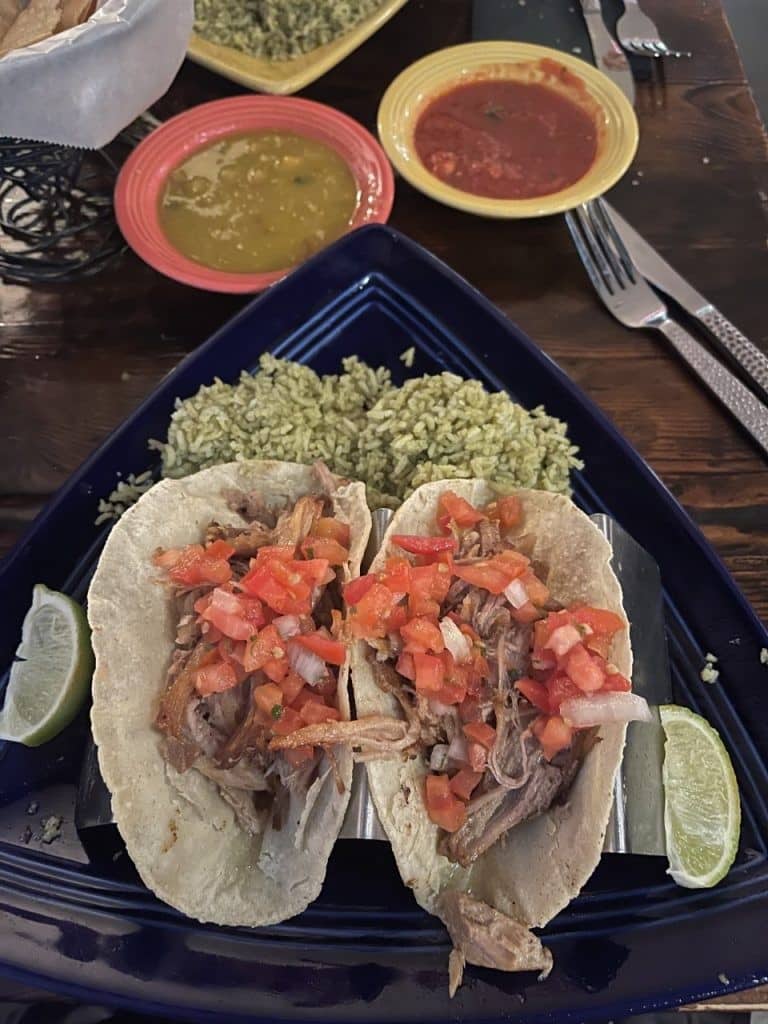 I really wanted carnitas tacos, and that's what I got! In corn tortillas, because if you've been following me, you know I'm allergic to Gluten. It was really good!!
Andrew got the enchiladas which he really liked as well. And they started us off with chips and salsa that hit the spot.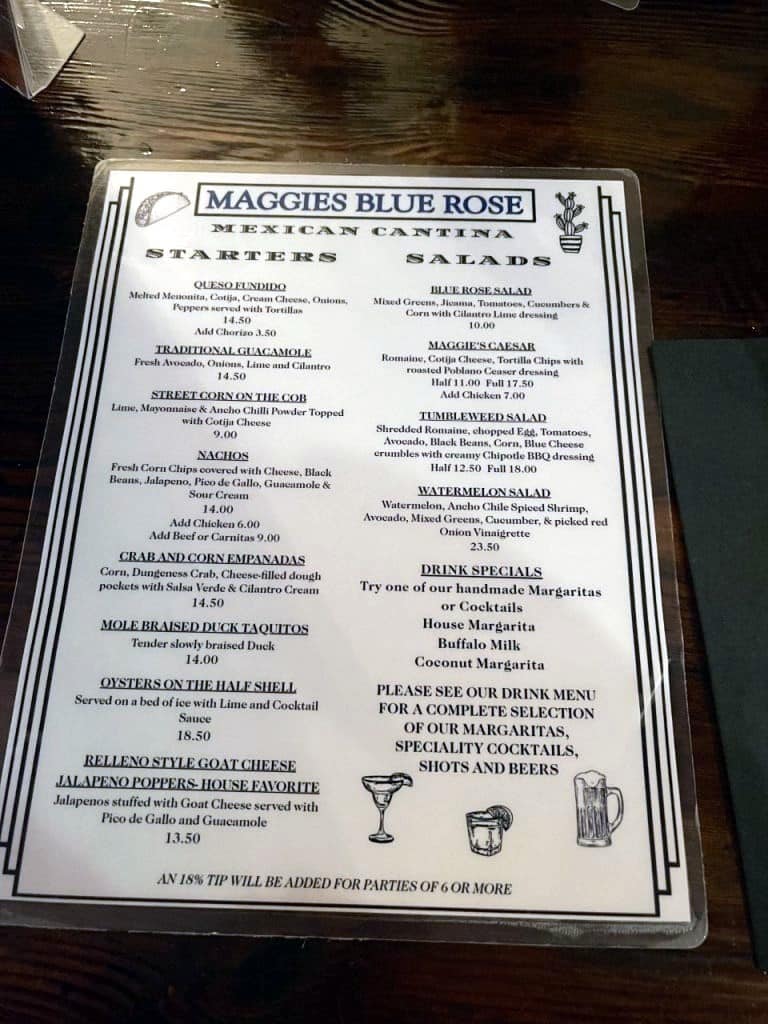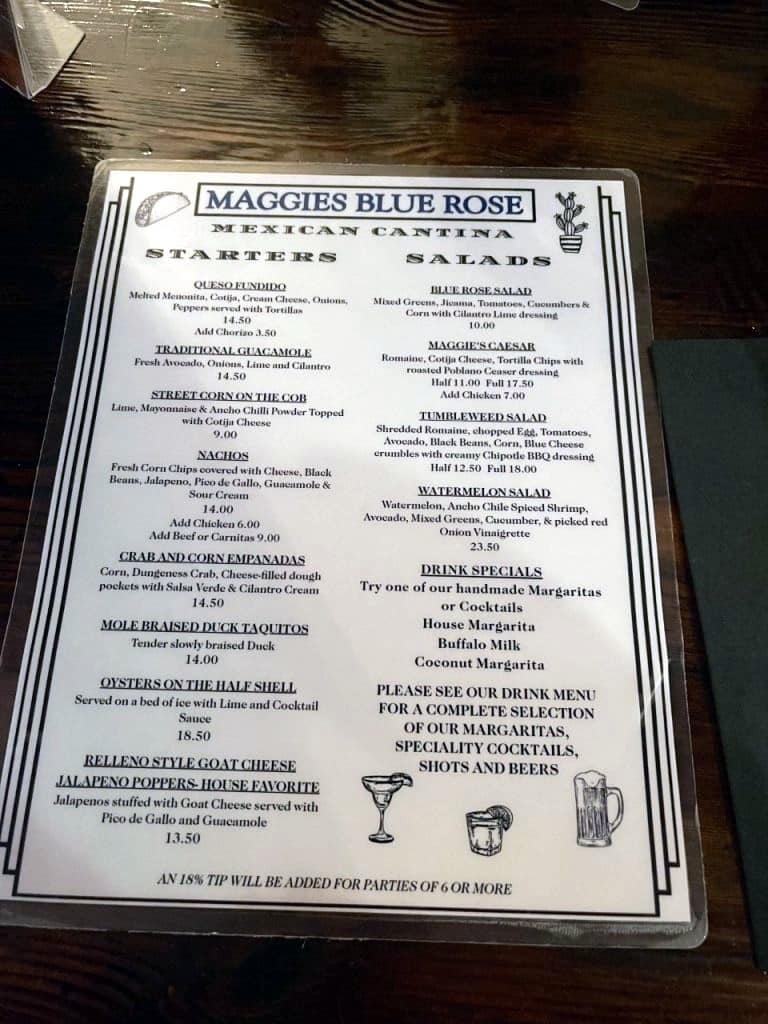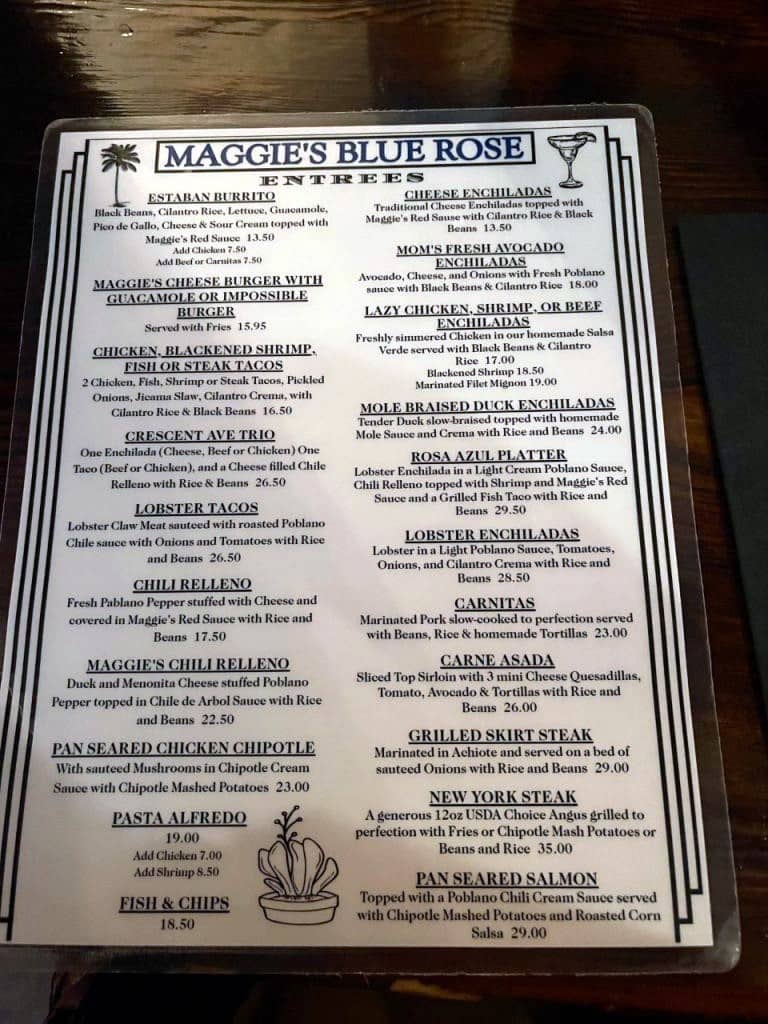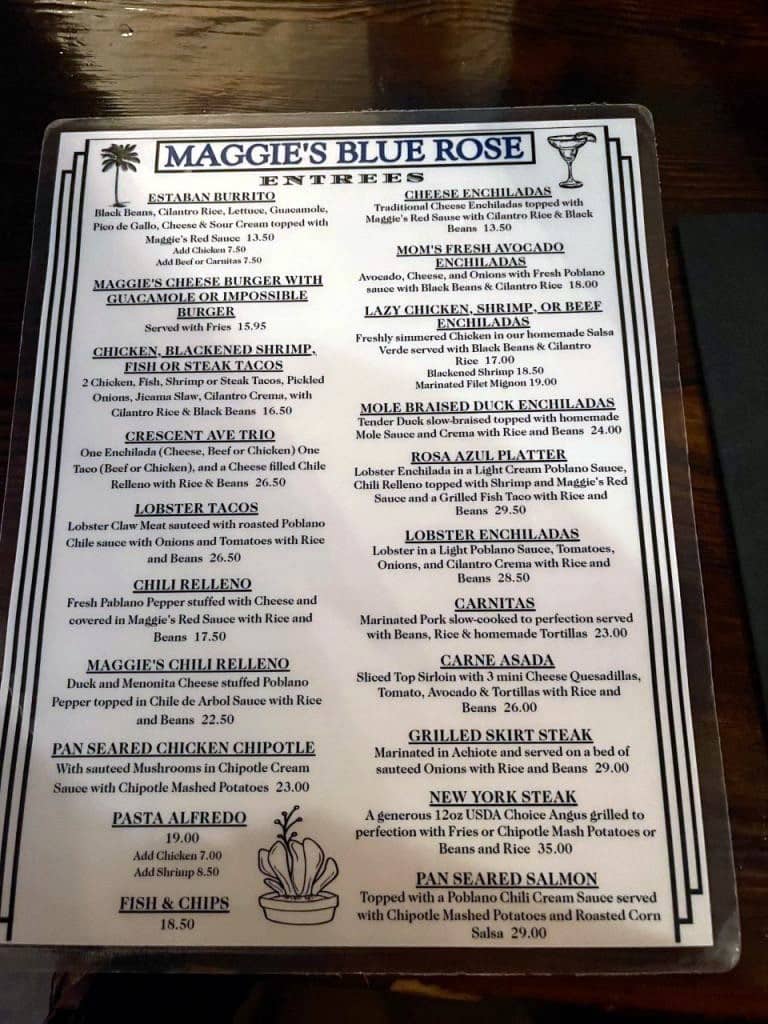 Catalina Holiday Concert – Part 1
After Maggie's, we rushed to the Art Museum because we thought we were going to be late. When checking in to our hotel, the woman told us there was a Christmas Choir concert going on that night. This was true, but the actual concert didn't start till much later.
But because we were there so early, we got some great pictures with Santa and Mrs. Clause!!!
We also got to check out the exhibit for free, which has some really cool stuff from the Titanic.
With some time to spare, we decided to go find a bar that had darts.
J L's Locker Room
This was THE spot for us. LOL. We came here every day to play darts and have drinks.
This place was always poppin too. Sports playing on many TVs, lots of people hanging out, and even one day they had a taco station set up! And of course, darts and a pool table.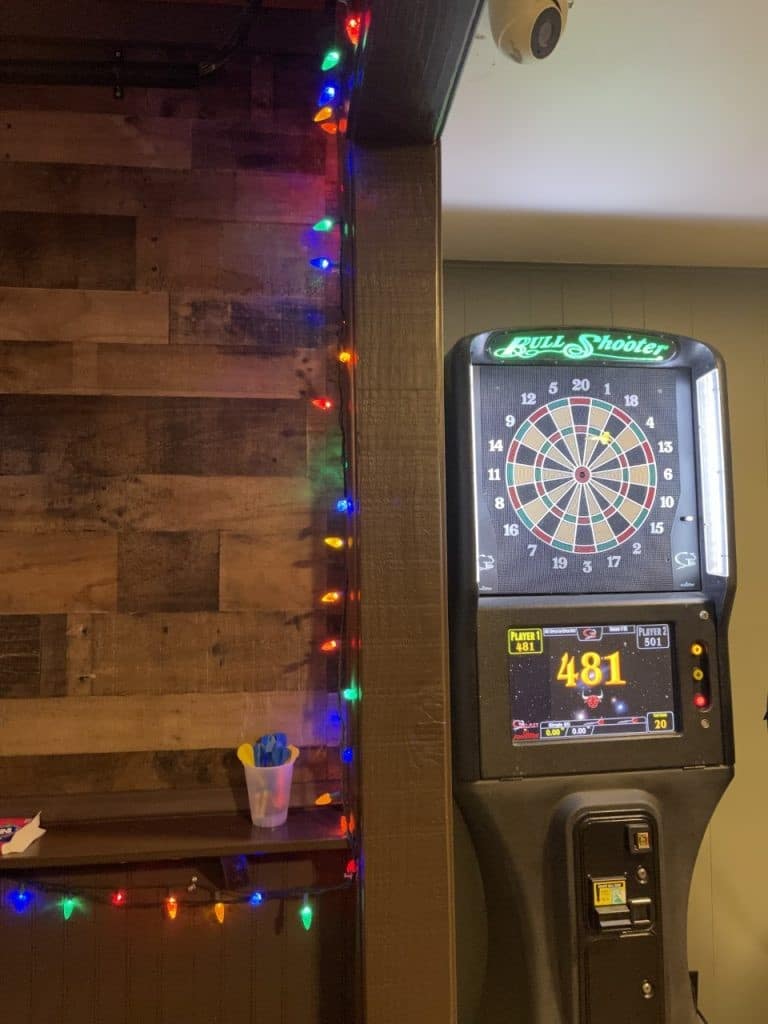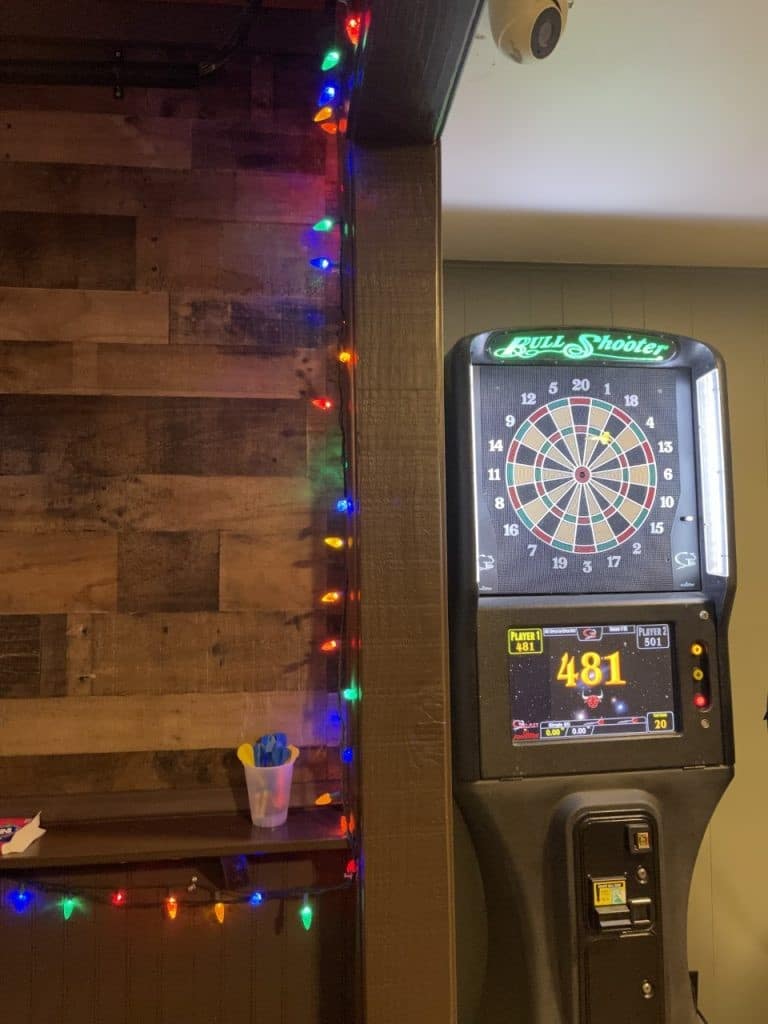 We had a lot of fun here. And the workers were super nice too!
Catalina Holiday Concert – Part 2
After completely crushing Andrew in darts, we went back to the museum in time for the concert.
We grabbed some hot cocoa that was being sold there and took our seats (which was on the outside roof area).
This performance came from the choir at LMU. They were really good!! It was so Christmasy and brings me back to that "we're in a Hallmark movie!!" line.
Toward the end they did two songs where the audience sang along! They passed around lyric cards and honestly it was really fun to participate in.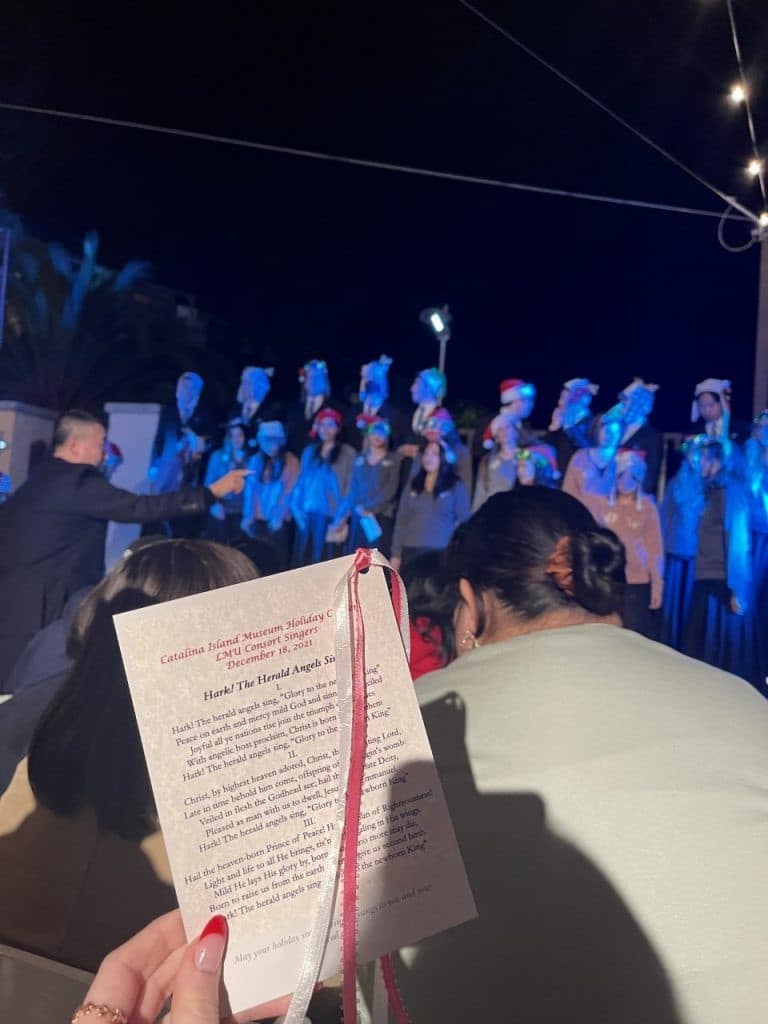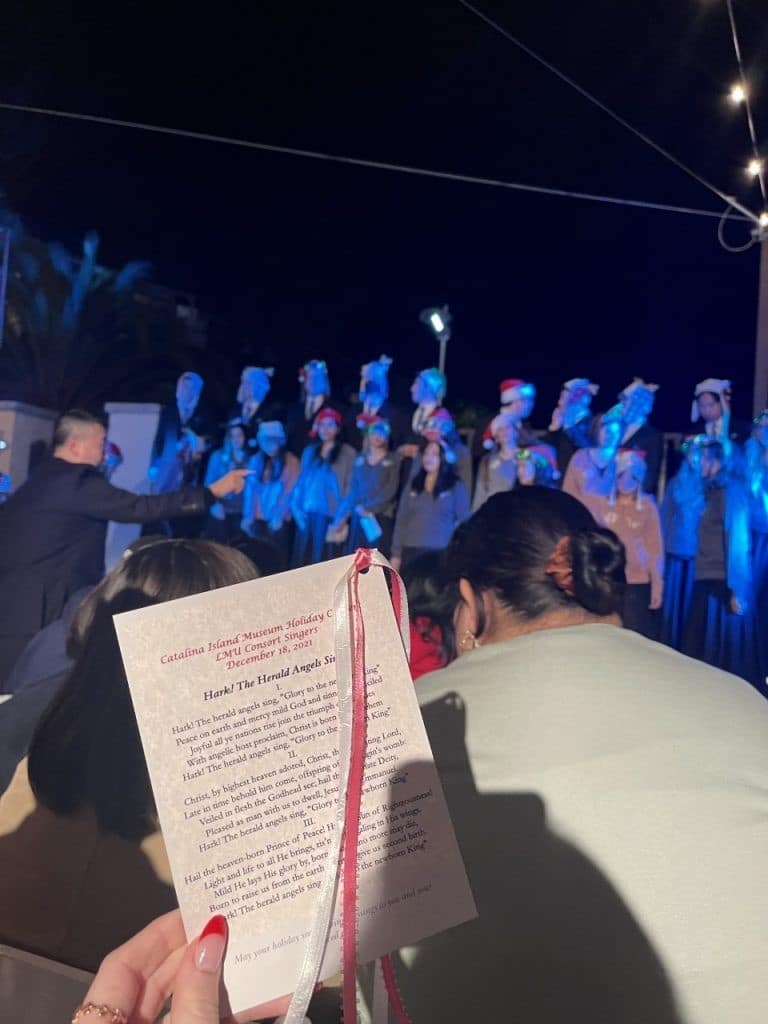 Sunday Morning at Catalina Coffee and Co.
The cutest coffee shop on Catalina Island. Everyone's walking around with a coffee cup from Catalina Coffee and Co. It's located in the adorable Metropole Market Place! We got vanilla lattes and they were really good! Of course, Andrew got iced, because even in the cold he's a fiend.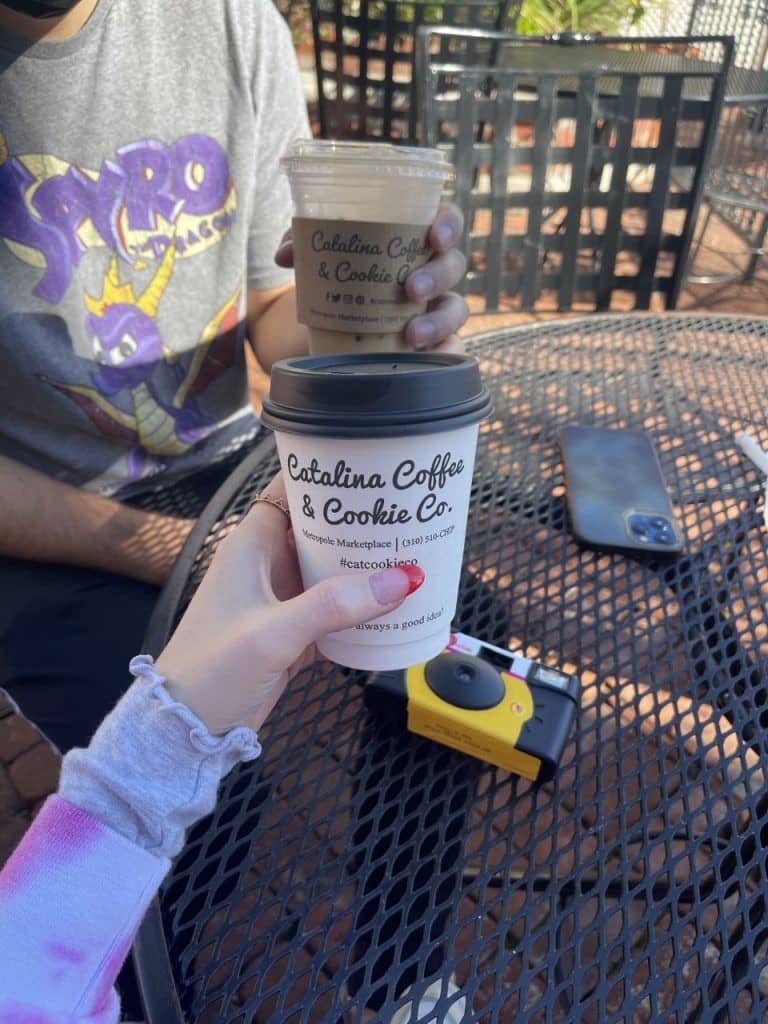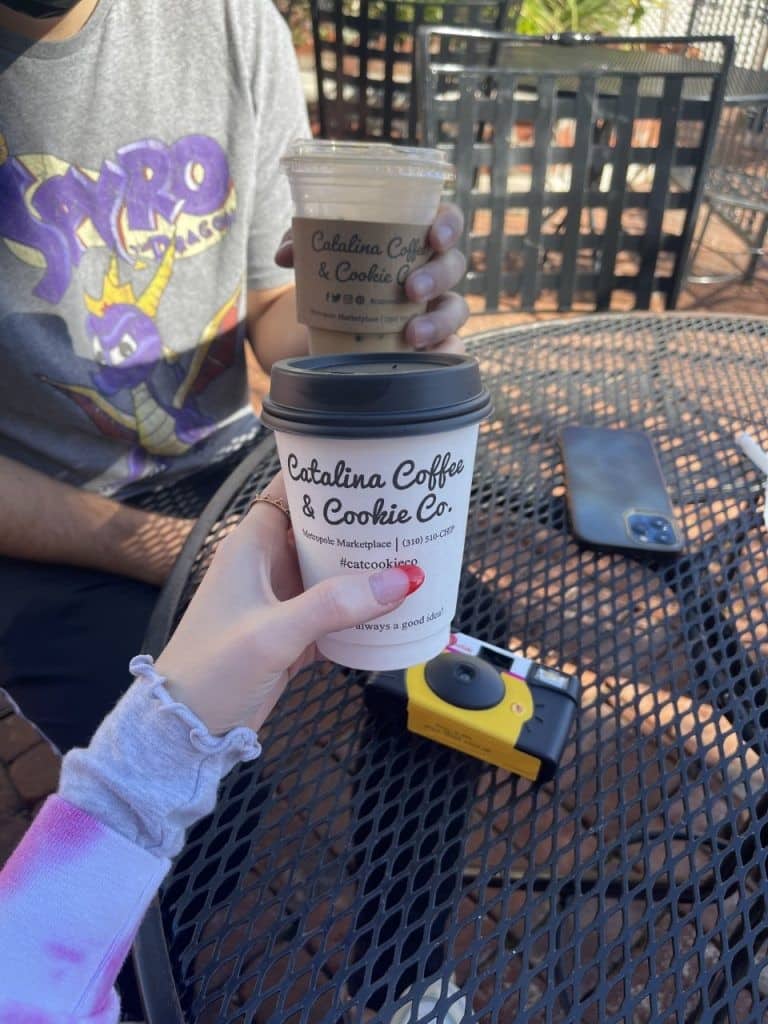 Breakfast at The Pancake Cottage
The Pancake Cottage is a popular breakfast spot in Avalon. It's super cute and even offers Gluten Free Pancakes!! That's what sold me to go here, but after drinking my yummy vanilla latte, I decided maybe I didn't want more sweets.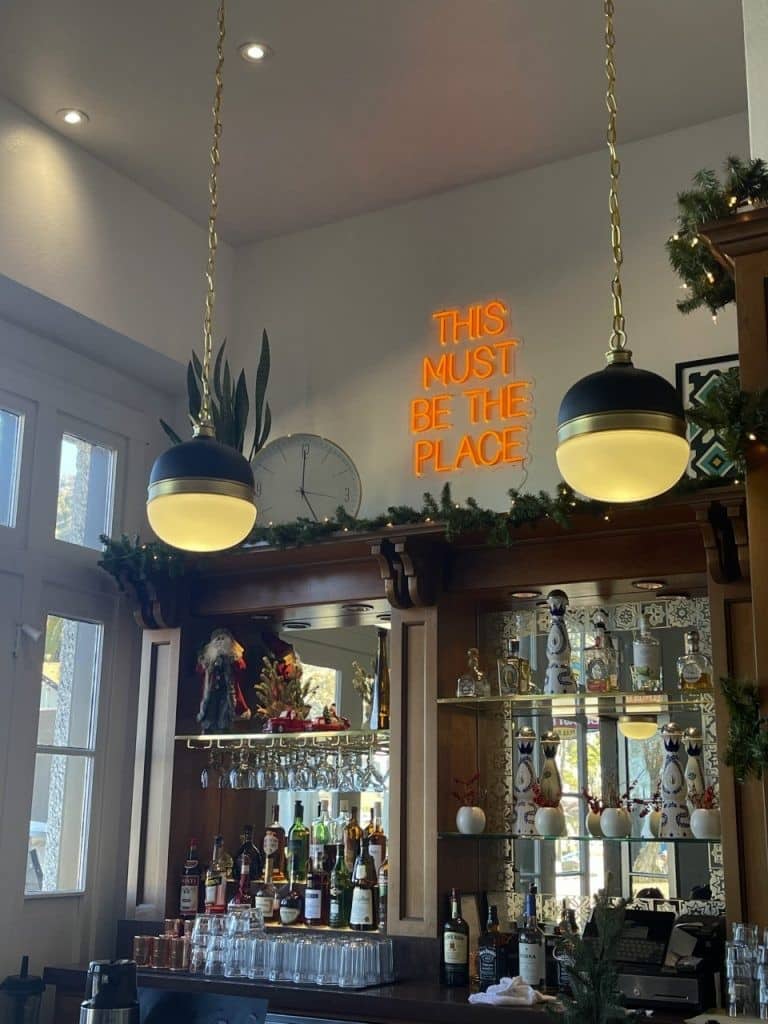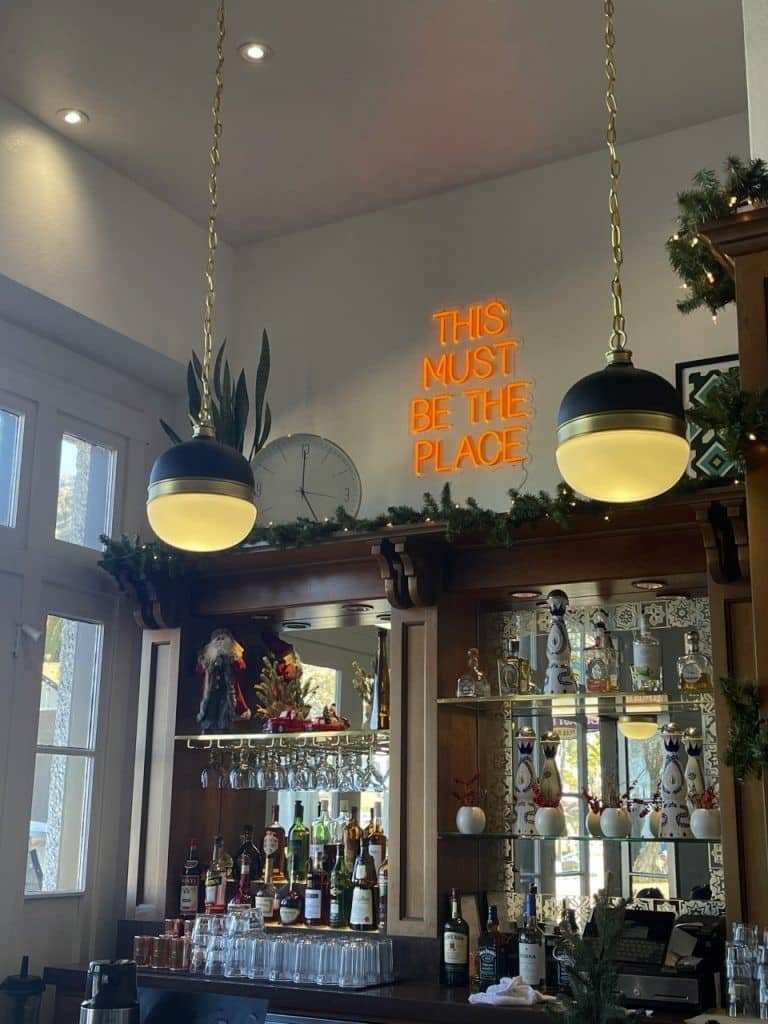 I went with a traditional breakfast, and it was great!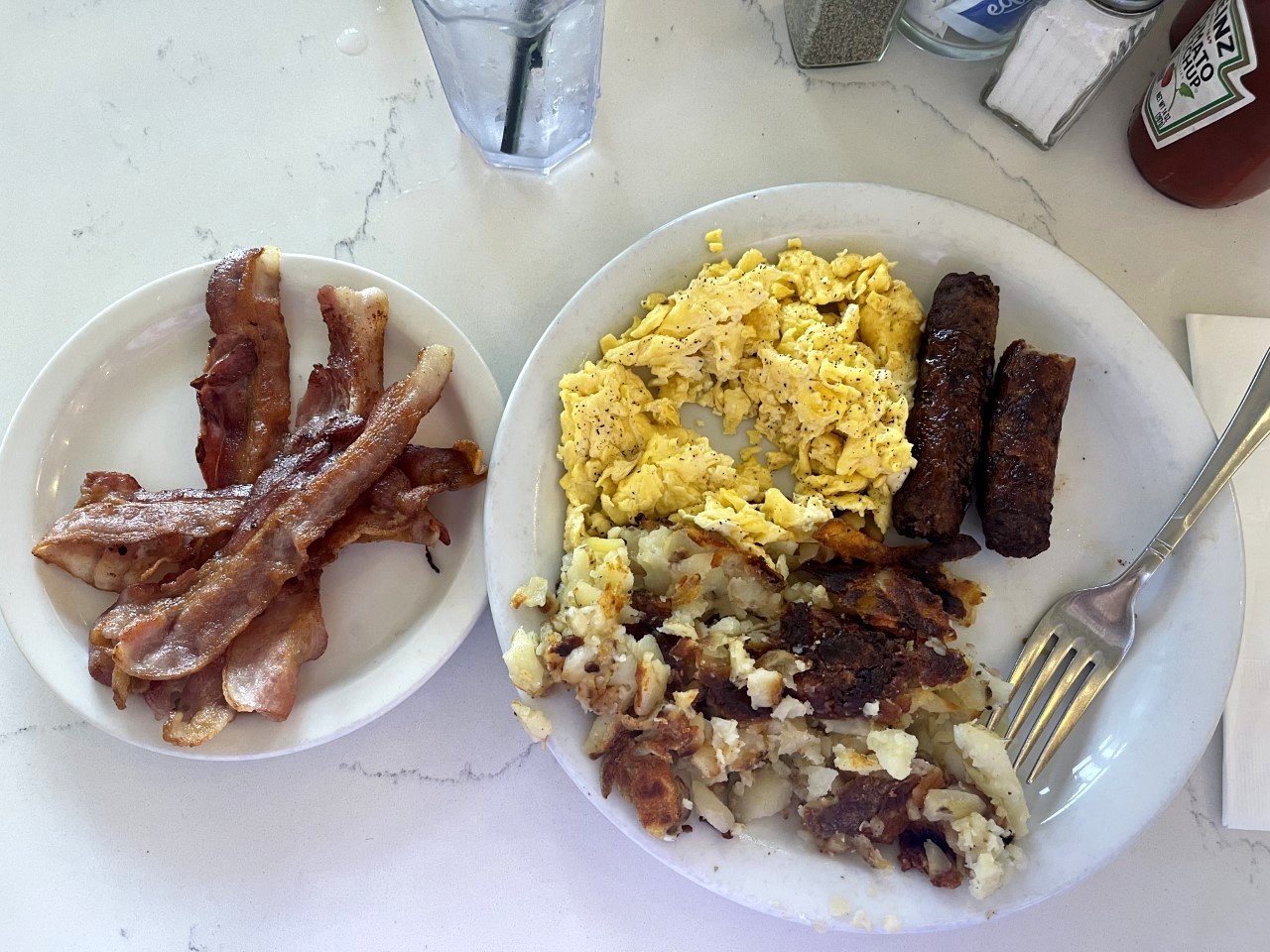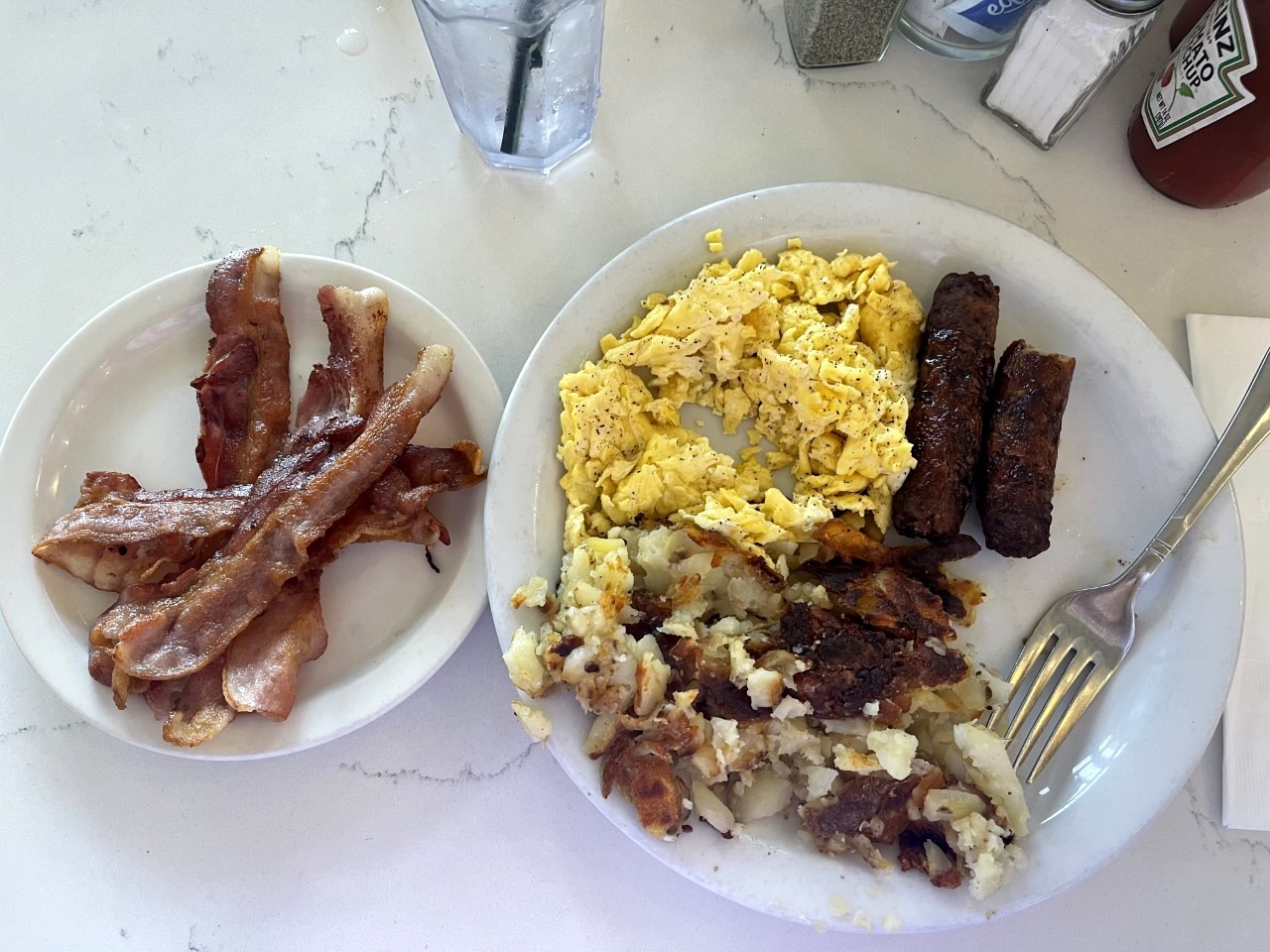 Stopping and Shopping
We had some time to kill before our big event planned for today. There are so many shops with clothes, souvenirs, and the most random things you can find. Be aware, there are a lot of women's clothing stores with cute things, but those prices? Not cute.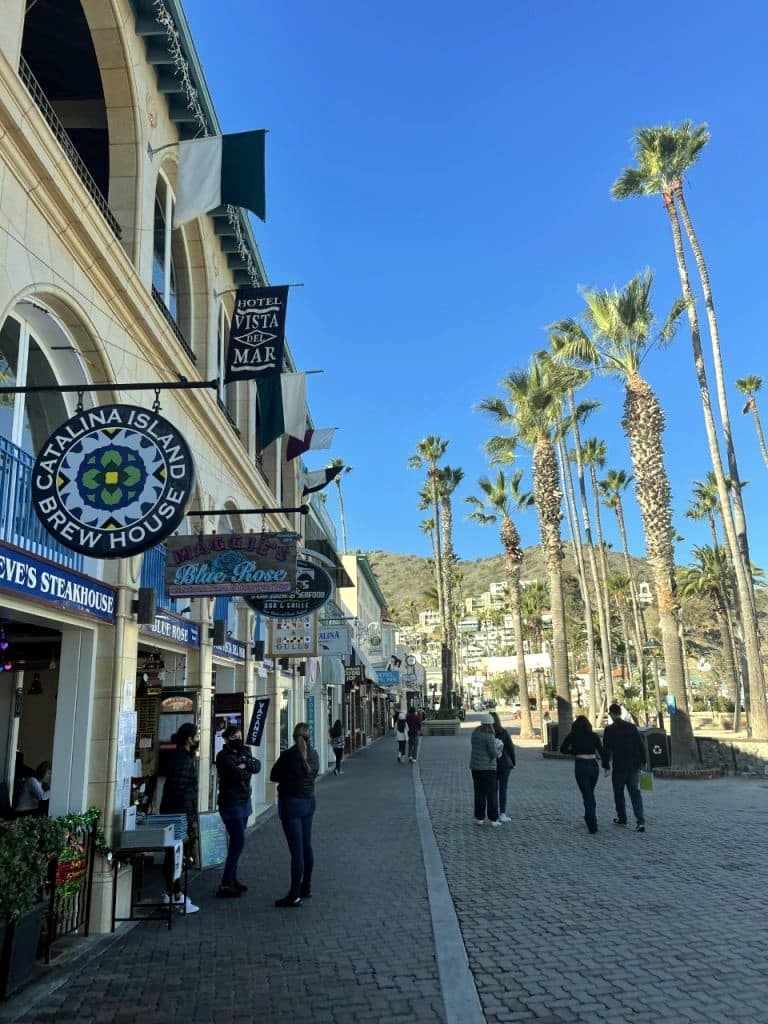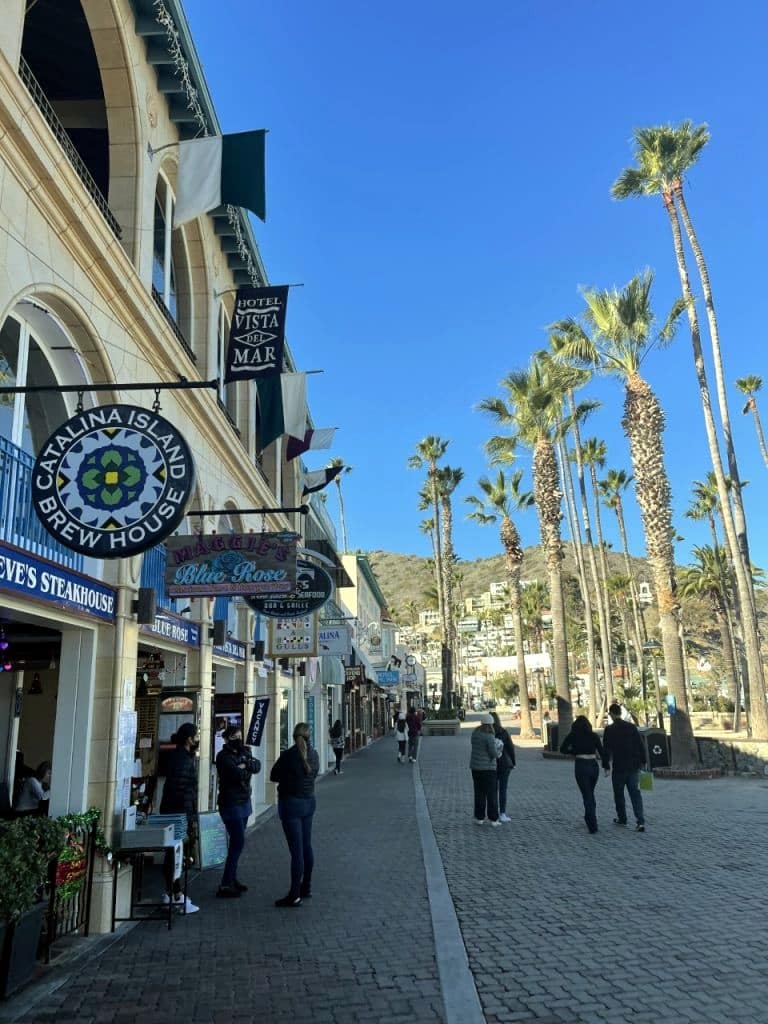 We found some cute matching Catalina sweaters!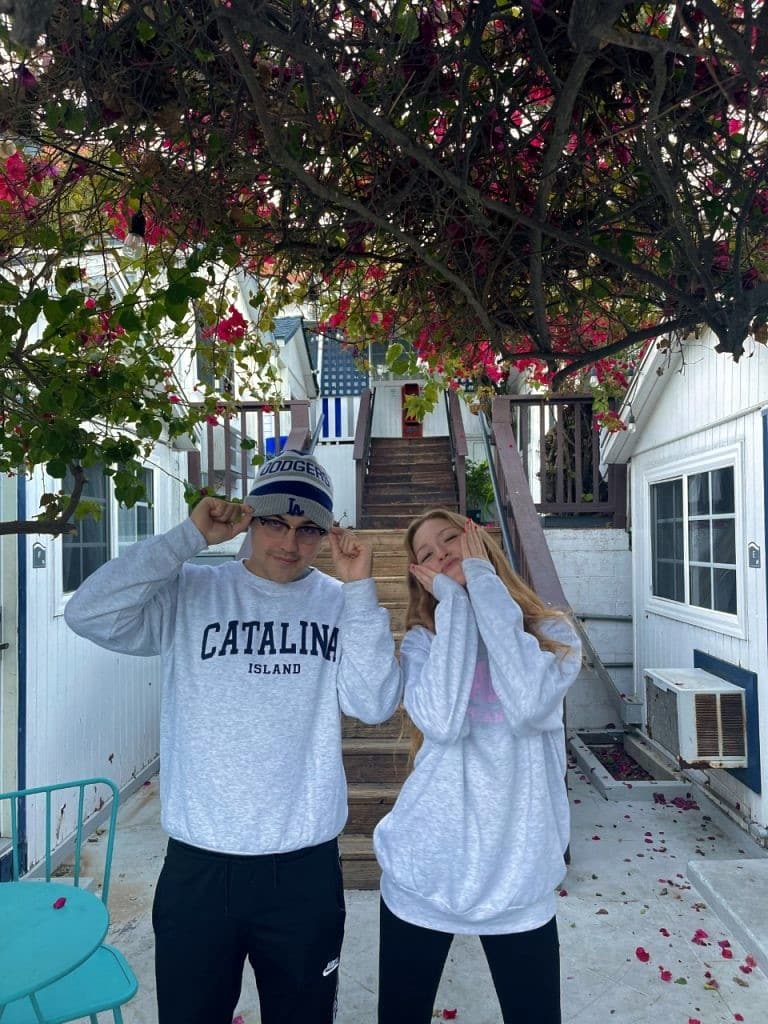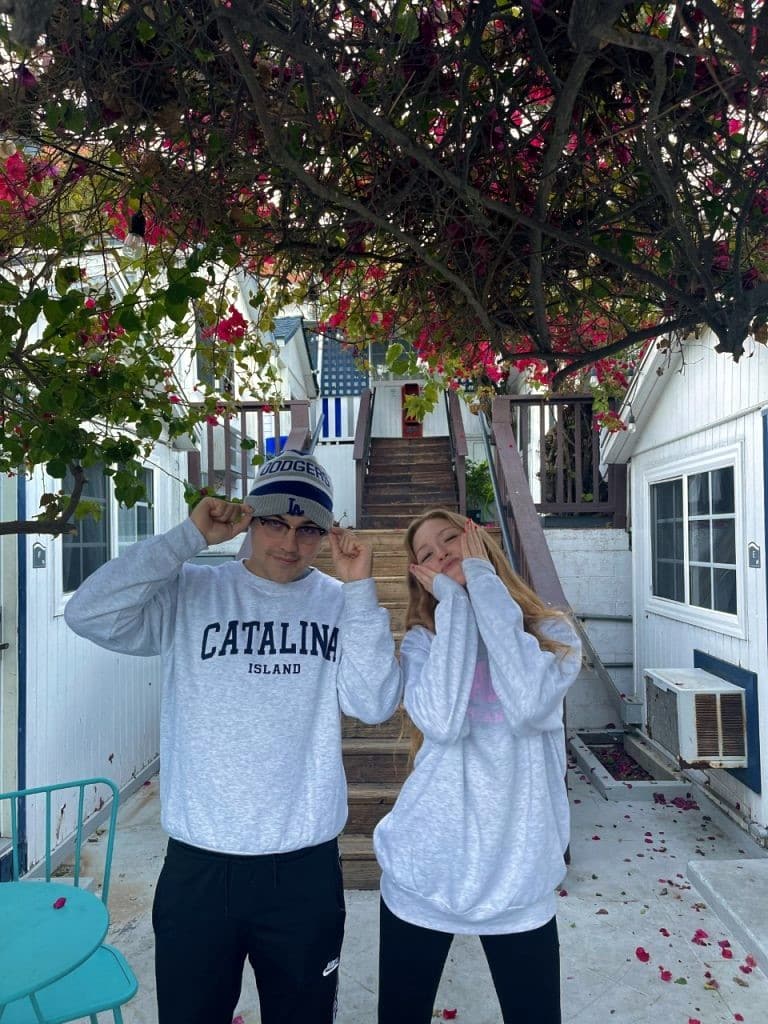 Zip-lining at Zip-line Eco Tour!
This was the big activity we were waiting for! It really sold our trip to Catalina.
The tour guides were great, and it was fun to be in a small group of people. We got to share the nervousness/excitement together!
And it was BEAUTIFUL!!
And SO much fun!!!
HELPFUL TIP!
There are lockers for you to put your personal belongings. Bags, phones, etc. You are only allowed to bring your phone if you have a closed pocket. (One that zips I recommend). There are a few automatic pictures taken of you while zip-lining, but other than that, you're on your own. I really recommend wearing pants or something that zips to hold your phone!!
Because of this, we had to leave our phones behind and didn't get the videos or pictures we wanted. We asked one of the other people in our group to record our first zip-line on his phone, but we didn't bother him after that. He was able to airdrop the video to us after the tour was over, but I really wish we were able to get more personal videos and pictures of our adventures.
Check out the video here!
There were 5 zip-lines, and it was about a two and a half hour adventure. It was so much fun we want to do it again!
Seaside Sweets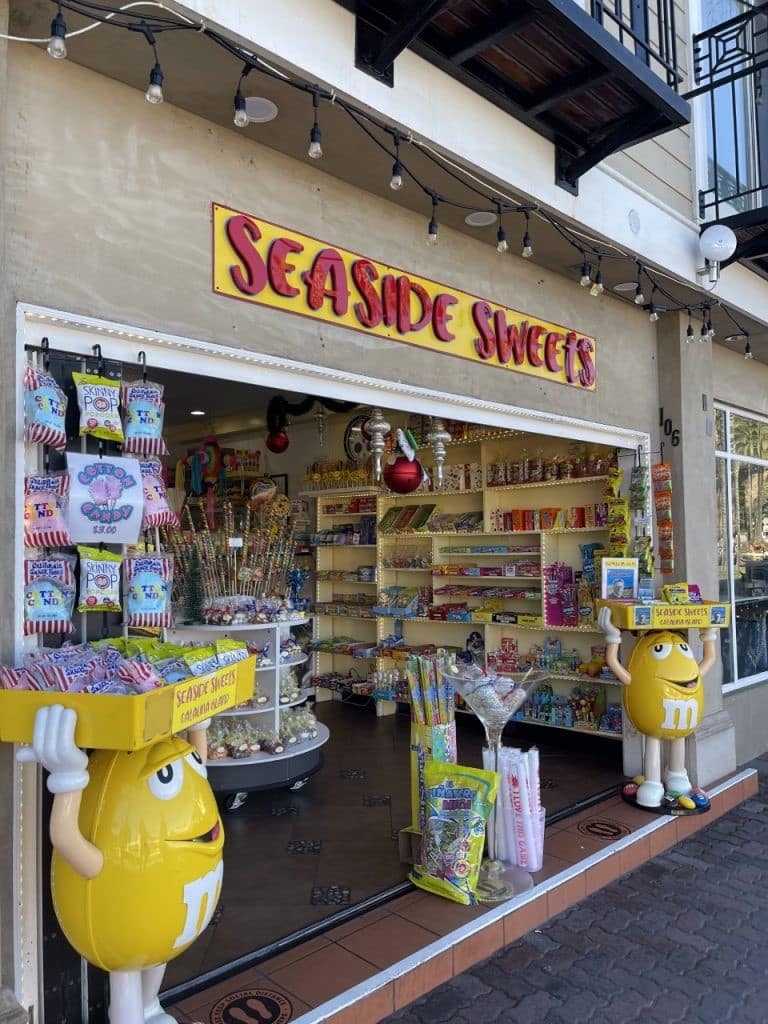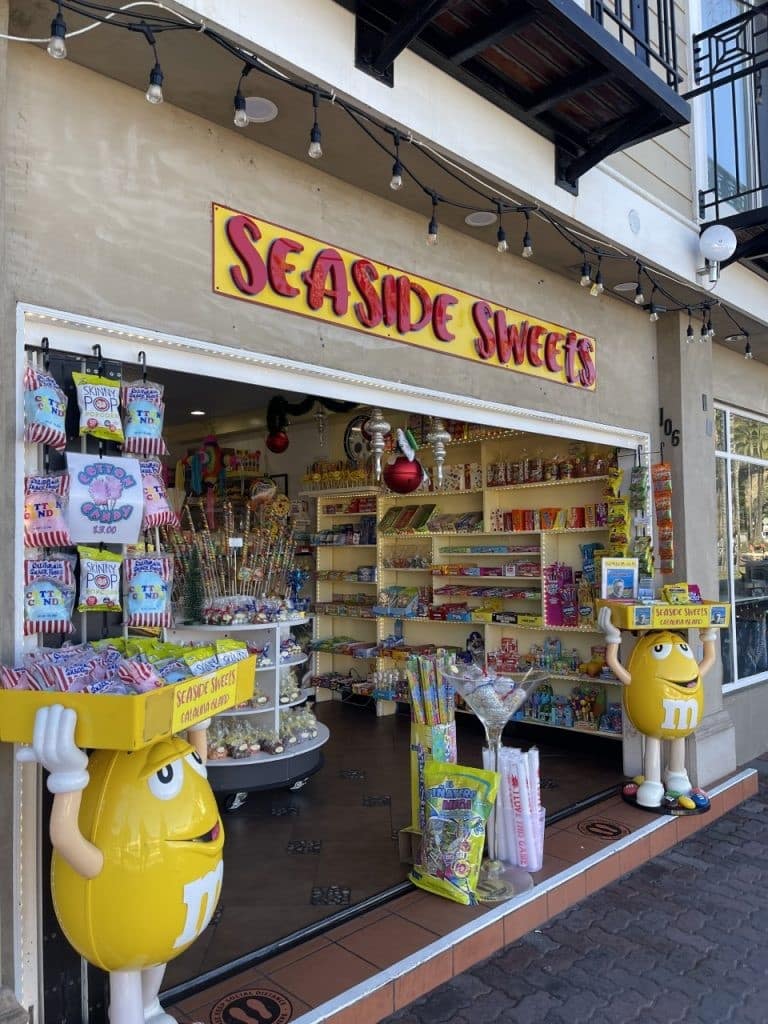 Candy after zip-lining just felt like the move. We got some candy and went back to our room to freshen up before dinner!!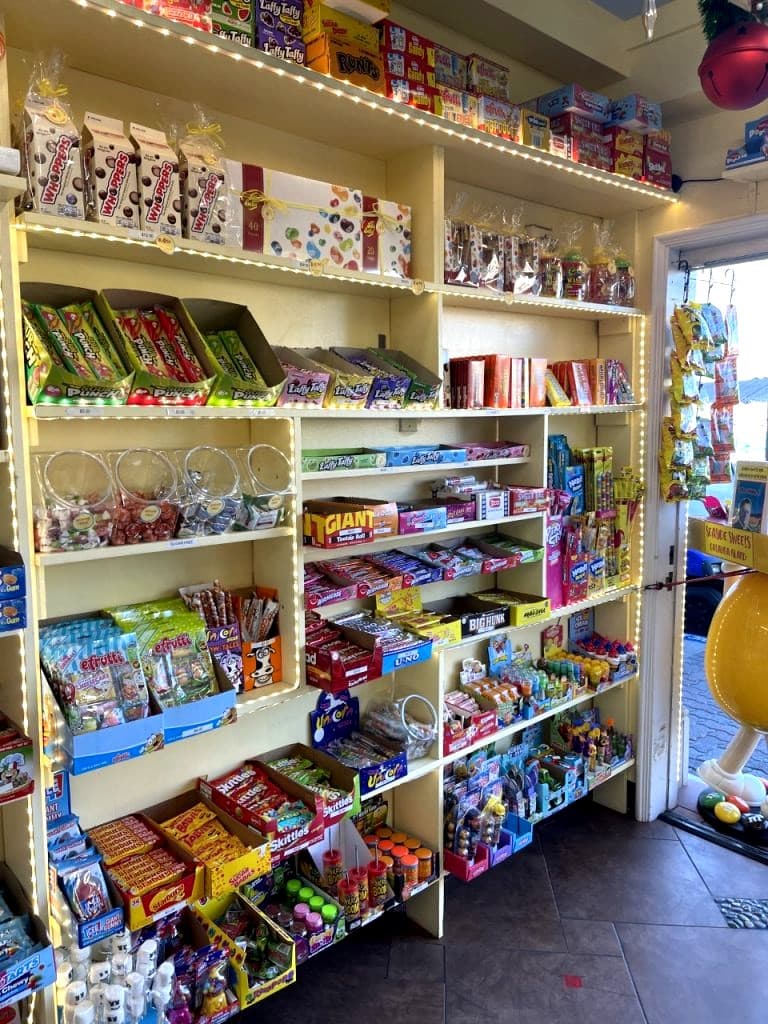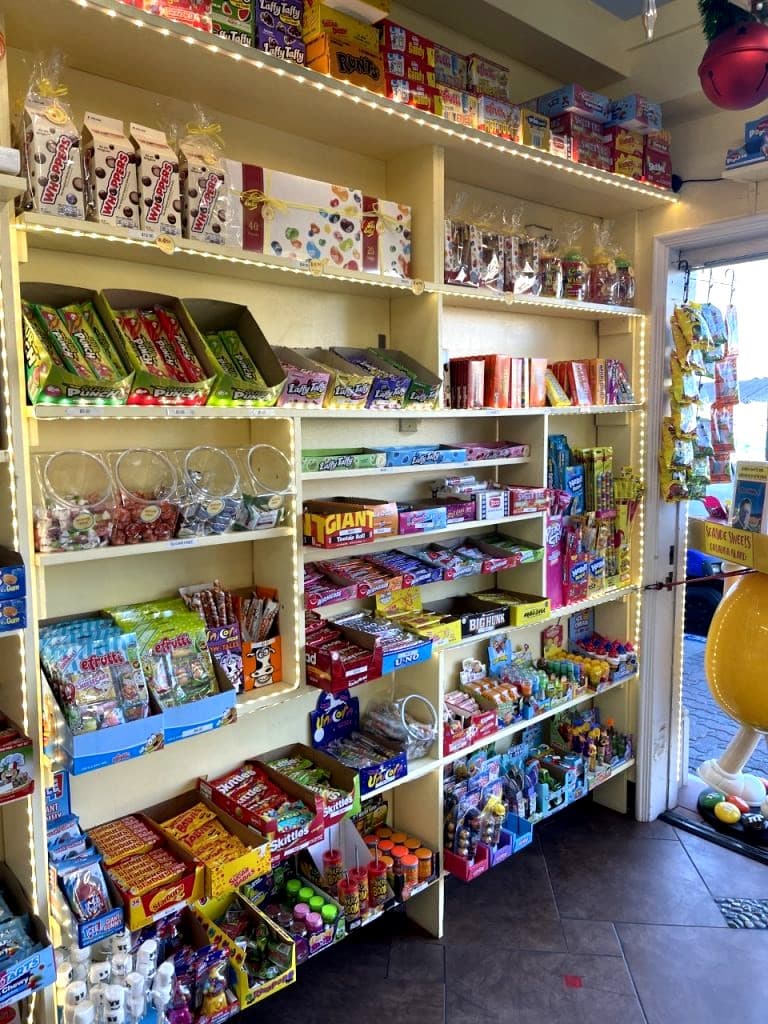 Steve's Steakhouse and Seafood
One of the nicest dinners on the island. It was truly exceptional. I hope to go back and do a full piece on this restaurant, because Andrew and I were raving about this place.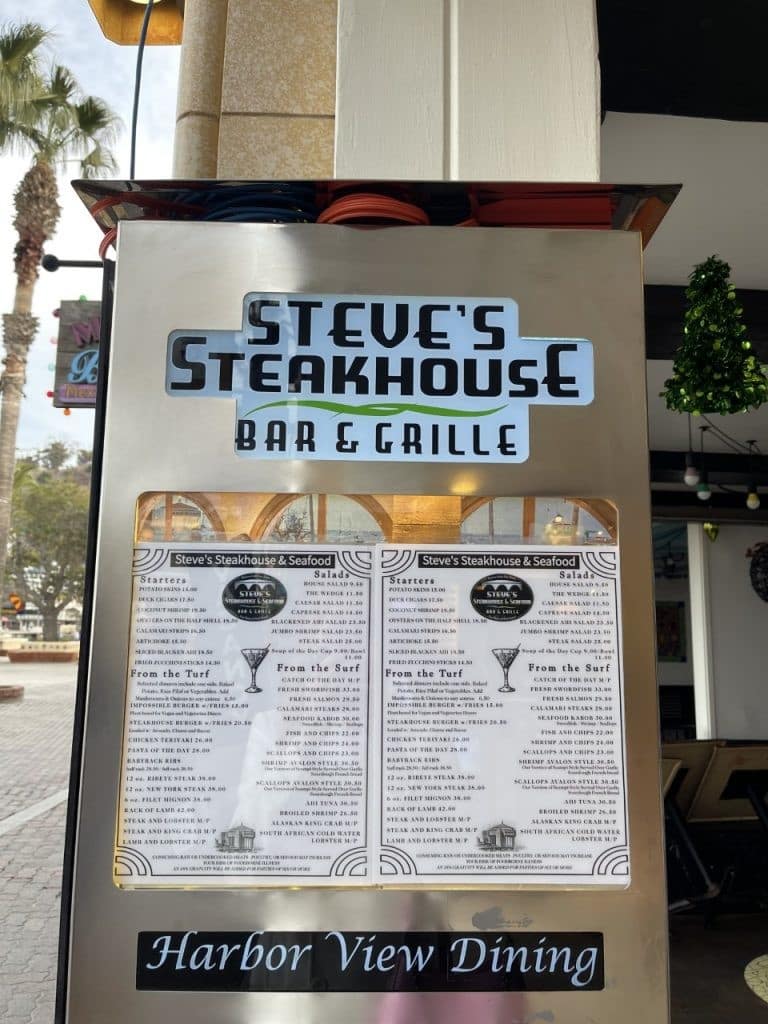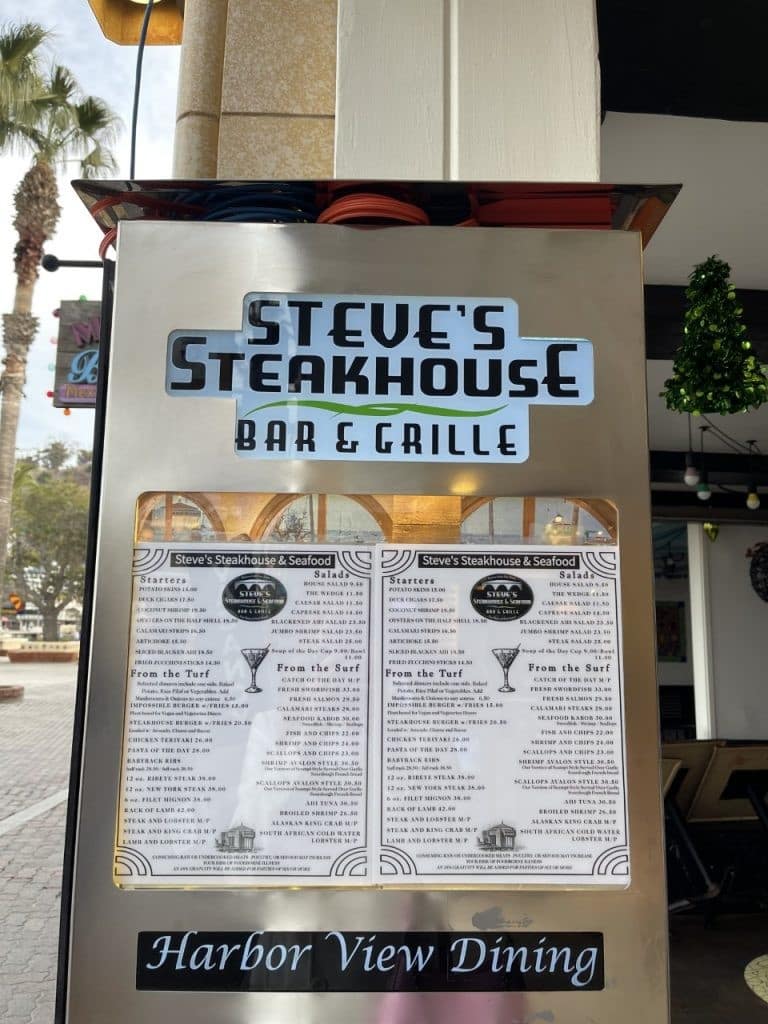 We went here for our anniversary dinner, and it was absolutely perfect!
As you know, I am Gluten Free, and they were SO accommodating. I was a bit worried I wasn't going to be able to eat much besides seafood (and unfortunately I am not a big fan of seafood other than fish sticks and calamari LOL) ((don't roast me!)). I really was into the Teriyaki Chicken with Pilaf, but those things are typically known for containing gluten ingredients. Luckily, the server came back after asking the chef and the chef said he will make it completely gluten free for me! I am not sure if it was automatically gluten free or if he specifically did something to make it gluten free but be sure to voice your concerns and ask. They are super nice here!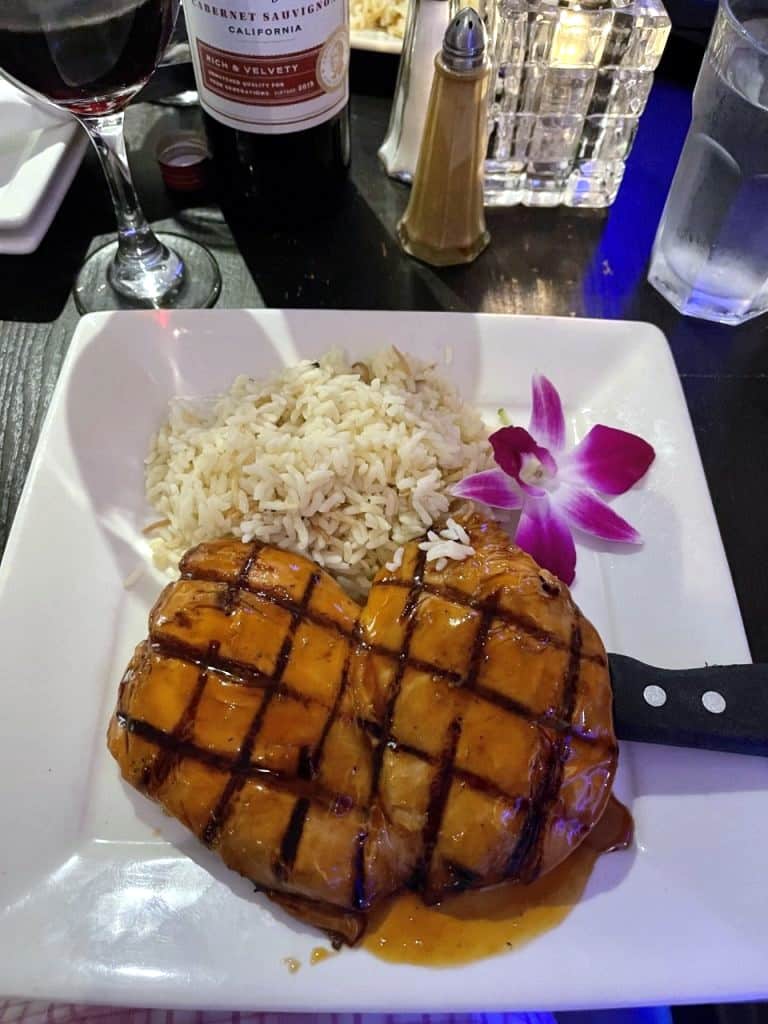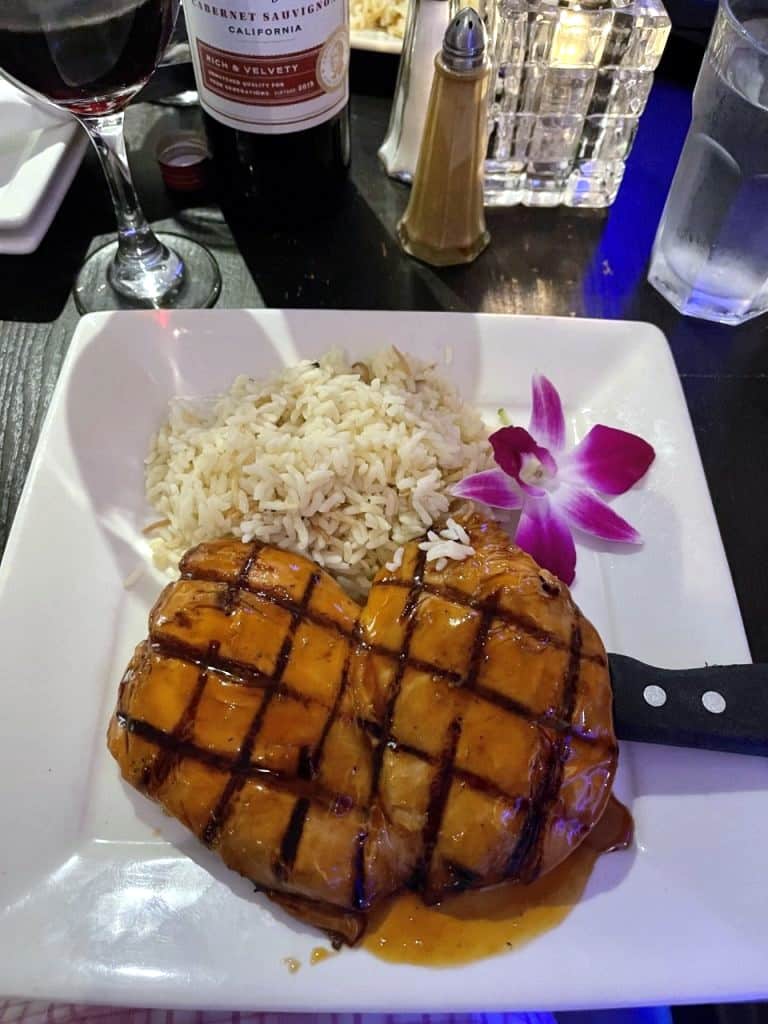 Let me tell you. Best Teriyaki Chicken and Rice Pilaf I've ever had. It was delicious. Andrew was completely drooling over his meal as well. Paired with a bottle of wine and sundaes for dessert, it was a very special and romantic evening.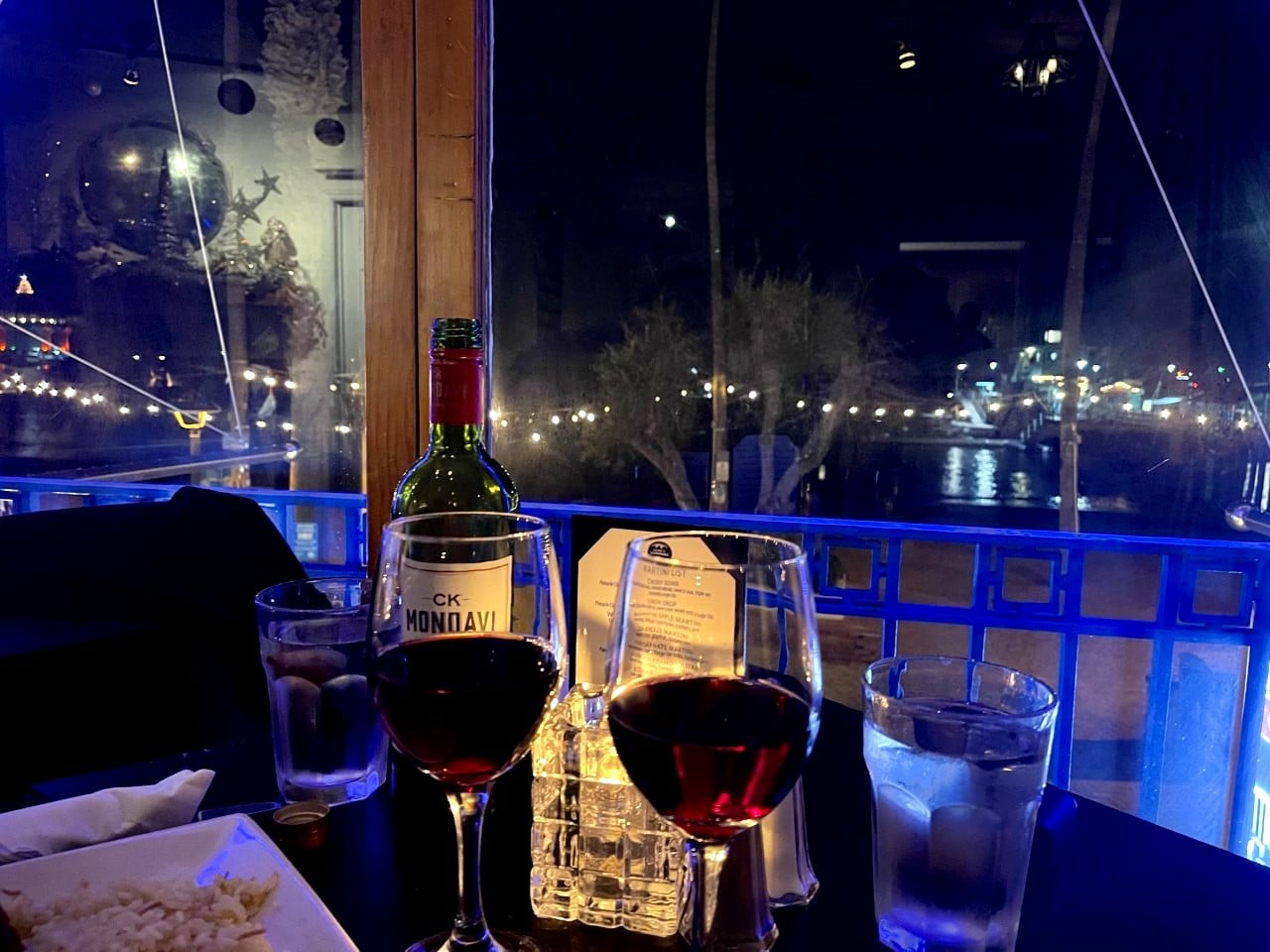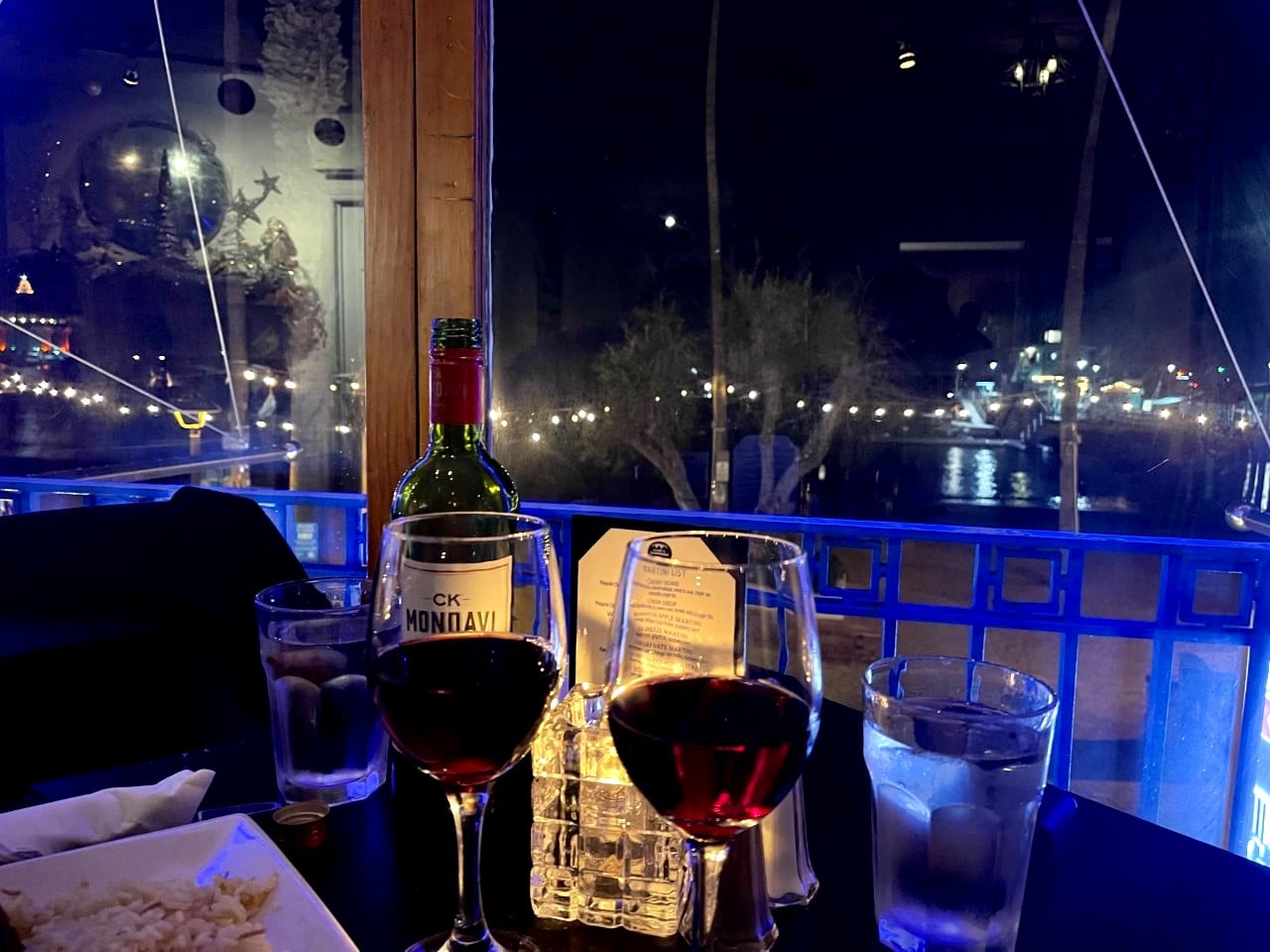 I cannot forget to mention how comfy and cute this place is. It's very classy and nice, but it is decorated in such a way that it felt homey and warm too. We were sat in a room with a nice fireplace, and we had a table right in front of the big window that overlooks the ocean. The moon was gorgeous that night.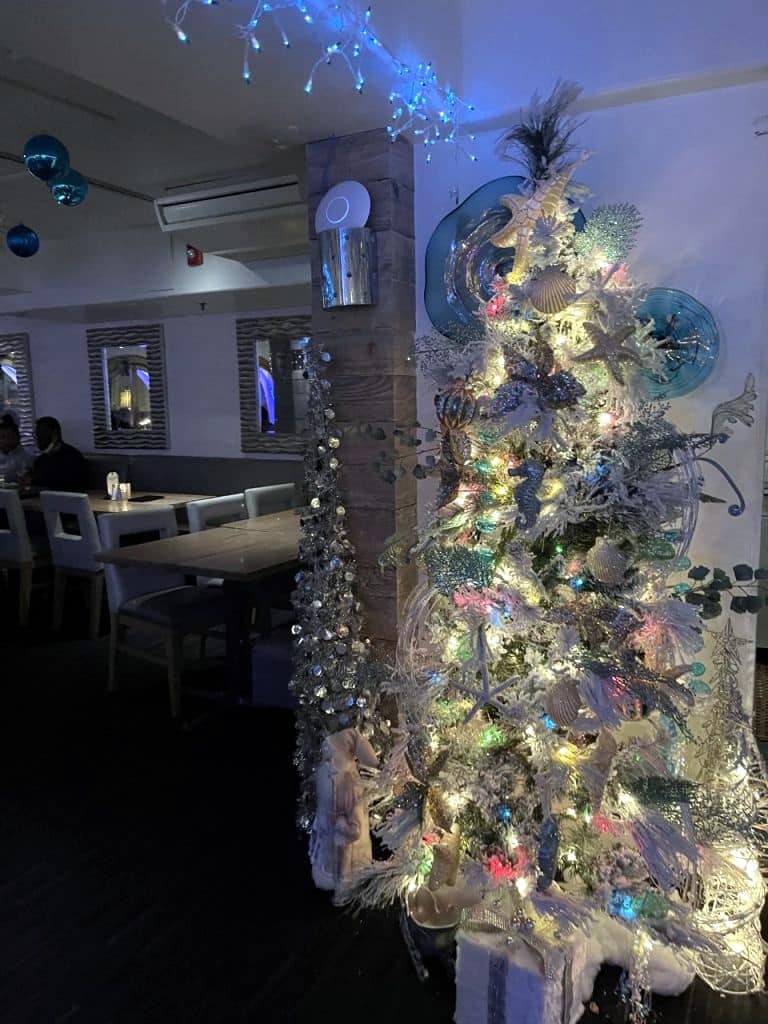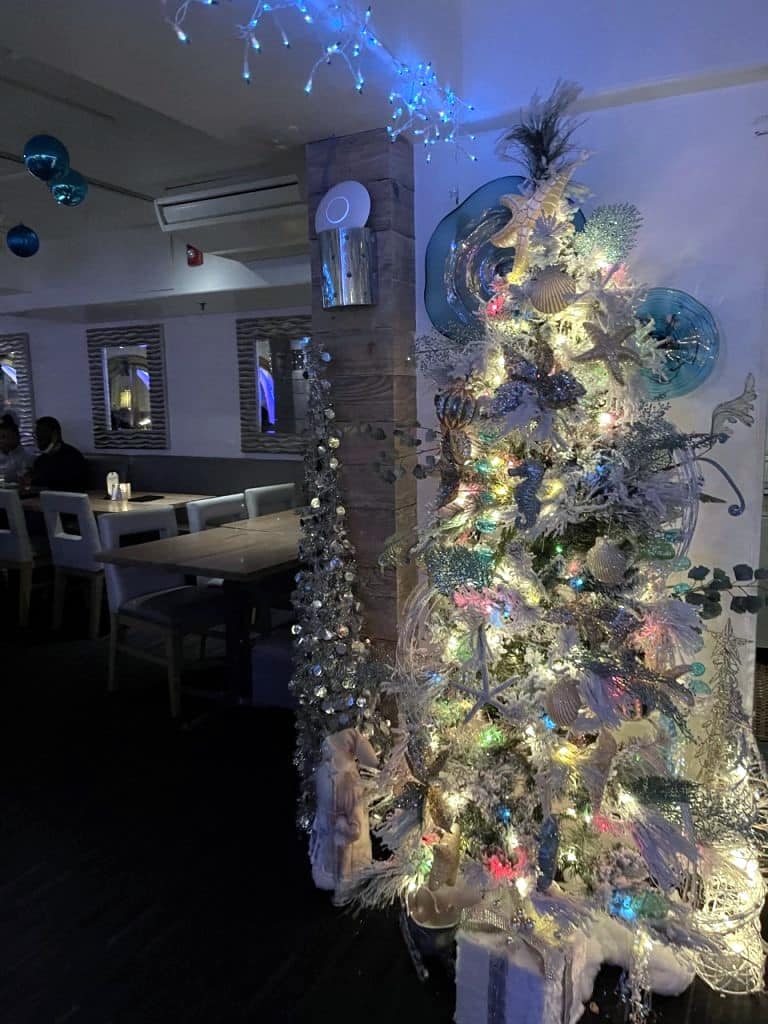 Christmas Tree Pictures
Afterwards we walked to the pretty Christmas Tree that was facing the ocean. There's a little bench there for you to sit in front of the tree and take all the magical Christmas photos you want. So, we did! It was a cute festive touch to the decor of Catalina Island for the season.
Afterwards I think we went back to play more darts and then called it a night! <3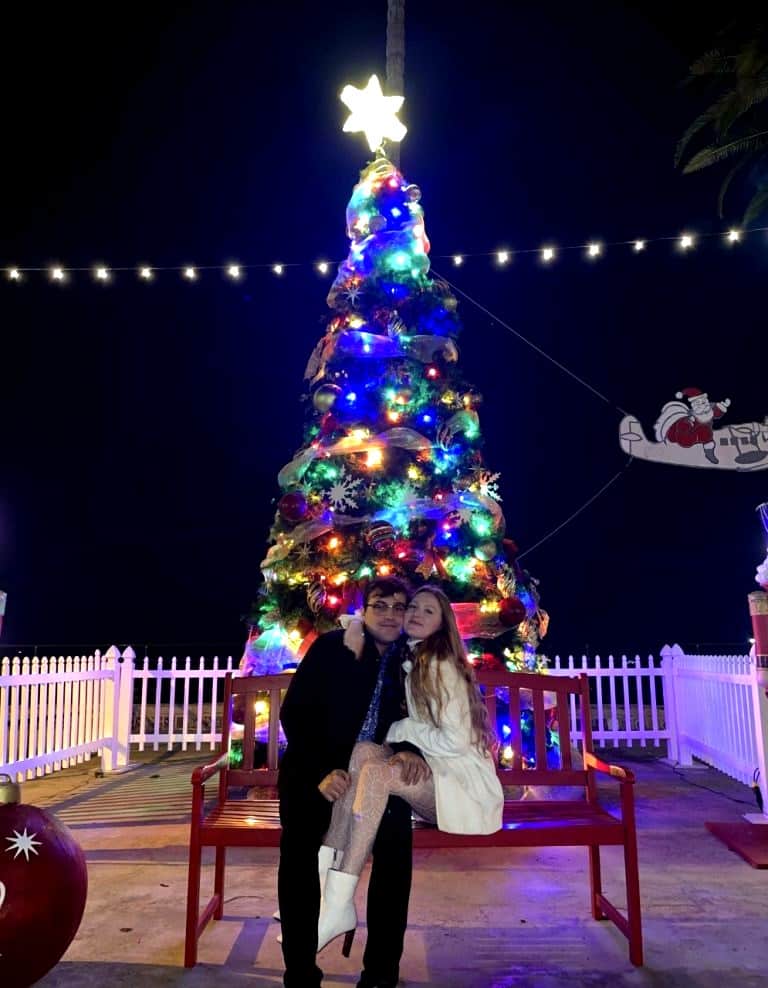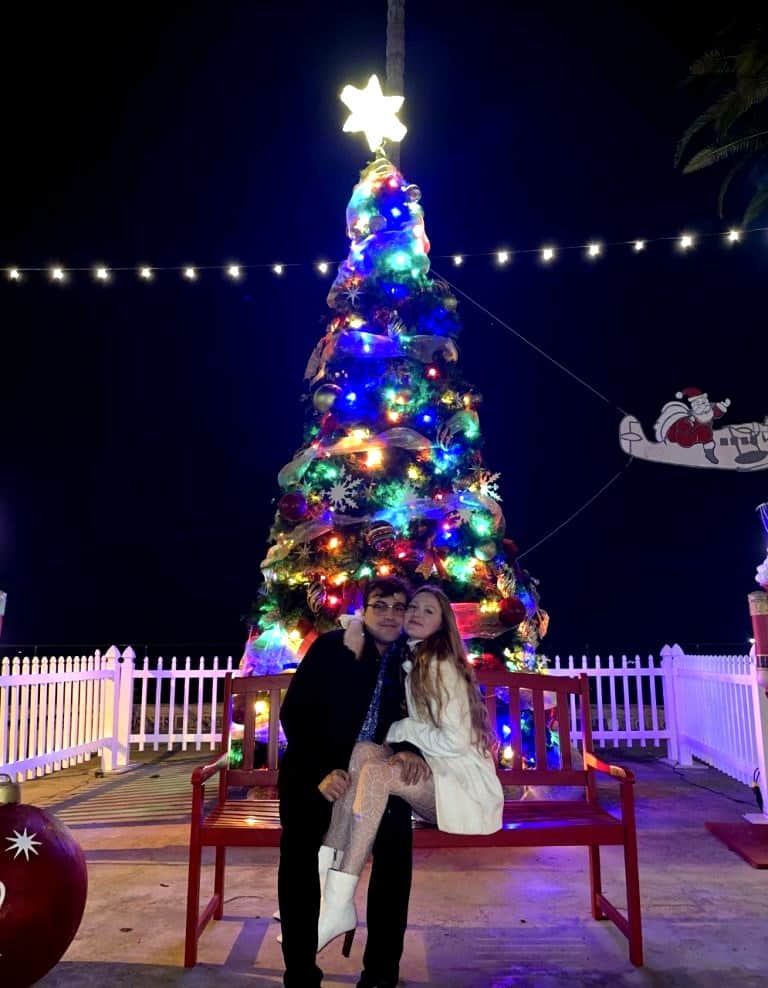 Catalina Island Day 3 – Catalina Coffee and Co
We are BACK at Catalina Coffee and Co. And this time we're not only here for coffee, but we're here for breakfast too.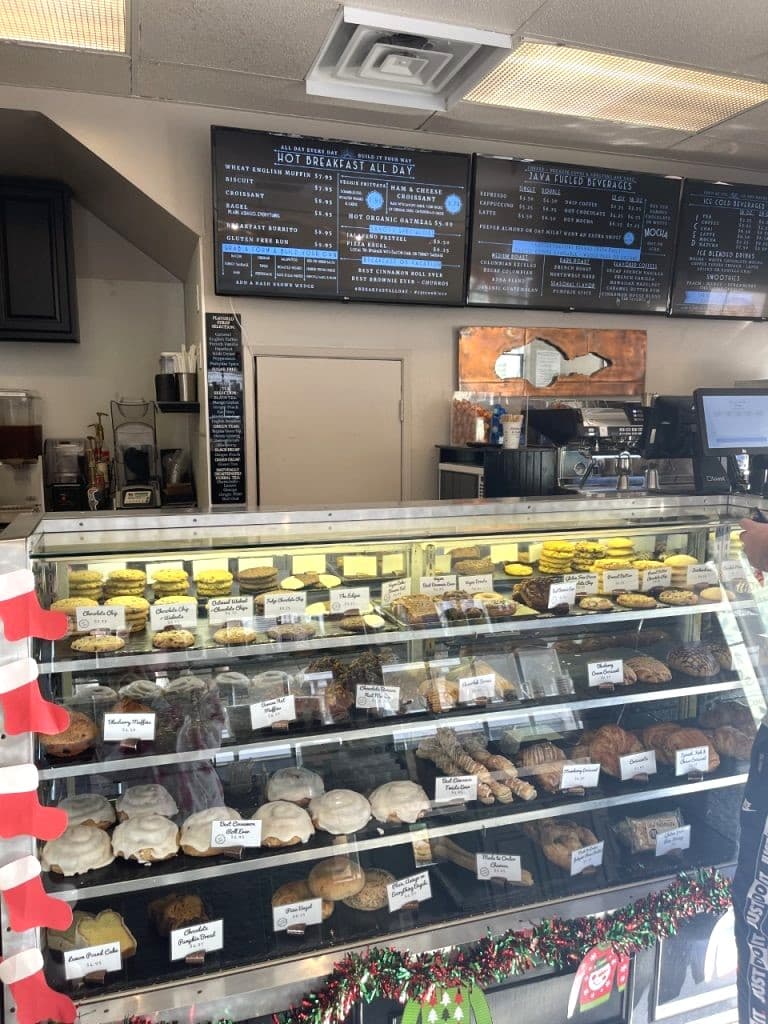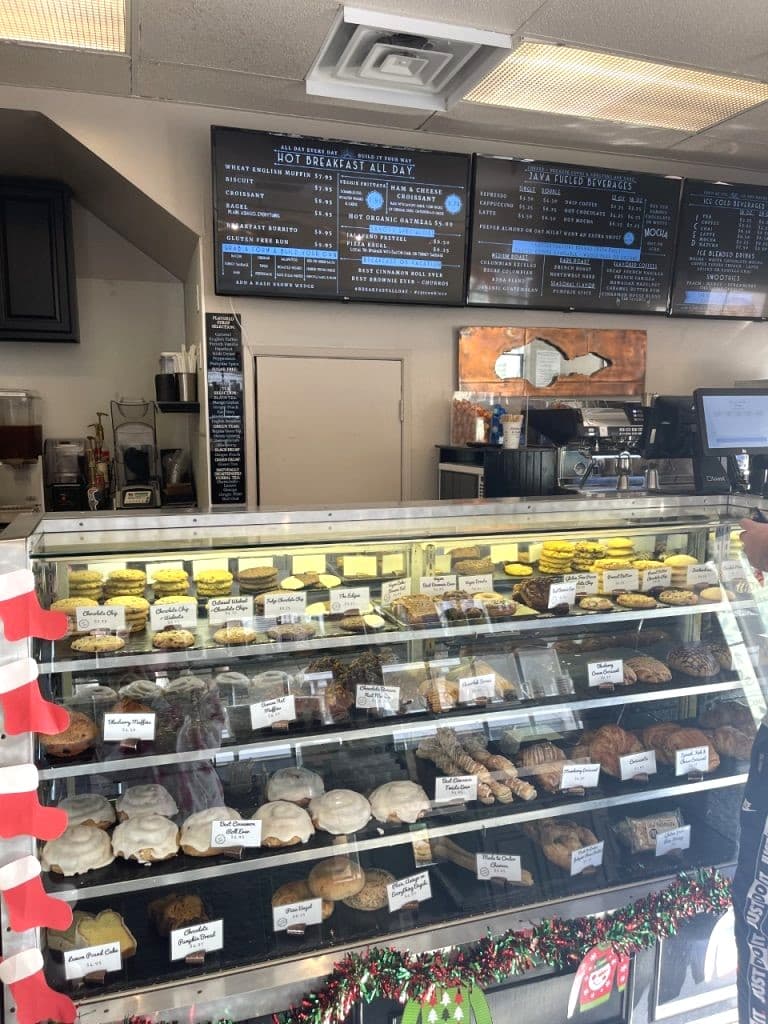 They have a super cute way of sending in your order. You can do it online or in person. First off, it's super customizable. If you're ordering it there all you have to do is fill out a small sheet of paper customizing your breakfast sandwich.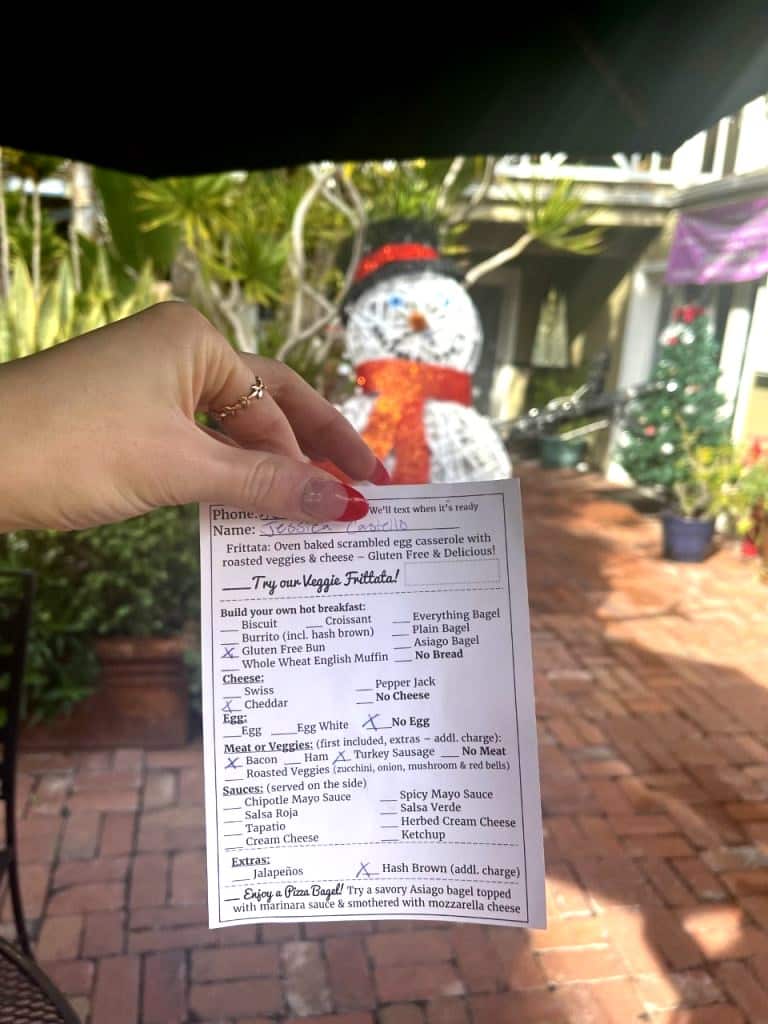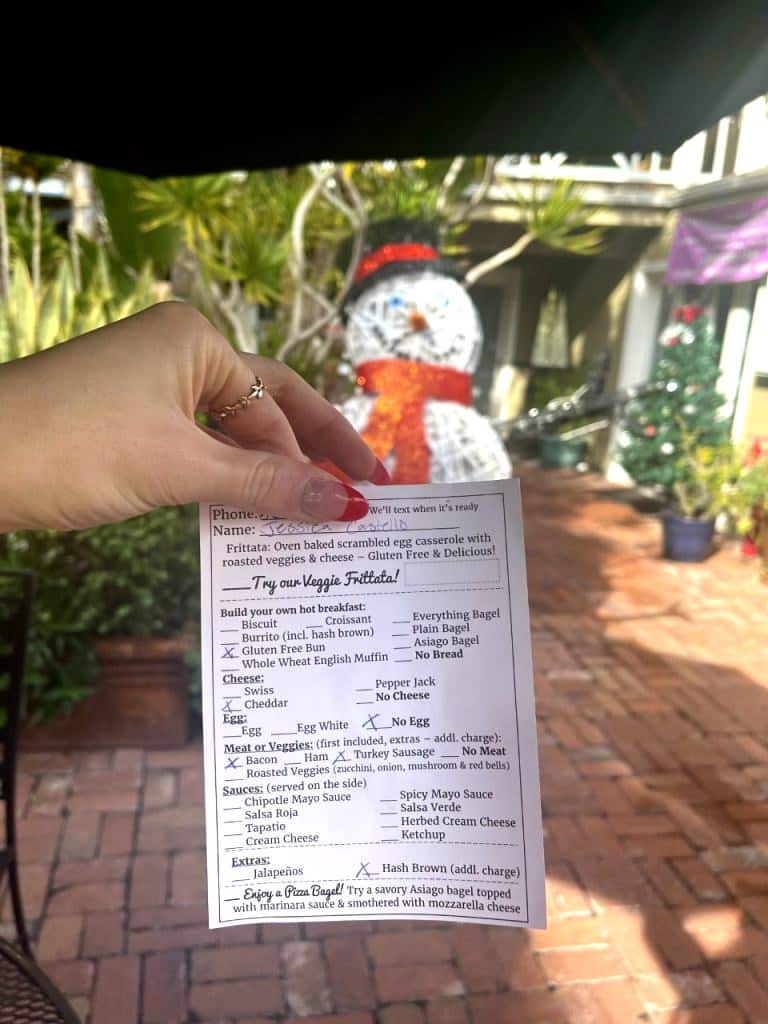 Here's mine! They had a Gluten Free Option! (They also had some gluten free bakery items inside as well!)
-and of course, we also got our lattes.
Honestly this was the best breakfast! It was hot and delicious. We picked a table outside to eat and it was very lowkey and simple but yummy. Also, not that expensive either!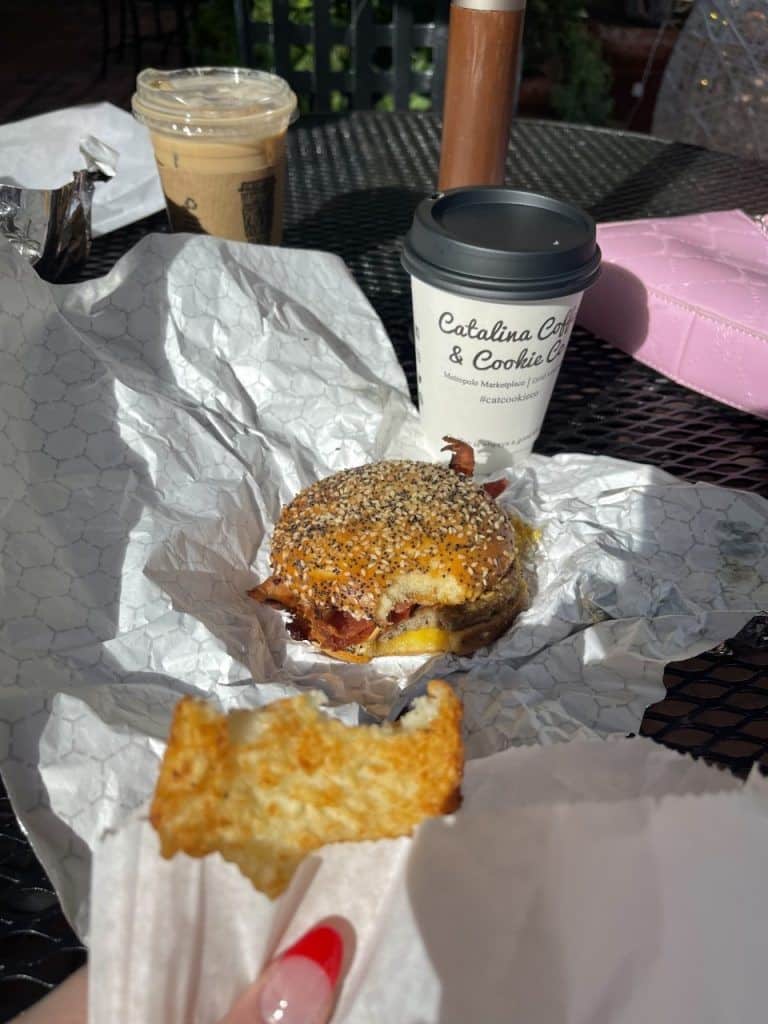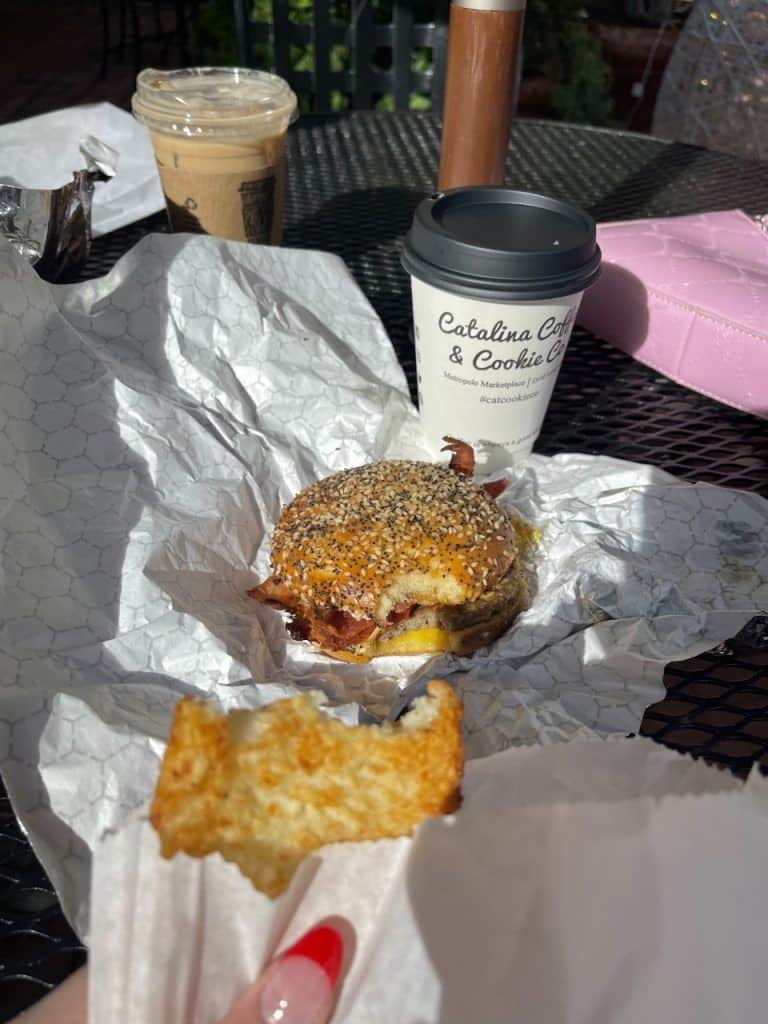 Our next visit to Catalina we will definitely be having breakfast here again.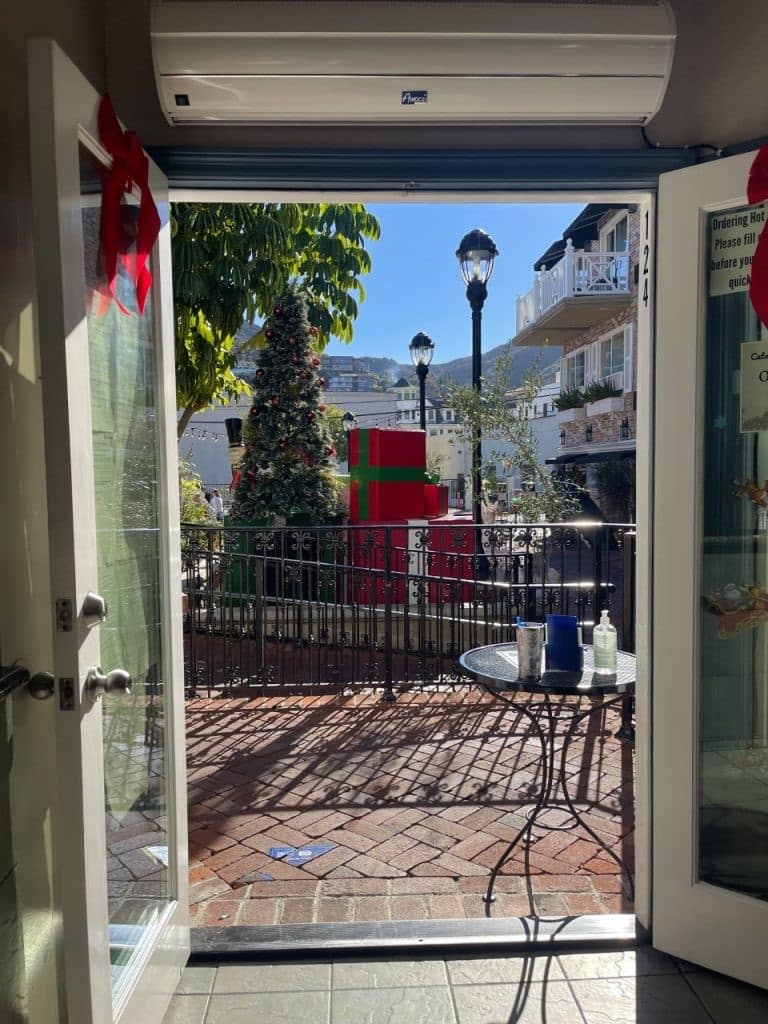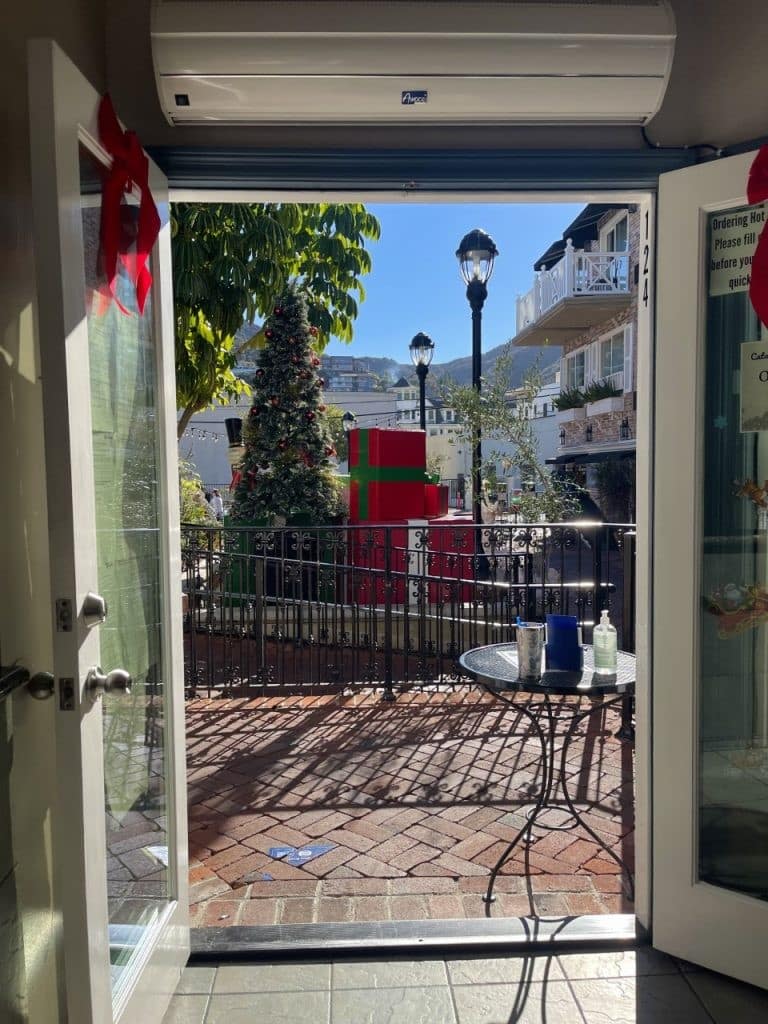 A Picture Perfect Spot
The day before we had walked by this area by the water that was so pretty. I made sure we came back here so that we could get some cute pictures in the arch overlooking the ocean! The pictures came out great. We even gave people walking by the idea to take pictures here! It's just a really cute spot. So be sure to bring your tripod!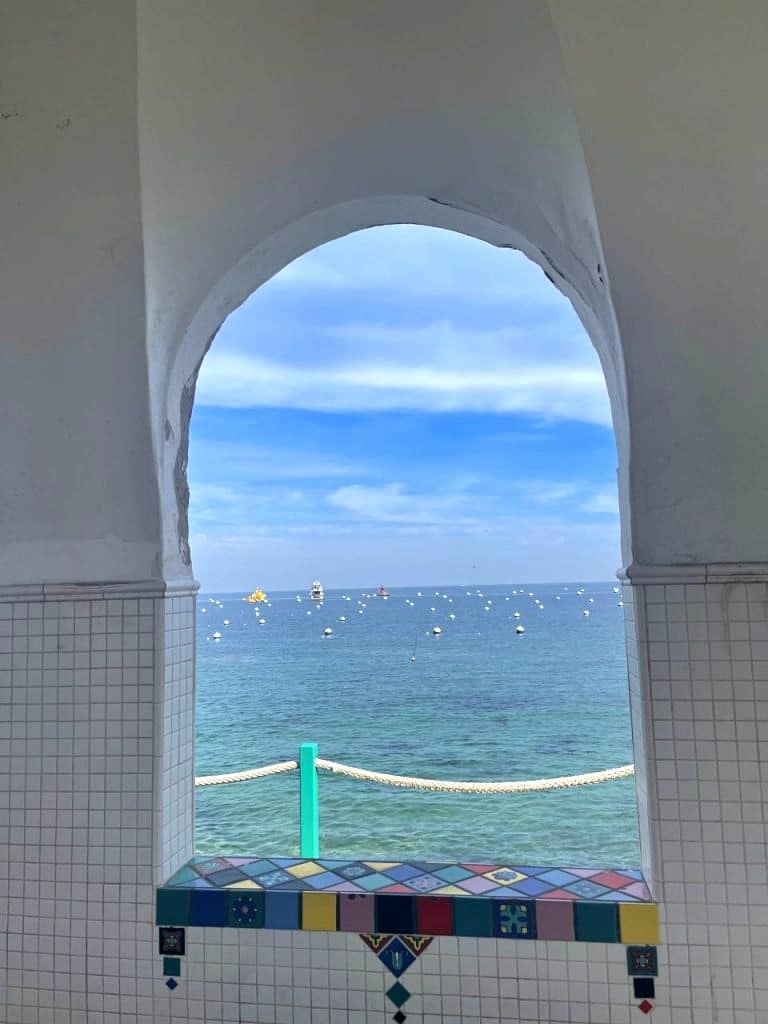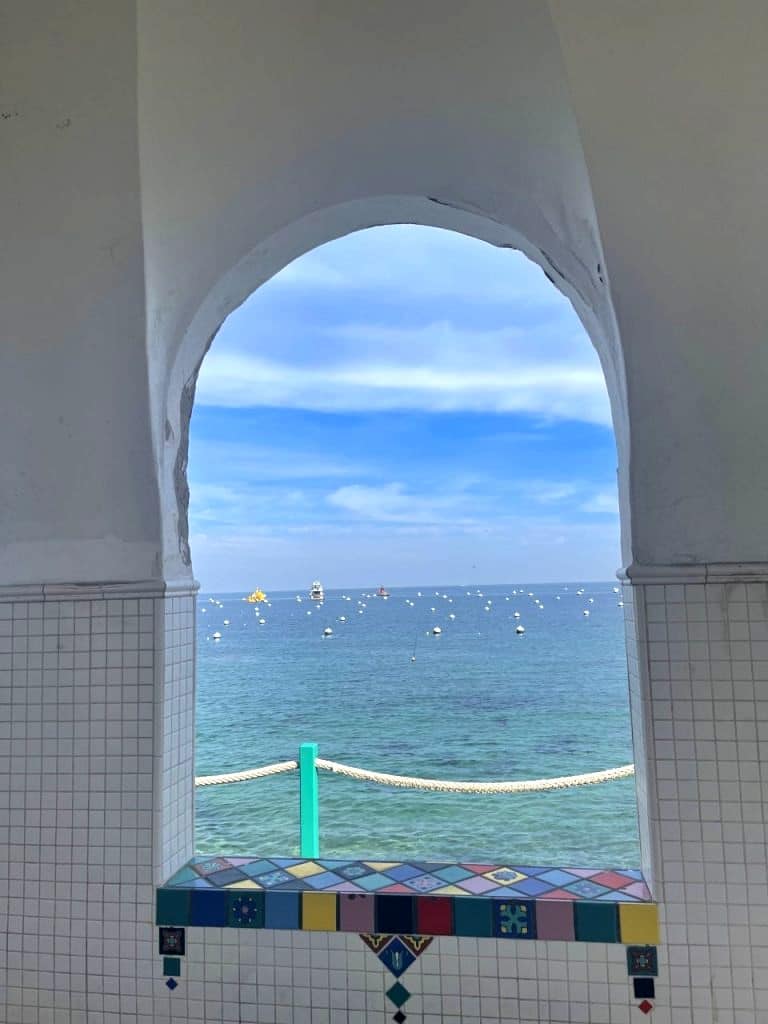 Golf Gardens Miniature Golf
What's an island vacation without some mini golf? Andrew and I love mini golf, so this was really fun for us. There's only one course, but honestly it was really cool! In fact, at every new hole we played Andrew kept saying that this is the coolest hole ever. He might've even said this was the best mini golf course he's ever played, ever.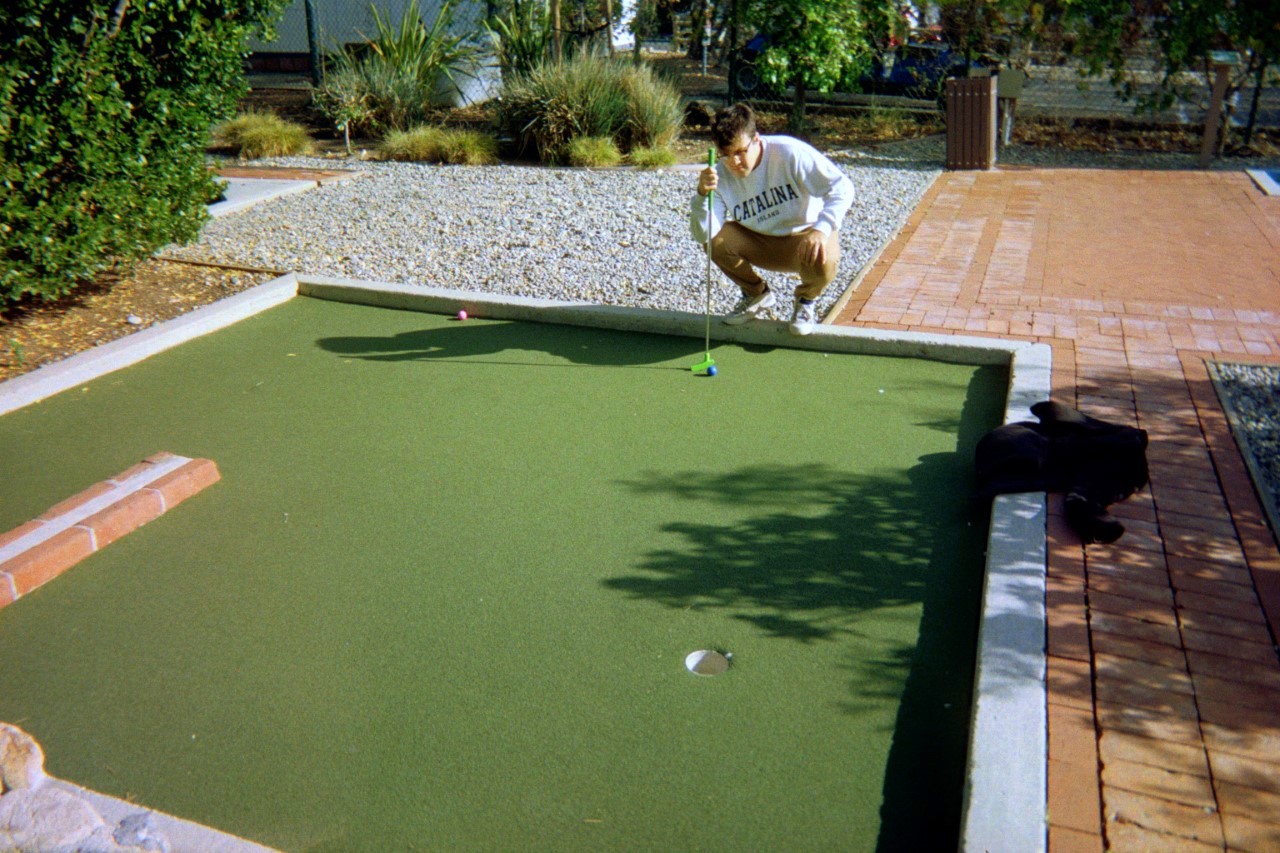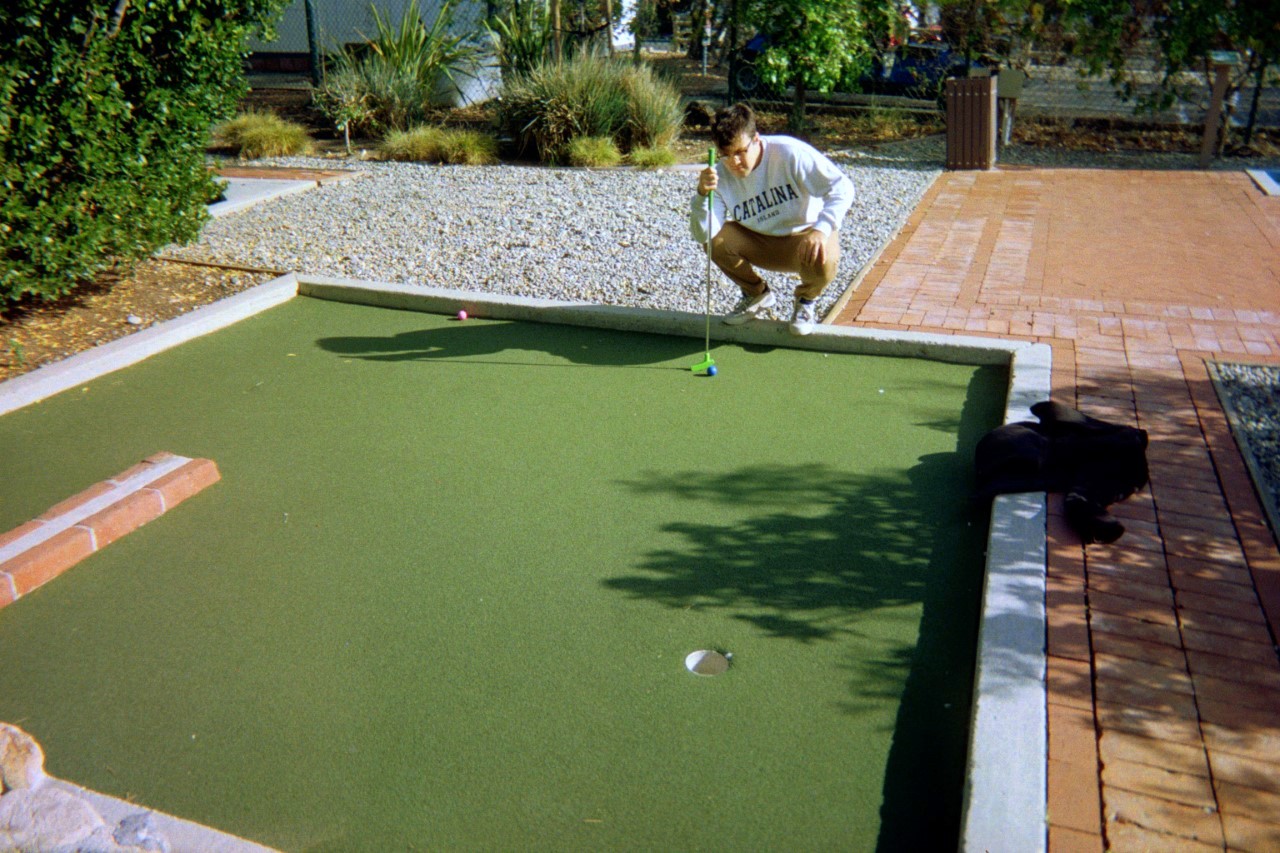 And it's true! The holes were really uniquely designed, and it was challenging and fun to play!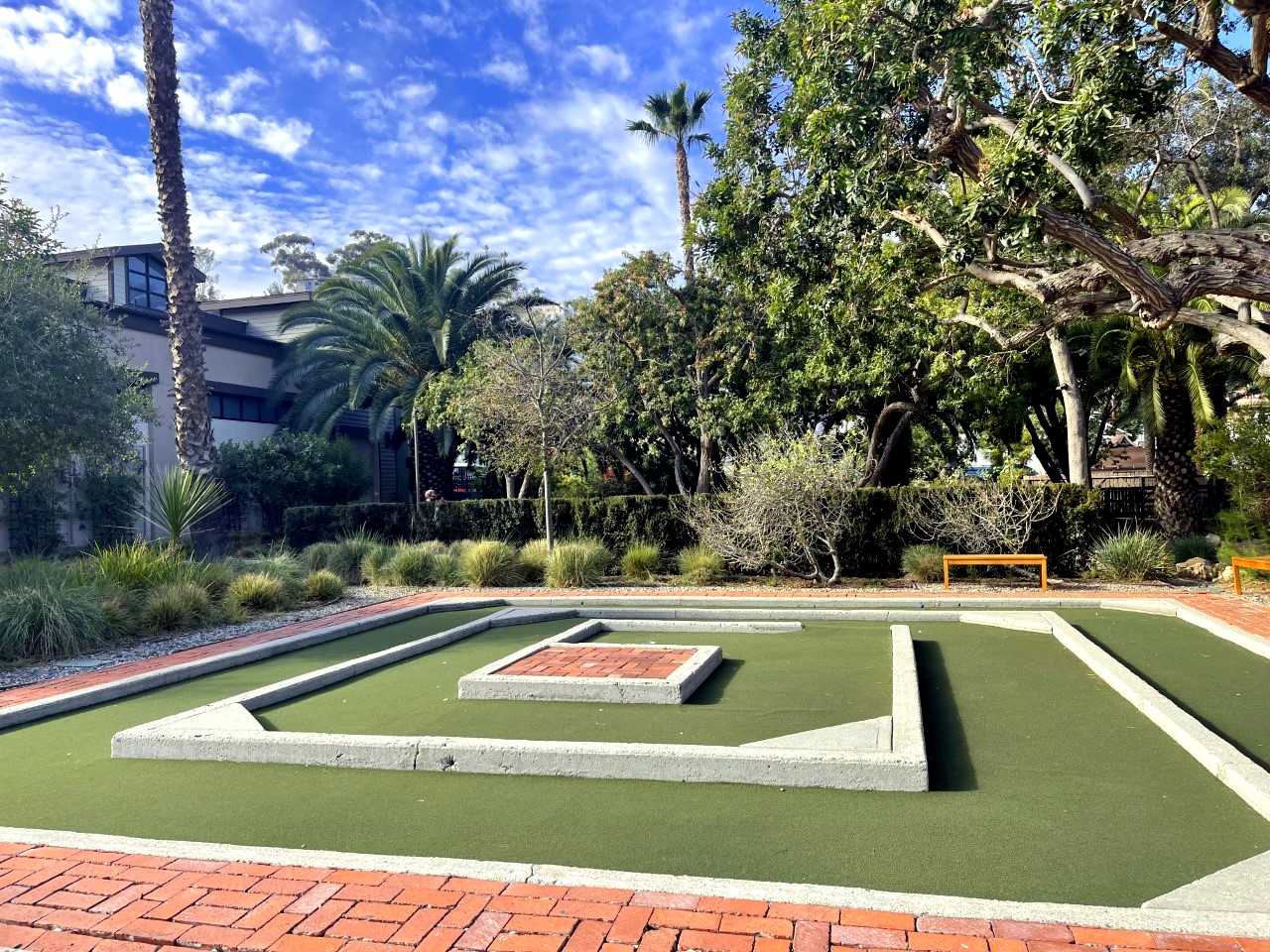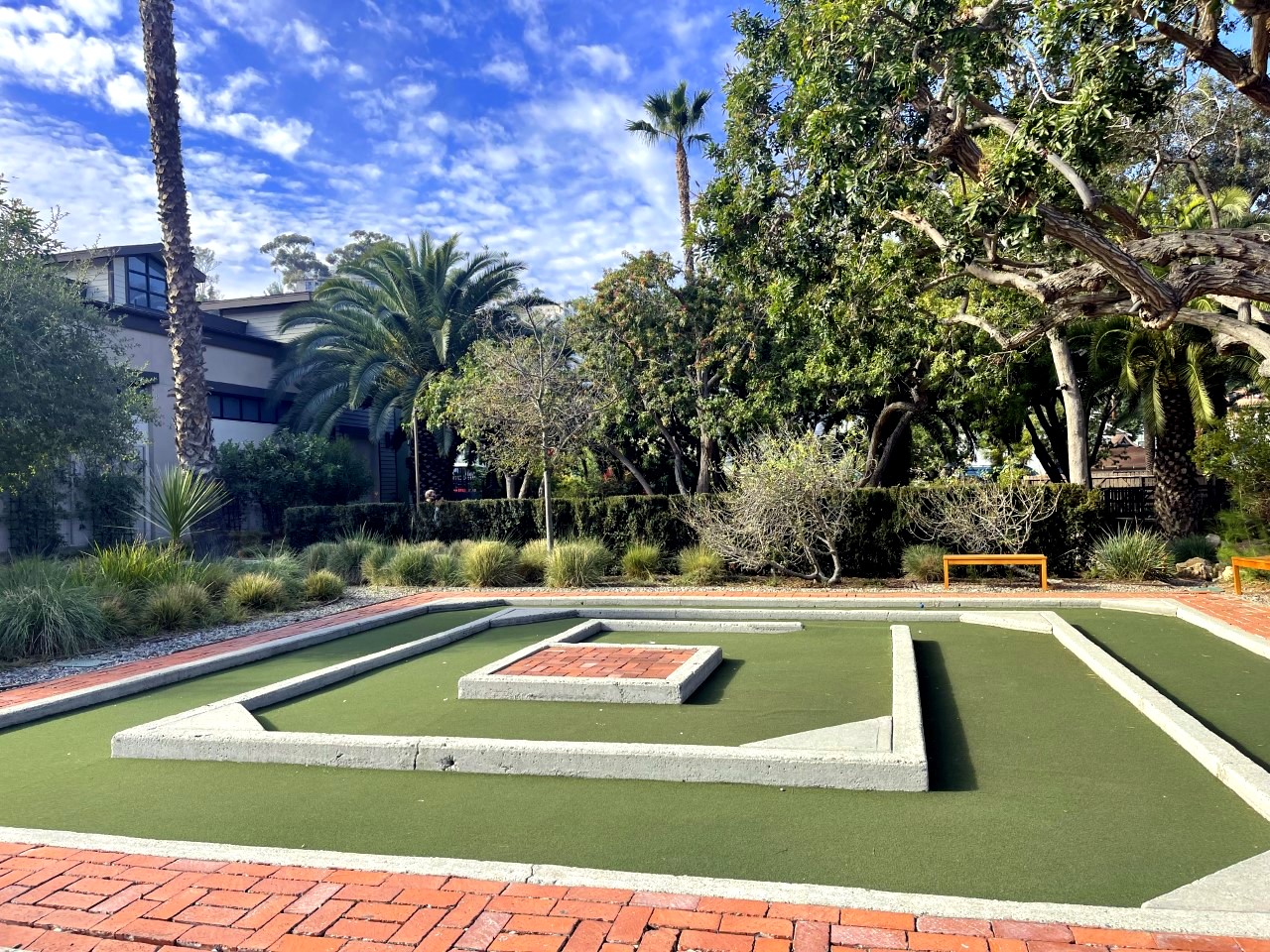 Check out our pictures!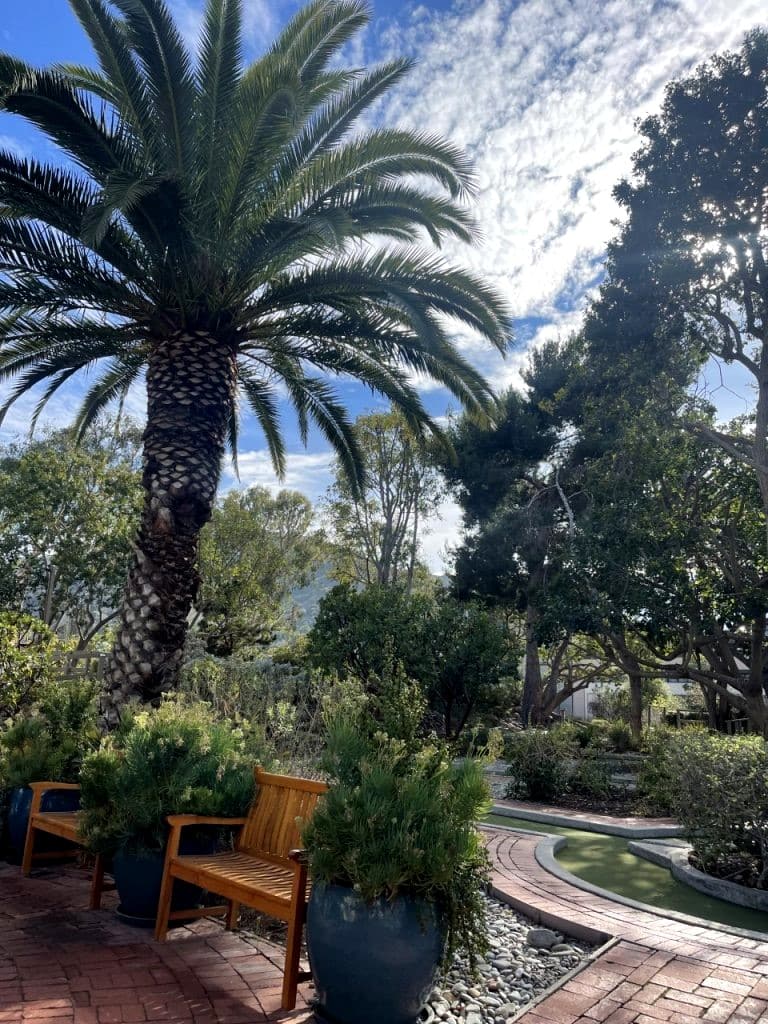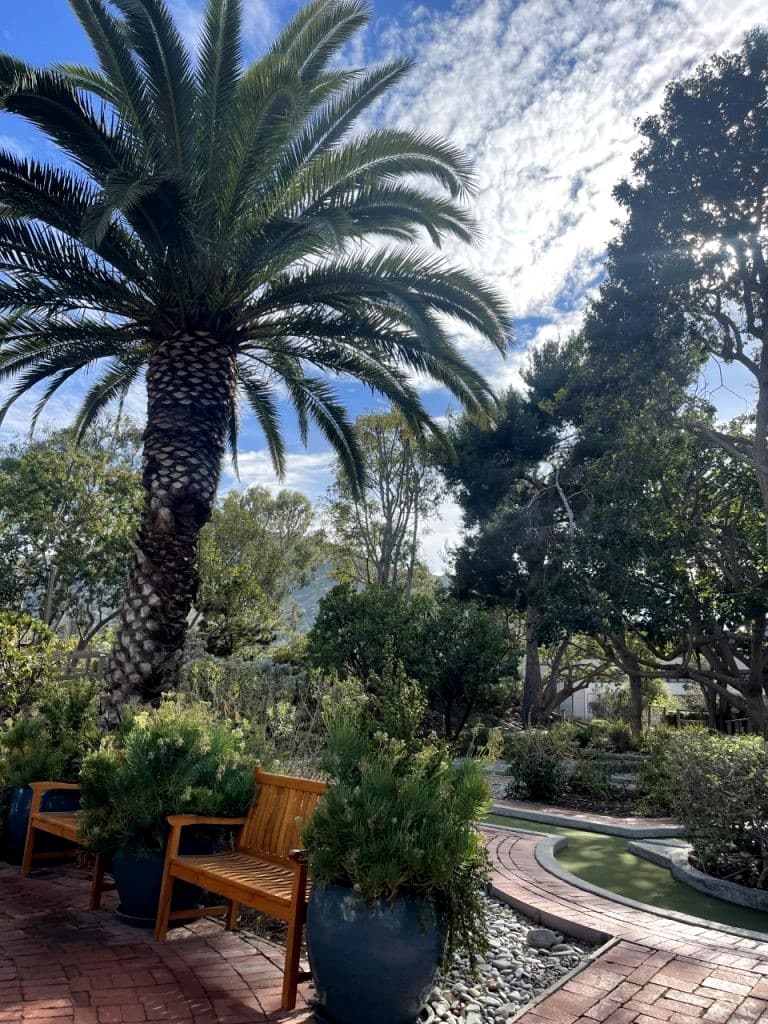 Smoothies at Café Metropole
After I undeservingly lost mini golf (I really, really should've won) (I lost by 1) (whatever), we stopped to get smoothies. It was really cold out that day and the smoothies definitely didn't make it any better, but they were much needed.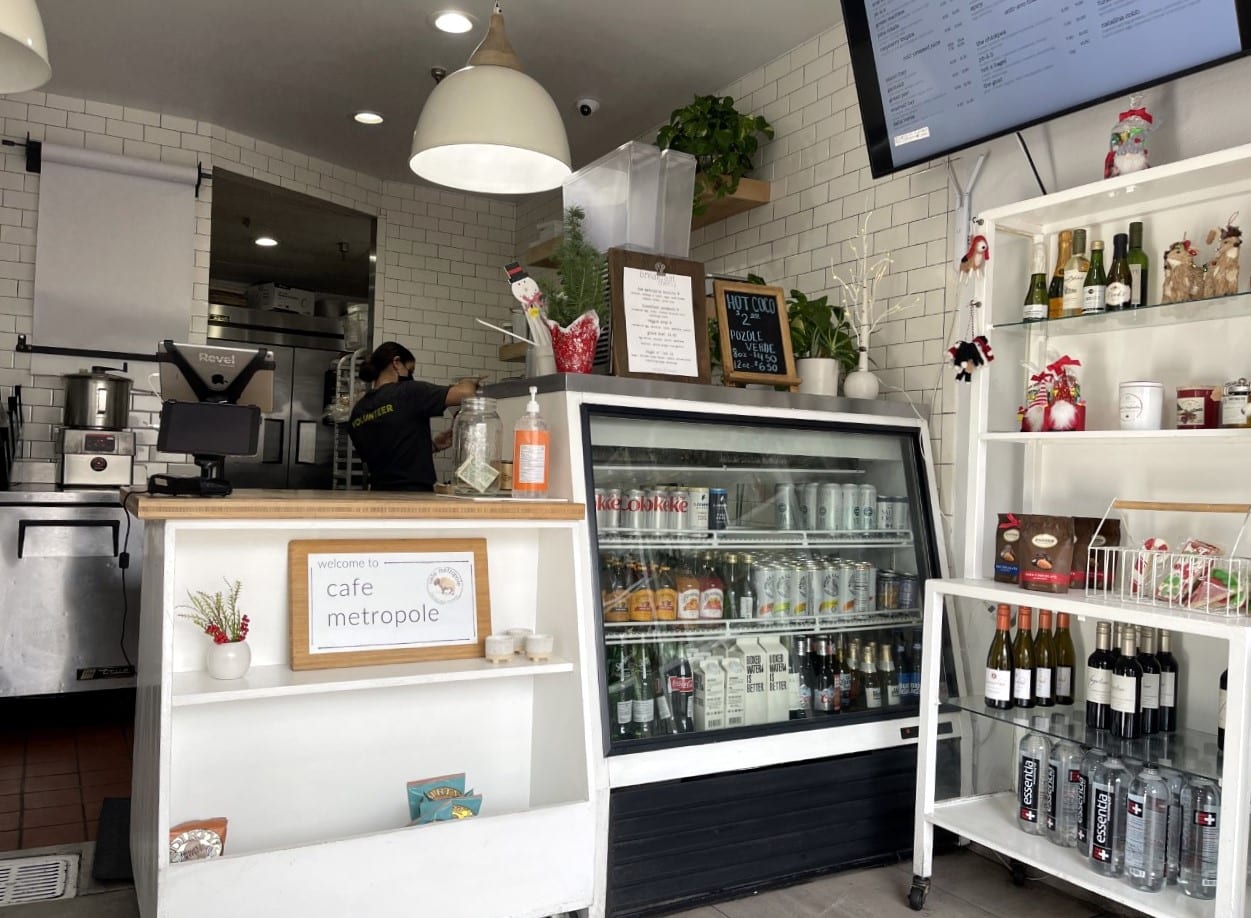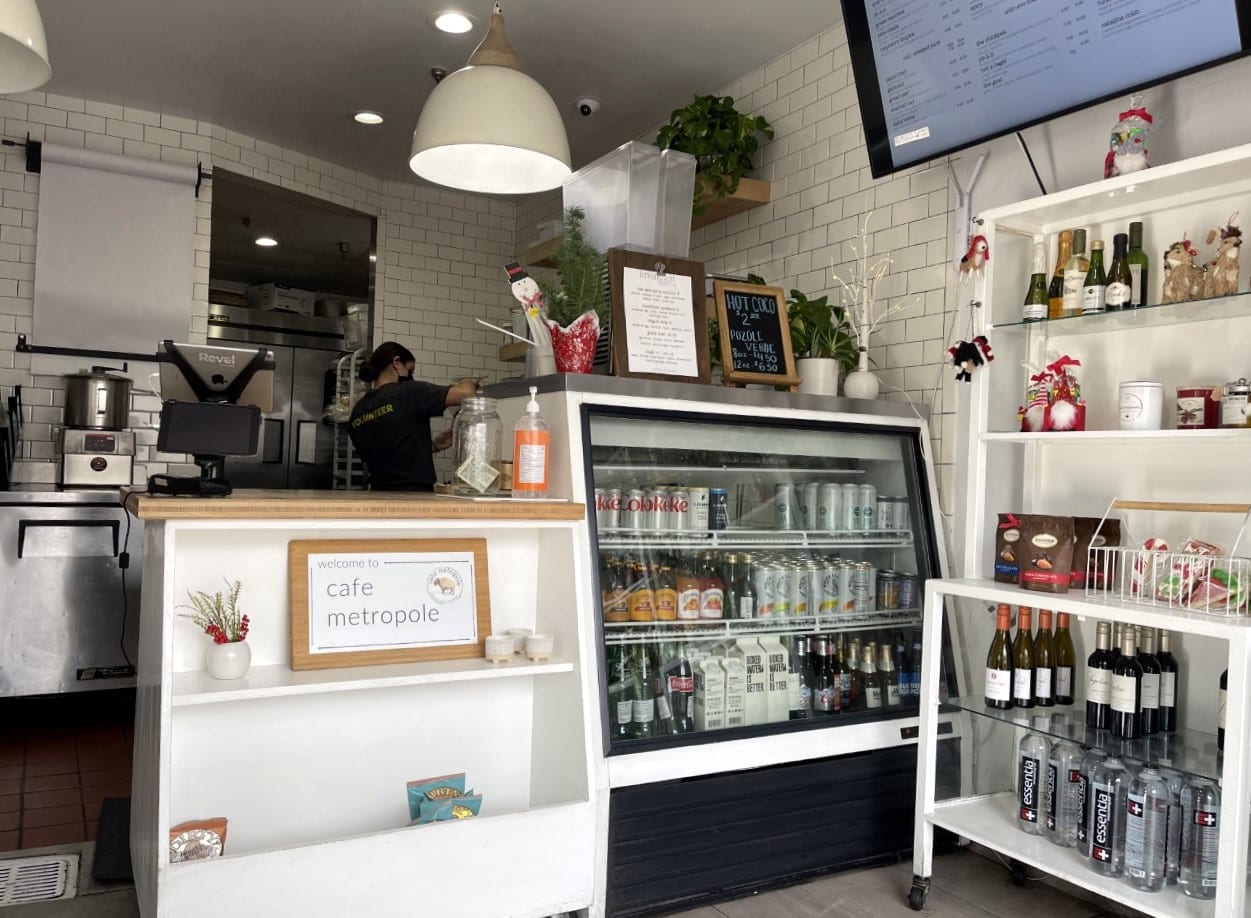 Cafe Metropole is located at the Metropole Market Place. It's a really cute café and next time I think I'll try one of their sandwiches. They have GF bread!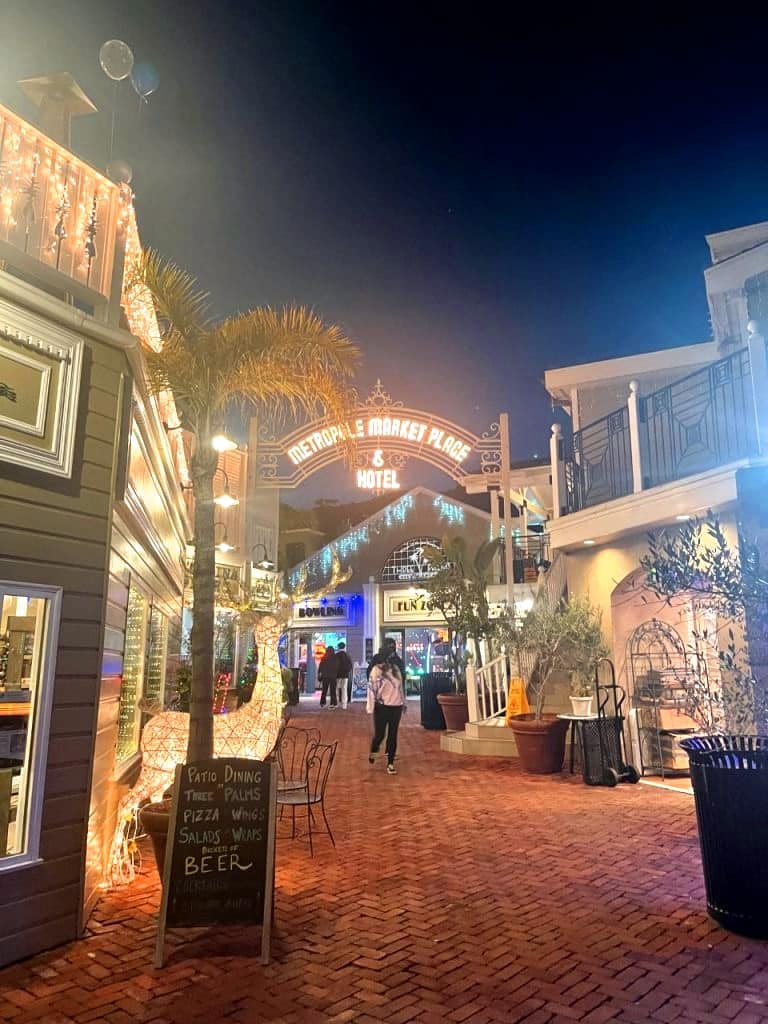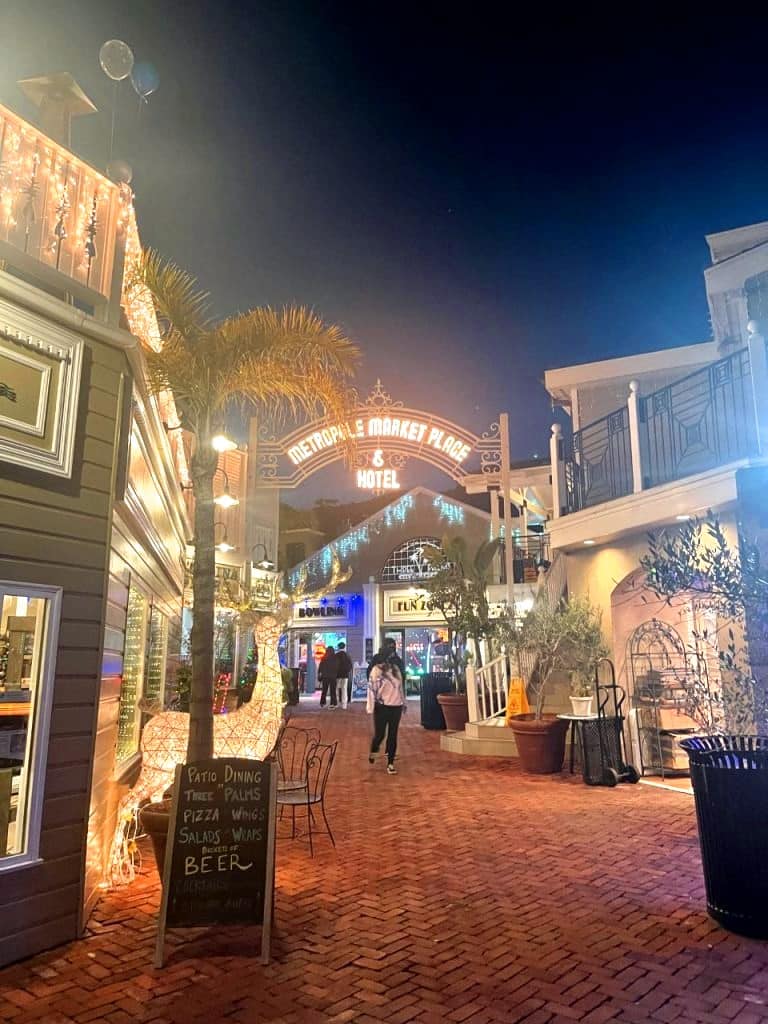 Andrew and I both got Raspberry Tropics. First off, the color is the prettiest pinky purple, and the smoothie itself was delicious.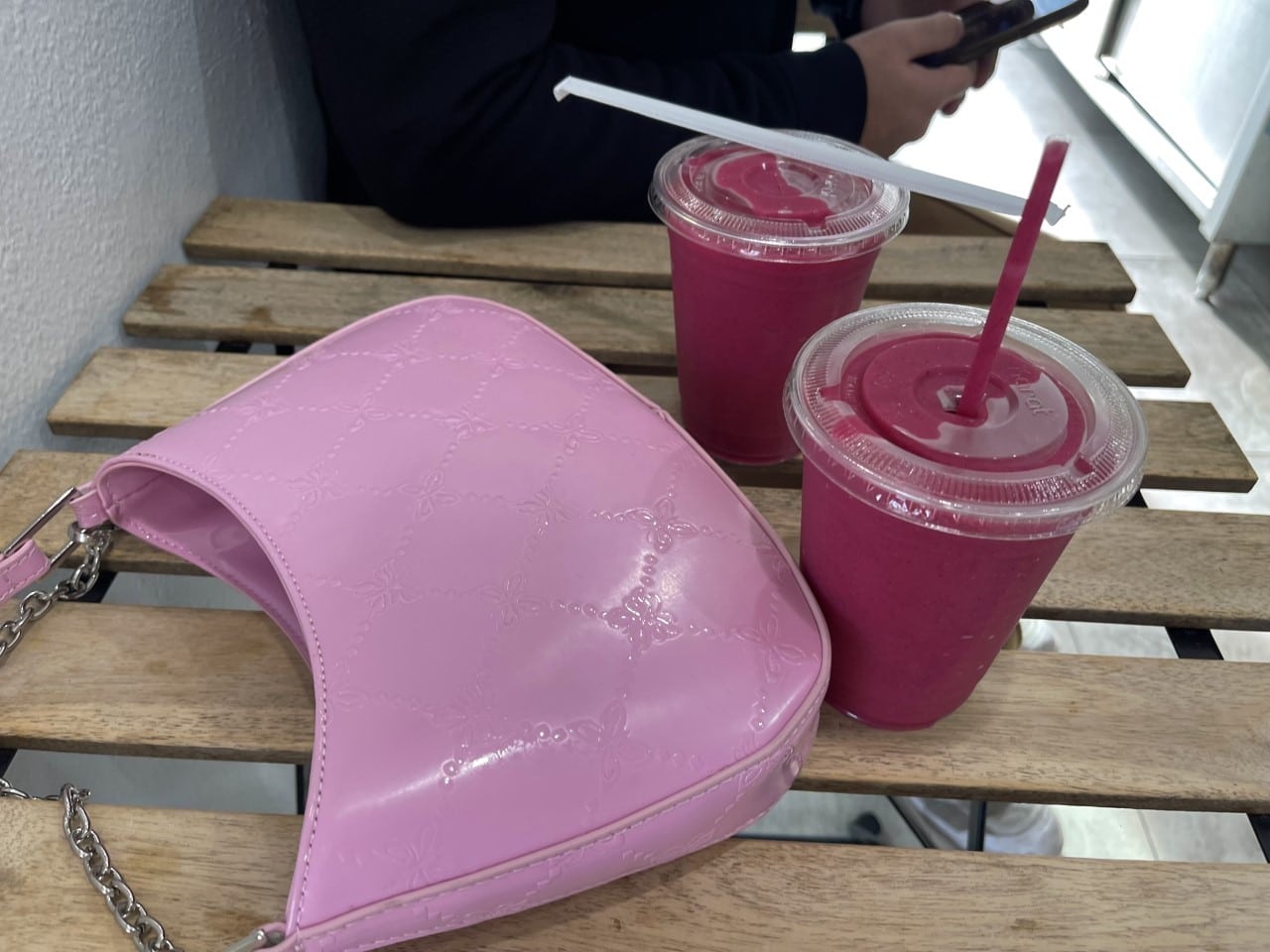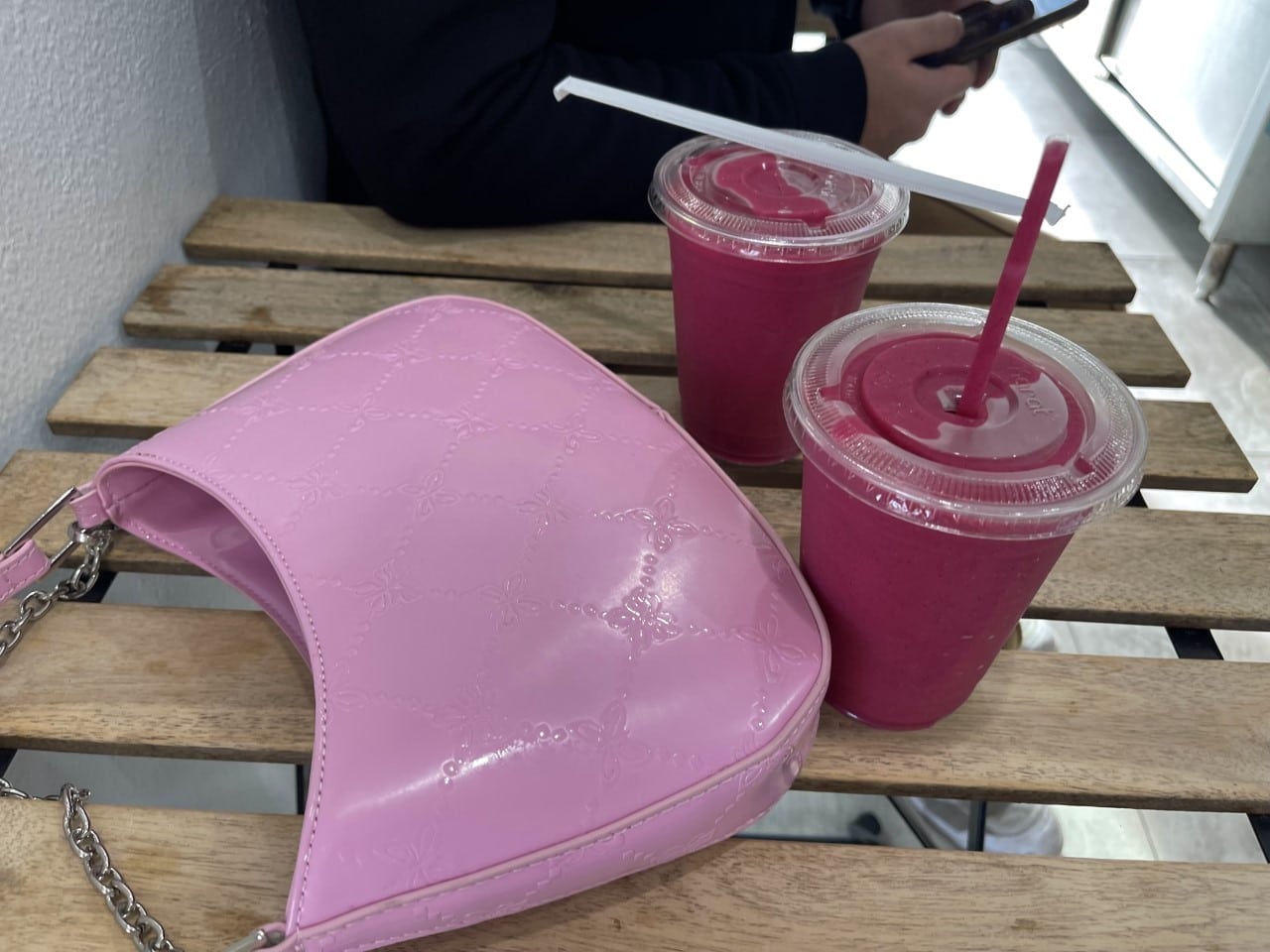 Giant Chess
After downing our smoothies and freezing to death, we walked around Catalina some more. We walked the pier and looked at some more shops.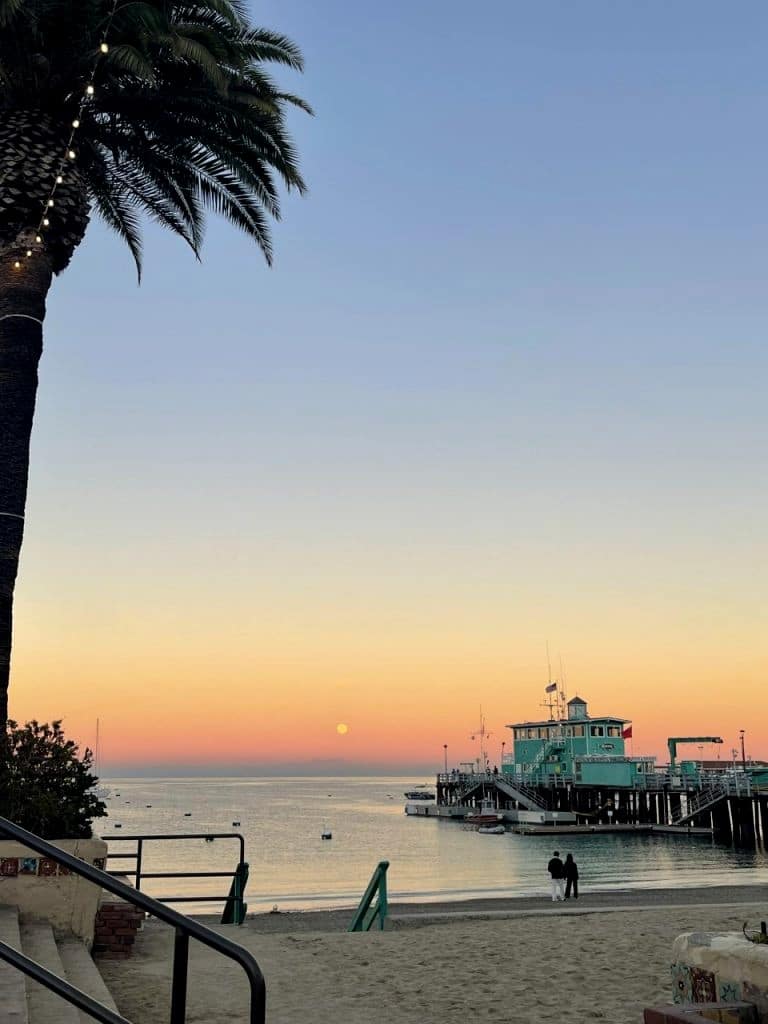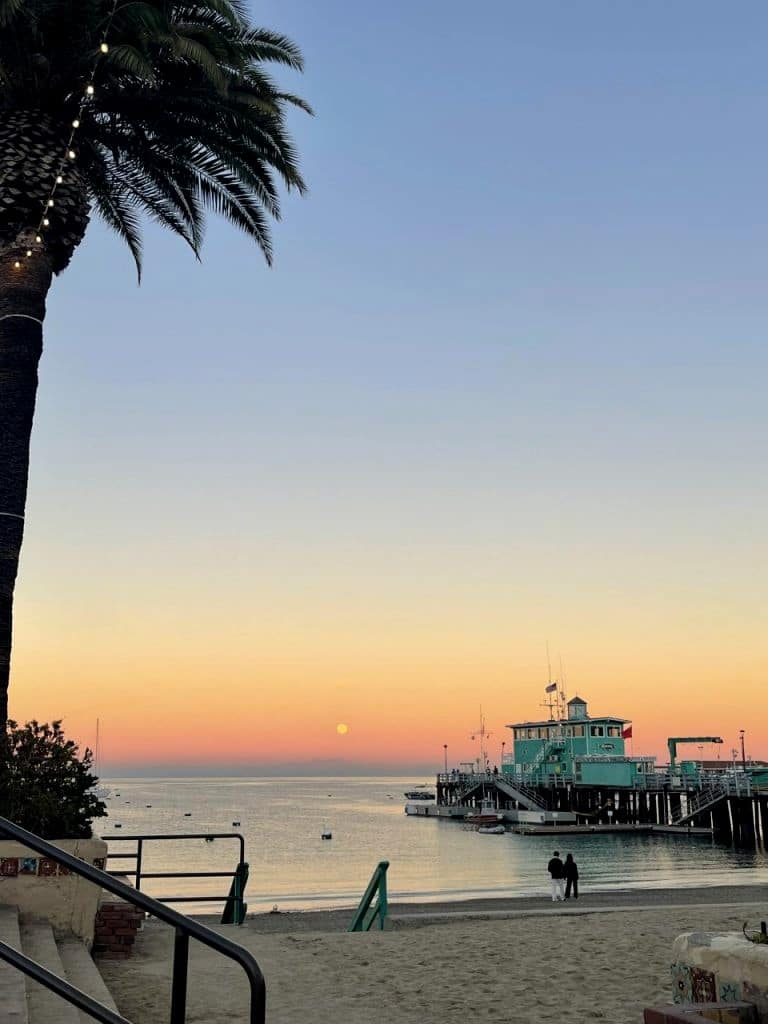 Then we made our way to the giant chess game we saw the day we arrived. I'm not a big chess player, but The Queen's Gambit definitely gave me a change of heart.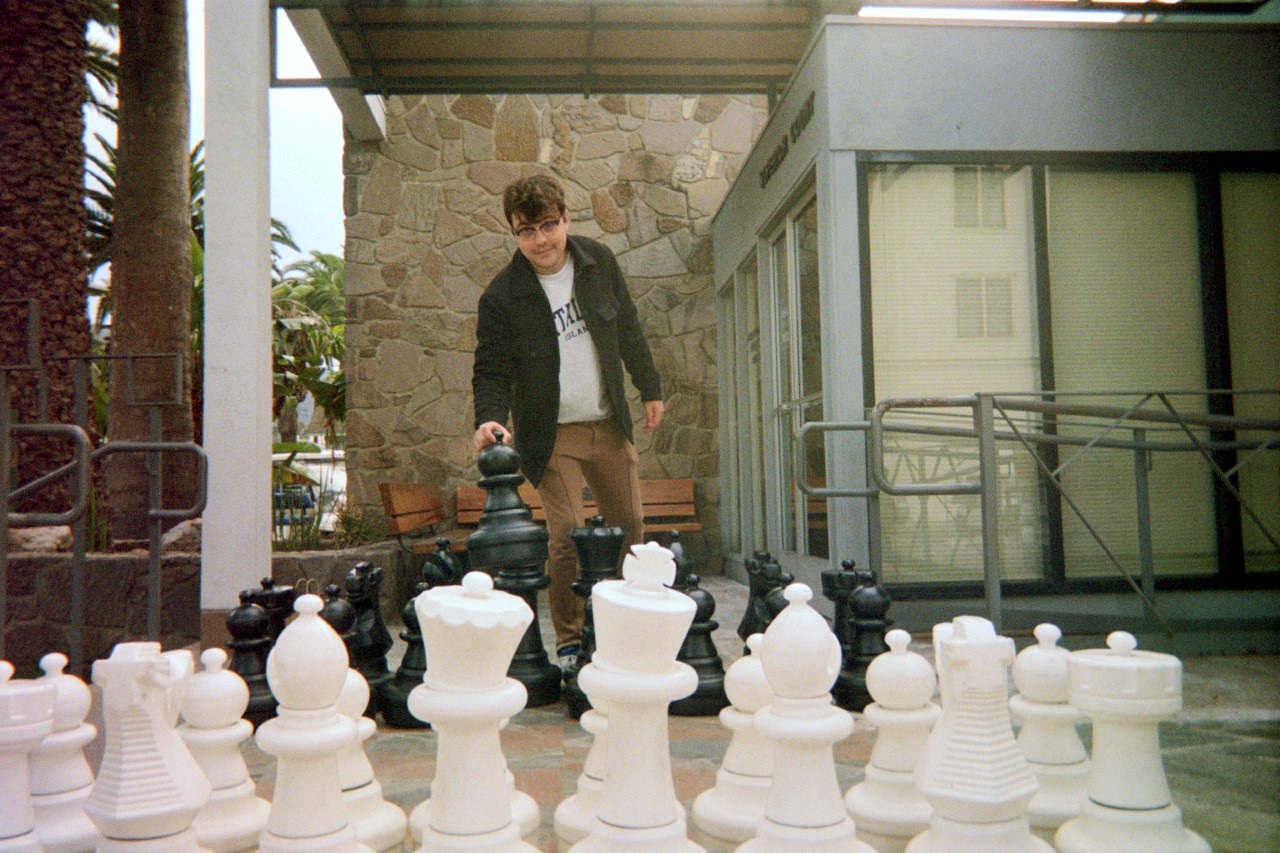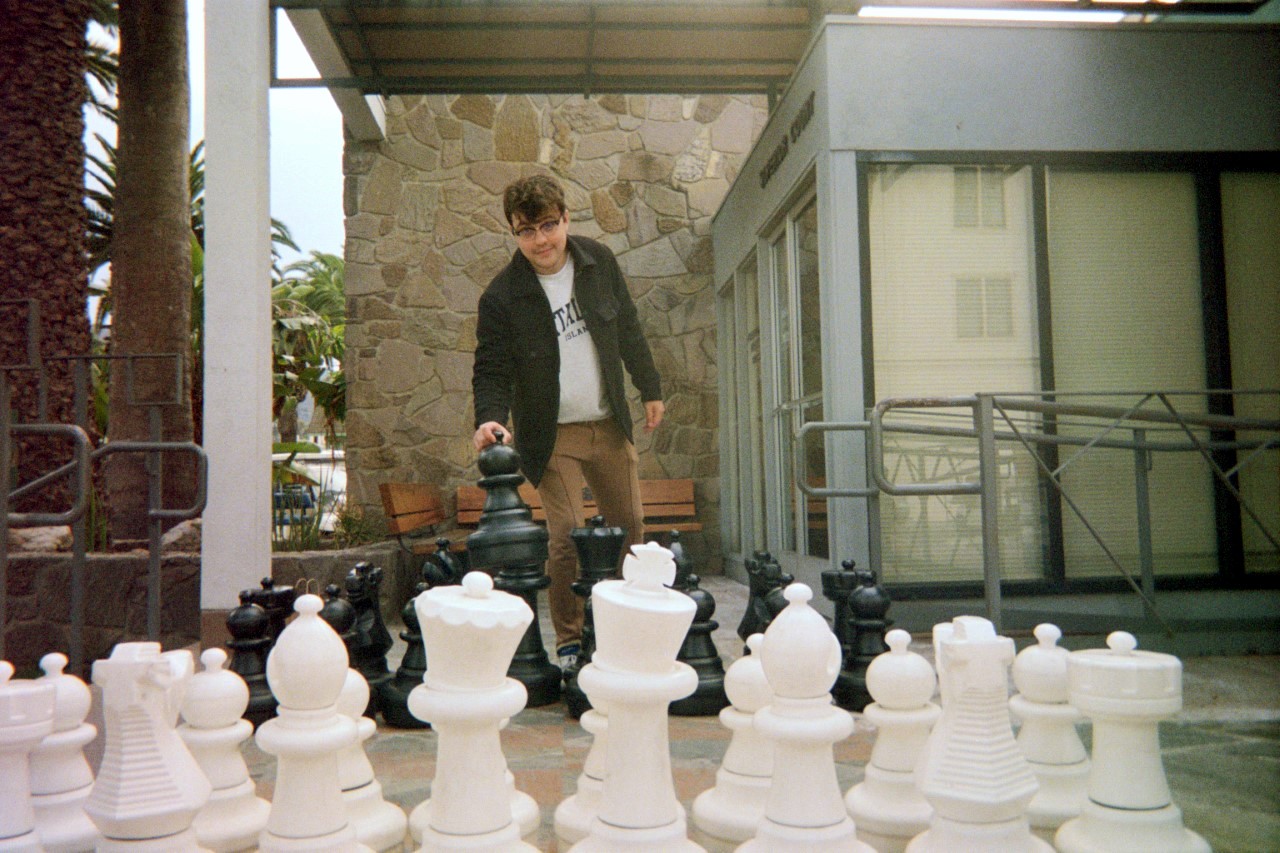 So, we battled it out for a while. I take a very long time deciding what to do. And it made us very hungry by the finish. (I should've won this game too) (Like in all honesty) (One accidental mistake and I ruin it) (But I HAD IT)
Original Antonio's Pizzeria
We really wanted pizza, and originally, we were going to go get Pizza at the arcade in the Metropole Plaza (which has GF pizza), but we passed by this place earlier and it is ADORABLE. So quaint and Italian and there are so many fun decorations.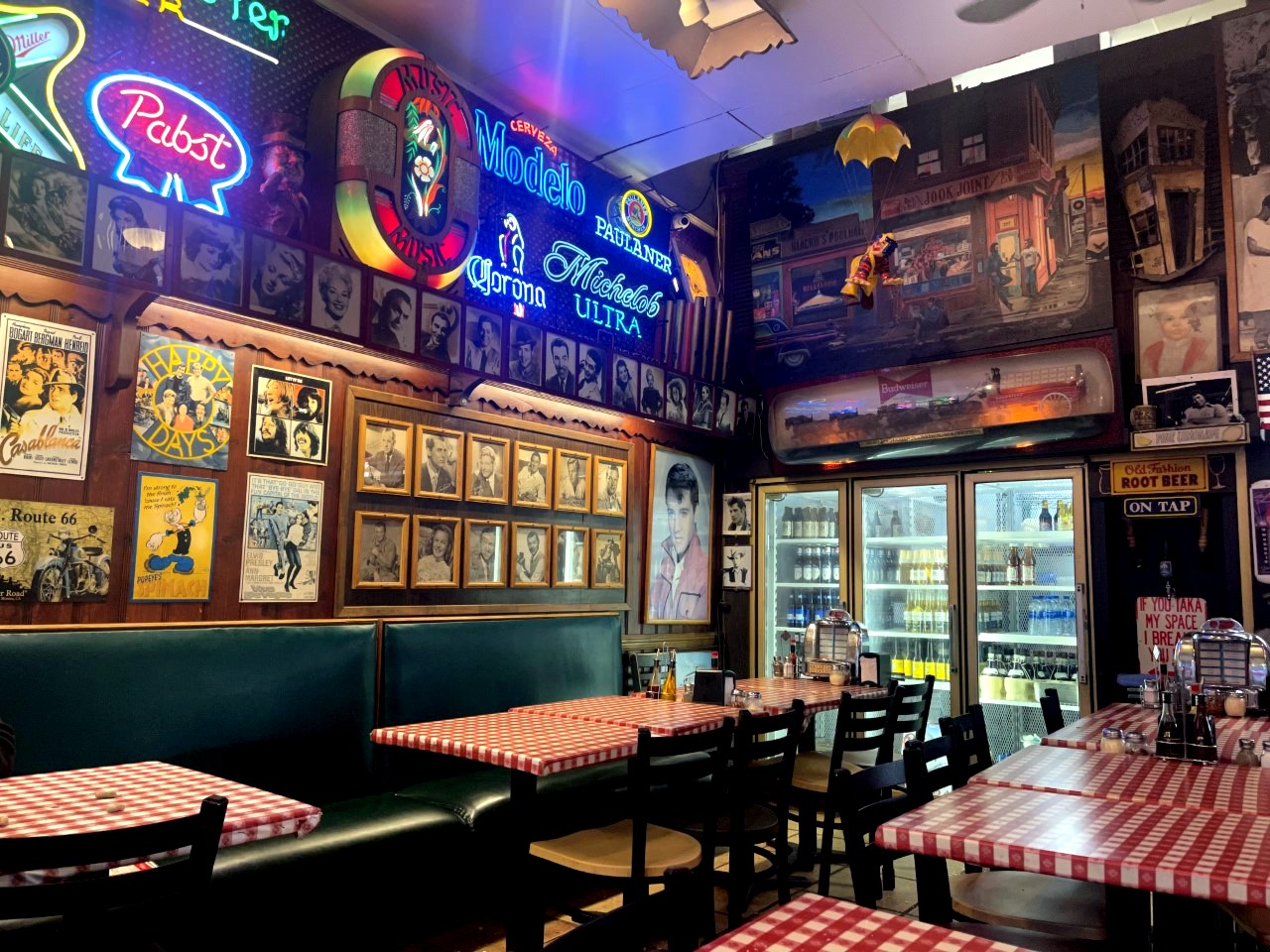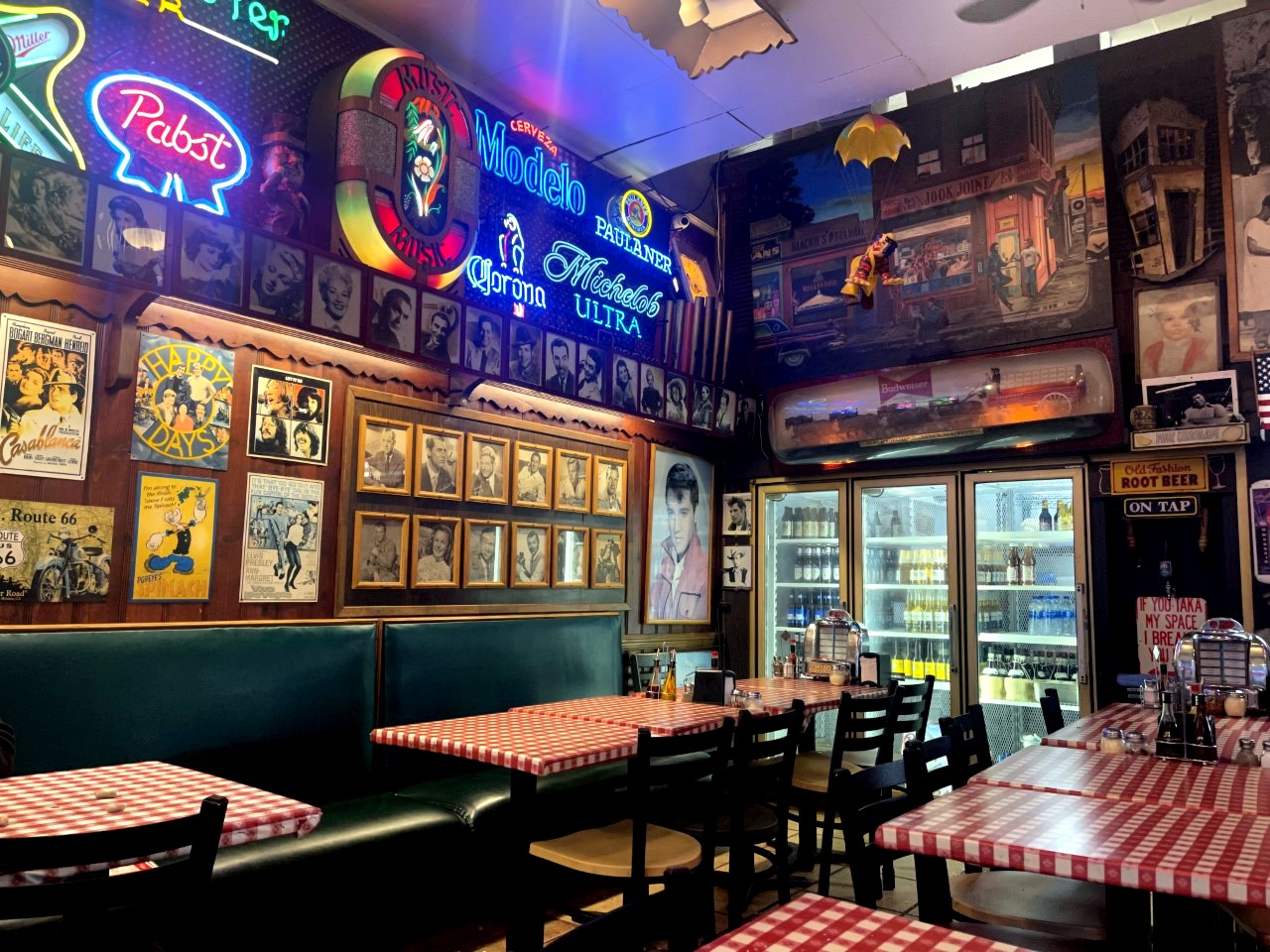 And they also have gluten free pizza!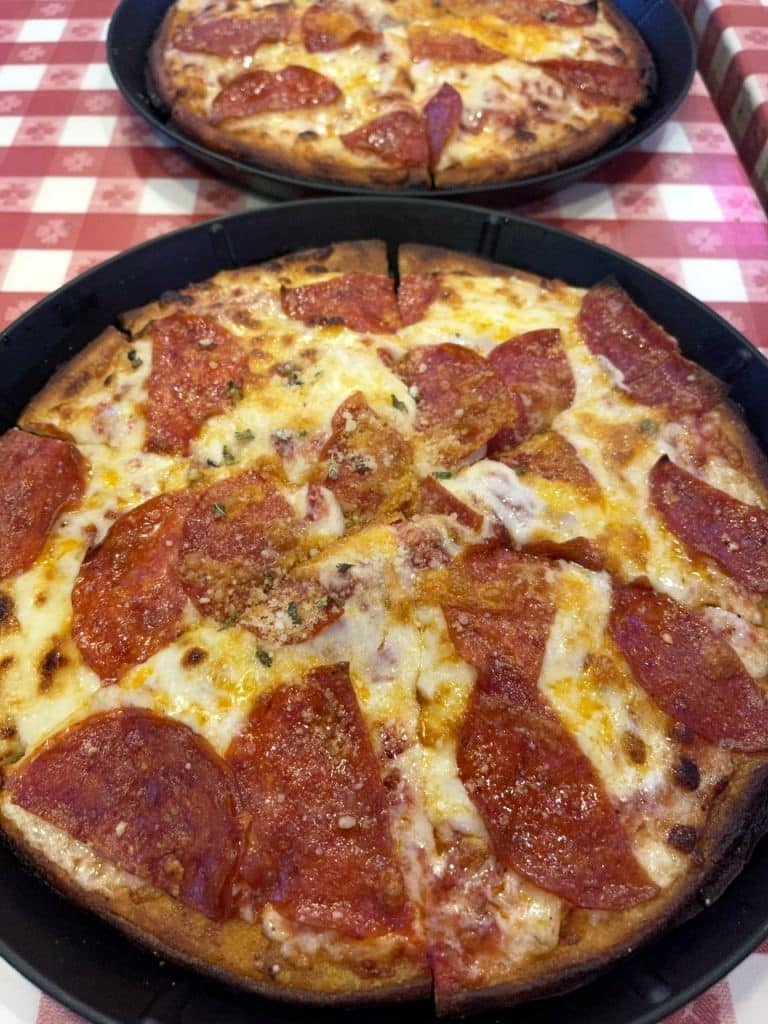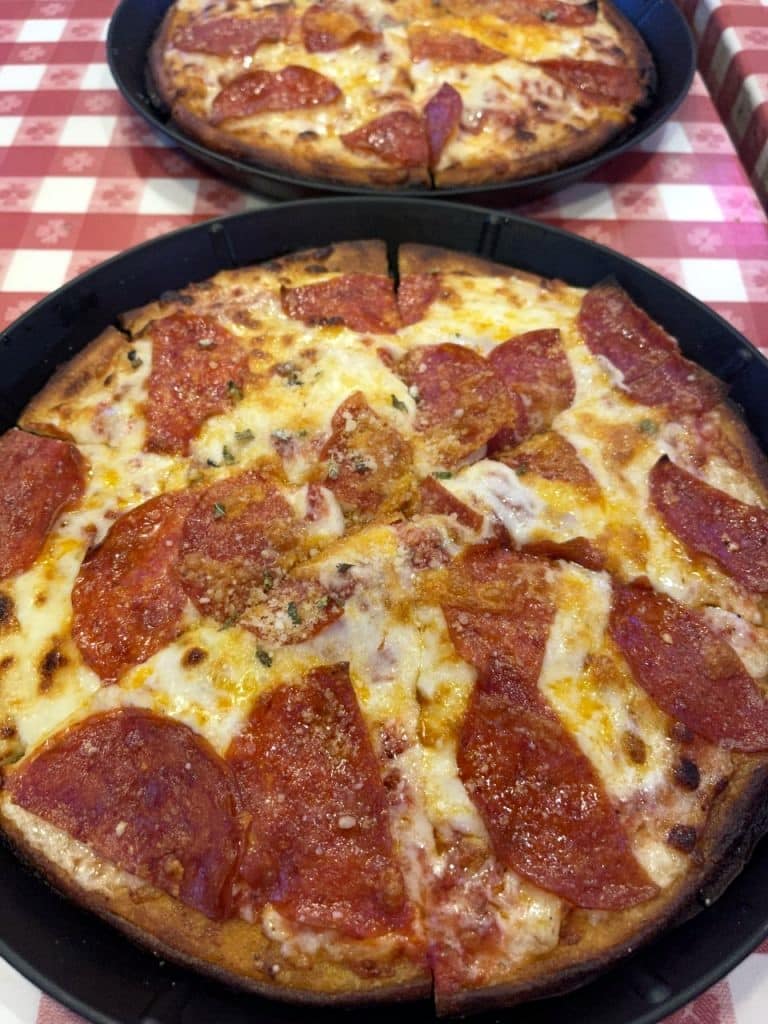 The cherry on top is the peanuts they give you to start off. Crack the peanuts and throw the shells on the floor! That's the rule!! It was addicting and a unique starter other than the typical bread.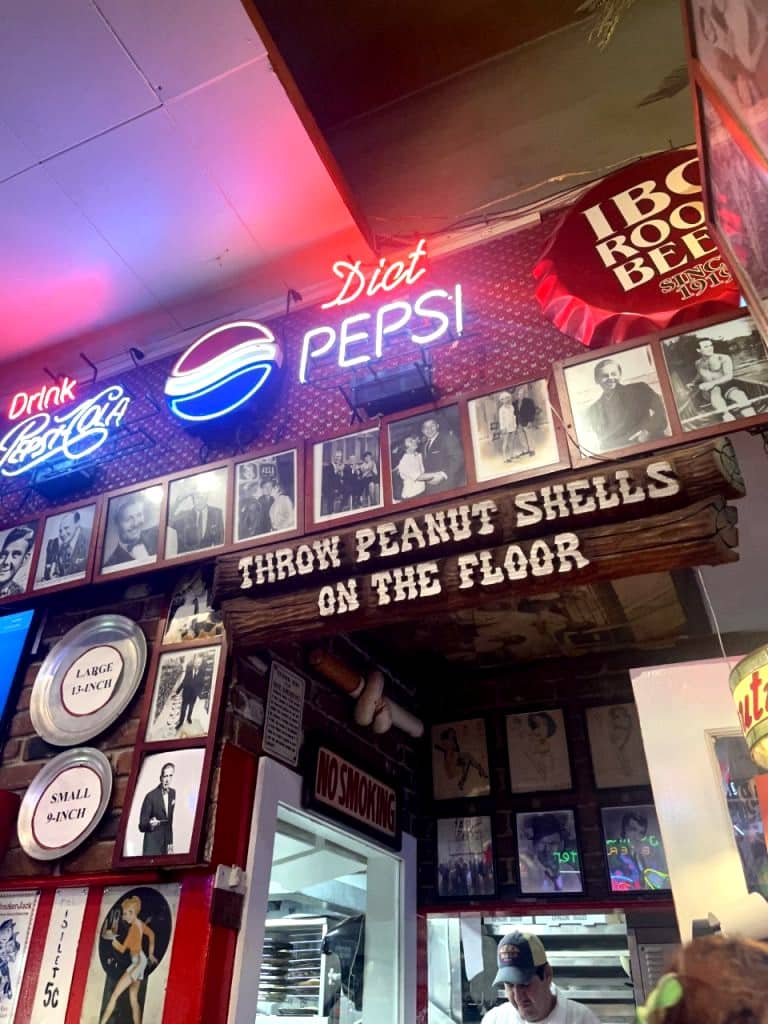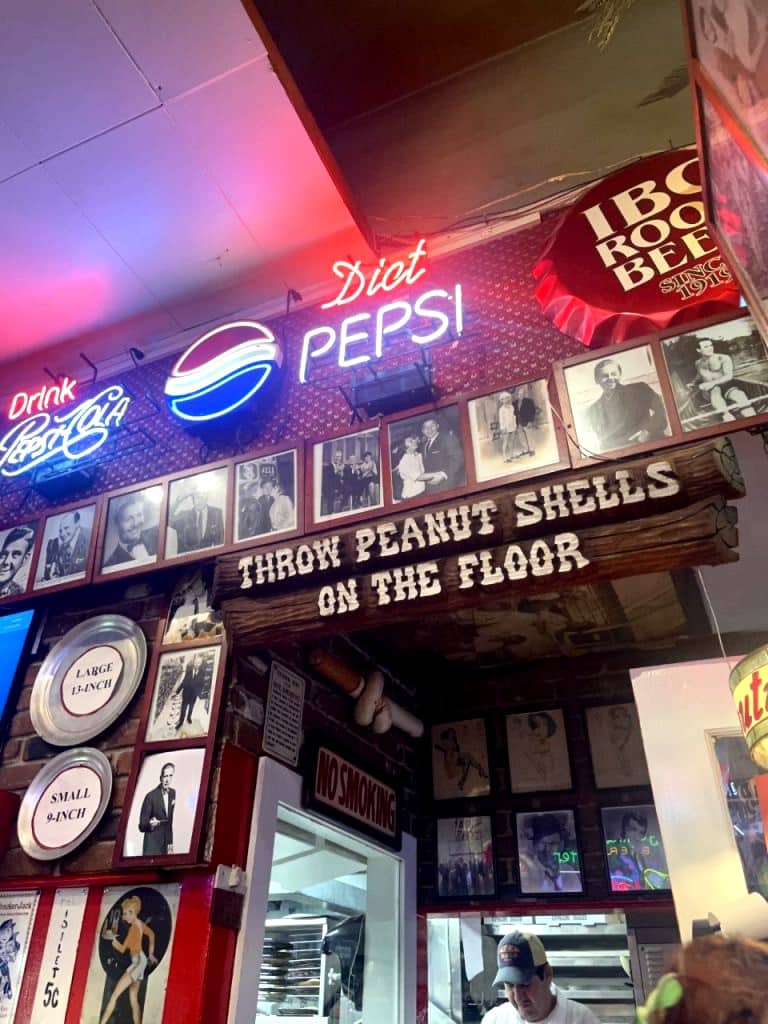 Probably not a great place to go if you have a peanut allergy.
The pizza was delicious, and I couldn't believe it was gluten free so of course I had to double check. Apparently, the gluten free crust there is really popular and most people prefer it over the regular!!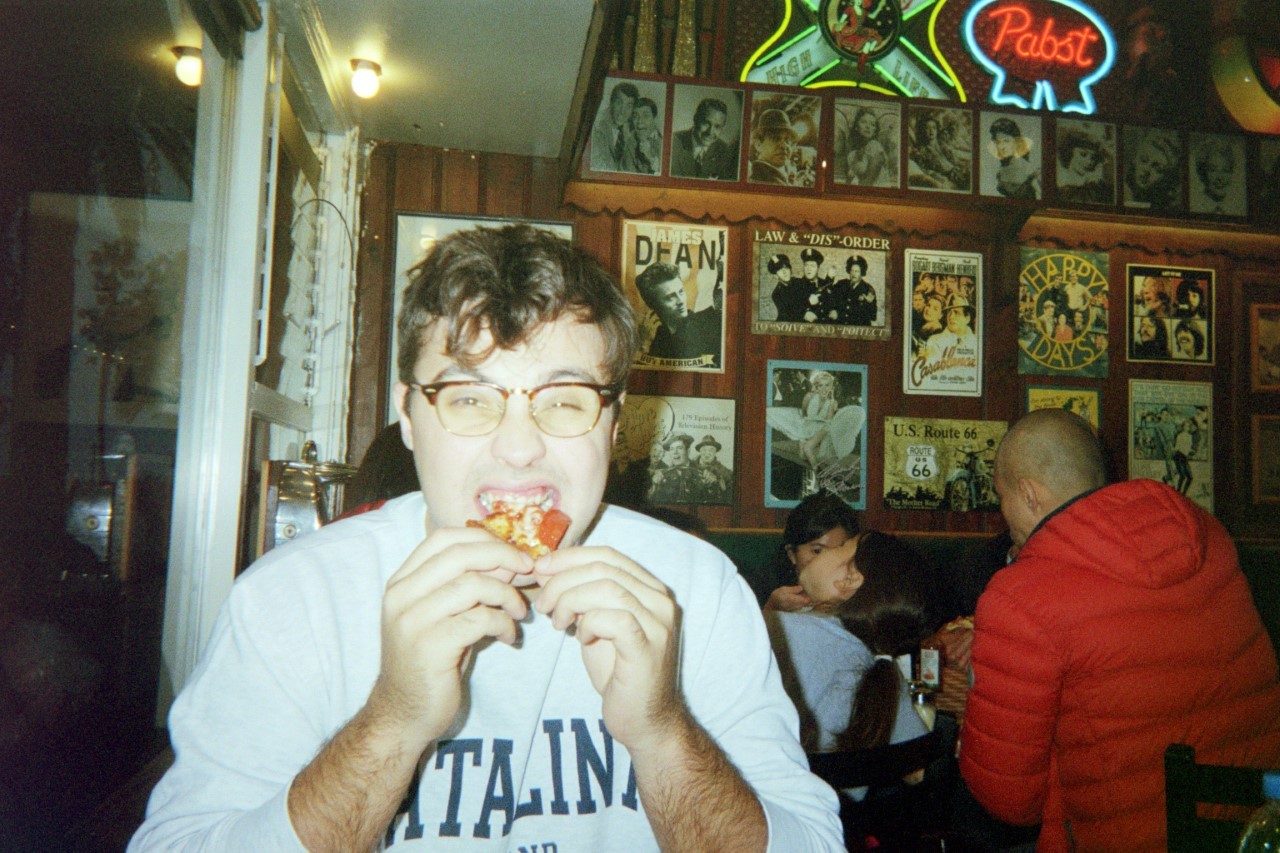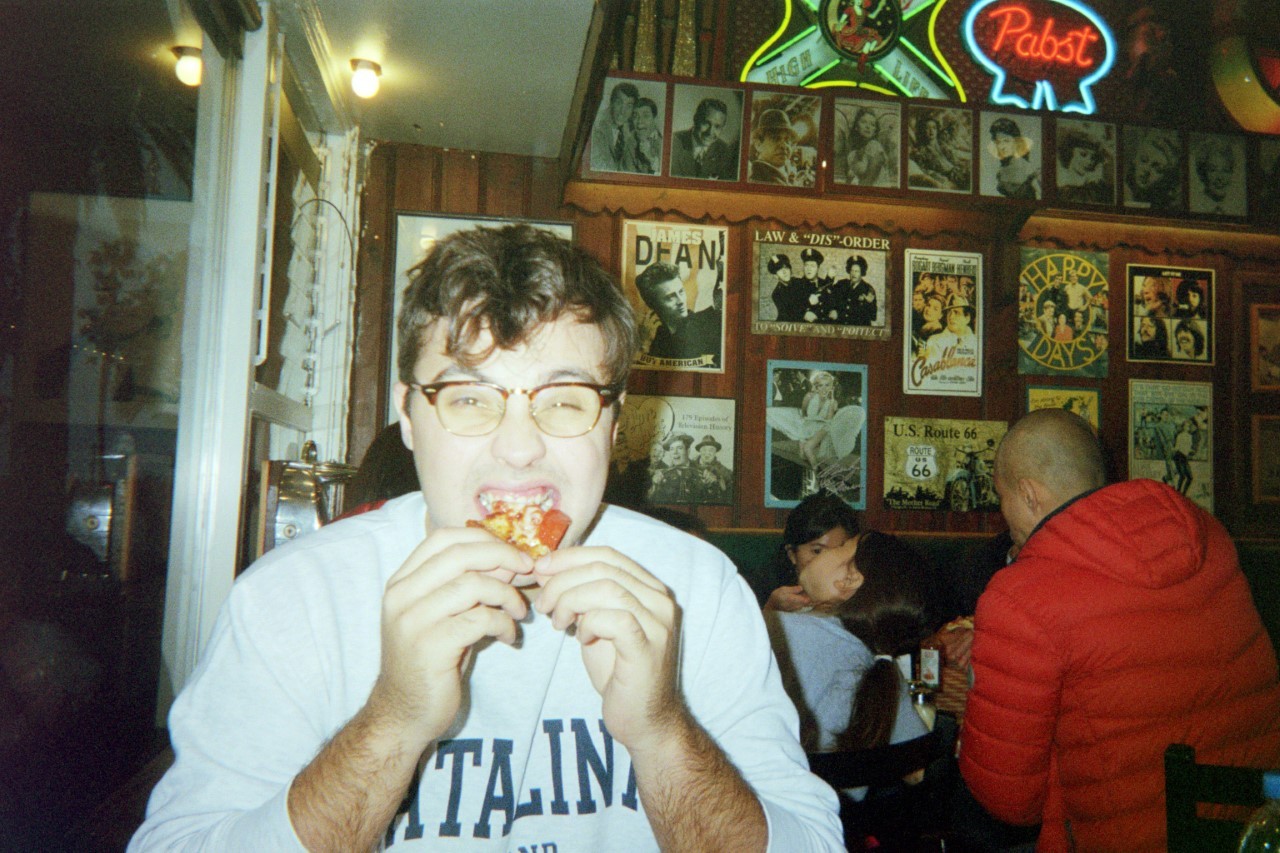 It was a really cute place and I definitely recommend.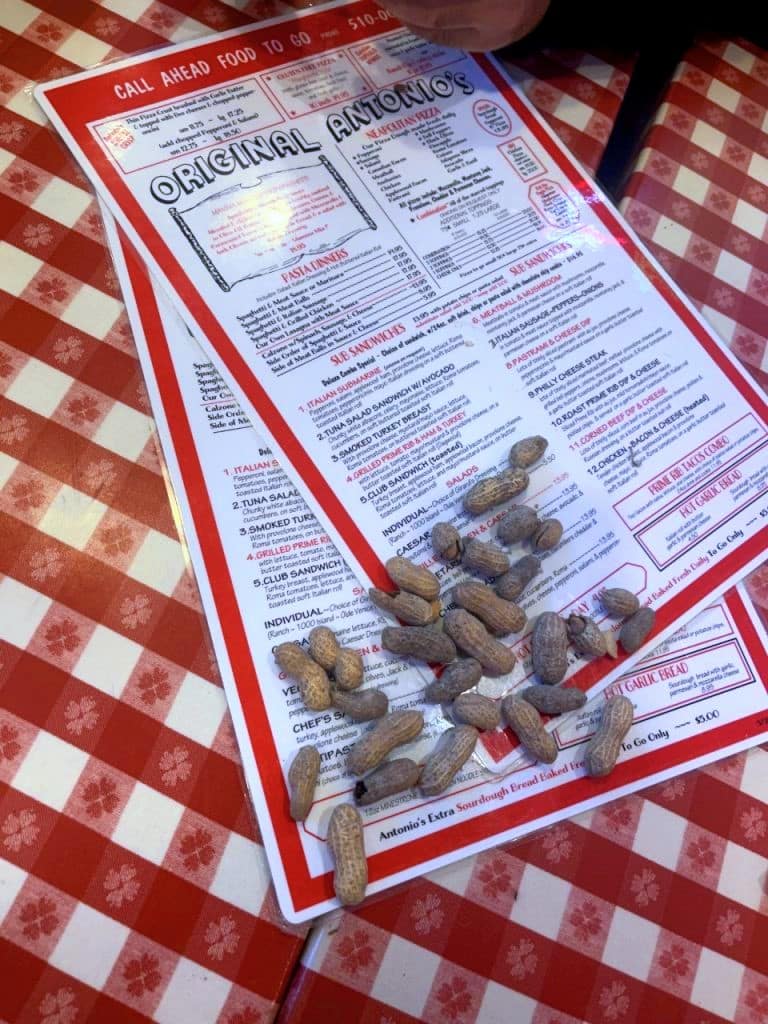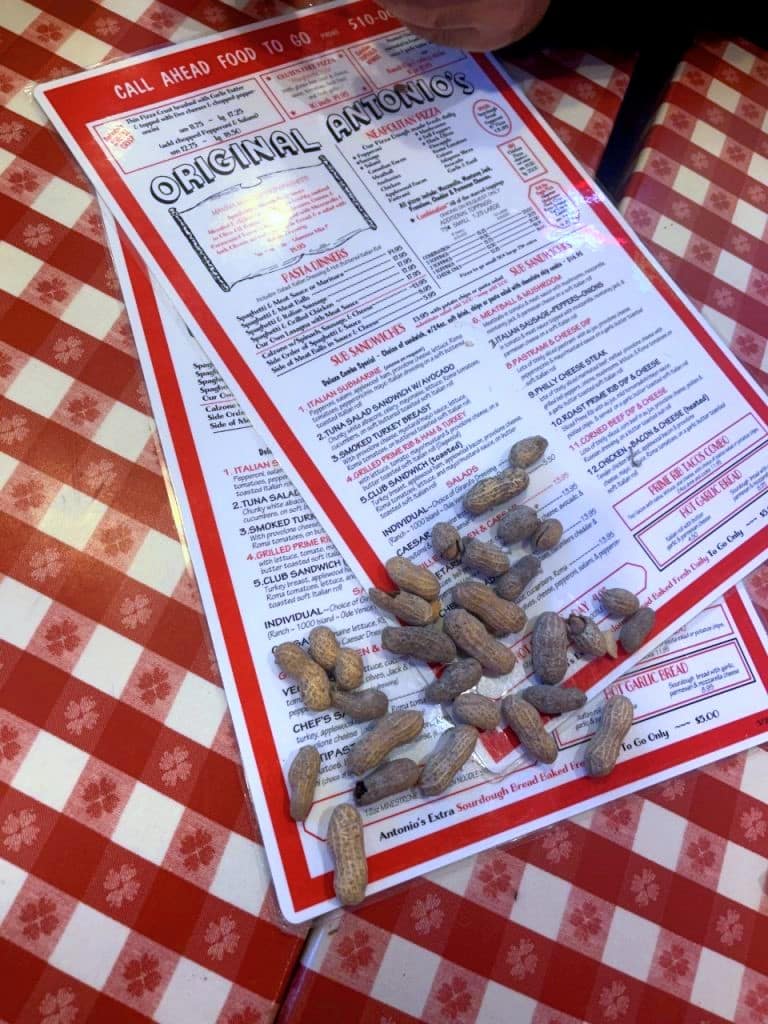 The Only Grocery Store on The Island – VONS
This place was packed. LOL. It was kind of crazy. I guess that makes sense when it's the only grocery store on Catalina Island.
We went here to get some cash to play darts because every other ATM we found was empty, and every little shop refused to give cash back.
So, we bought some candy and snacks and got our cash! Had to wait in a very long line though. Avoid this place if you can hahaha.
The Catalina Express – December 20th, 7:45pm
After our last round of darts, we slowly but surely made our walk back to the Catalina Express. Hermosa Hotel was amazing in the way that they let us leave our luggage with them all day until we needed to leave. From 11am to 7pm it was kept safe and sound! So convenient and helpful.
We got hot chocolate on the boat for our ride back and it was delicious.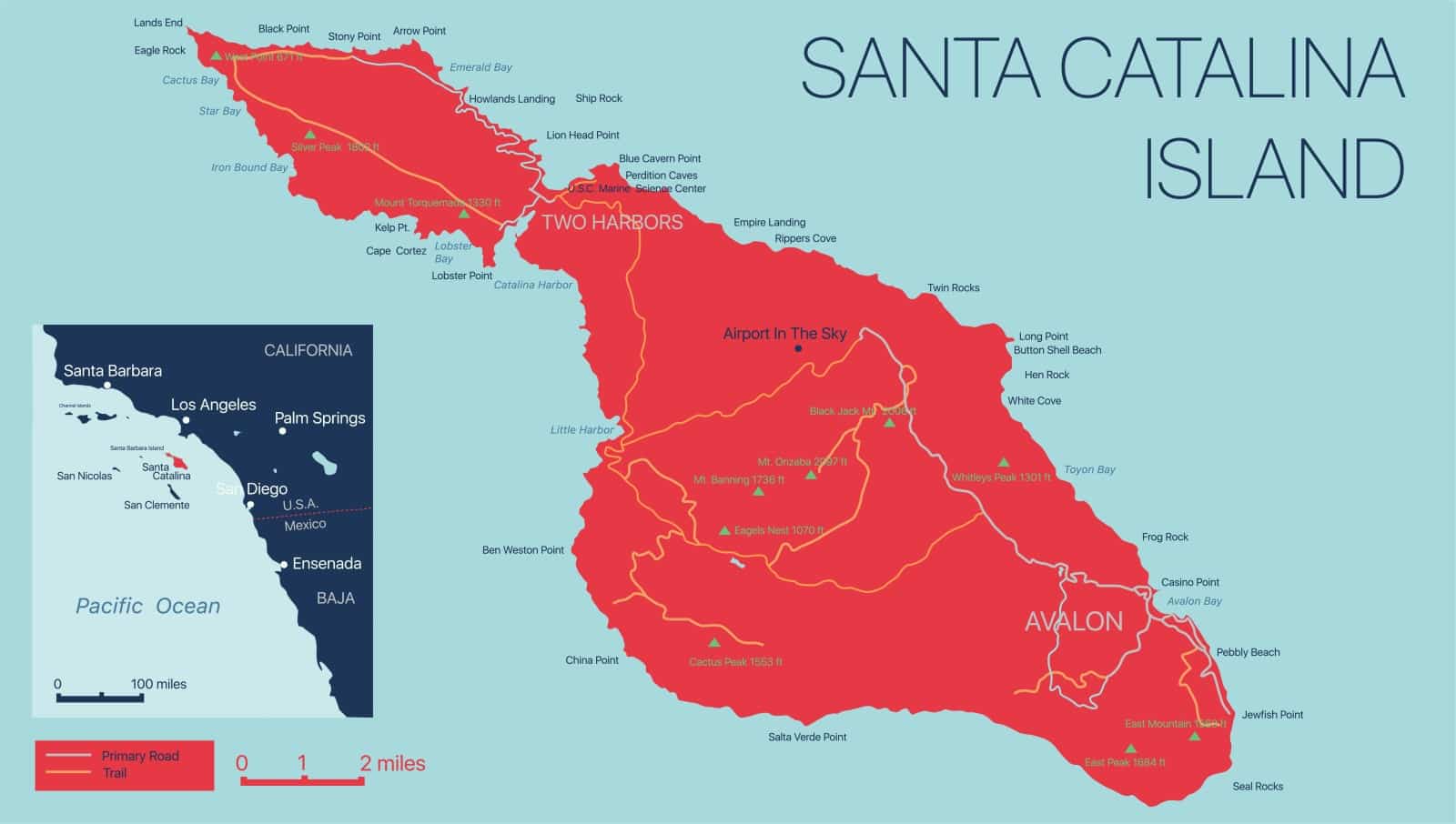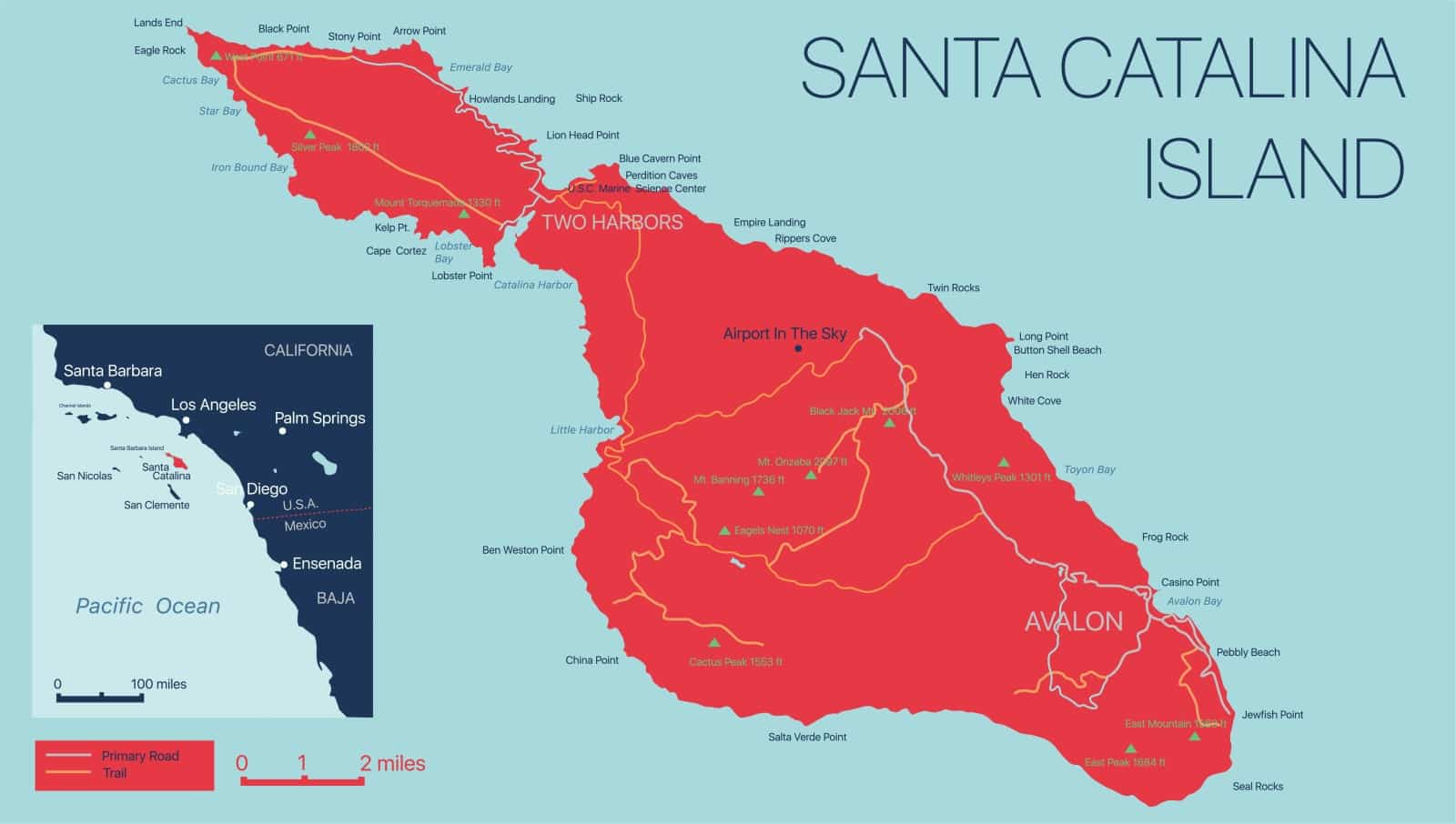 Rolling Credits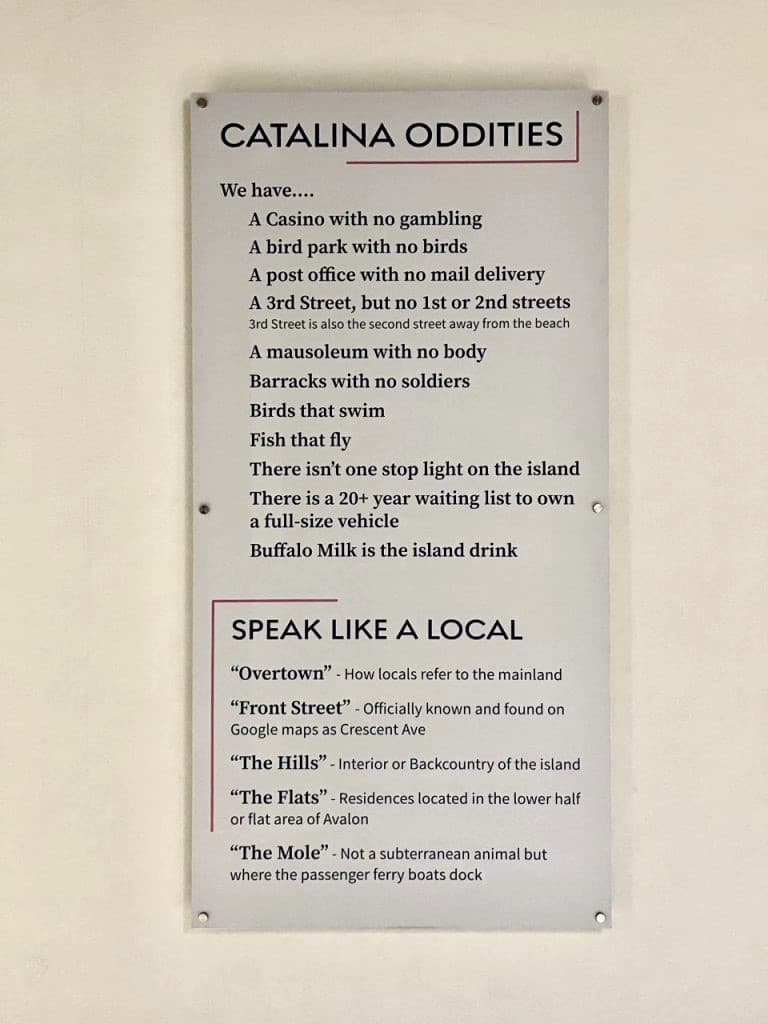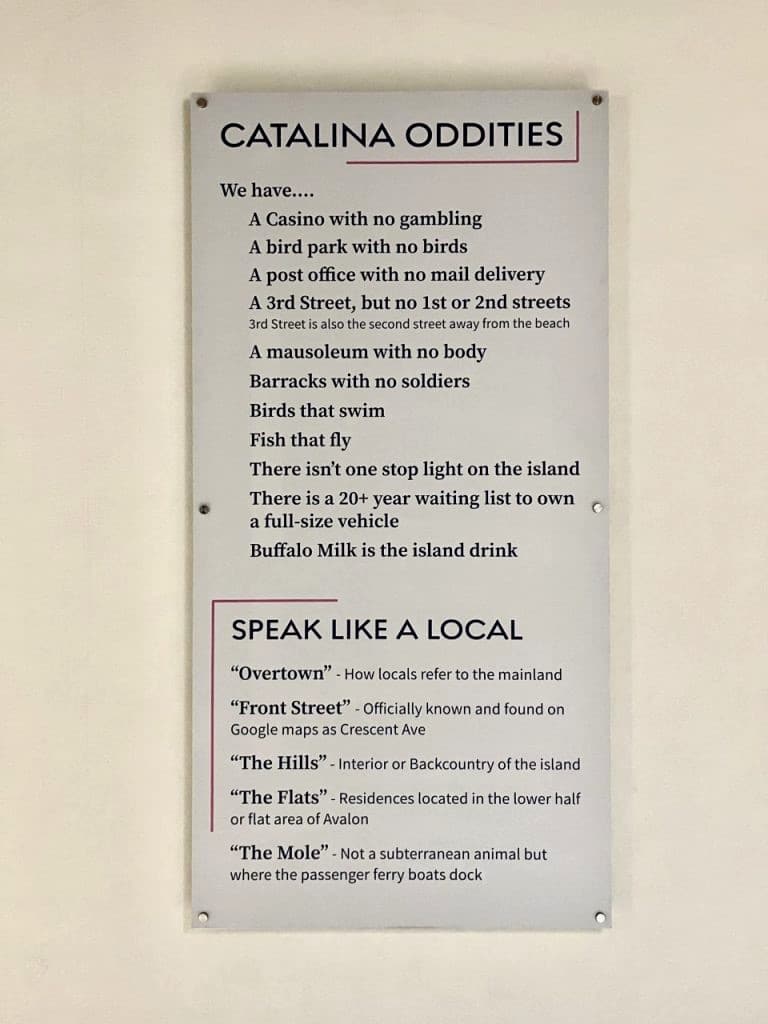 We miss Catalina Island so much!! It was such a wonderful short winter trip. We had a great anniversary and we will be back for the summer! Stay tuned for an article about that one 🙂
The food was great, the ziplining was so fun, and our little room at the Hermosa Hotel was adorable.
The prices at the stores? Not too great but can be overlooked.
I am excited to come back and do way more water activities in the summer, but this winter in Catalina Island trip was more than needed.
See you in a few months, Catalina!
xoxo, Jess!
LET'S CONNECT!
My IG: @jessicacastello
Twitter: @jessicacastello
Traveler.com's IG: @travelerlogue