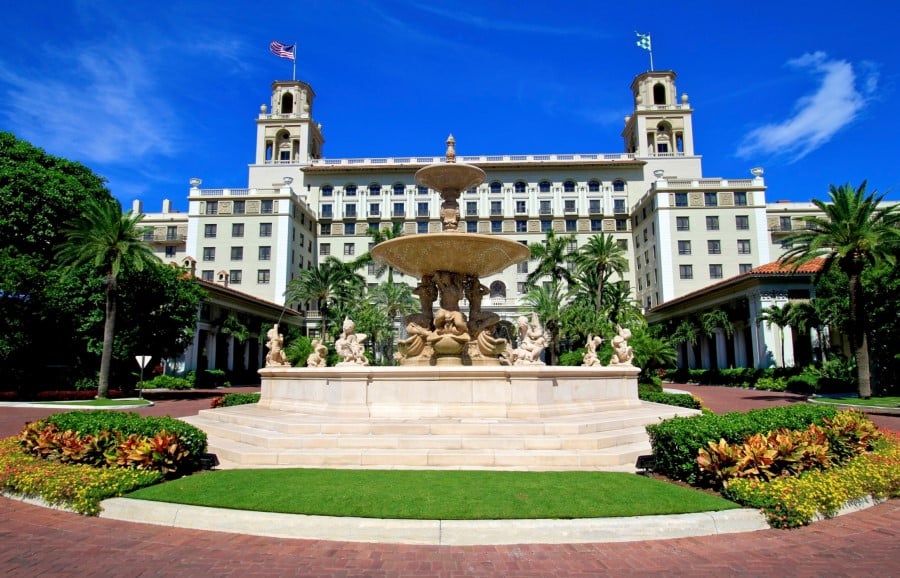 As part of our Time Traveler series, we bring past stories to life with new experiences. Michael Castello worked at The Breakers Hotel as a teenager, and came back decades later to experience this landmark as a time traveler.

ou are greeted at the The Breakers entrance with a long procession of royal palms which lead up to a large European-style fountain. The sound and look of it stands out like the center jewel of a crown with the Hotel behind it.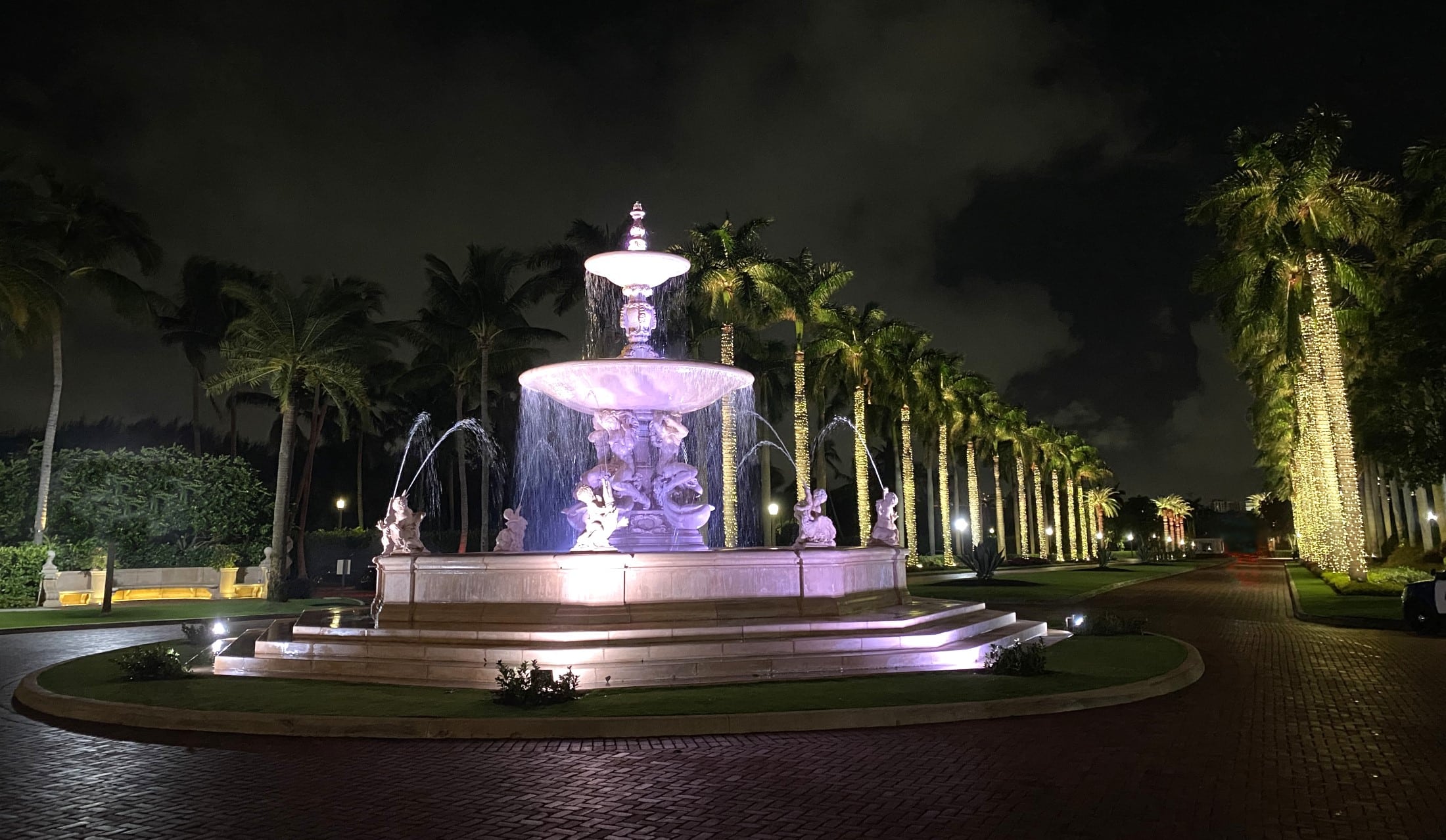 Once you valet your car, you enter into a part of history that is seldom seen in modern times in America. Everything is large, vast and gilded in its appearance and is somewhat overwhelming. The hotel registration area is small but quaint and doesn't take away from the grandeur of the moment.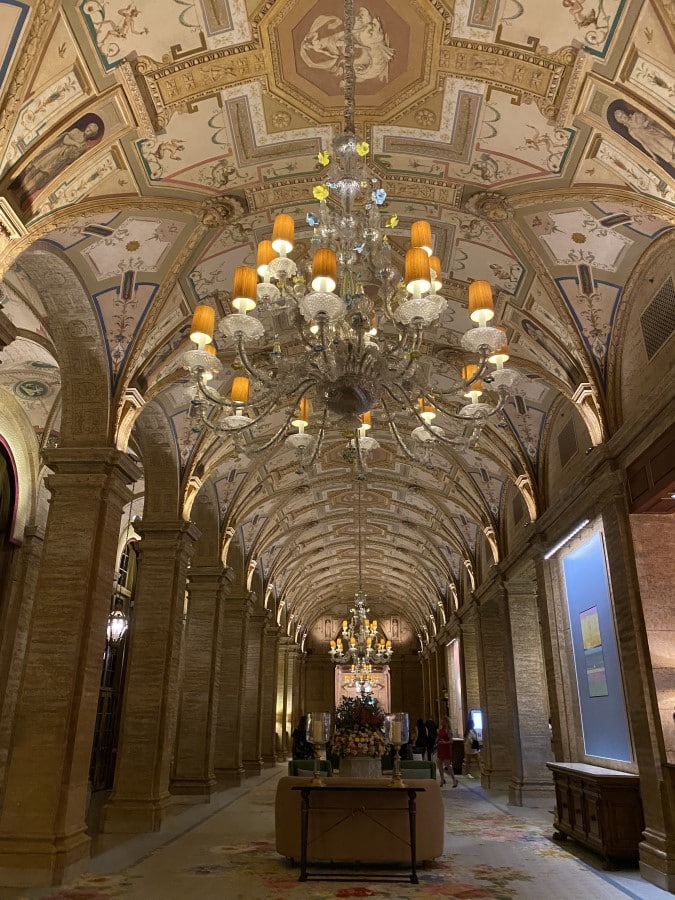 The style and service is excellent and we enjoyed a room with both beach and center courtyard views. The room was very comfortable and modern. The Breakers regularly remodels and advances amenities of the hotel without taking away from its heritage and charm.

The hotel is situated right on the Atlantic ocean on arguably some of the the most expensive real estate in the world-Palm Beach. The Breakers even has an 18-hol golf course surrounding it which helps give the hotel a secluded, private feel.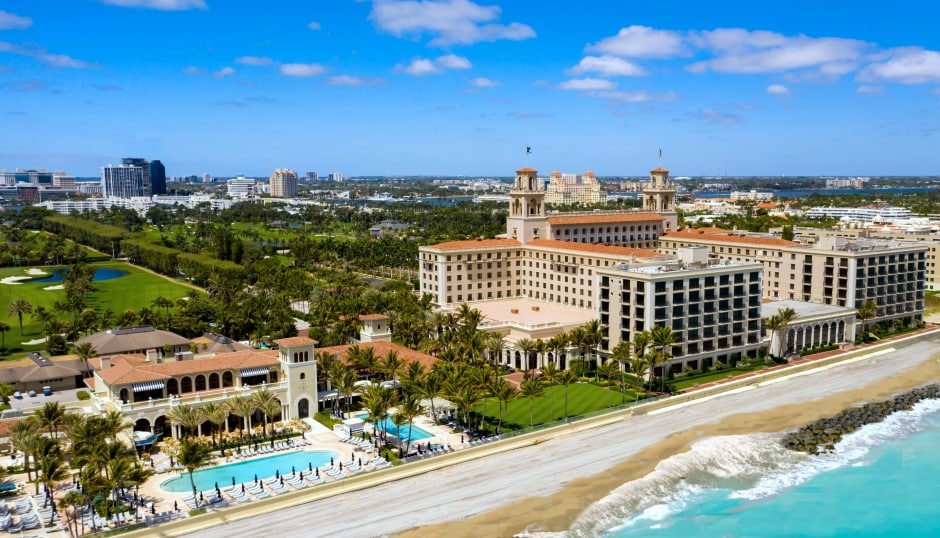 A little History
The Breakers Hotel and Henry Flagler are synonymous in that they both helped define Florida with the best that money could buy. Its history plays a large part of Florida's evolution into modern times and is a glimpse back into America's turn of the century and its Gilded Age luxury.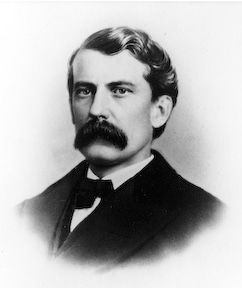 Henry Morrison Flagler was born on January 2, 1830 in Hopewell, New York. In 1862, Henry and his brother-in-law, Barney York, founded the Flagler and York Salt Company. After investing $50,000 himself, along with $50,000 from his father-in-law on his salt company, the company failed. The next year, Henry became a commission merchant in the grain business and was able to pay back his previous debts. At the time, John D. Rockefeller worked as a grain commission agent and the two got to know each other.
Rockefeller approached Flagler for a $100,000 investment for a new partnership, at which time Flagler borrowed the money from a relative on the condition that Henry be made a 25% partner in the new company.
Henry Flagler "hit the mark" with this new venture, and on January 10th, 1870, Standard Oil Corporation was formed. In just two years Standard Oil became the leader in the American oil refining industry, producing 10,000 barrels per day. This partnership made Flagler one of the richest men on the planet.
In 1881, Flagler's first wife, Mary died leaving Henry to care for their young son. Two years later, Henry married Ida Alice Shourds who soon after traveled to St. Augustine which lays claim to being the oldest city in the U.S., and is known for its Spanish Colonial architecture and sandy Atlantic Ocean beaches.
Flagler believed that Florida had the potential to be a travel destination. He returned to St. Augustine in 1885 and began construction of the Hotel Ponce de Leon. Realizing the importance of bringing tourism and property owners to Florida, Flagler saw that the state was in much need of modern transportation. With the riches that Flagler had made from Standard Oil, he purchased the Jacksonville, St. Augustine & Halifax Railroad, the first railroad in what would eventually become the Florida East Coast Railway system. He then further extended his railroad south to West Palm Beach.
On January 9, 1878, the 175-ton, square-rigged, Spanish brigantine The Providencia, ran aground on what was then known as Lake Worth Country. There were 20,000 coconuts on the ship, which eventually found their way ashore.
Pioneer H.F. Hammon took the coconuts from The Providencia and sold them for 2½ cents each. After selling only 1,100 of the 20,000 coconuts, many were planted on the island. In less than a decade, the area was inundated with towering coconut palm trees. Henry Flagler took notice of the palm-lined coast, in that it looked like an island paradise. Thus, the area became known as Palm Beach. Today, the tallest coconut palm trees in the United States are found along the shores of Palm Beach.
In 1894 Flagler built the Hotel Royal Poinciana on the shores of Lake Worth in Palm Beach. The Hotel Royal Poinciana soon became the largest resort in the world. Having found success in the hotel and resort business, two years later in 1896, Flagler built the Palm Beach Inn. In 1901, the Inn was later renamed The Breakers.
The Breakers Hotel has preserved much of Henry Flagler's dream as a resort destination. The Breakers sits on the ocean and, parallel to the ocean, across the island of Palm Beach is the Intracoastal Waterway. Flagler built an enormous house named Whitehall on the Waterway with the best that was modern and exquisite at the time. The design of Whitehall evokes the sense of a temple to the Greek god Apollo. It is now the Flagler Museum which is open to the public. Florida's 1st 18-hole golf course, constructed in 1897 and called the Ocean Course, spans between both The Breakers and the Flagler Museum.
Flagler's quest was to build his railroad all the way to Key West was expedited by the winter freezes of 1894 and 1895. These freezes affected the Palm Beach area but not Miami Beach. In 1905, when the United States took on the Panama Canal Project, Flagler decided that it was finally time to extend the railroad to Key West, adding 156 miles of track, mostly over water.
Whitehall – Henry Flagler Residence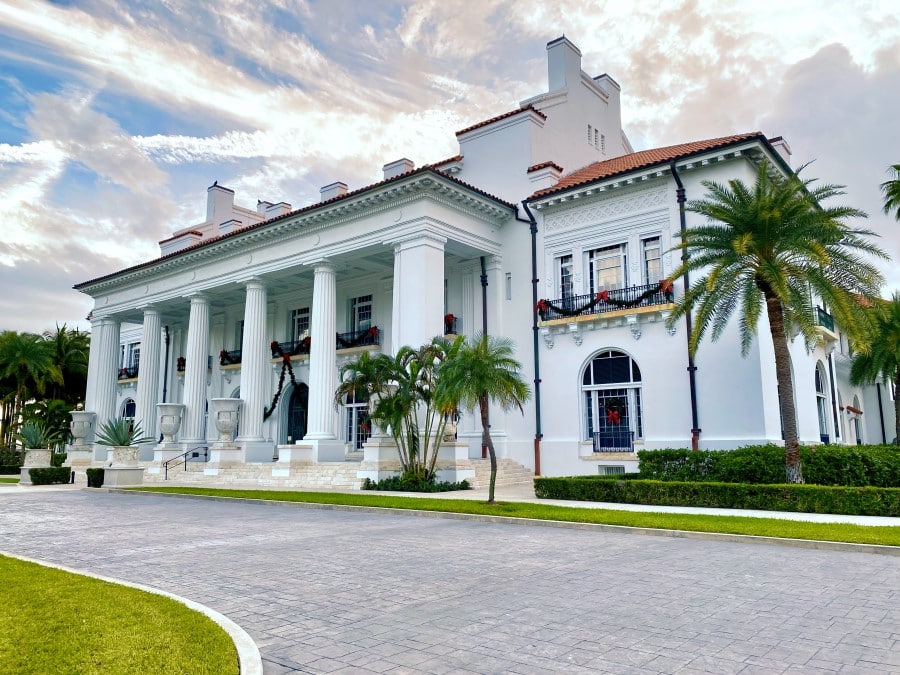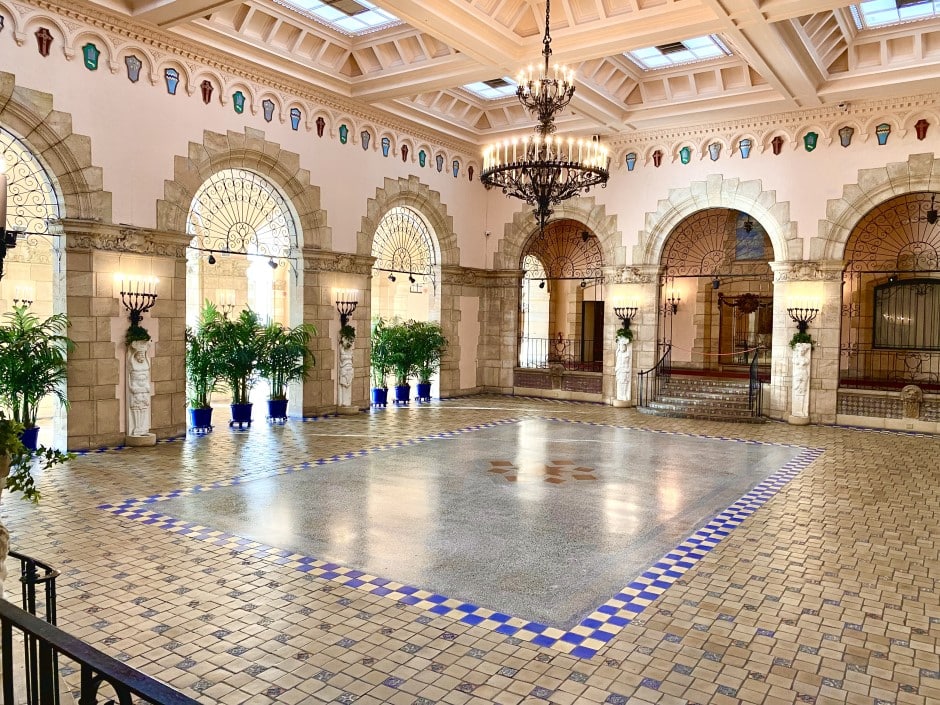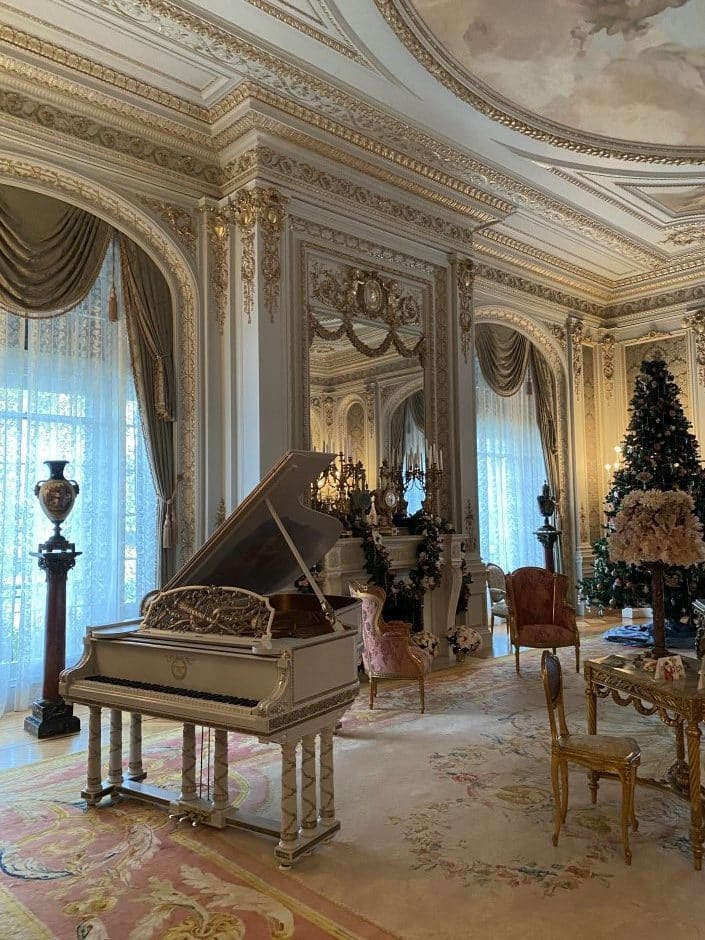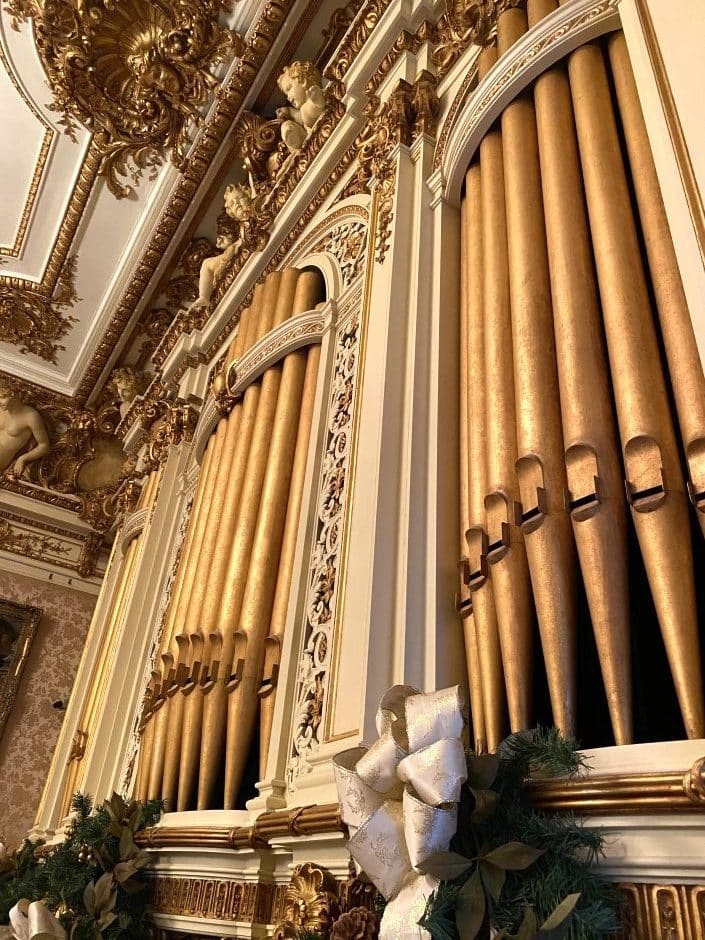 My Travel Back in Time
My childhood and teenage years were spent in Palm Beach County. While my family lived in a modest home in Boynton Beach, my parents regularly brought my brother David and me to Palm Beach. My mother would dress us up in what was fashionable attire. At the time, Palm Beach was a shining pinnacle of success. The Kennedy family had a large house in Palm Beach and President John F. Kennedy even had a nuclear bunker there just in case. The well-to-do from the northeast loved Palm Beach and many had second homes there during the winter season. Even Cornelius Vanderbilt II had his summer home named The Breakers in Rhode Island.
"Find something you enjoy doing and stick with it"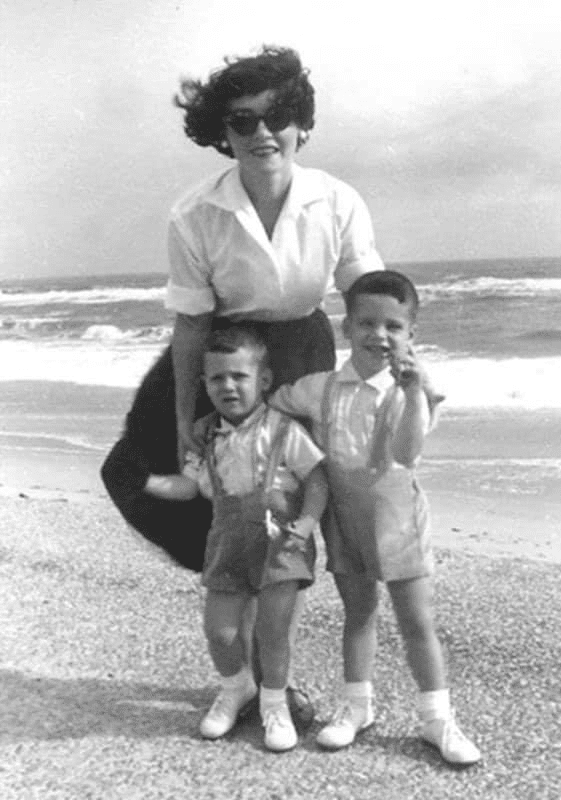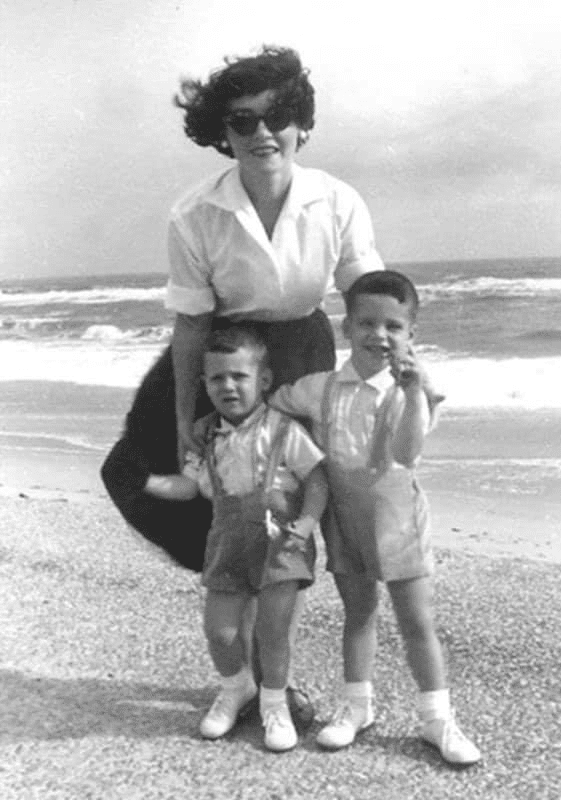 We would visit the Royal Poinciana Playhouse and wonder what it would be like to live like the upper crust. When I turned 18, my mother told me I needed to find a job as I was deciding whether to further my education. Even though we lived 20 miles south of Palm Beach, I surmised that if I was going to work through the summer, I would do it in a place that I would enjoy day after day.
As the late Jerry Weintraub once told me, "start at the top and work down from there", I went to The Breakers. I remember going to HR and filling out a employment form. Someone named James Burk came to interview me. He asked me several questions but it seemed Mr. Burk was more interested in how I responded to his questions. I was polite and respectful as my parents had taught me. Mr. Burk then blurted out "get your hair cut" and left the room. I thought he was somewhat rude to criticize me like that, and so I left, thinking I had failed miserably at my first job interview.
About two weeks later, with no favorable job offers to choose from, I got a phone call from The Breakers HR staff asking why I hadn't come back to work. I had no idea that I had gotten the job, as I had never gotten hired before! I was told to get a Palm Beach ID and report to work.
Working at The breakers was an incredible experience. Everything was superb. I had never been able to experience, much less afford, that type of specialty. That was a blessing, in that it taught me a lot of what helped me succeed later in life. Sometimes you need to experience something to understand it and want it. The Breakers motivated me to be driven.
I remember one day, as I carried a large try of food toward the end one main hallways, I walked by an elderly well-dressed man who stopped me as I was passing and he said, "Can I tell you something?", I hesitated and wondered why he would stop me. He stated, "Find something you enjoy doing and stick with it…be patient".
That moment stuck with me my whole life. Not so much that it was a profound statement, but in that a total stranger reached out to me out of nowhere. He probably saw me as his younger self, and wished he had his younger years back. In an empathetic way he reached out to me, wishing someone would have done the same for him. In essence, wishing me success. I had the years he no longer had.
I served the guests there in the manner I would have wanted to be served-with a 6-star flare. I did very well and after a few months was requested to serve such industrialists as the Duponts, Emersons, and Singers at The Breakers three private residences located on the south hotel grounds.
My Vacation Tips
In the past, my favorite part of any vacation's were the weeks before I left. While on vacation, I would count down the days to the end of the trip. This got in the way of letting go and experiencing personal freedom. I decided to start doing things differently this trip—I was going to book a one-way flight and then wait to book my return flights when I was good and ready.
That was a game changer for me. This vacation was a full one! I even decided near the end of my vacation to fly on to Dallas for another five days to see friends. It was spontaneous, and I knew when I wanted to leave-when I was ready. These days, I do not believe there is much savings between booking a round trip or one-way X2.
On this recent trip to Florida, I made plans to visit several areas. First on bucket my list was to spend time with my wife at the Breakers with a Rolls-Royce to drive around Palm Beach and experience the hotel as a guest.
I rented two separate vehicles from TURO, a Rolls-Royce Phantom and a Maserati SUV. TURO is the AirBnB of car rental. Their mobile app makes renting any car a breeze.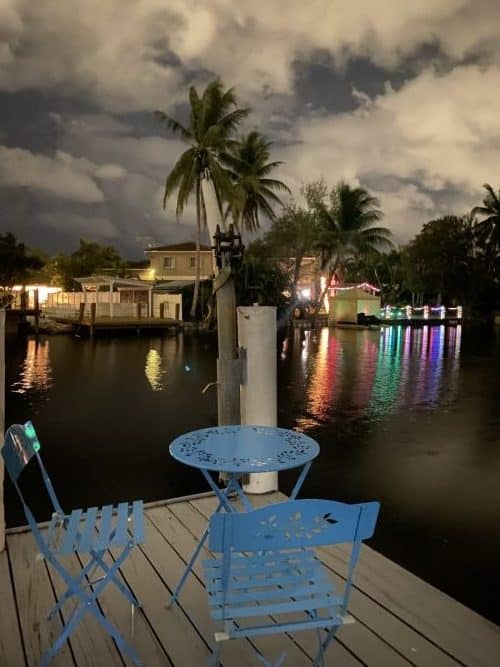 The week before my Breakers stay, I chose to rent an AirBnB in Delray Beach, which was a cozy, newly renovated, modern home on a canal that included a dock. The neighbors looked like they enjoyed their location in the way they utilized their homes and waterway which were lit up at night.

Our AirBnB had a Breville Nespresso machine we used every morning when we sat on the deck. The lattes were so good that we bought one when we got back home to California. Host Ariana manages the home on AirBnB and she was always available if we needed something, and the cost per night was very affordable.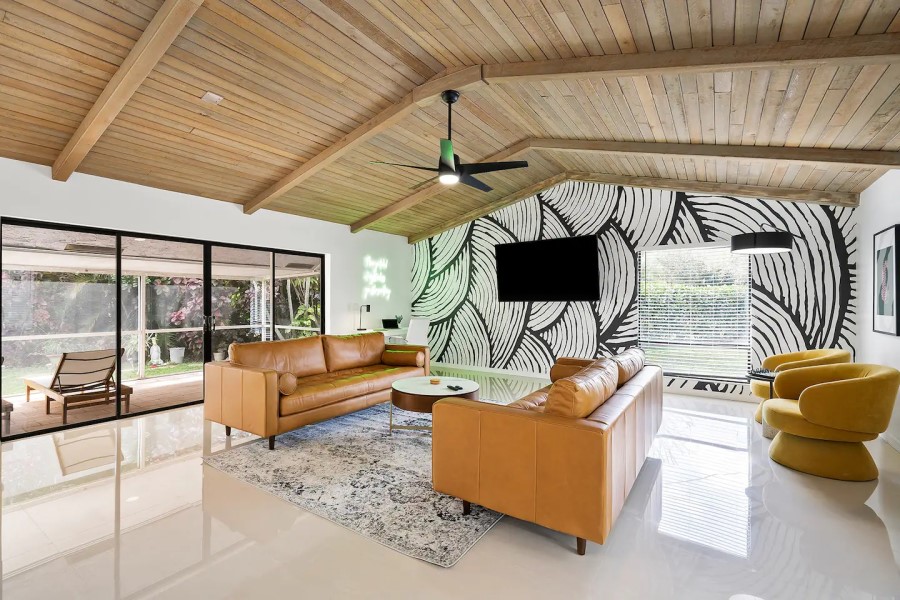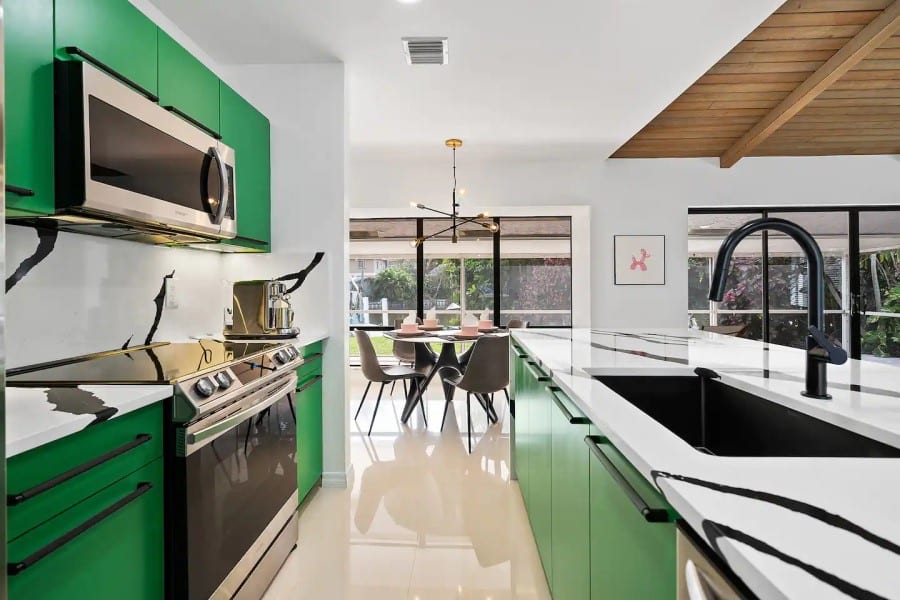 Our main car for the trip was a Maserati SUV and the Rolls-Royce Phantom Shadow rented for our Breaker Hotel stay.
Car owners can rent out their vehicles with TURO through their app or website. If you've ever used VRBO or AirBnB, the process is the same. Even though this was the first time I used TURO, it was a seamless experience that was user-friendly, and the app keeps you in contact with the owner through the whole process.
With the Maserati, I had to upload a picture of my license and another photo with me holding my license to host Robin. These are the types of verifications that TURO and the car owner require 24 hours before you pick up your car. We flew into Orlando International Airport; I was instructed that the car was in an airport parking lot and its exact location. There was a lock box cabled to the tire and I was given a code to retrieve the keys and remove the box.
The car was great, and we had a long first drive to the Palm Beach area. The host required premium gas for their car and asked for a picture receipt for each fill up to be uploaded to the TURO app.
With the Rolls-Royce it was pretty much the same process. We picked up the car at the Fort Lauderdale Airport. This is a great way to try out a car before you lease or buy one in the future. The Rolls was a comfortable drive and in pristine shape. I've rented many high-end exotic cars from the Miami area in the past, and this car was half the price through TURO. Raonel was the host and I will definitely rent from him in the future.
Our stay at the Breakers Hotel was amazing. The rooms are pricey but you get a 6-star experience at one of the top resorts in the world. The Breakers sits right on the ocean and the Beach Club, with its several pools, private and semi-private bungalows, serve some of the best mixed drinks this side of the US. Their pina coladas served in a coconut are one of the best I've had.
When I worked there in my younger years, I found the secret ingredient to a great pina colada was Coco Lopez coconut cream.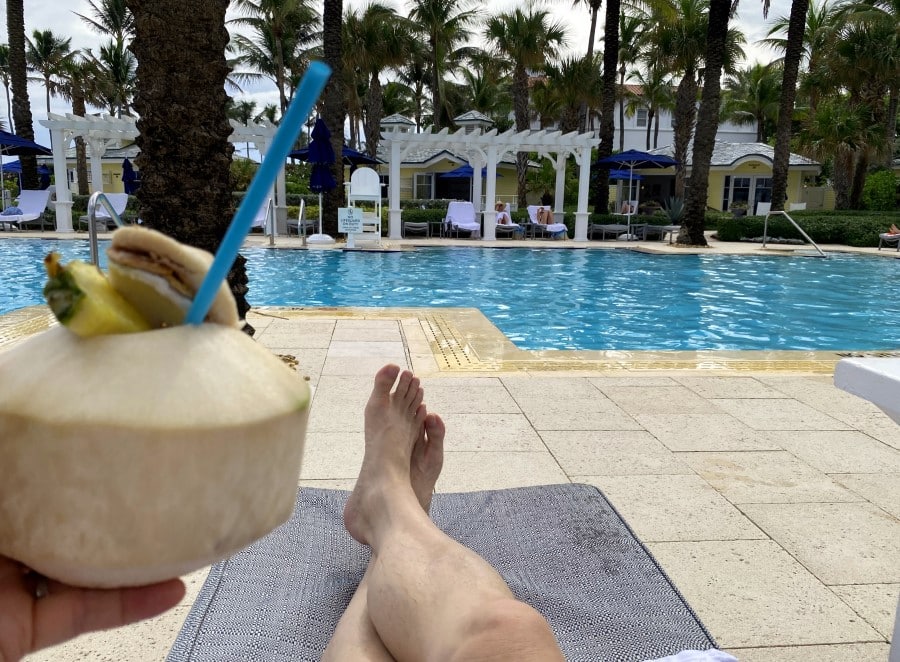 The Beach Club is vastly bigger and better than when I worked there in the past. There were multiple service attendants and stations for our needs.
The interior design of the Breakers mirrors the architecture of Henry Flagler's Whitehall Mansion. One of the richest men in the world, at that period, had the best money could buy for his home and hotel.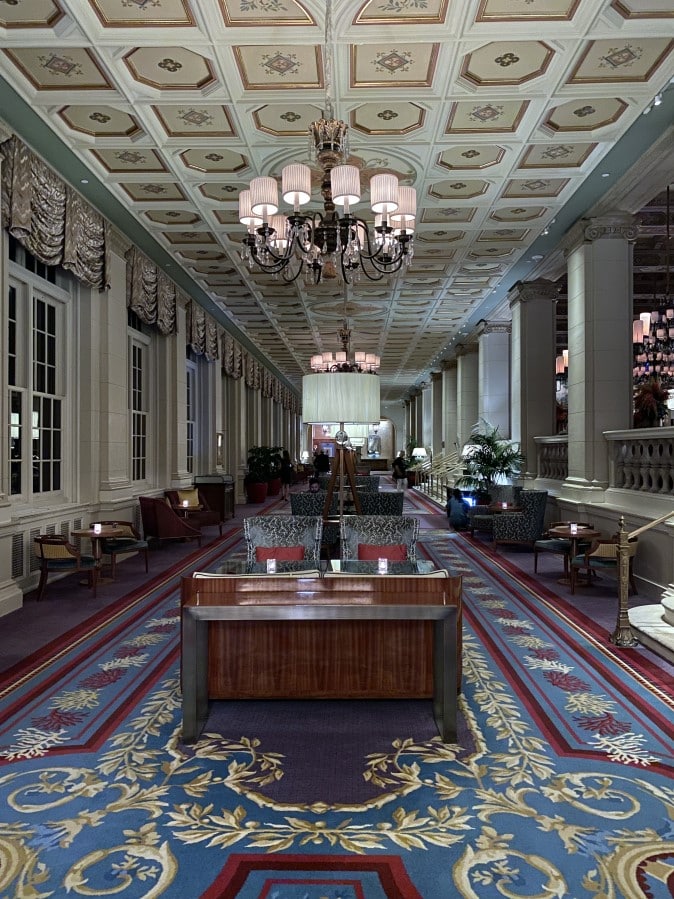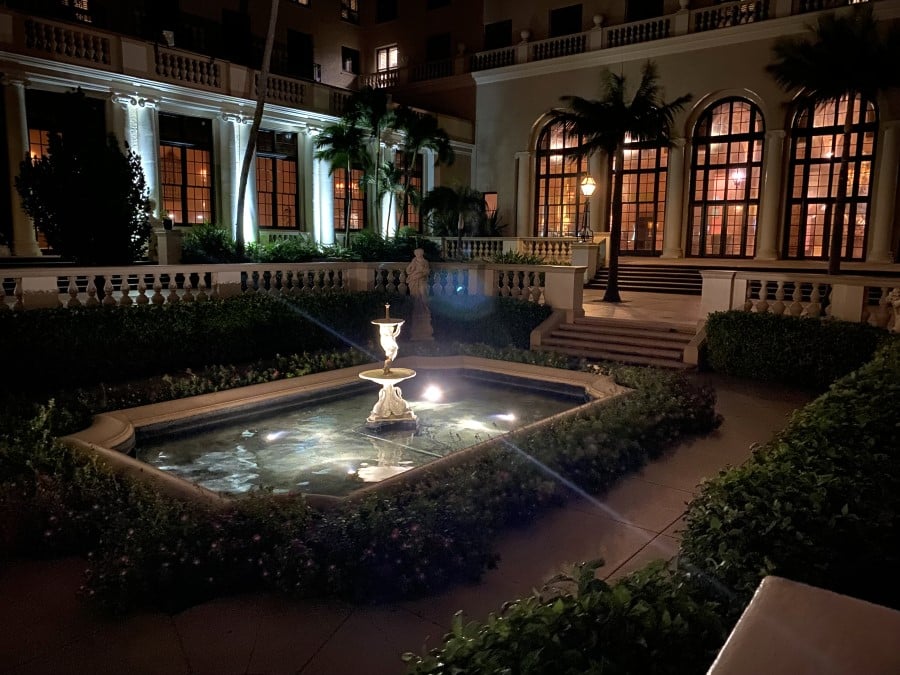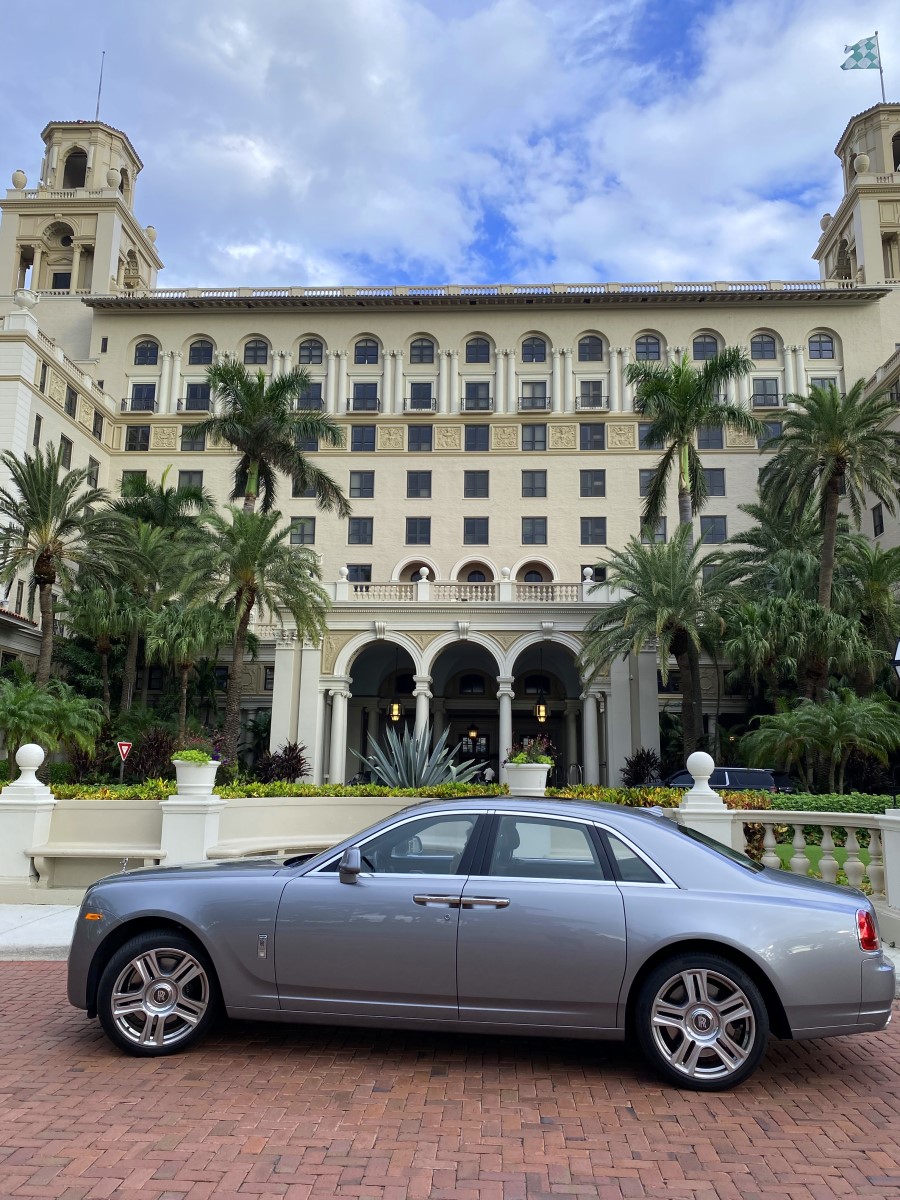 When I was 19, I remember serving hotel guests in the Grand Ballroom for New Year's Eve which included a big band orchestra. It is a gorgeous 9,600-square-foot ballroom featuring 24-foot-high ceilings that glows with six chandeliers and full view of the Atlantic Ocean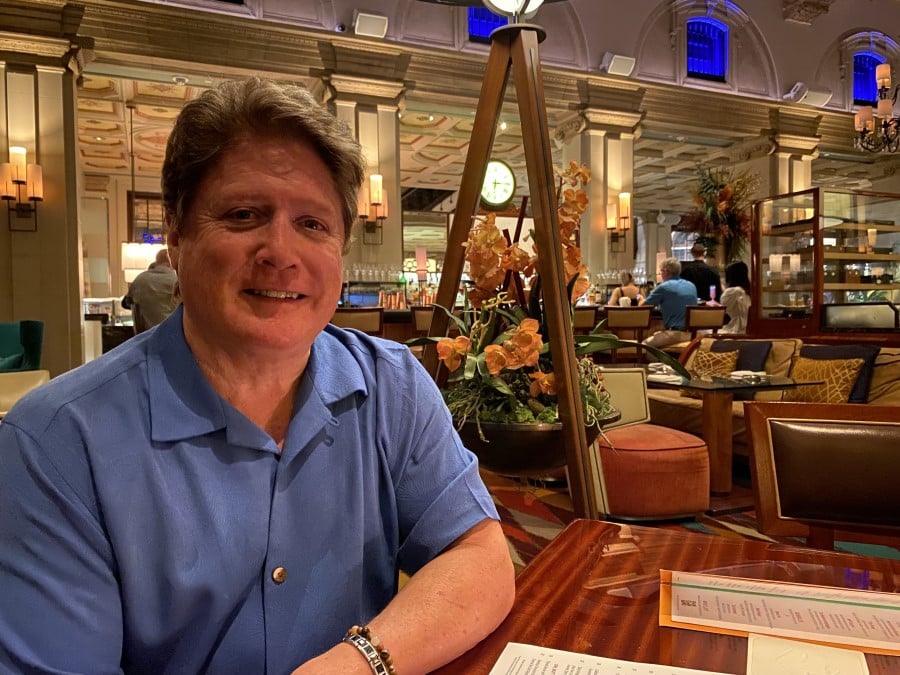 As my time-traveling journey at The Breakers came to an end, I couldn't help but feel a profound sense of gratitude for this unparalleled experience. Walking through the halls that once were familiar to me in my youth, I felt the lasting presence of Henry Flagler and his unwavering vision for a luxurious destination. His passion and dedication to creating a true oasis in Palm Beach is evident in every detail of this magnificent hotel. Whether you're a first-time visitor or a returning guest, The Breakers offers an exquisite blend of old-world charm and modern luxury that leaves an indelible impression on your heart. Just like the stranger who once offered me wise advice in these very halls, I hope this story inspires you to seek out the extraordinary and savor the moments that make life truly magical.
Michael Castello
email: michaelc@traveler.com
Facebook: https://www.facebook.com
The Breakers
One South County Road
Palm Beach, FL 33480
(561) 655-6611
Henry Morrison Flagler Museum
One Whitehall Way
Palm Beach, FL 33480
(561) 655-2833