Magic Carpets

,

Flying Ships

,

and

Moonlit Kingdoms.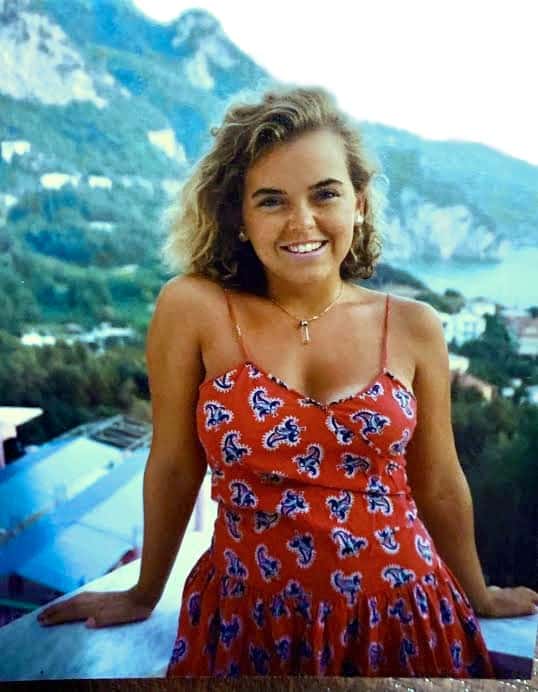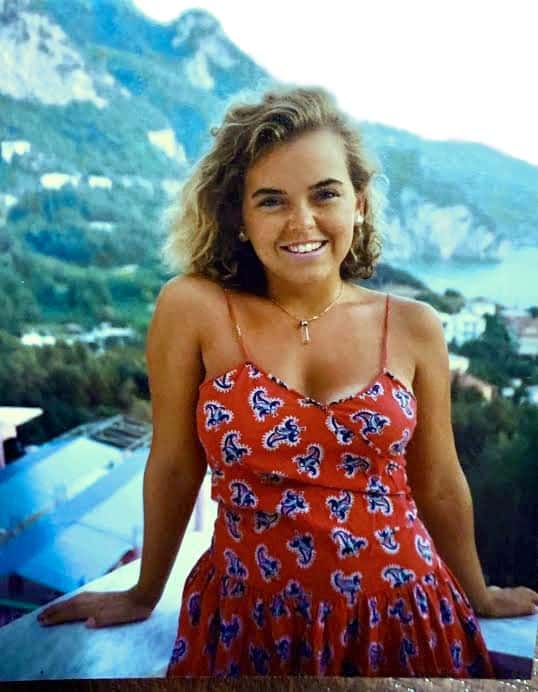 The True Travel Stories of Marci Darling. Meet Marci Darling. Professional Belly Dancer, Circus Acrobat, Preschool Teacher, and World Traveler (and so much more). She has lived a fantastic, adventurous life that has filled her with so many amazing moments and cherished memories that she decided to jot down into a book: Magic Carpets, Flying Ships, and Moonlit Kingdoms.
Marci has lived all over the world. From Paris to Florence, to the United States in Hollywood and Boston, she has had the chance to experience different parts of the world in different ways. It is truly marvelous that she has decided to share the iconic travel tales of her life.
Her book is incredibly charming and is written like pages out of a fairytale. There are moments when you stop and realize that this actually isn't another wondrous storybook, but real magic that exists in this world.
Buy her dreamy book on Amazon here!
Or visit her website MarciDarling.com and check out her other books as well, from a delicious mystery series to a story combining grief, loss, and humor.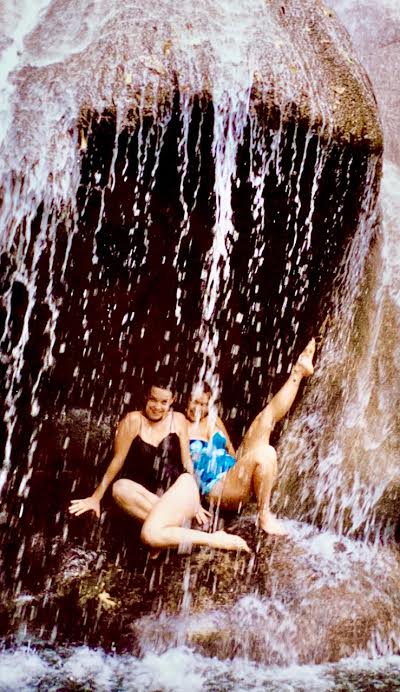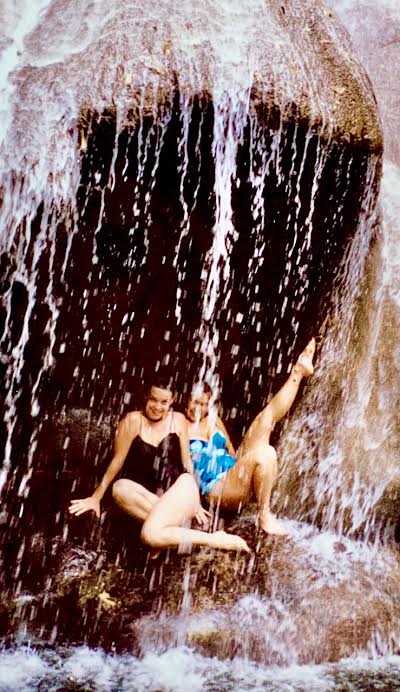 A Sneak Peek Into Marci's Book:

Magic Carpets

,

Flying Ships

, and

Moonlit Kingdoms
"I had spent a rough month belly dancing in Mexico City. Kim came to rescue me and we traveled to the Yucatan to heal. The sea was so beautiful, so brilliant, we decided we should take some photos for our Christmas cards. The Yucatan is known for the Mayan fertility goddess Ixchel, and it is easy to feel like a goddess when you are spending your days rolling around in the warm turquoise waters with your best friend, wearing seaweed crowns and seashell bracelets.
One night, something rose over the sea, massive and blood red, turning the water red and pink. We weren't sure what we were seeing, and when we realized it was the moon, Kim dropped to her knees and said, "I was going to wait until we got home, but this is too perfect. It's like our own kingdom here." She cupped her hands and handed me a shimmering moonstone she had bought for me that day on the beach. I dropped to my knees next to her in the white powder sand and she tied the string around my neck and touched one finger to the stone. The moonstone on a simple string became a dazzling jewel when she took my hand and started to dance with me to the sound of the waves, finally laying her head on my shoulder as we watched the moon rise higher.
Kim lost her battle with Bipolar Disorder two years ago, but in my heart we are still dancing on that beach. She is wearing a robe spun with shooting stars and I'm wearing a dress sewn from a sheet of rain. I can feel her hand in mine, and I wonder if somewhere, somehow, that sea still glimmers with the reflections of our moonlit ball."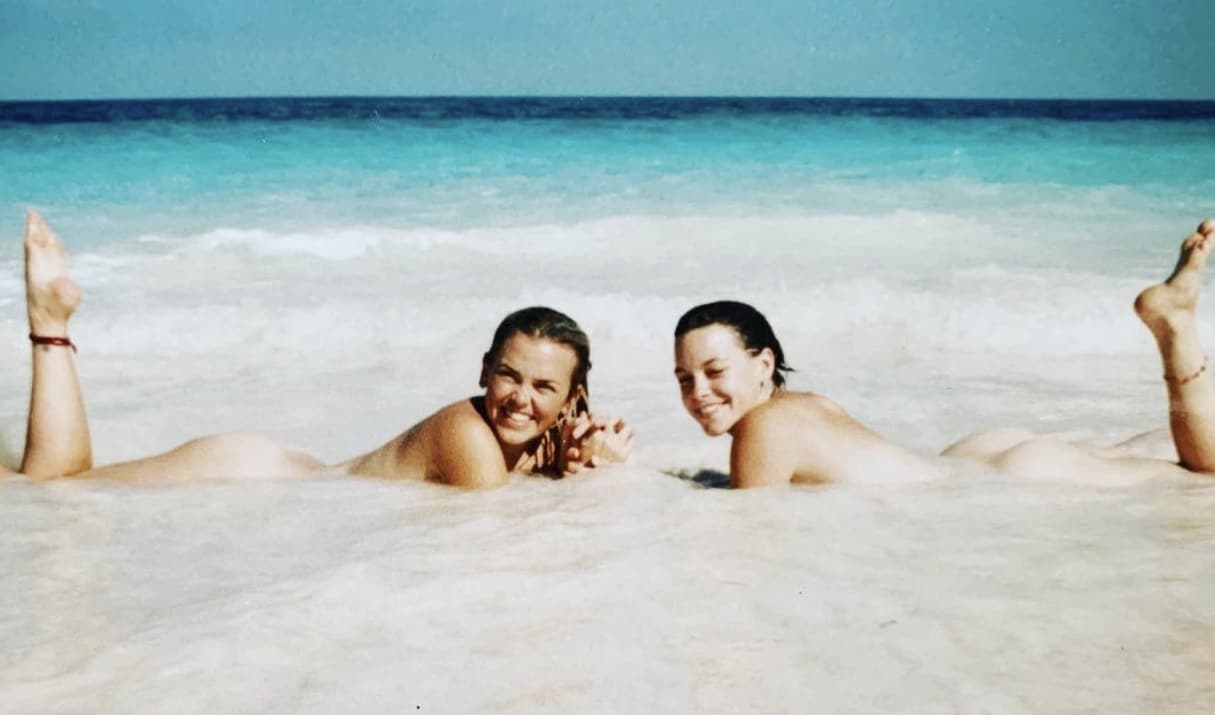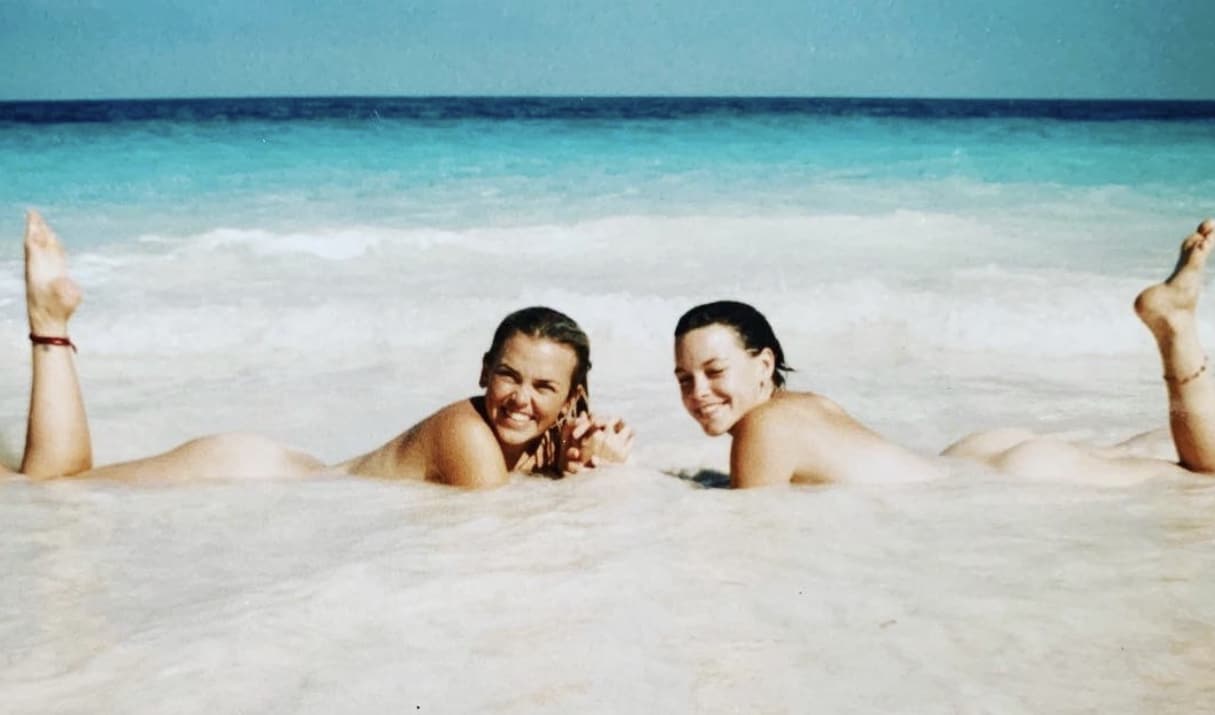 "I ran out of $$ and asked my Dad to sell my car back home and send me the money so I could stay longer"
The Interview of Marci Darling
I have the great chance and honor of diving into her mind for our Time Traveler series after reading this enchanting book of hers. I covered everything from her favorite place to visit, her perfect one day Paris itinerary, to what she did to earn more money during her travels.
Enjoy!
M= Marci
Pink = Me (Duh!)
At what age did you find a passion for traveling?
M: I have longed to travel since I was a child. I remember going to Las Vegas to visit my grandparents at age twelve. While everyone else was interested in the flashing lights of the slot machines, I was fascinated by a straw tote bag stamped with the names of cities: Paris, Amsterdam, London, Oslo… they all sounded so exotic, and I wanted to go to every single one.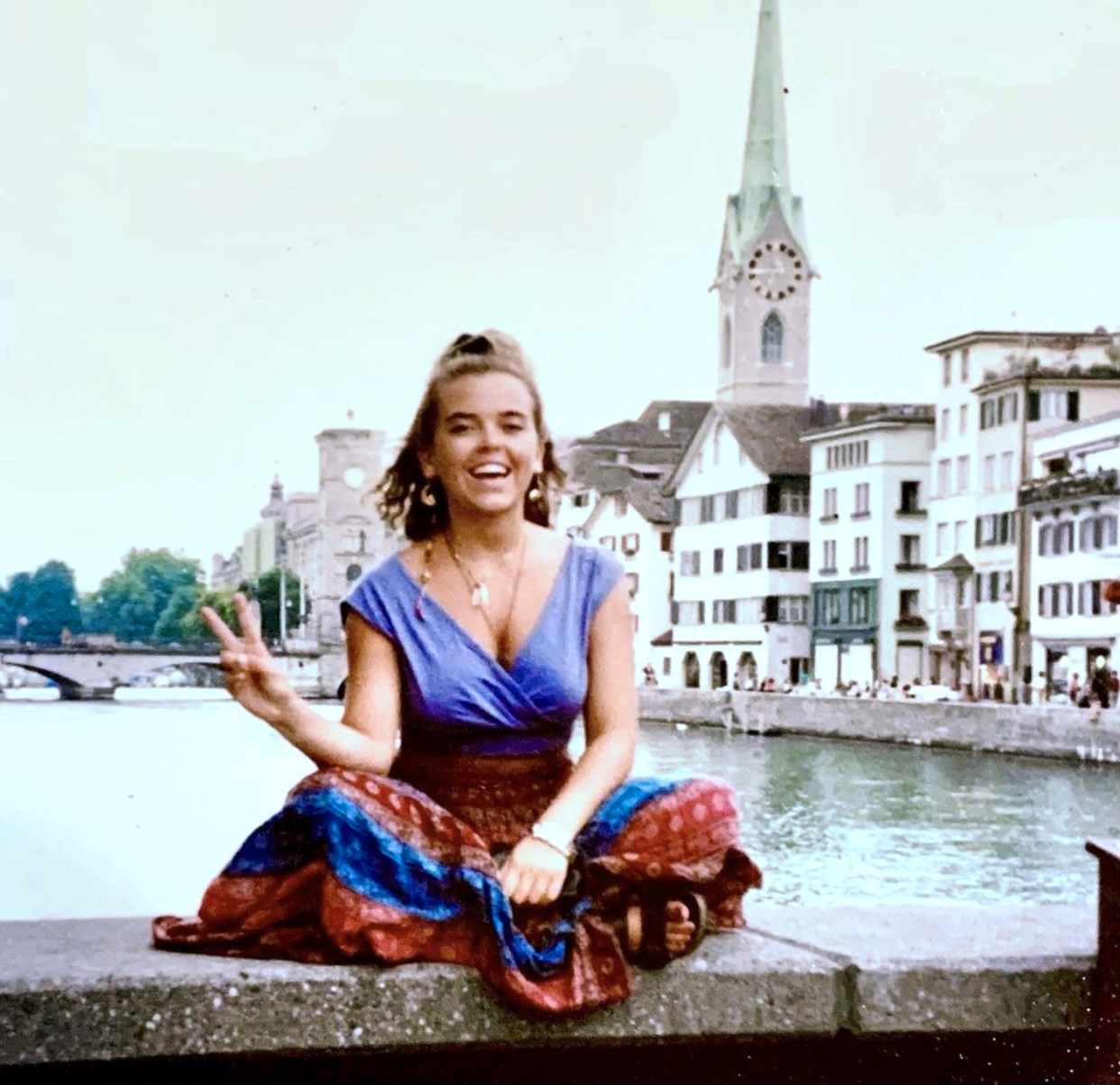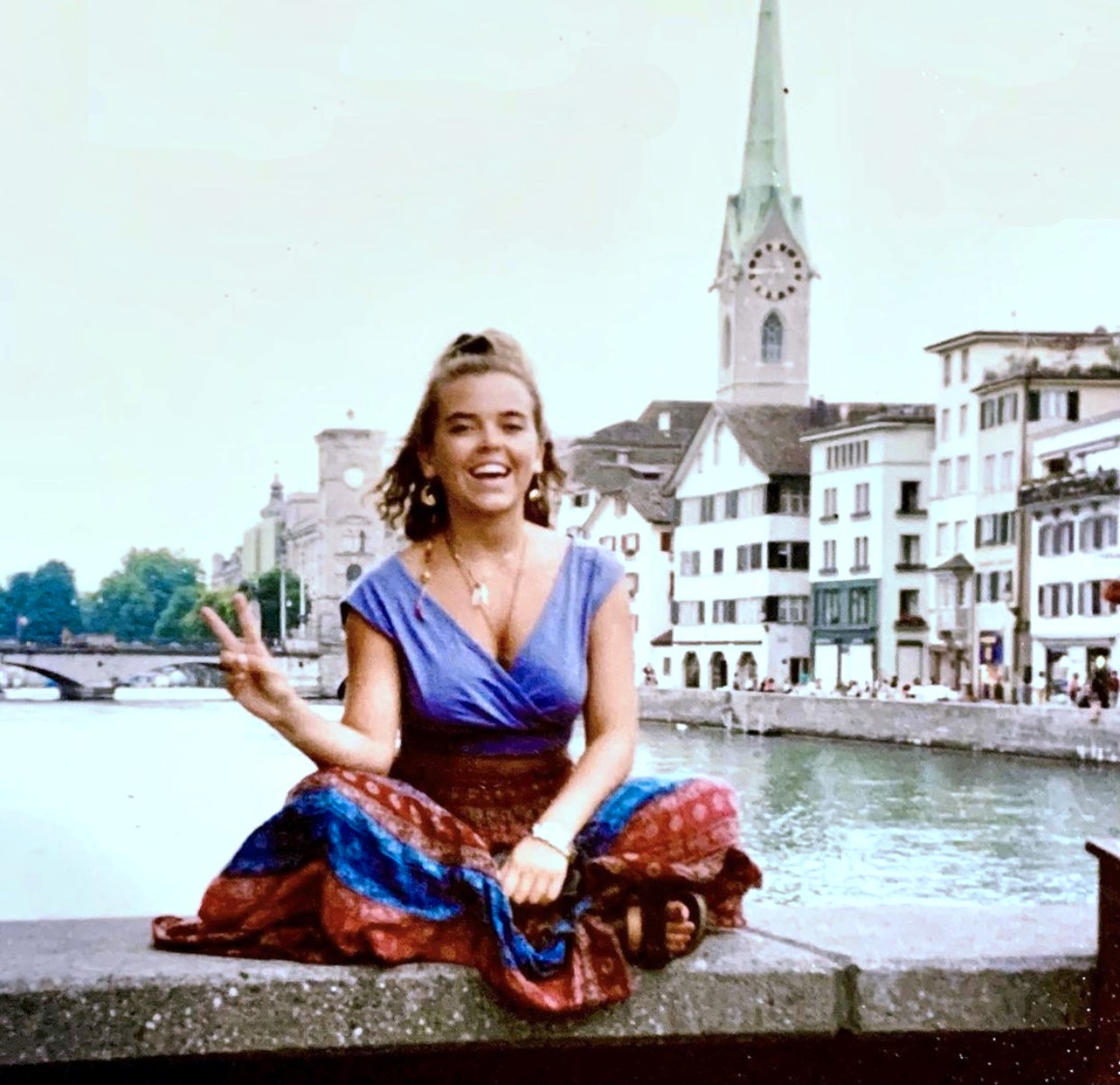 I begged my Mom to buy it for me, and she did. I kept it in my room and would stare at all the names and imagine myself going to every single one of them. When I read magazines, I would cut out the ads for Paris perfume which were usually big foldouts of roses and the Eiffel Tower. I taped the ads to my wall and dreamed about seeing the Eiffel Tower in person one day.
I was raised in a big Mormon family in Utah, and we did a lot of road tripping around the west coast, but no one in my family ever dreamed of traveling internationally except for me. My parents didn't know where I got my wanderlust!
"I love adventure, it heals me. It makes me feel small in the world"
What inspired you to share your travel stories to the world?
M: I was inspired to write my travel stories from a FB group called Girls Love Travel. I love to write and had written two mystery novels, but I never even thought about my backpacking years or thought in concrete terms about how important travel is to me and who I am.
And then, tragedy struck.
In 2017, I had a year of staggering loss: I lost my father to cancer, my marriage to infidelity, and my best friend to suicide. I was shattered, and I didn't know what to do. I was trying to put one foot in front of the other, and just do what I felt compelled to do, even if I didn't know why. It was abundantly clear that there were no guarantees that "someday" we would take that trip, so I decided to take my kids on my epic bucket list trip.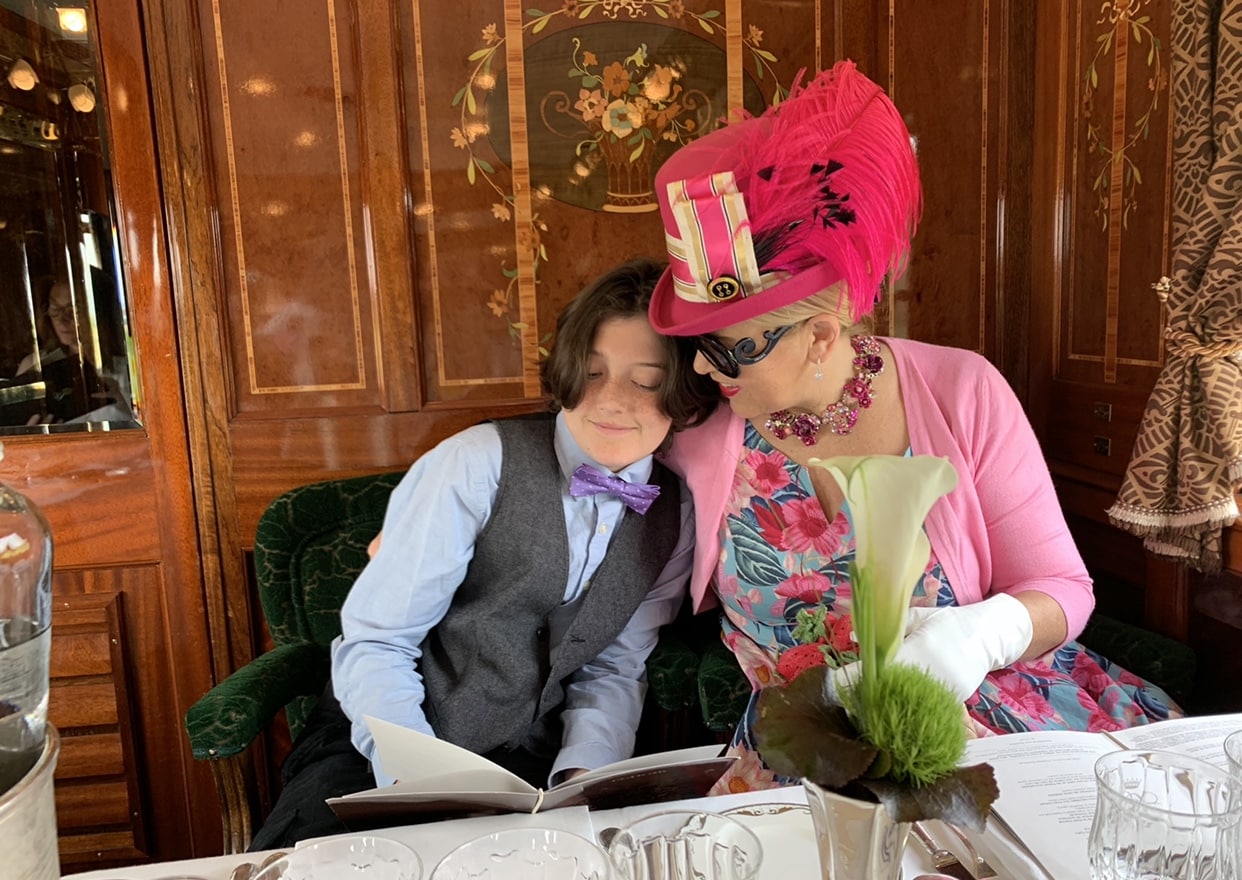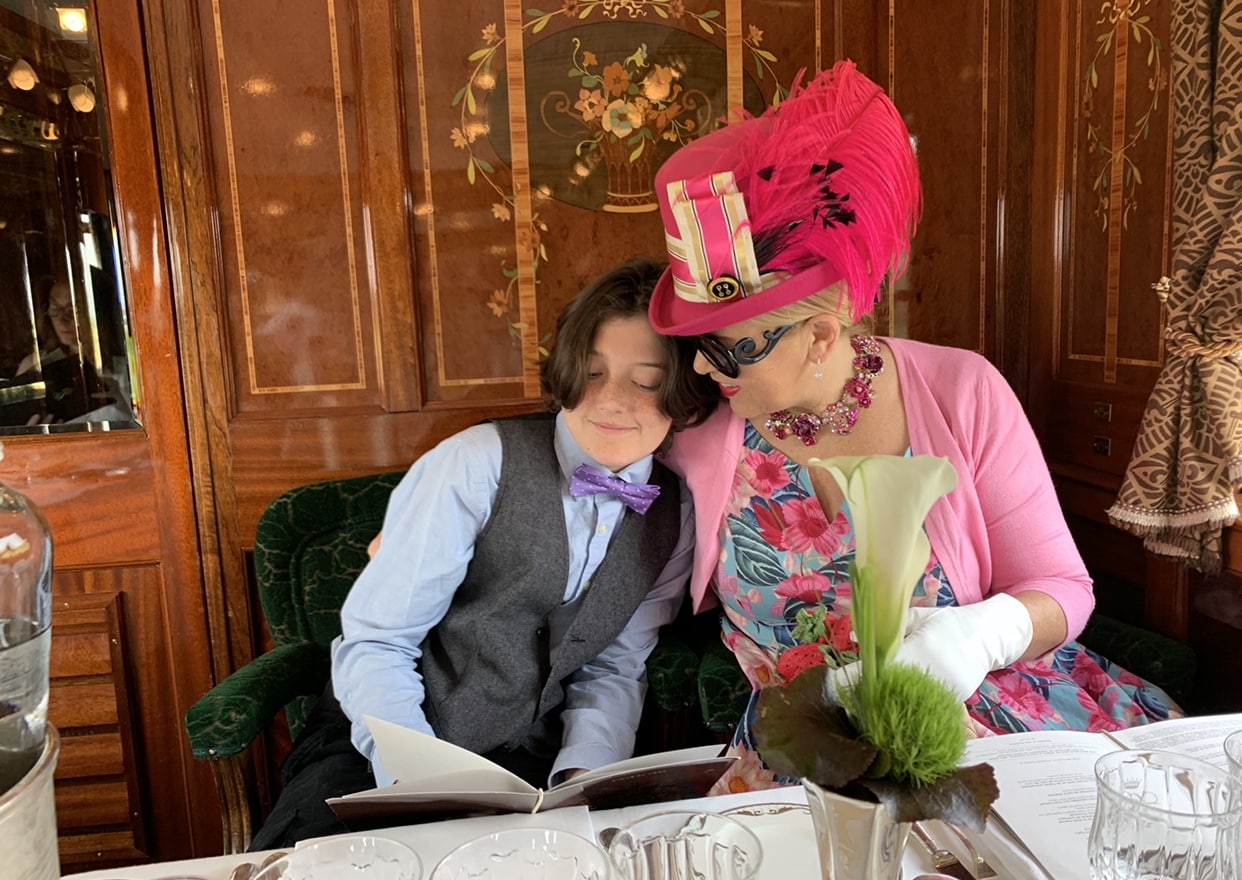 I love researching all the possibilities while traveling, and planning the perfect itinerary. After the trip, I wrote a story about taking my kids on the Orient Express and dressing full vintage, and the story received a lot of interactions (10,000!) called Girls Love Travel. I thought it was a fluke.
Post divorce, I bought my very first house on my own, and I finally had my own office with shelves. I came across a bunch of boxes of photo albums and journals I had kept sealed in a closet for twenty years, and they were full of stories from my backpacking days. It never occurred to me anyone would be interested, but when I posted the story on GLT about getting lost in Italy and finding peace in a field of sunflowers, the response was so massive (30,000 interactions!) I started writing more stories, with equally passionate responses and lot's of requests for a book. I didn't know if I had enough stories for a book, but it turns out I have enough stories to fill ten books.
What is your favorite place you've visited and why?
M: My favorite place I've visited is hard to choose, as there are so many I love for different reasons. I always hold a special place in my heart for Paris.
Maybe because I had dreamed of seeing the Eiffel Tower in person for so many years as a child, and it seemed the height of romance to me. When I finally saved the money to go on a study abroad there, I absolutely loved the reverence and respect for artists. There's something extraordinary about the art, theater, literature and music bubbling up from the streets, the lights shimmering on the Seine, the glorious architecture, the fascinating history… it all makes my heart sing. I love walking around Paris and turning  a corner to find some incredible church or modern sculpture. Art is interwoven within the very fabric of the city.
I will say that on my last trip to Europe in 2019, Venice almost stole Paris's spot as #1. It was so clean and sparkling and magical, like a fairy tale. And I have to include my journey on the Orient Express, as I'm a huge lover of everything vintage. The train is stunning in its beauty, and rumbling through mountain passes surrounded by wildflowers, waterfalls, evergreens, and quaint villages with lights in the windows created a memory that warms me on cold nights. I truly deeply madly love train travel and dressing up and meeting other travelers.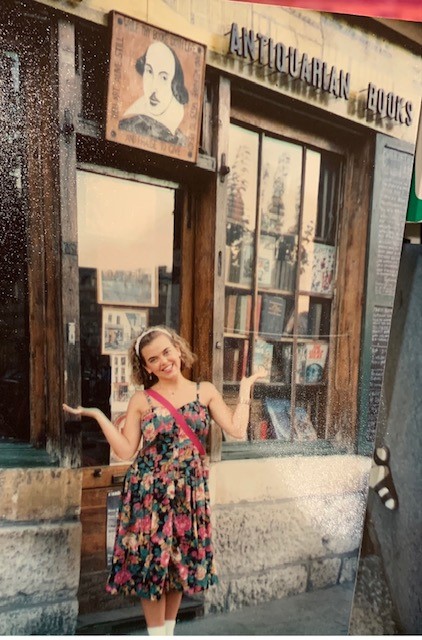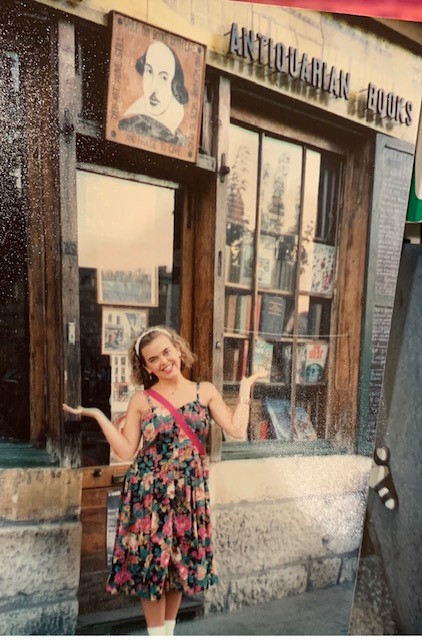 Is there a destination you still wish to go to?
M: There are so many destinations I want to see, and I love social media because it expands my list of dream places, from little villages in the Cotswalds, to soaring cities in the Middle East, to thatch roofed huts over turquoise waters, to restaurants in the middle of lemon groves in Italy, I want to experience it all!
What is one thing you must bring with you when traveling?
M: The one thing I MUST bring with me when I travel is a journal!
I love a beautiful leather journal with textured paper to write my thoughts and impressions whenever I have a free moment. Sometimes I write about what I did or saw that day, but mostly I just write poetic sensory impressions: what I'm seeing, smelling, hearing…  church bells, winding cobblestone streets, the smell of gardenias and the sea…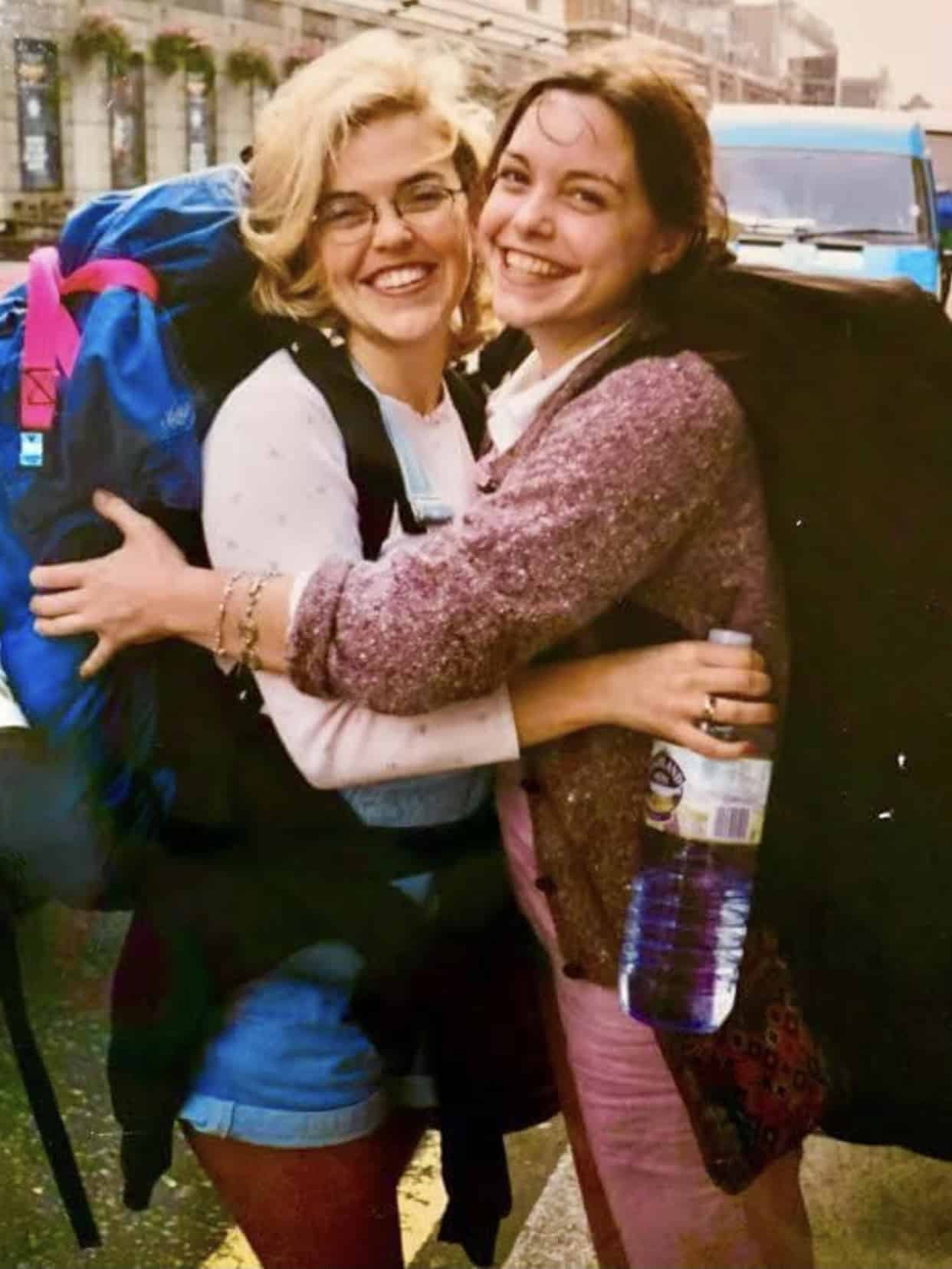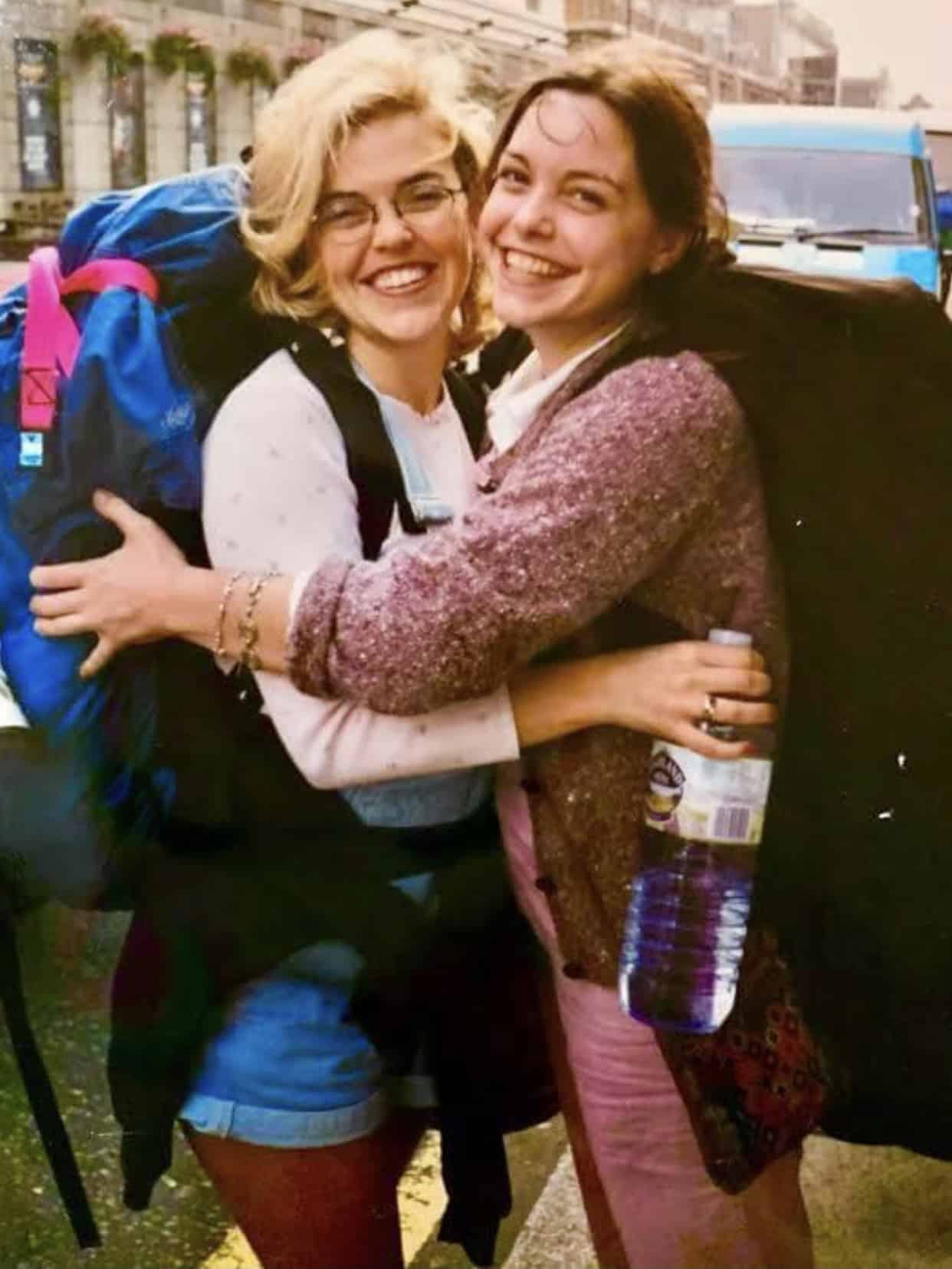 I also love beautiful luggage. On my last trip I was trying to recreate the Golden Age of Travel, and I dreamed of pink luggage with a martini glass on the front. (The detective in my mystery novels is named Ellington Martini, they are called Martini Mystery and my publishing imprint is called House of Martini. I don't even really like martinis, but I love martini style.) I couldn't find any that I loved, so I found a set of three darling pink suitcases on Amazon and painted martinis on the front with iridescent gold paint. They made me happy for the entire trip.
Out of all the sweet moments you write about in your book, which one do you find yourself reminiscing about the most? 
M: What do I think of most out of all my trips? Oh wow, there are so many moments I treasure. I literally feel like I have a treasure chest of magical moments and can pull out any moment to savor any time.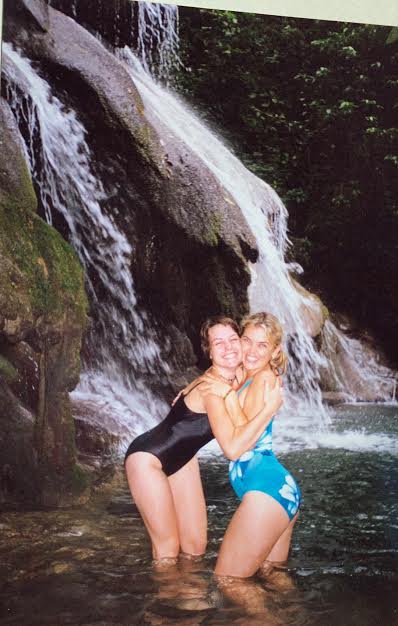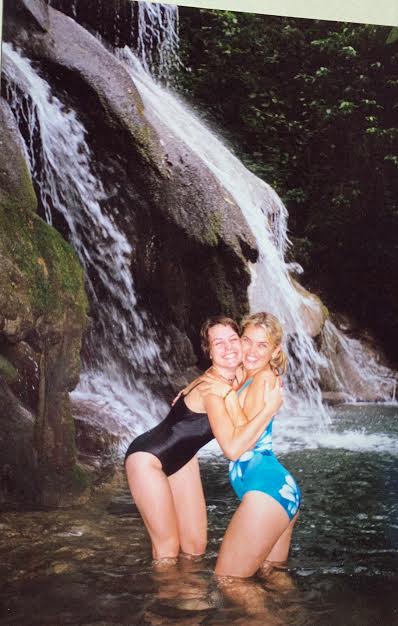 If I I have to pick one, I think the most about traveling with my best friend, Kim, because I miss her so deeply in my soul. I love to think about the night we walked on the beach in Tulum. I can still feel the white powder sand, smell ocean, and see the moon, which happened to be so big and red that night, we thought it was a UFO. I still remember her gleefully stopping me with a hand on my arm and kneeling in front of me to give me a moonstone necklace as a gift, and hugging her, which turned into a waltz, on that beach… pure magic.
After being on all those trips, and going to all those amazing places, if you had to do it all over again, what would you do differently?
M: If I had to do it all again, I wouldn't change a thing. There was magic in just appearing places with no plans and seeing where the day took us. I could say if I changed anything, it would be traveling with more money. I literally went on safari in Africa with $200, but because I missed my flight and had to pay for a hotel room for the night, I ended up going for two weeks with $80. The safari paid for everything, but if I wanted anything extra, that's all I had. I ended up taking photos of the animals with a disposable camera, which was ridiculous.
I found myself saying things like, "I swear there were lions in that grass, but you can't see them." On the other hand, the need for money created memorable adventures, like belly dancing in a Turkish restaurant in Amsterdam, and playing my harmonica for grilled corn in Greece and making the cooks laugh.
"Bad things happen of course, but they are just as likely to happen at home than out in the world"
If you only had one day in Paris, what would be your itinerary?
M: One dreamy day in Paris would involve cappuccino and crepes at Little Breizh or chocolate croissants at Le Pain Quotidien, followed by wandering through the Musee D'Orsay. A boisterous lunch at Rosa Bonheur on the Seine, and walking across the gorgeous bridge that looks like a wedding cake. A visit to Musee Rodin, then a languorous visit to my favorite book shop, Shakespeare and Co. From there I would go to a café overlooking Notre Dame, and drink more cappuccinos while writing in my journal and people-watching. Dinner at Madame Ko with artists discussing philosophy, followed by swing dancing at La Caveau de la Huchette, the medieval torture chamber-turned-swing dancing club, and then back to my suite overlooking the glittering Eiffel Tower while listening to Edith Piaf.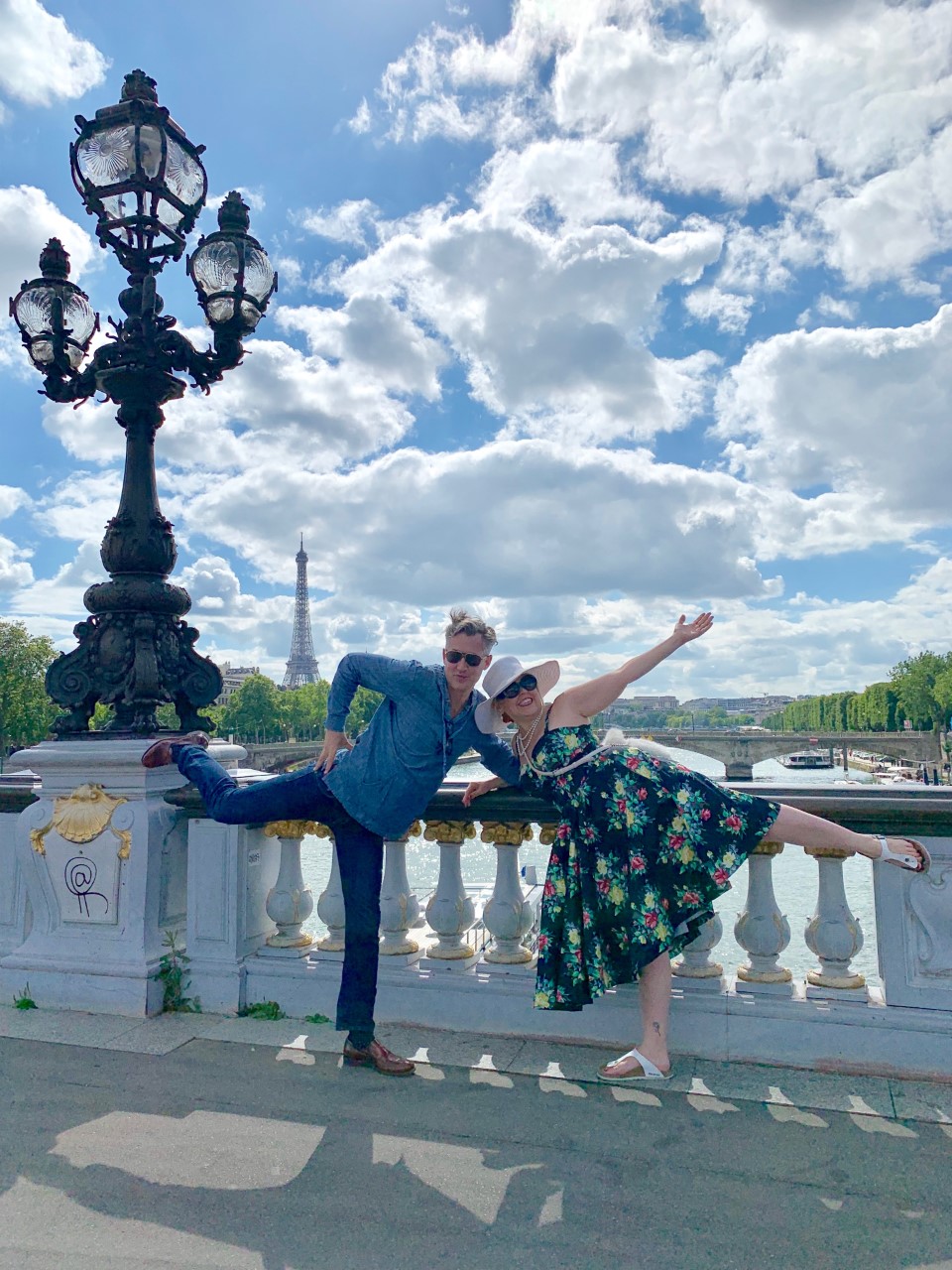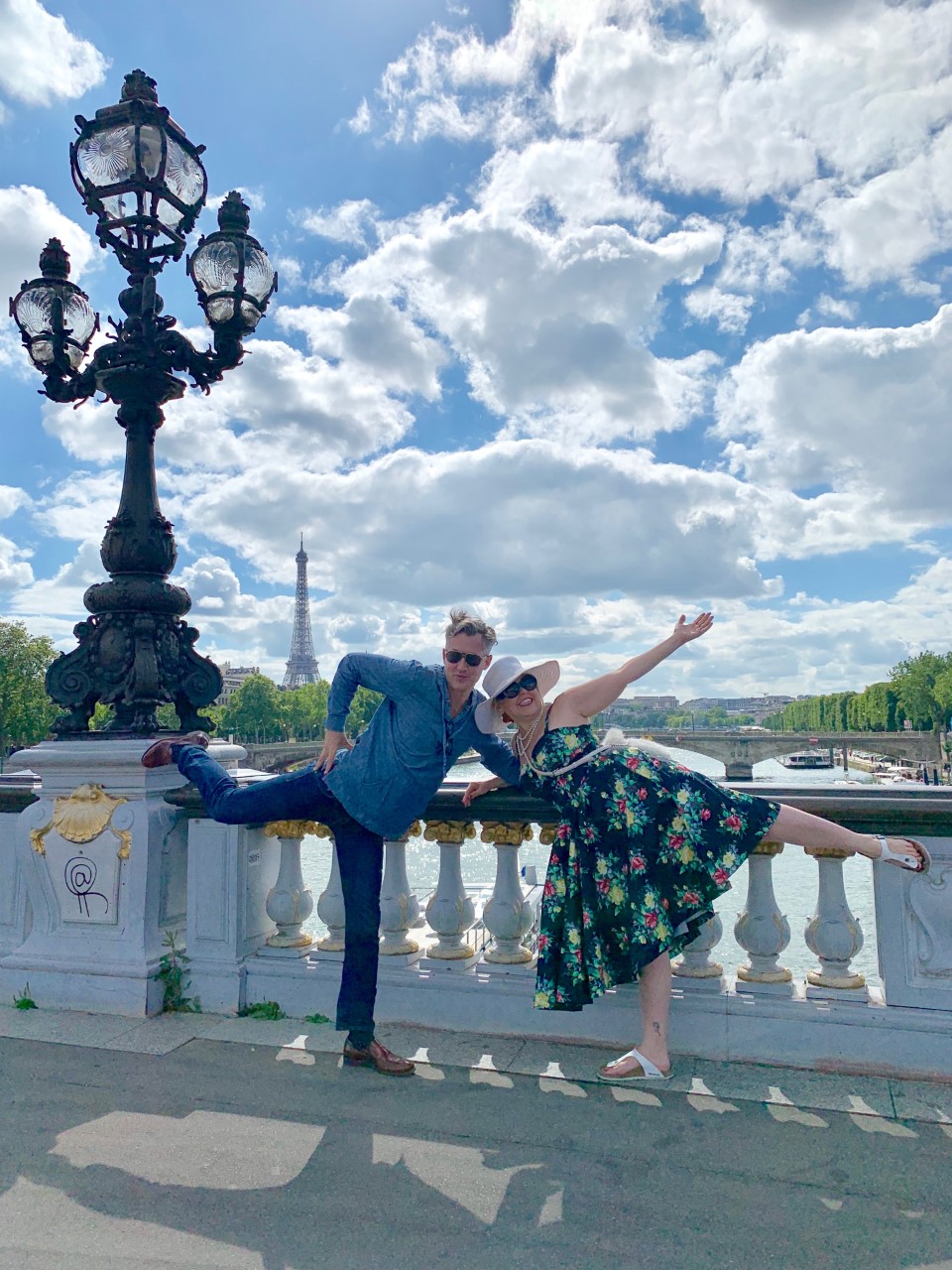 In your book, you talked about how traveling helped you heal. Can you explain the healing process you experienced during your trips?
M: Travel as healing: Planning trips is one of my great delights. I spend hours perusing the perfect restaurants (amazing food, fun atmosphere, not stuffy), any special exhibitions, etc. Planning the trip was healing and gave me something to look forward to. I love unforgettable experiences, so taking my kids to see their first opera at an ancient palazzo on the sea in Venice was gloriously transformative for me. Creating a trip that was relaxing with lots of down-time, but also fulfilling some of my dreams, nourishes my soul.
On my bucket list trip, I was able to do so many things that delight me on a soul level: visiting the iconic costume shop of Antonia Sautter in Venice, attending the opera, walking the cobblestone streets, dancing under the moonlight in Piazza San Marco, vintage train travel dressed to the nines, walking through Van Gogh's paintings made of light in Paris, sleeping in castles, which I loved and didn't love. Visiting Josephine Baker's castle was a dream come true. I had cut out an article in the NYTimes on Josephine's castle back in the early 2000's, and saved it in my dream trip file.
So when I decided to plan my bucket list trip, Josephine Baker's castle was #1. I called it my "showgirl pilgrimage" as I spent years as a dancer and performer, and before I went onstage, I would call on the energy of Josephine to help me give an inspiring performance and to inspire my audience. The castle went beyond my expectations, and visiting it was one of the greatest experiences of my life. That entire region of France on the Dordogne river is gorgeous, with lush verdant fields and ancient castles all around, with little medieval villages here and there.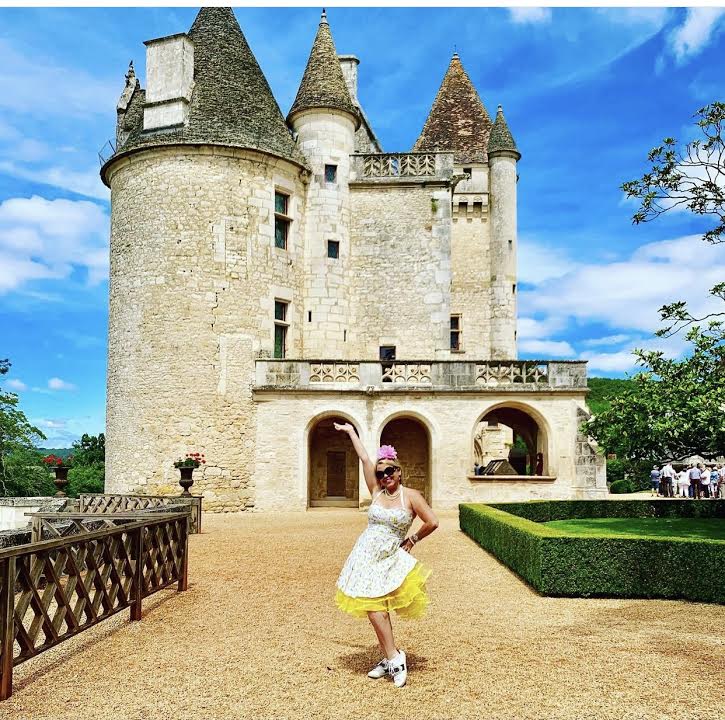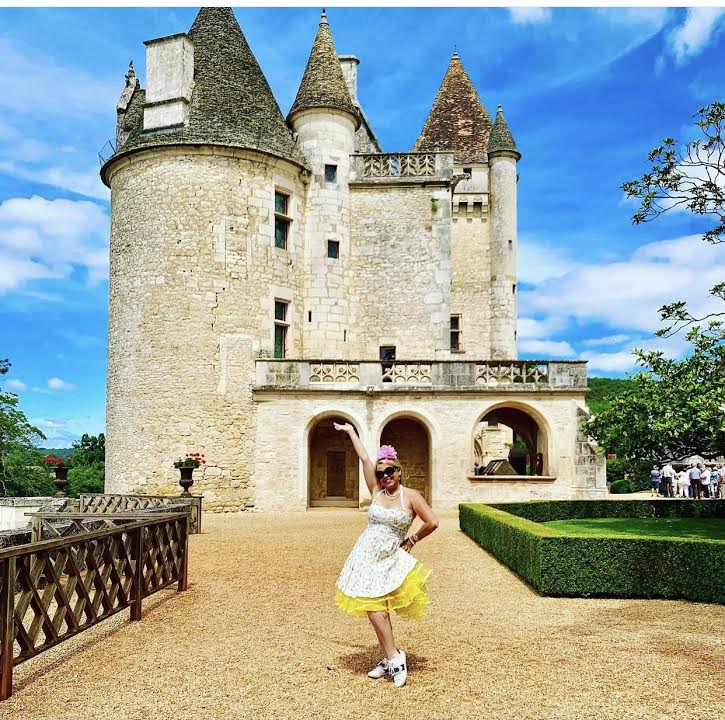 I like to feel lost, to navigate through foreign countries. My senses go on alert and I feel alive and vibrant. I love meeting people, and just stumbling upon beautiful churches or alleyways or rivers. I love adventure, it heals me. It makes me feel small in the world, but also like I am part of everything and everywhere. I feel love permeating  wherever I go, and It's glorious. When traveling, the ordinary becomes extraordinary.
What advice do you give your kids for their own travel adventures?
M:My kids don't have a passion for traveling like I do, and that's okay. I want them to love travel the way I do, but they have their own journeys in this life. I encourage them to go on study-abroads, as I feel the best way to learn and open your mind and heart is through travel, but I know for myself, I felt very compelled to travel in a family culture that wasn't particularly interested in exotic travel, and although my parents didn't understand me, they also didn't discourage me. Or if they tried, I didn't listen lol. I know they worried about me, but they also admired my adventurous spirit.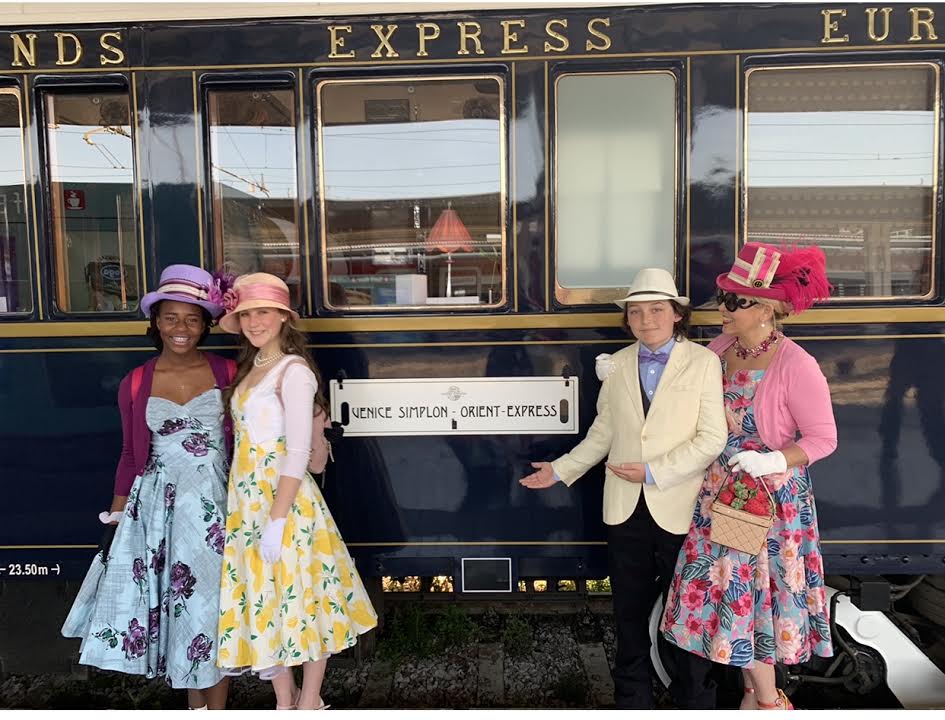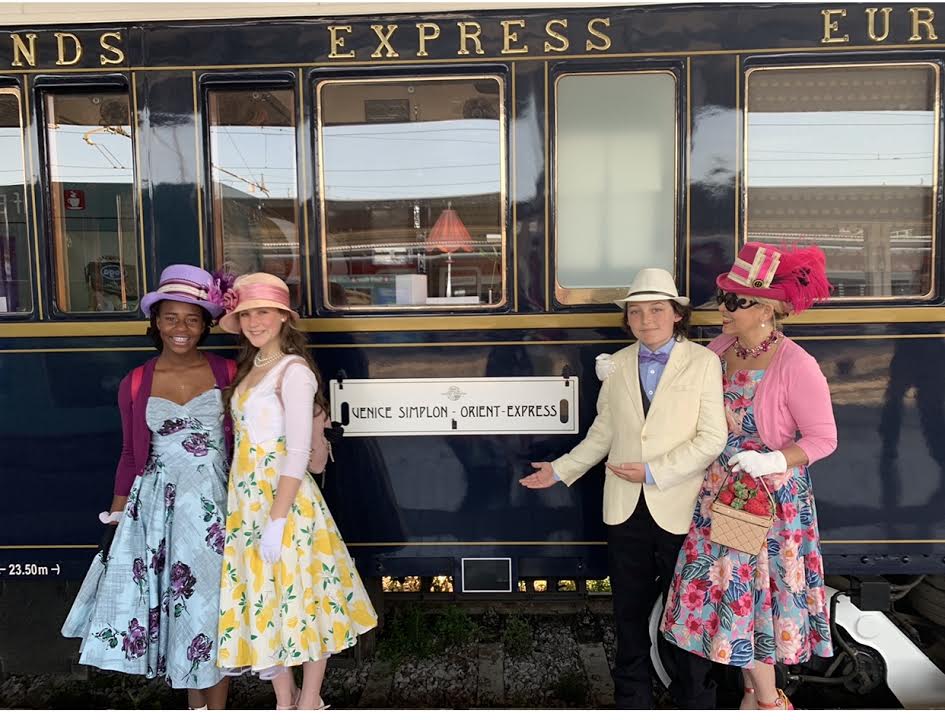 I like to show my children that overall the world is a safe and beautiful place and there are miracles everywhere. Always be street-smart of course, and follow your intuition, if something seems off, or dodgy, get to safety, but never let fear determine your choices in life. Take the risk, jump into the unknown, go somewhere you've never been for no reason… there is magic in motion.
"In the Kenyan villages we visited, they stopped their daily work to dance and drum with us"
Was it scary traveling the world as a woman?
M: I didn't find it scary at all to travel as a woman. I never thought twice about it. My Mom would always say things like, "Oh Marci, how can you go into the bush and dance with tribes? Aren't you afraid?" It's hard to explain to a non-travel lover that no, I don't feel afraid. I feel exhilarated. I feel more "At home" when I'm traveling than I do what I'm home. Being home, stuck in a routine, is far scarier to me.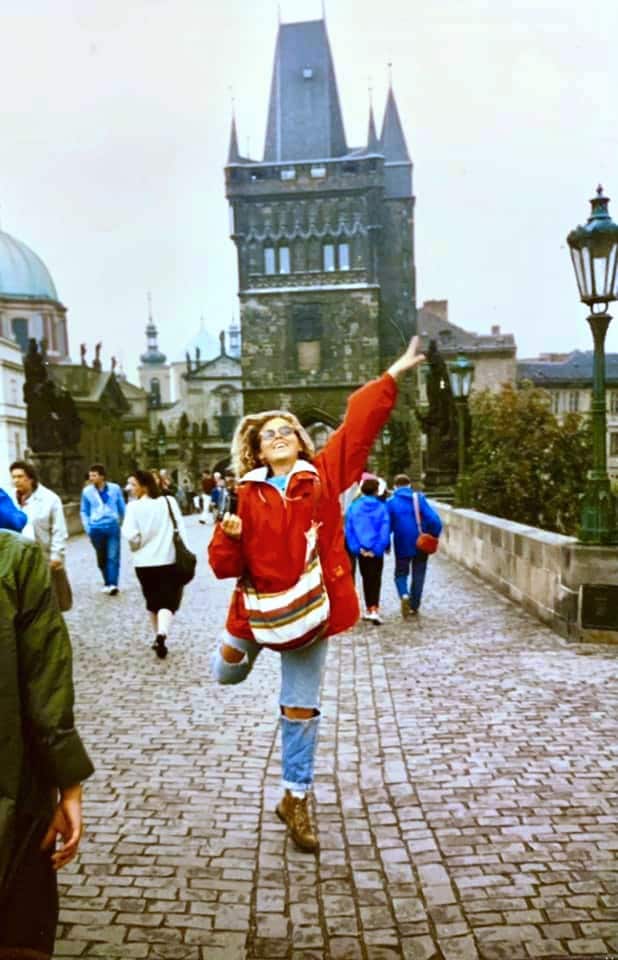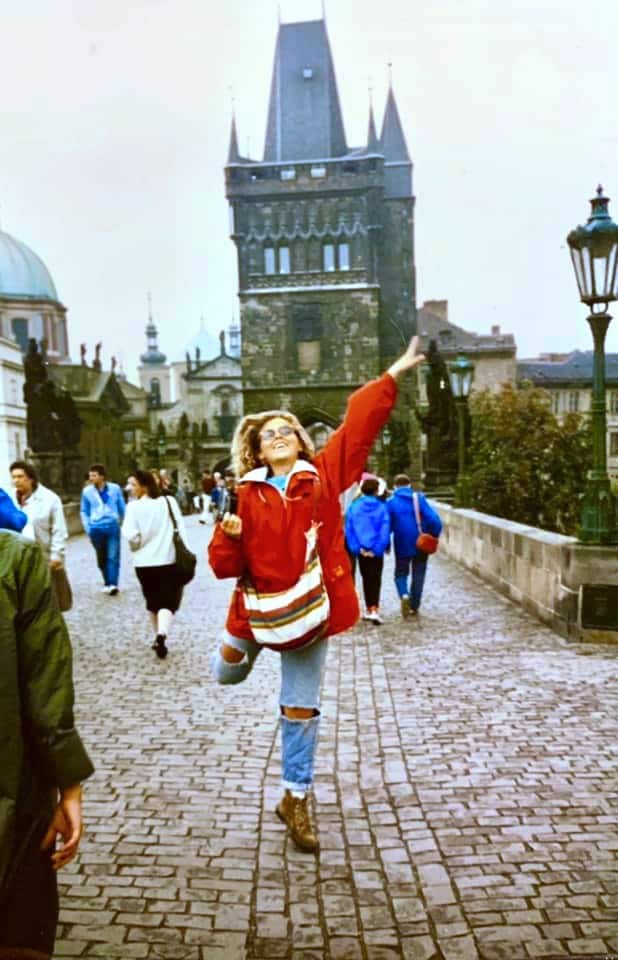 What advice would you give traveling women?
M: I would advise traveling women to take the leap and don't be afraid. There are more good people in the world than bad. Bad things happen of course, but they are just as likely to happen at home than out in the world. There are miracles happening all over this sad and beautiful world, and we get to partake. Travel creates an open mind, open heart, and open arms, if you let it.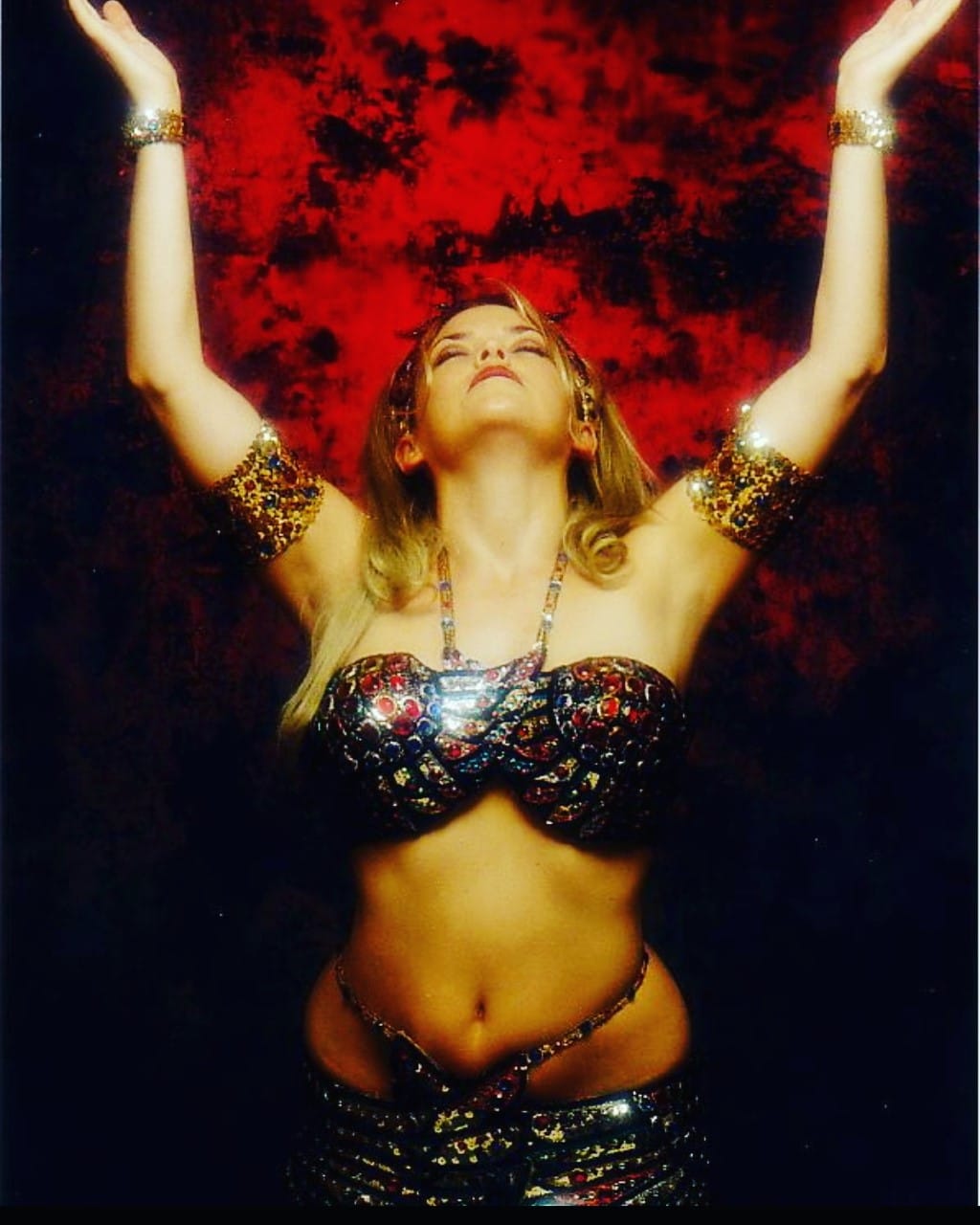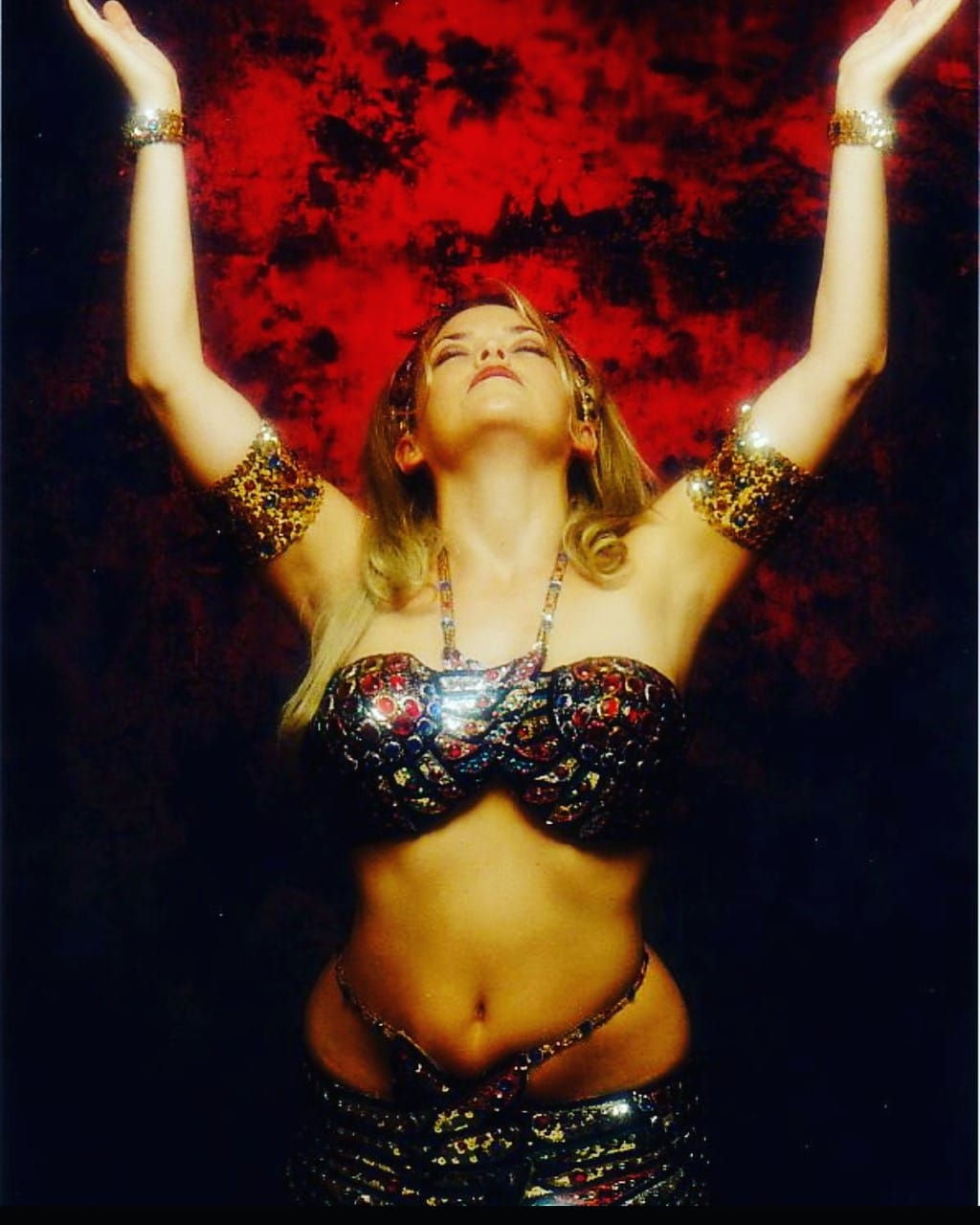 What destination gave you the biggest culture shock?
M: Biggest culture shock? It takes a lot to shock me, lol, so I'm not sure I'd call anything "culture shock", but I do love big culture differences:
Egypt. There are speakers in the street saying Arabic prayers 5 times a day, which I found really interesting and culturally, but also I love that haunting wailing voice specific to the Arabic language. I love to dance to it, which is one of the things I loved about being a professional belly dancer. I felt very safe and "At home" in Egypt for some reason, even though the culture is so different.
Norway: I was also really interested in the cultural differences of children in Norway compared to the U.S. I worked at a preschool there, and was fascinated that they take the kids out on walks even in the icy cold. They pile them in layers of clothes and stack them in baby buggies and push them around the island. (I was on Wolf Island.) At nap time in the U.S. in the preschools where I worked, they lay mats on the floor and the kids lay down for a half hour. In Norway at the kindergarten on Wolf Island, the kids stripped down to their diapers and they opened the windows in WINTER and the teachers put one puffy down comforter on each child in a crib and they all promptly fell asleep.
Kenya was really different too. We danced in villages where the homes were made of cow dung with just a scarf on the floor to sleep on. The entire family slept in one hut. The women walked miles with large buckets on their heads to retrieve water from wells, and I saw children tie branches to a cow. They sat on the branches and laughed hysterically while the cow pulled them around. In the villages we visited, they stopped their daily work to dance and drum with us. It was wonderful!
What are your tips on saving money while traveling?
M: On saving money… you are asking the wrong girl lol! I love to splurge. When I backpacked at the age of 20, I ran out of $$ and asked my Dad to sell my car back home and send me the money so I could stay longer. He sold my pink VW Bug for $800, sent me the $$ and I was able to stay for three extra weeks. I have traveled around the world with literally $20 as a young broke artist, and I have also gone "super luxury" as a more financially stable middle-aged writer. Both experiences have their gifts.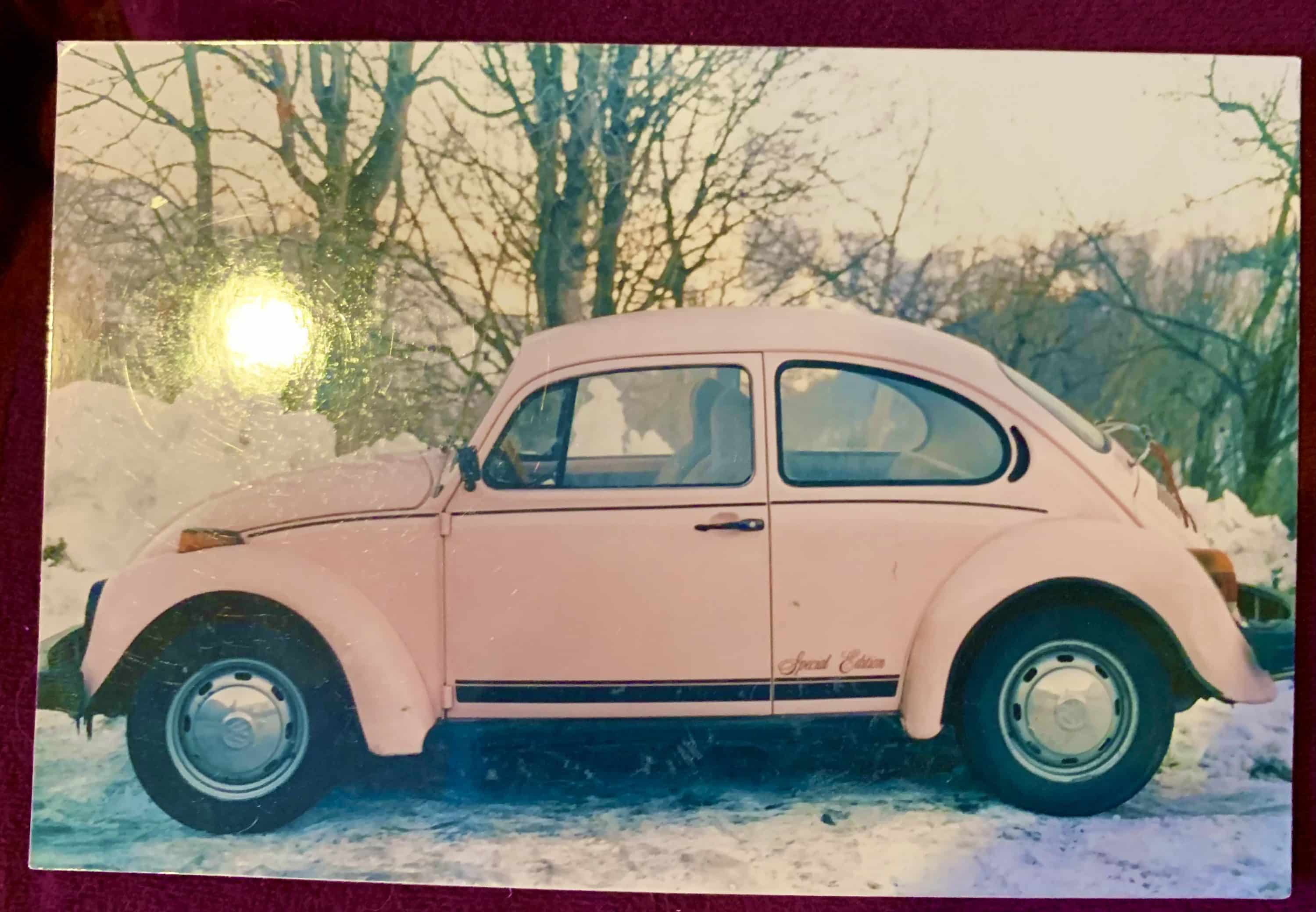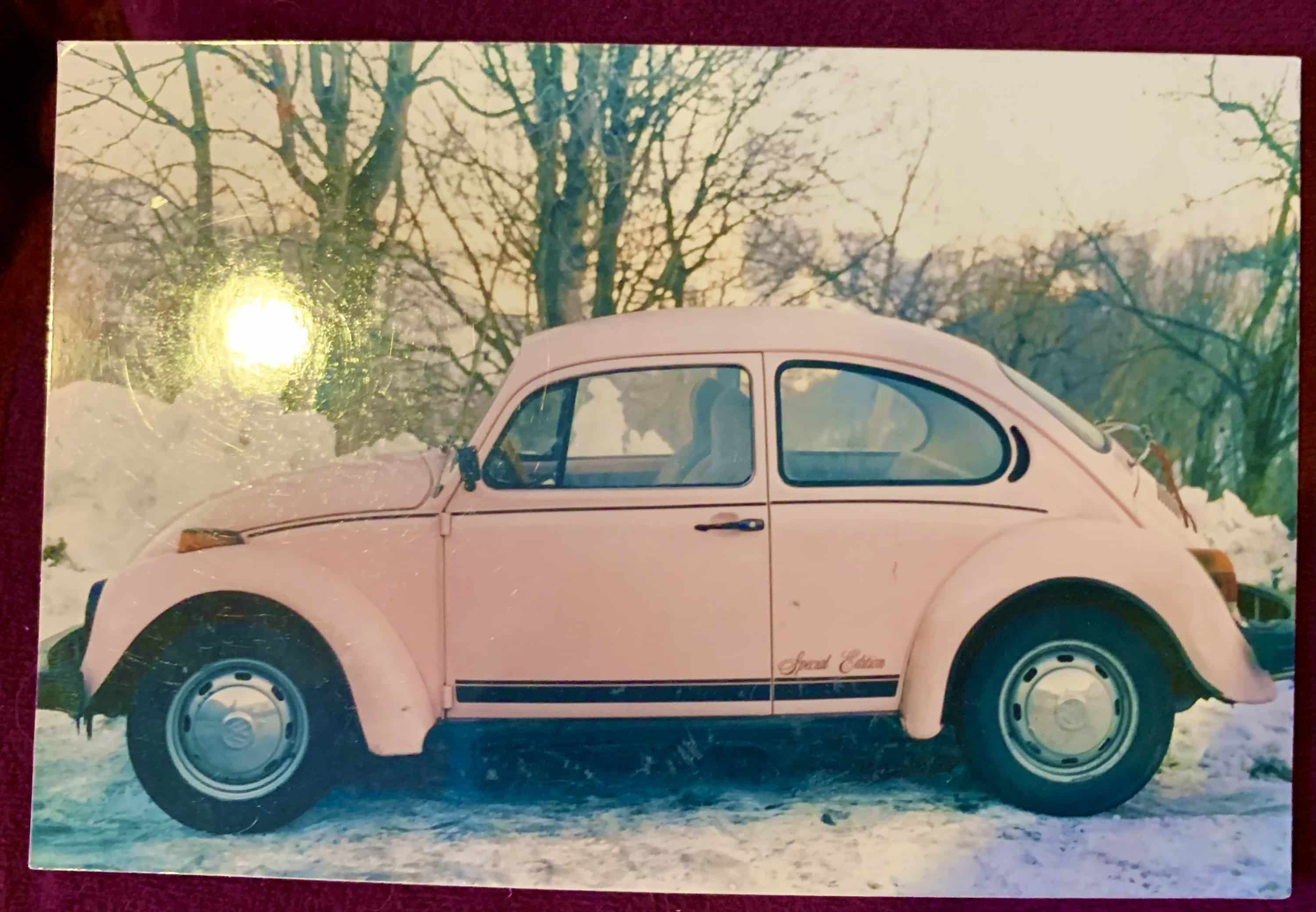 In my 20's, I would carry my costume with me and when I ran out of money, I would contact local restaurants and nightclubs that had belly dancing and they would hire me to dance while I was in town. I belly danced this way in Paris, London, Amsterdam, etc. If there weren't any Mediterranean places, I would perform on the street, but it was never very lucrative. The restaurants were better and it allowed me to see parts of the cities, towns and cultures, I would never have seen otherwise.
I have to say, that now, having a daughter, if she told me she was going to travel around the world with a belly dance costume and dance when she needed money, I might have a heart attack, but when I did it, I looked at it as a grand adventure. And it was. My view of the world as a teenager was based on books and movies.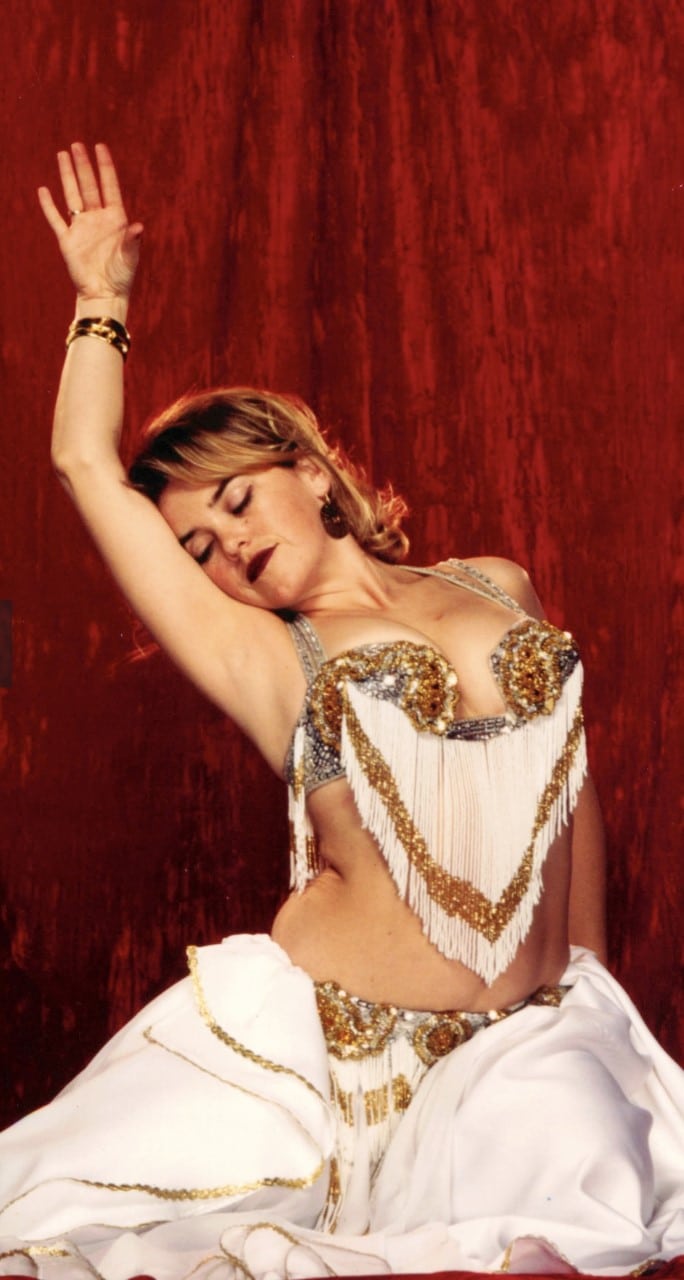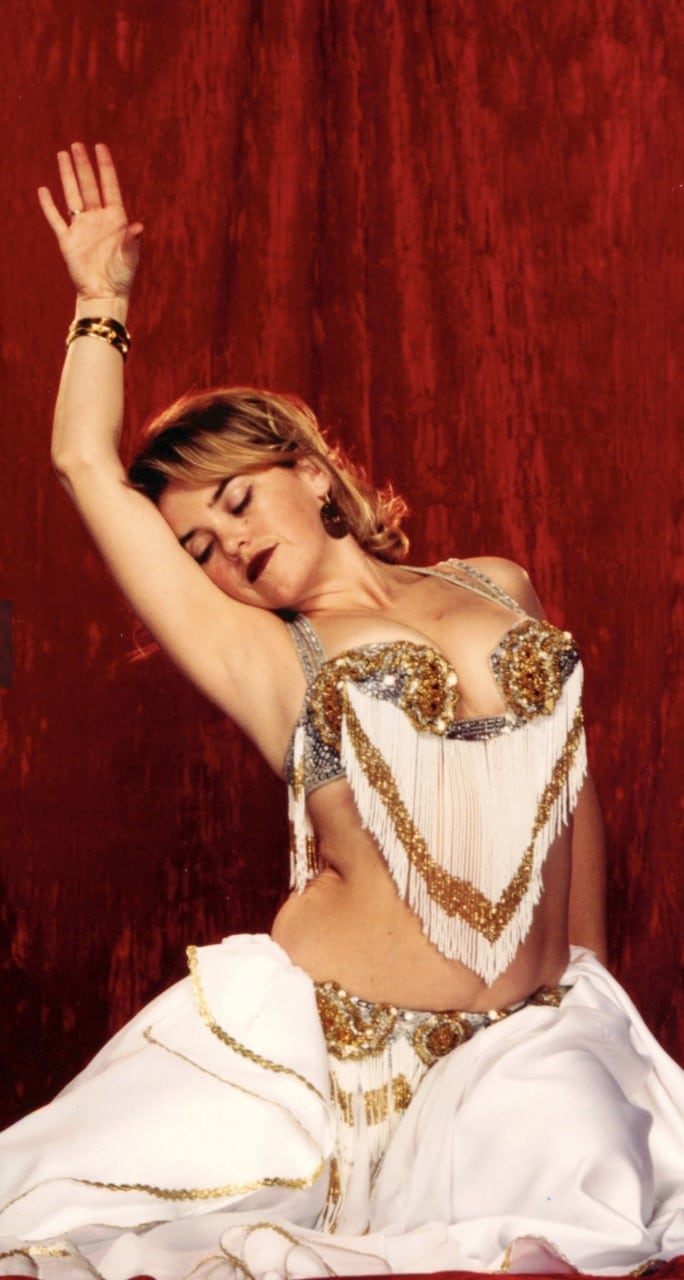 For example, in my world, New York is soft, glamorous, and romantic, a Neil Simon play with witty banter and Sinatra playing in the background. So whenever I visit NYC, at any age and income level, I created that reality. In my 20's, I used to drag all my ragtag ruffian artist friends to The Plaza for tea and we'd sit with the little old rich ladies dripping in diamonds and drink tea with our pinkies in the air. Well, my pinky… my friends weren't nearly as amused by The Plaza as I was, but they weren't living in the Neil Simon play going on in my head.
The End
I had the best time getting to know Marci and reading her book. She has truly inspired me as a young female traveler. Her stories are beautiful and sincere and I urge you to dive into her world.
Buy her book Magic Carpets, Flying Ships, and Moonlit Kingdoms here!
Here are links to her other books if you just couldn't get enough:
Let me know if you've read her book below!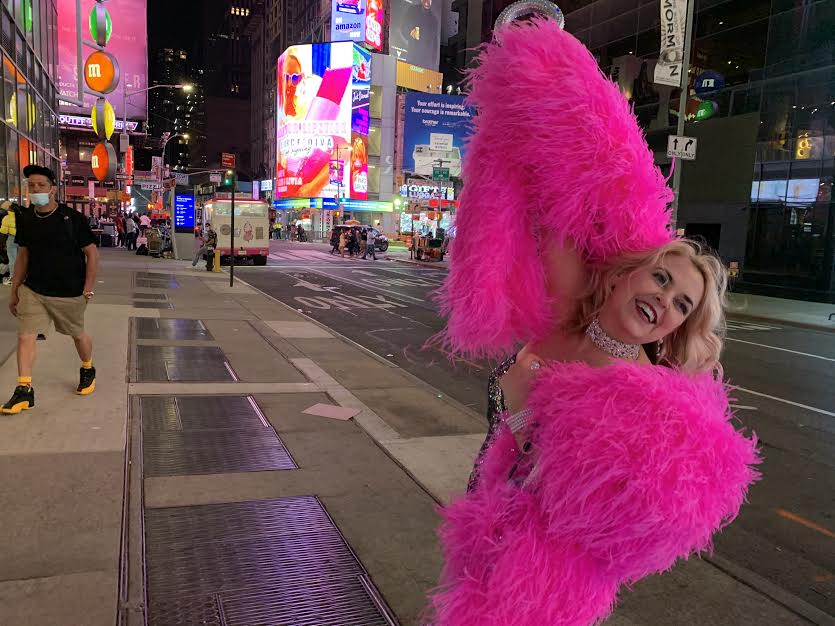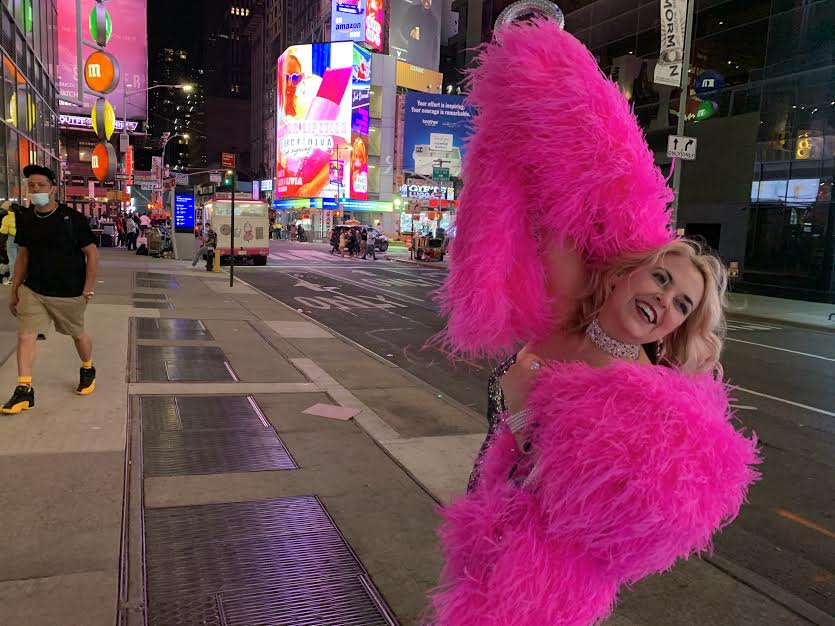 Until next time! <3
xoxo, Jess!
LET'S CONNECT!
My IG: @jessicacastello
Twitter: @jessicacastello
Traveler.com's IG: @travelerlogue