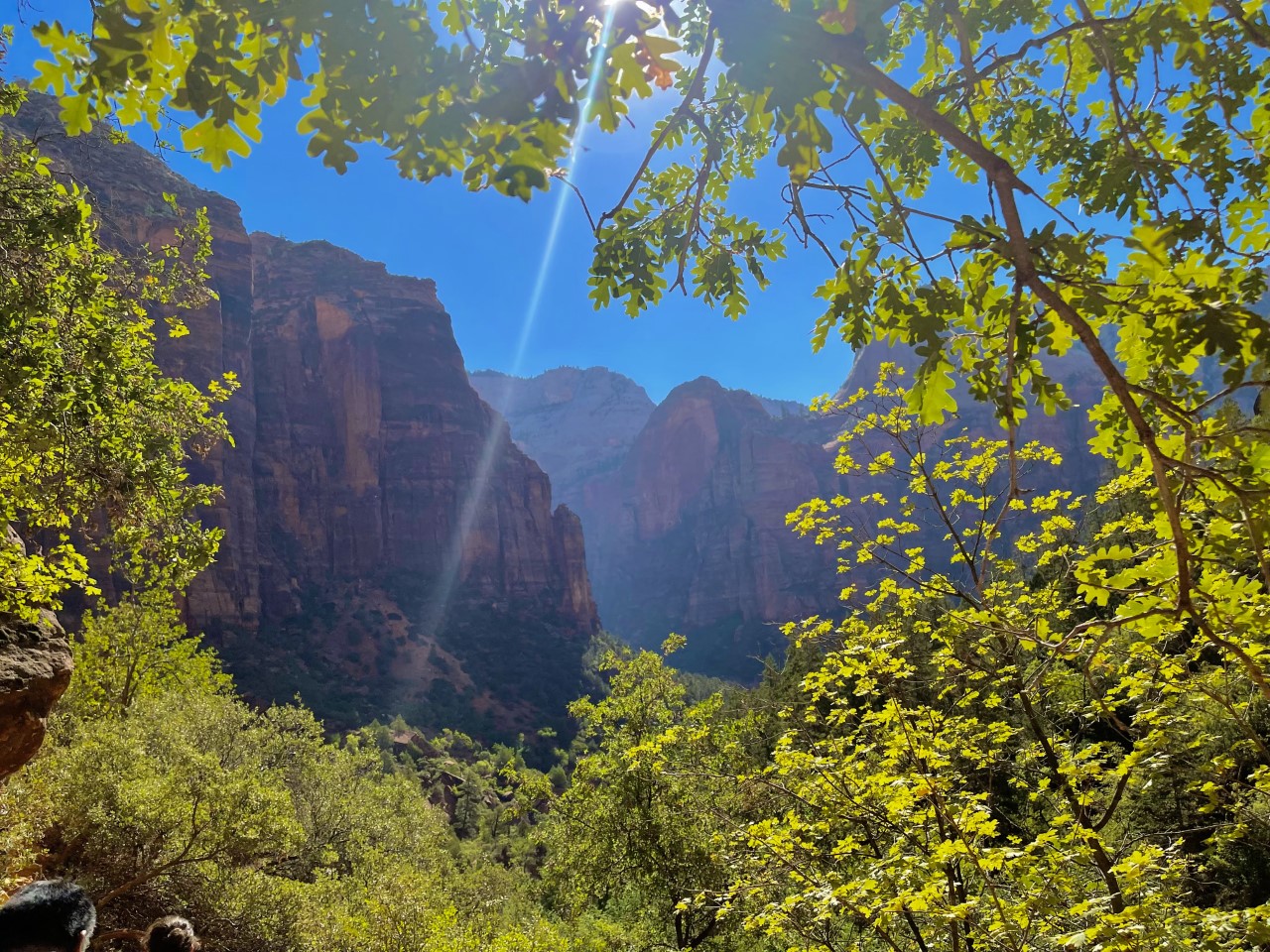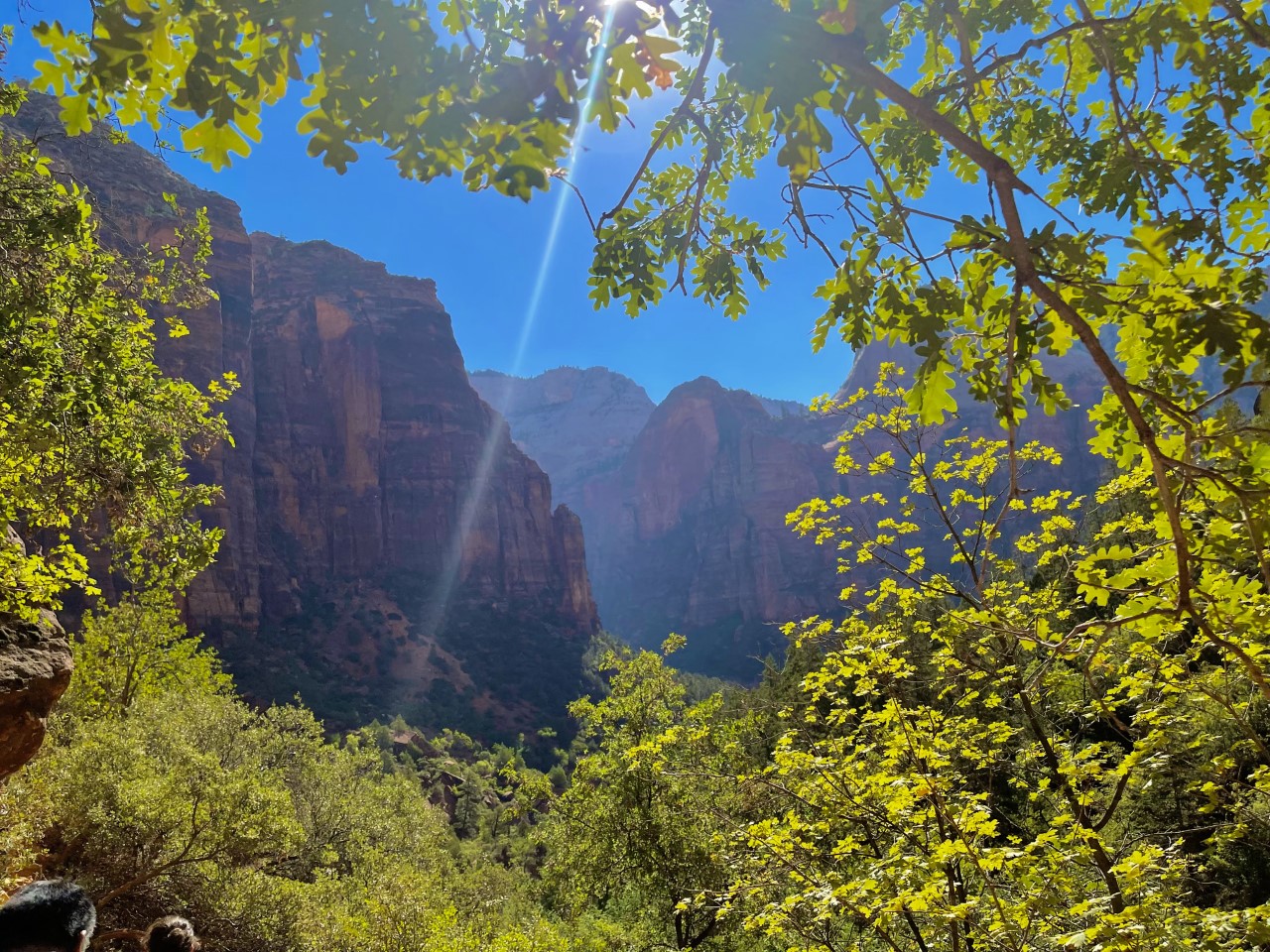 Road Trip To St George, Utah
I'm back in Utah!! And if you know me, you know it's one of my favorite states. This time, I took a road trip to St. George.
St. George is in the SouthWest part of Utah. It's only 1 hour and 45 minutes from Las Vegas, and while it's not smack in the middle of this big state, it is still very Utah Beautiful.
I went on a Road Trip to Utah back in December where I went all around the state. Check out that article to see me go hike Bryce Canyon, Sand Boarding at the Coral Pink Sand Dunes, playing in the snow at Big Cottonwood Canyon, to dancing on miles of miles of stunning Salt Flats:
Here, this Road Trip is condensed to only fun places in or around St George.
So without further ado, let's see all the fun activities I got to do!
Hike At Snow Canyon State Park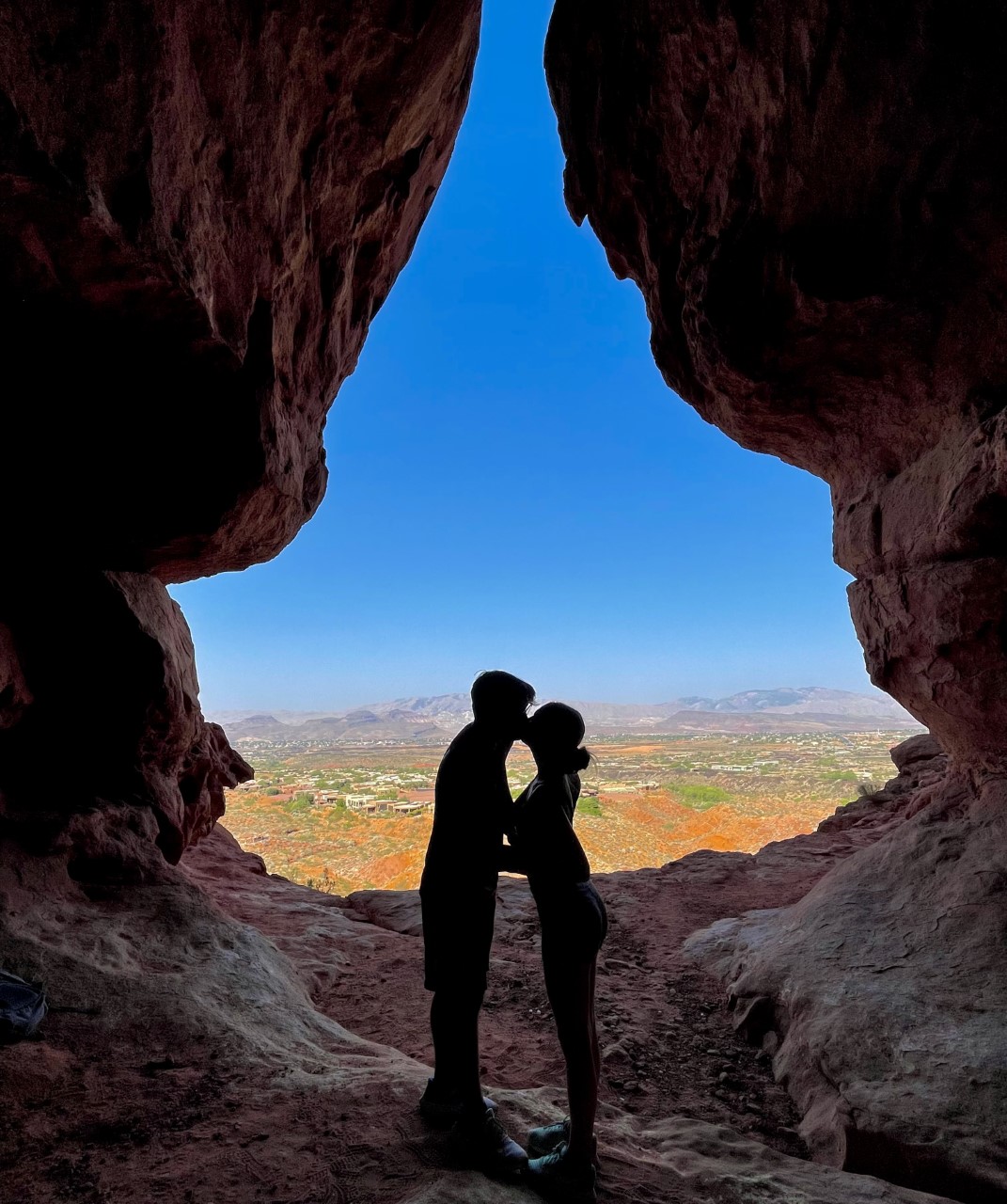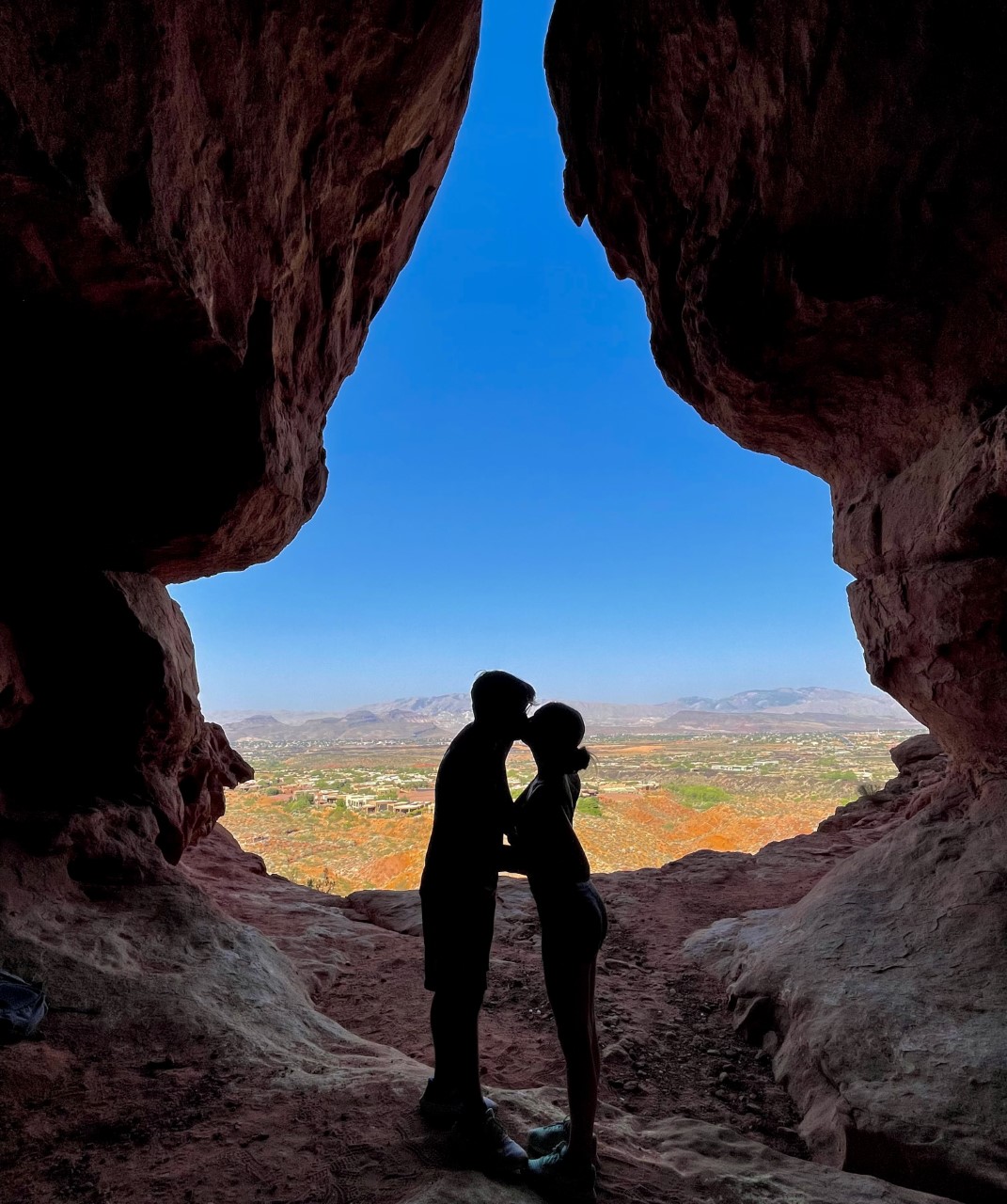 This beautiful state park is home to many stunning red rocks and mountains that are begging you to explore. It's only a short 15 minute drive and there are so many different trails to choose from.
Note that there is a $15 fee to get into the state park. Check out hours, trails, weather conditions, and Snow Canyon State Park contact information here. 
The hike that my friends and I chose is called the Scout Cave Trail. It is around 2 miles there and back (4 miles total) and with no loop. The destination on the trail is a beautiful big cave on the face of a mountain. It is a rewarding hike and the views from the cave are unmatched.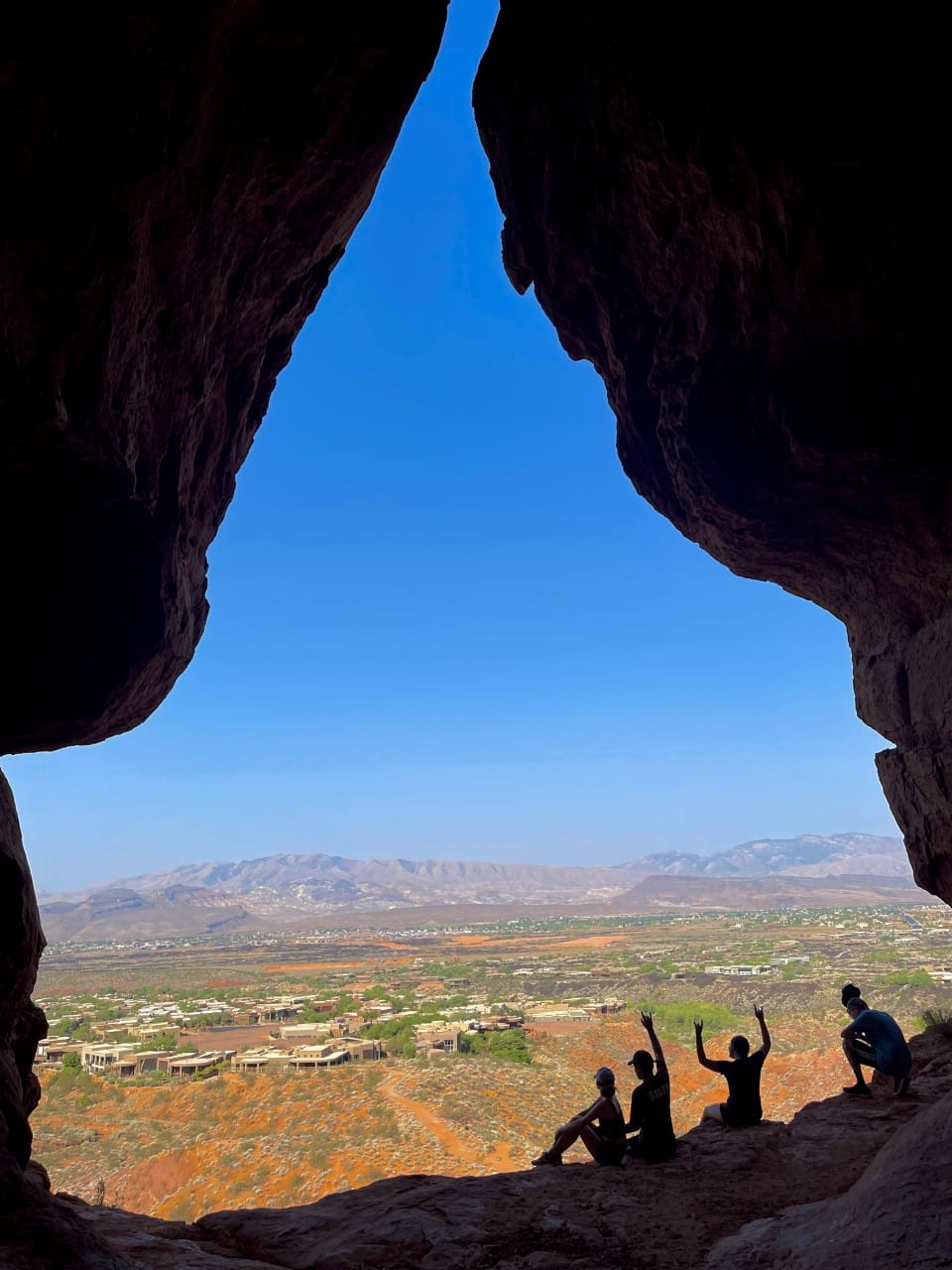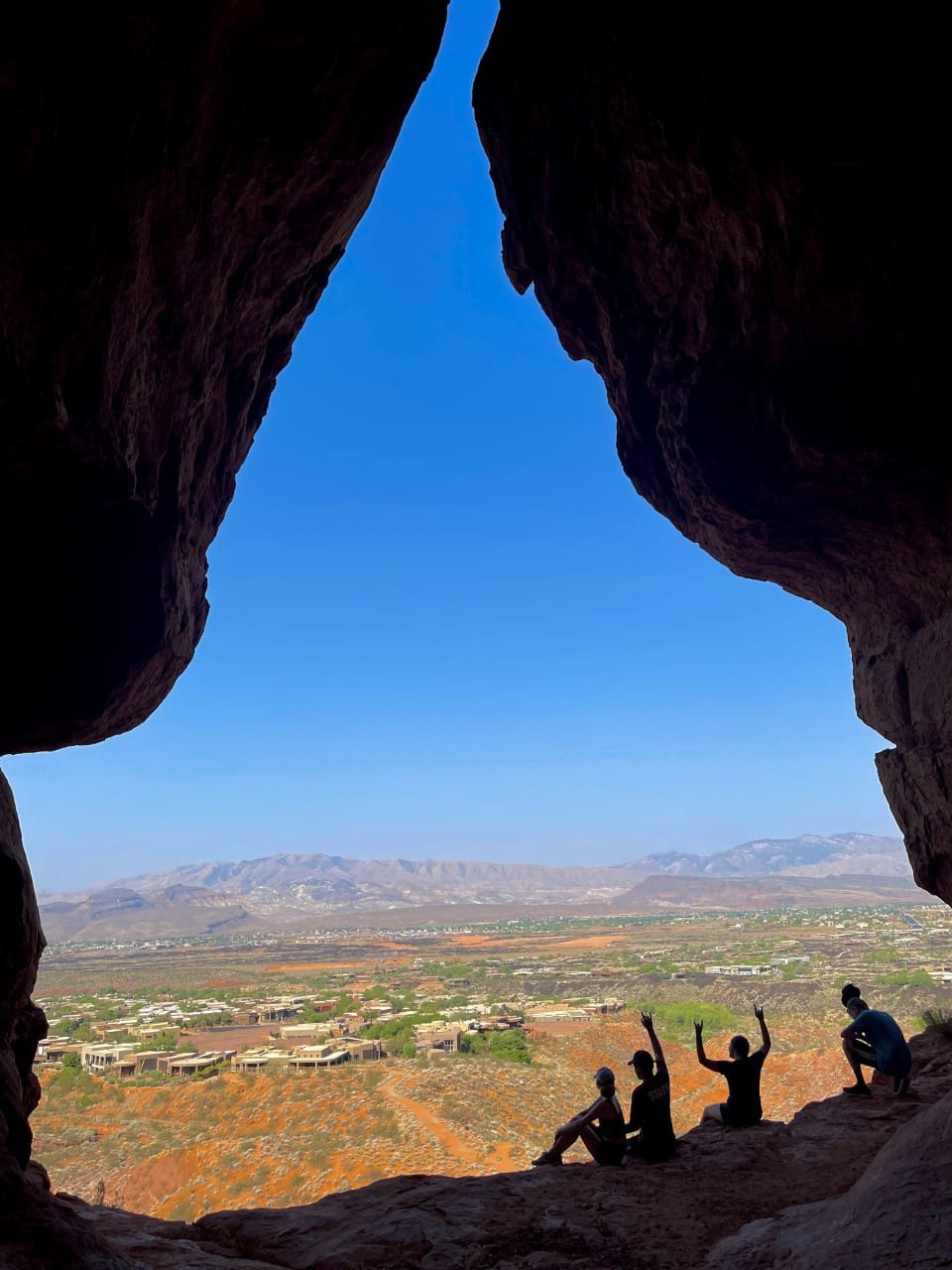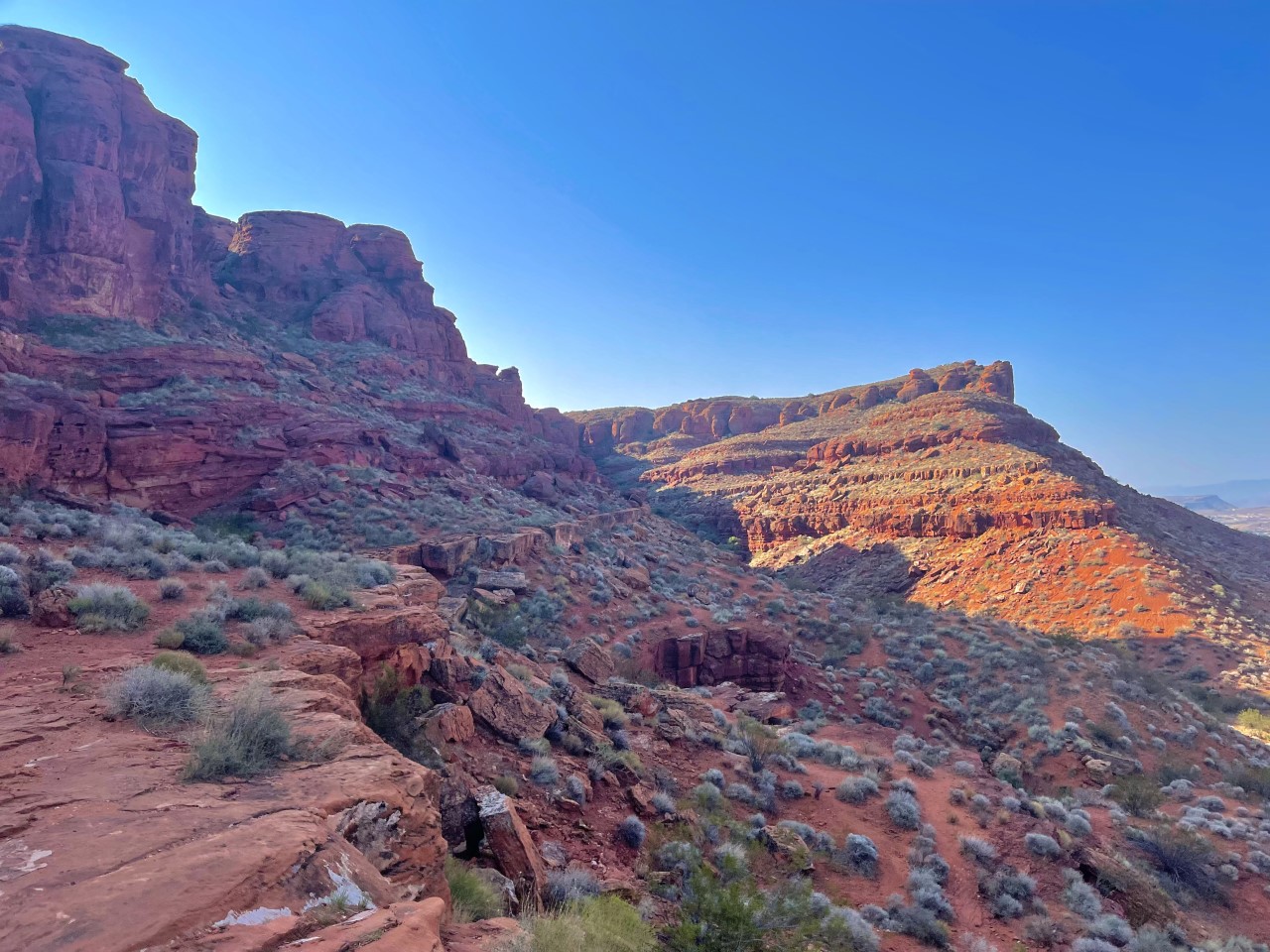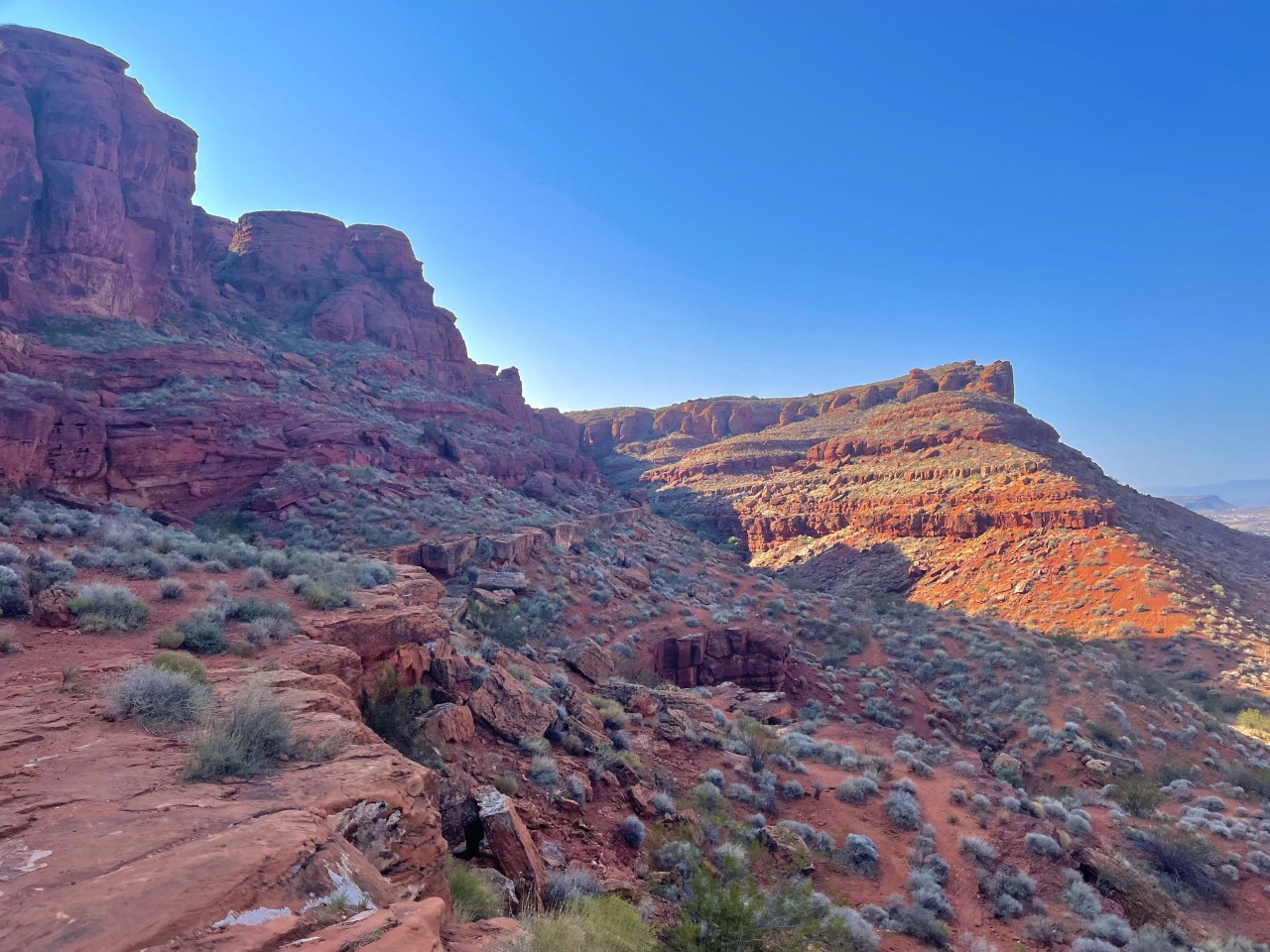 I would say it's a moderate hike- not too hard at all. But what made it almost unbearable to finish, was the heat. Oh my goodness I don't know how I finished it. We got there fairly early to start the hike. Maybe around the 8am. It was only about 80 degrees which is unfortunately the lowest it really gets in the Summer. By the time we left the cave and were on our way back, it jumped 15 degrees.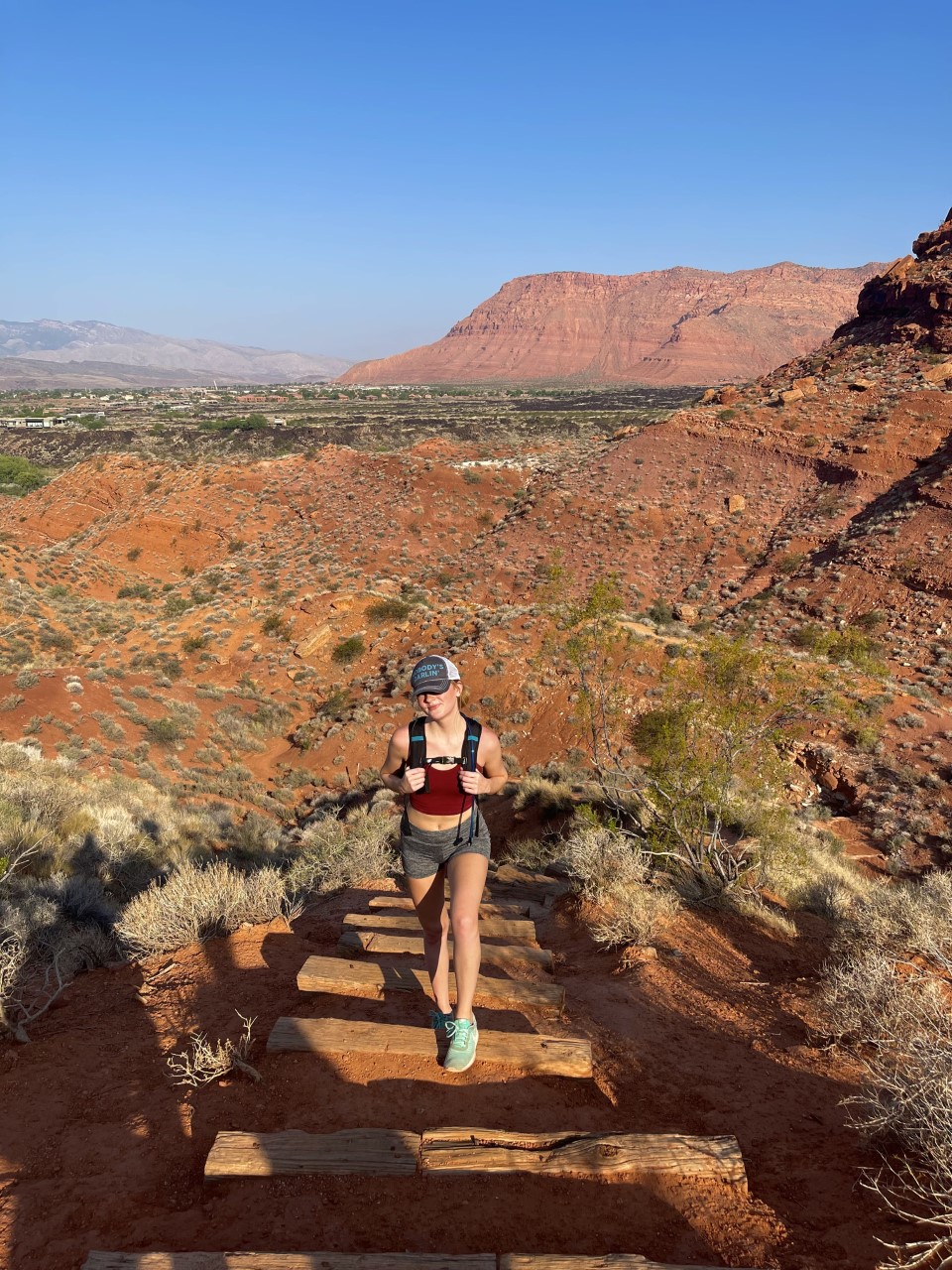 There is no shade on the Scout Cave Trail. None. The only shade you get is from the cave. The cave was incredibly nice. Very cool, and absolutely no sun. But anywhere else, none! So I definitely had heat exhaustion on the way back. Luckily I had my water backpack, so it was easy for me to sip on water through the straw on the hike.
Bring lots of water
Pack Snacks
Bring A Hat
Wear Sunscreen
Go Extra Early
Go With Friends
Invest in an emergency satellite beacon
PS. I suggest getting the app All Trails and downloading all the trails you hike on before you lose cell service. It's a great app and really helps you stay on track!
Kayaking at Sand Hallow State Park
Sand Hallow State Park is near the Utah town Hurricane and has a big beautiful reservoir surrounded with bright orange sand. It's almost what water on Mars could look like.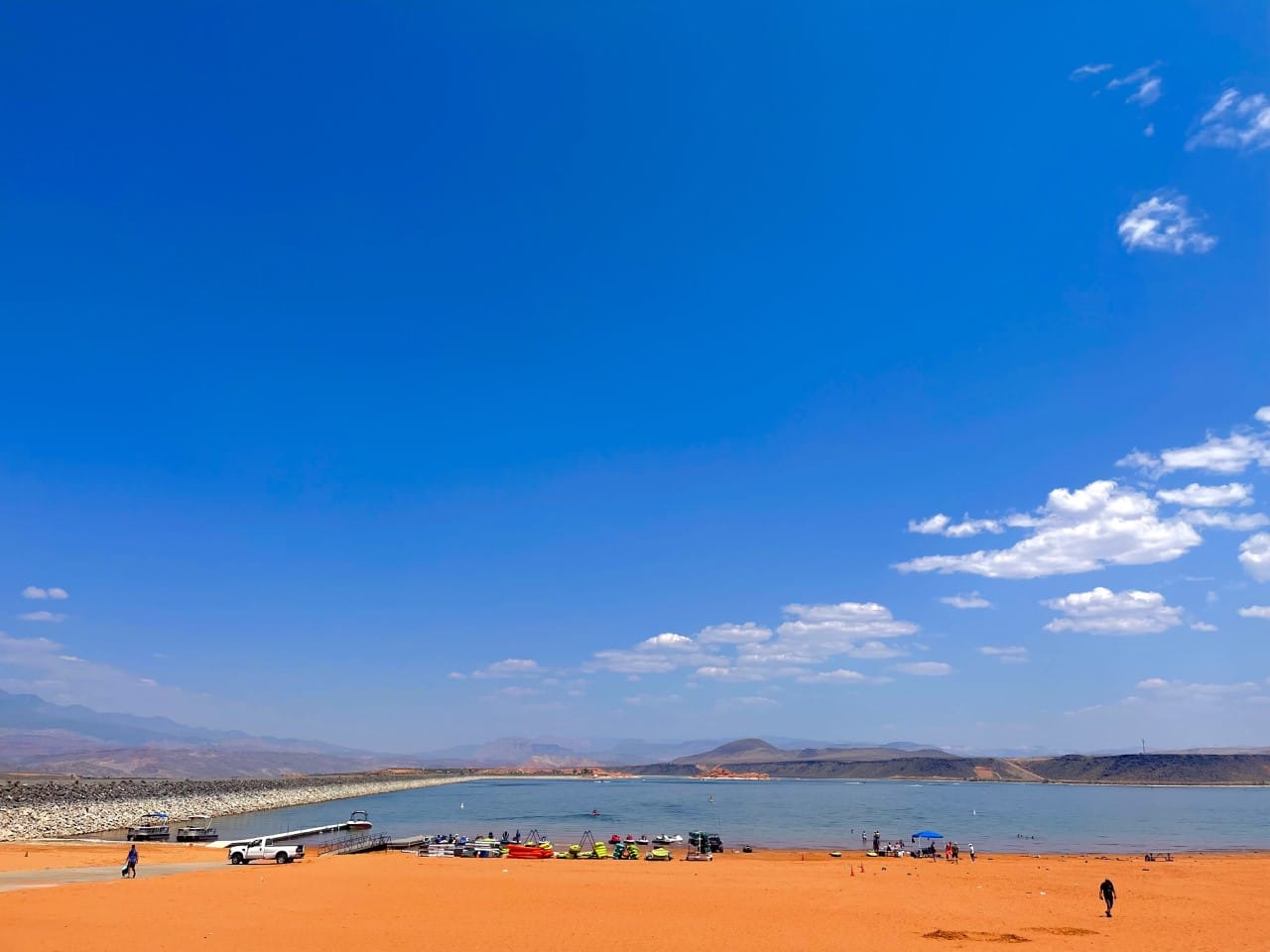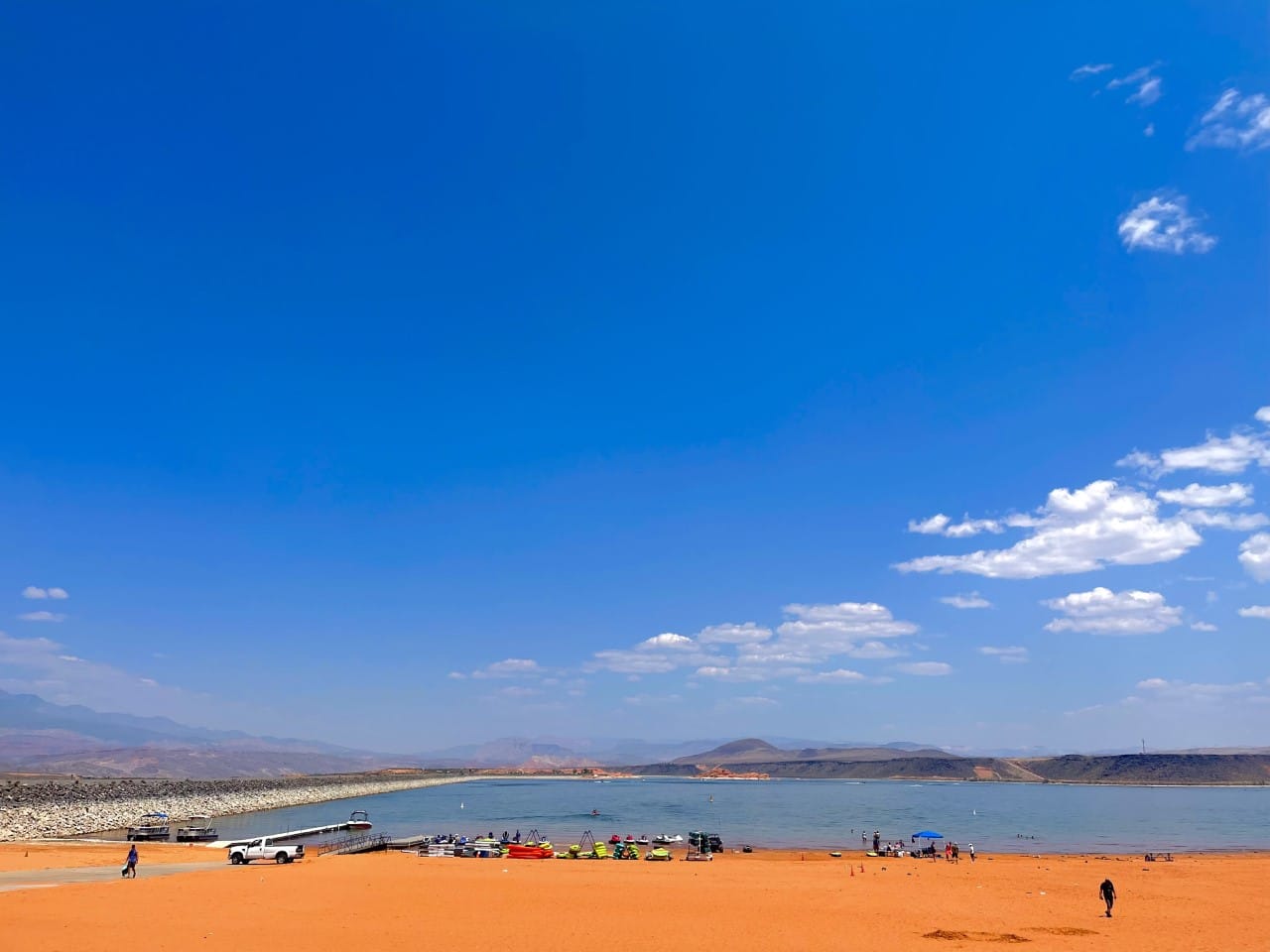 Here you can rent jet skis, paddle boards, boats, etc. My group rented two person kayaks and it was an absolute blast! I had never kayaked before but it was really easy to catch on and it helped having someone else in the kayak with me to help when I got tired.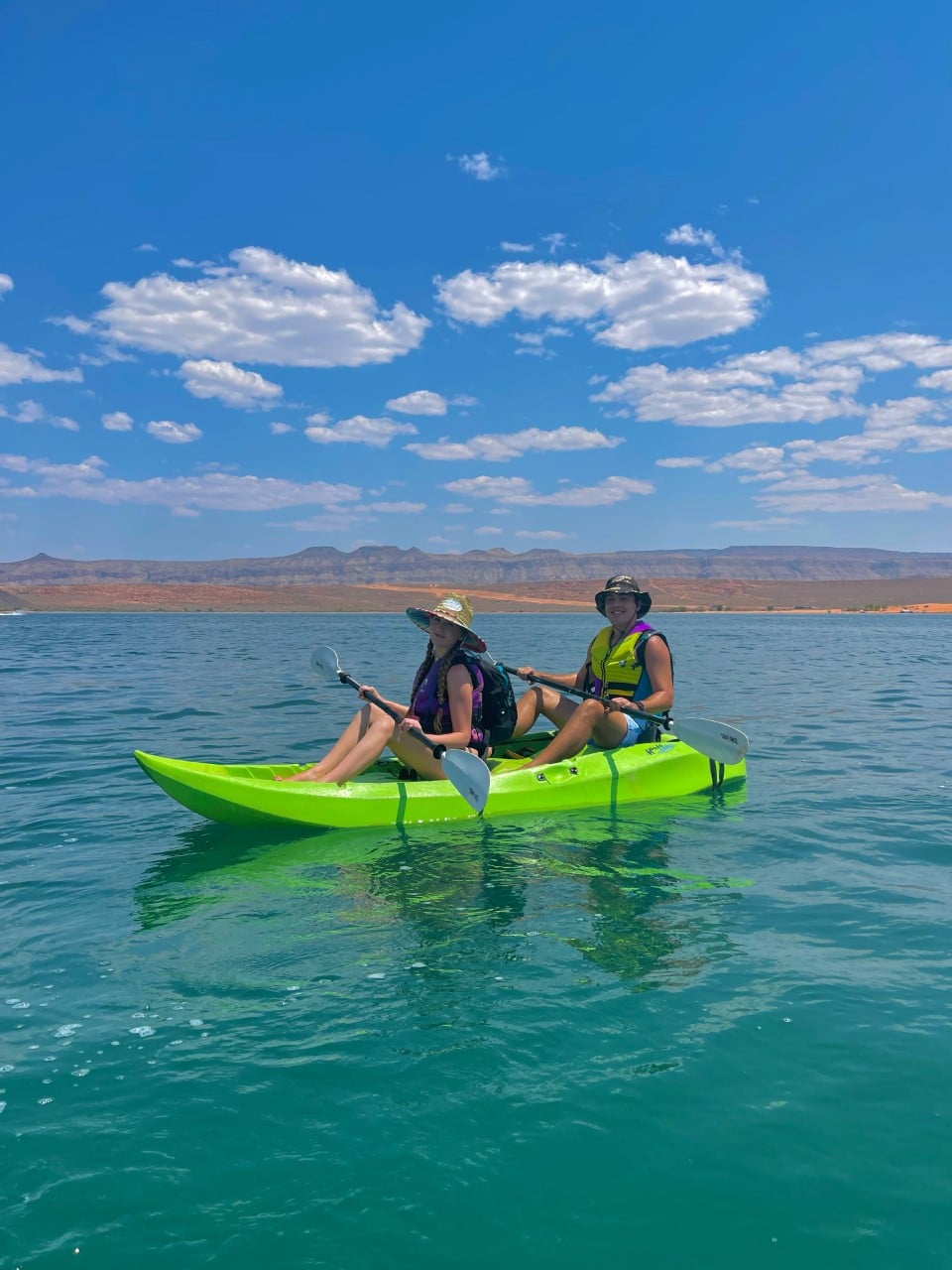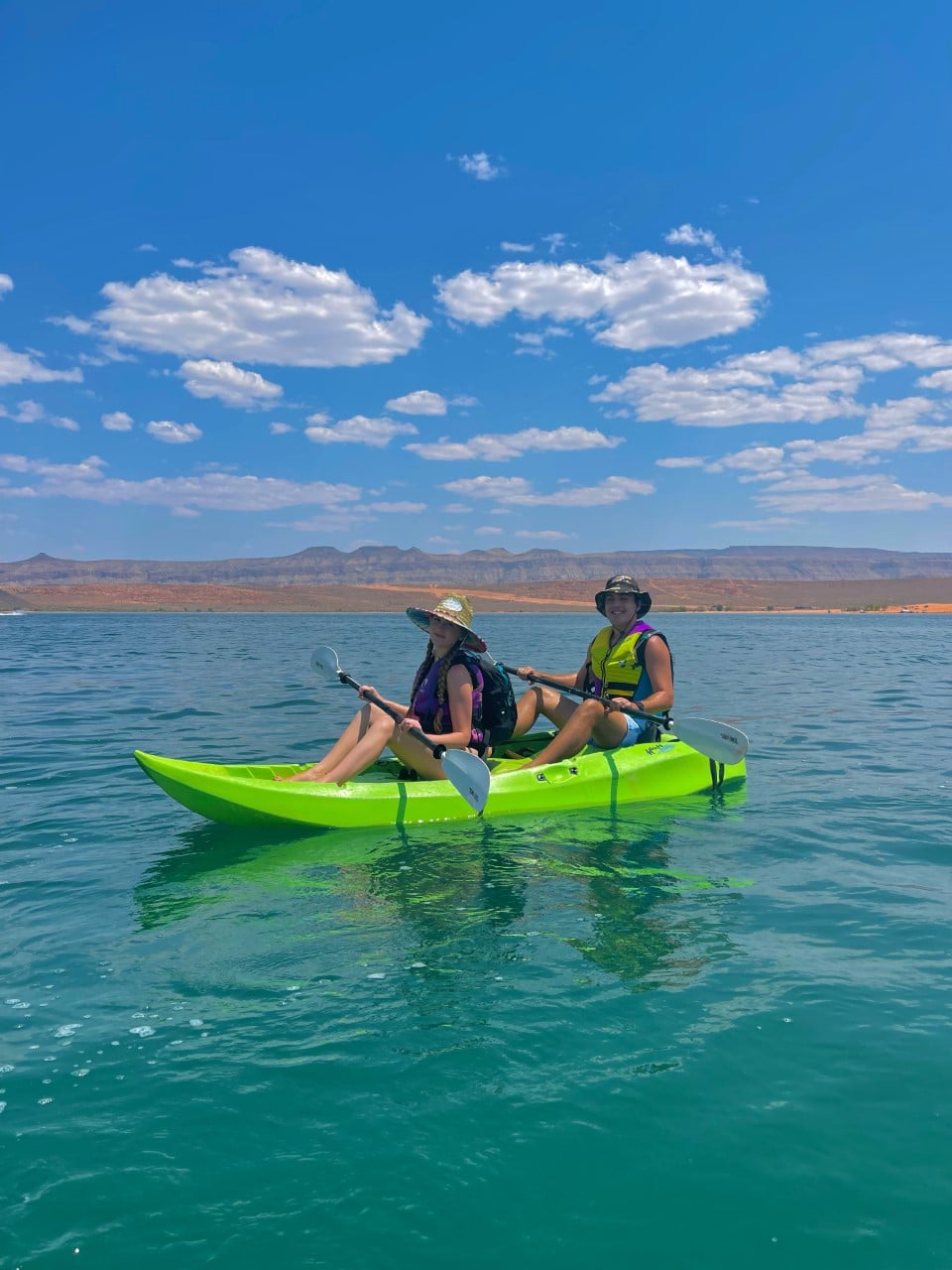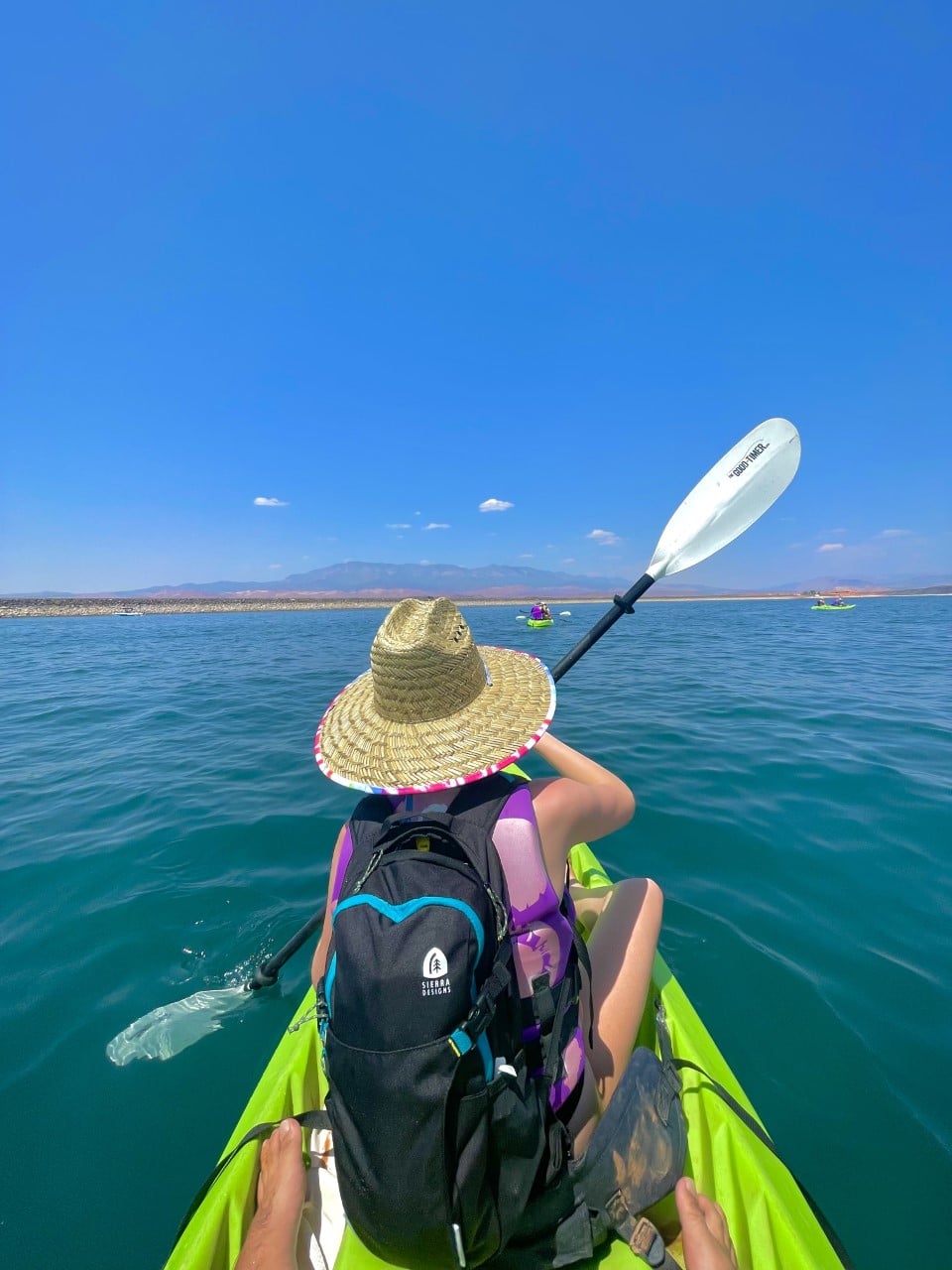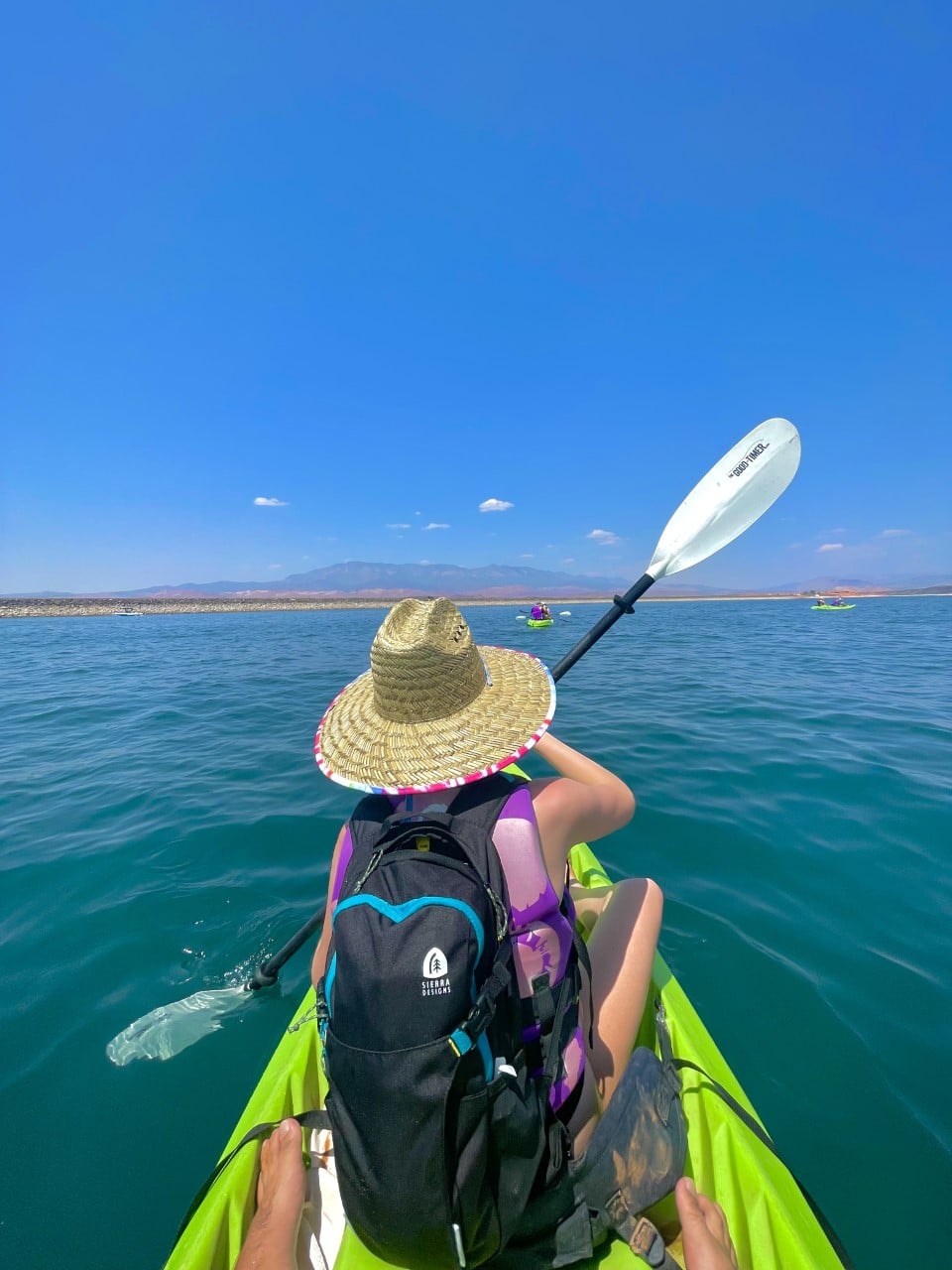 Once again, that backpack I bought for this trip came in handy. I was kayaking and sipping on water simultaneously! Super easy and no hassle.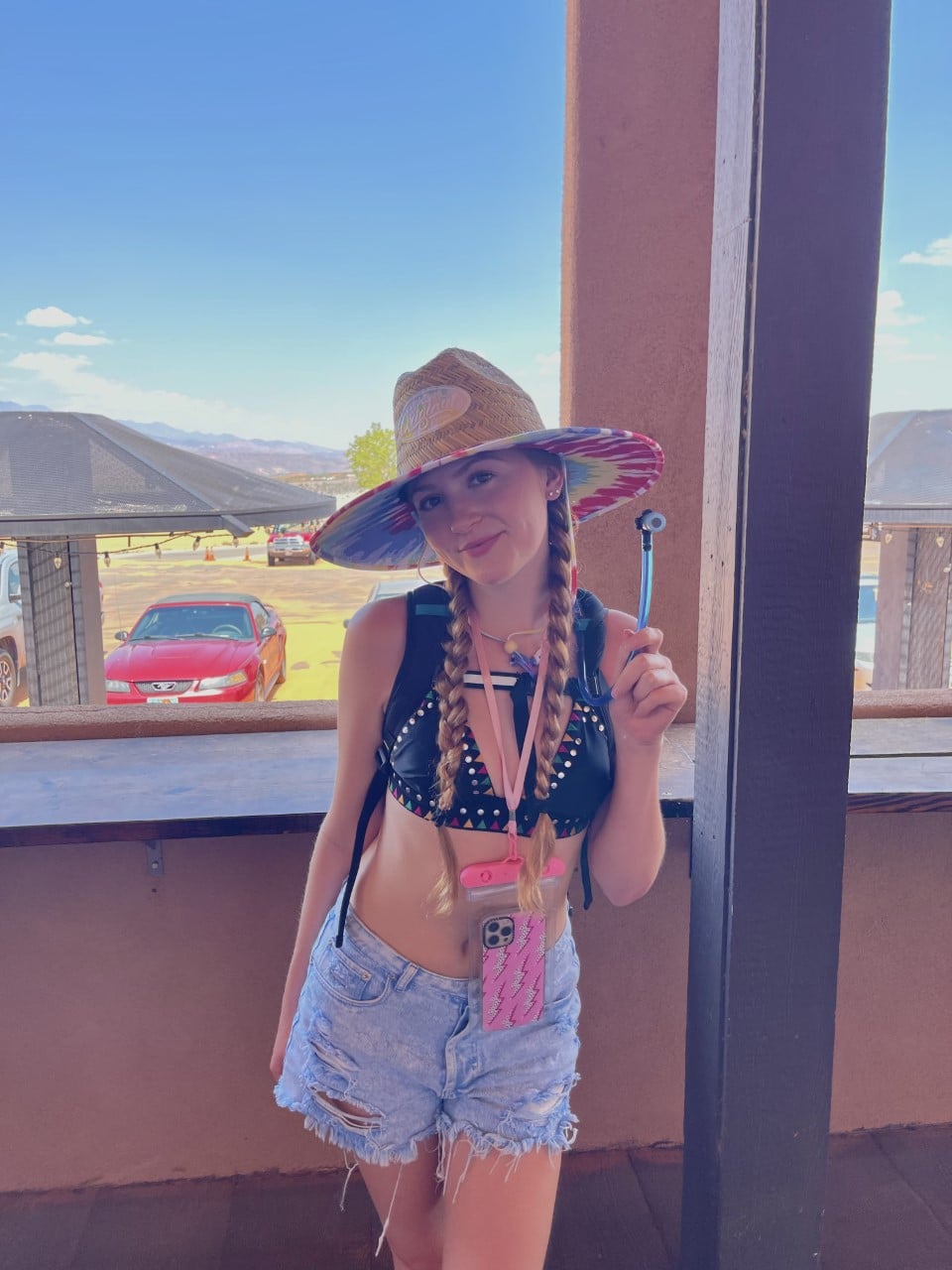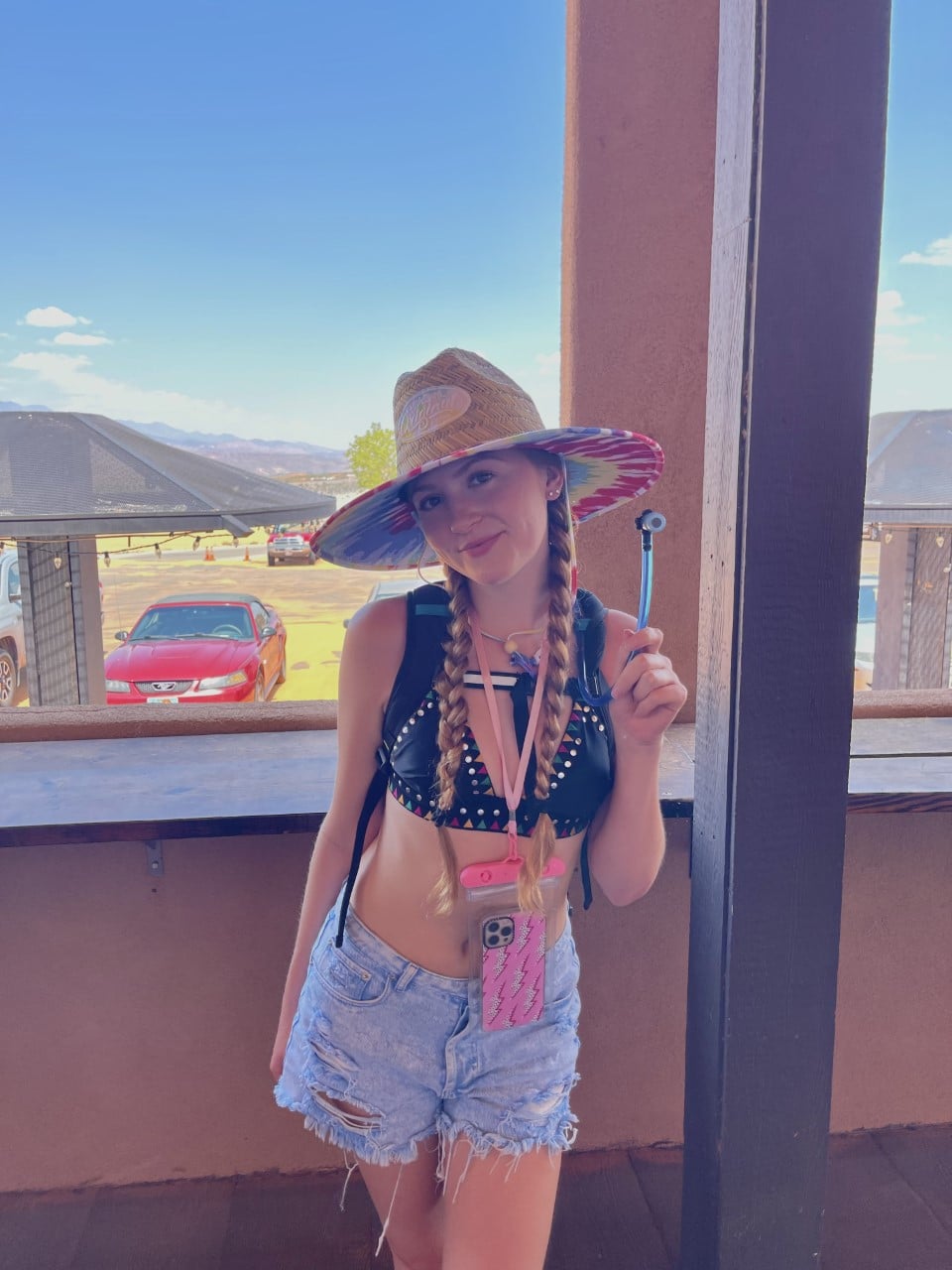 A WARNING:
There's this thing called "Swimmers Itch" that is happening there and as far as I'm concerned it's been there for at least a few years. Basically there's some sort of bacteria in the water that can lead to this "Swimmers Itch" and gives you very itchy welts all over your body after your visit.
Here are a few tips to avoid it:
Stay Out Of Shallow Water
Putting On Lots Of Sunscreen Helps (Waterproof)
Rinse Off Afterwards And Towel Dry
The Rental Shop Carries Swimmers Itch Protection Gel
We got a mini bottle of this Swimmers Itch protection gel and put it all over ourselves. The bottle we got was pretty small but a little goes a long way, and it was $10.
We kayaked decently far out there and two of us jumped into the water to cool down. We were all fine afterwards and didn't get Swimmers Itch!
Hike At Zion National Park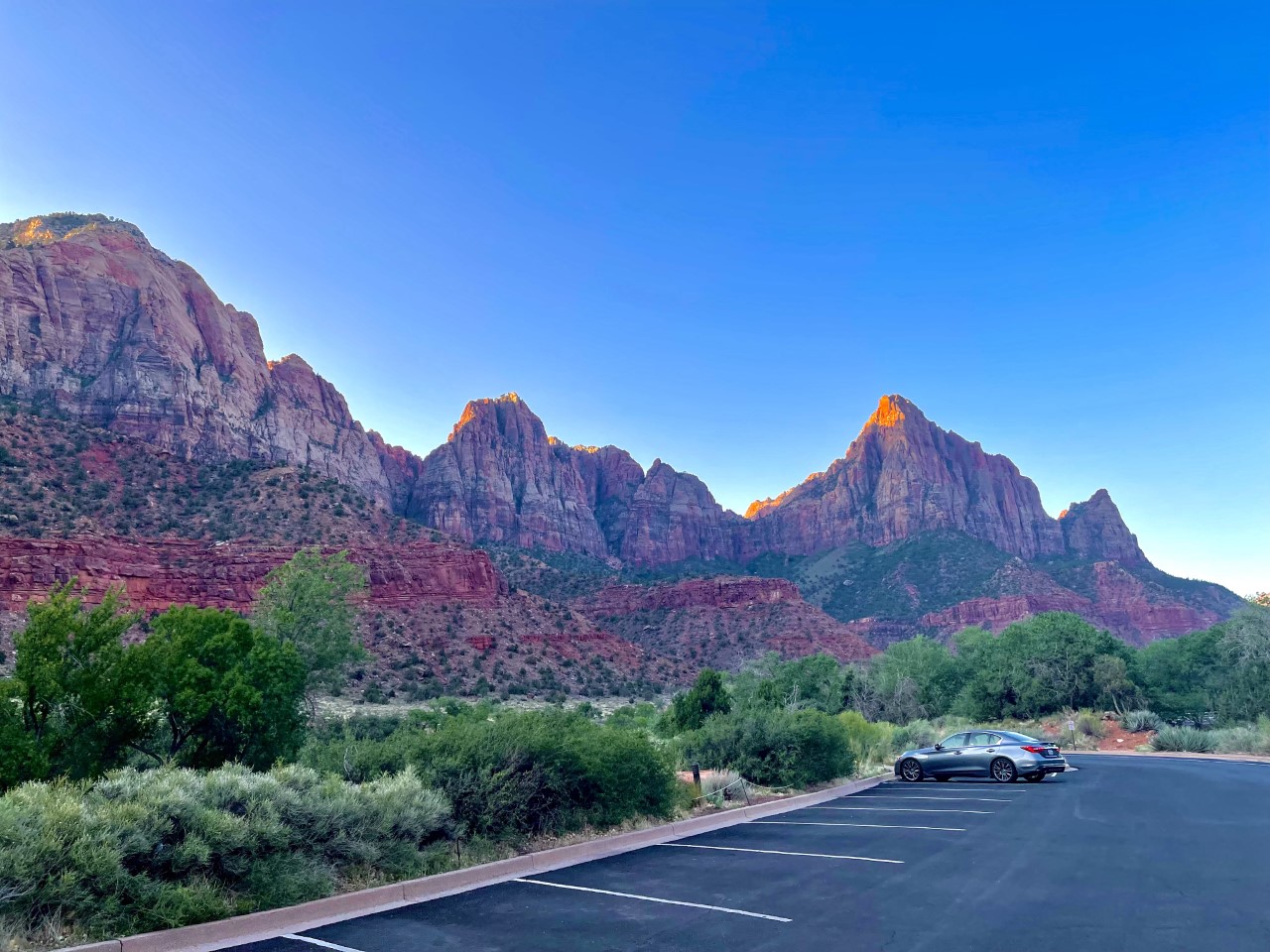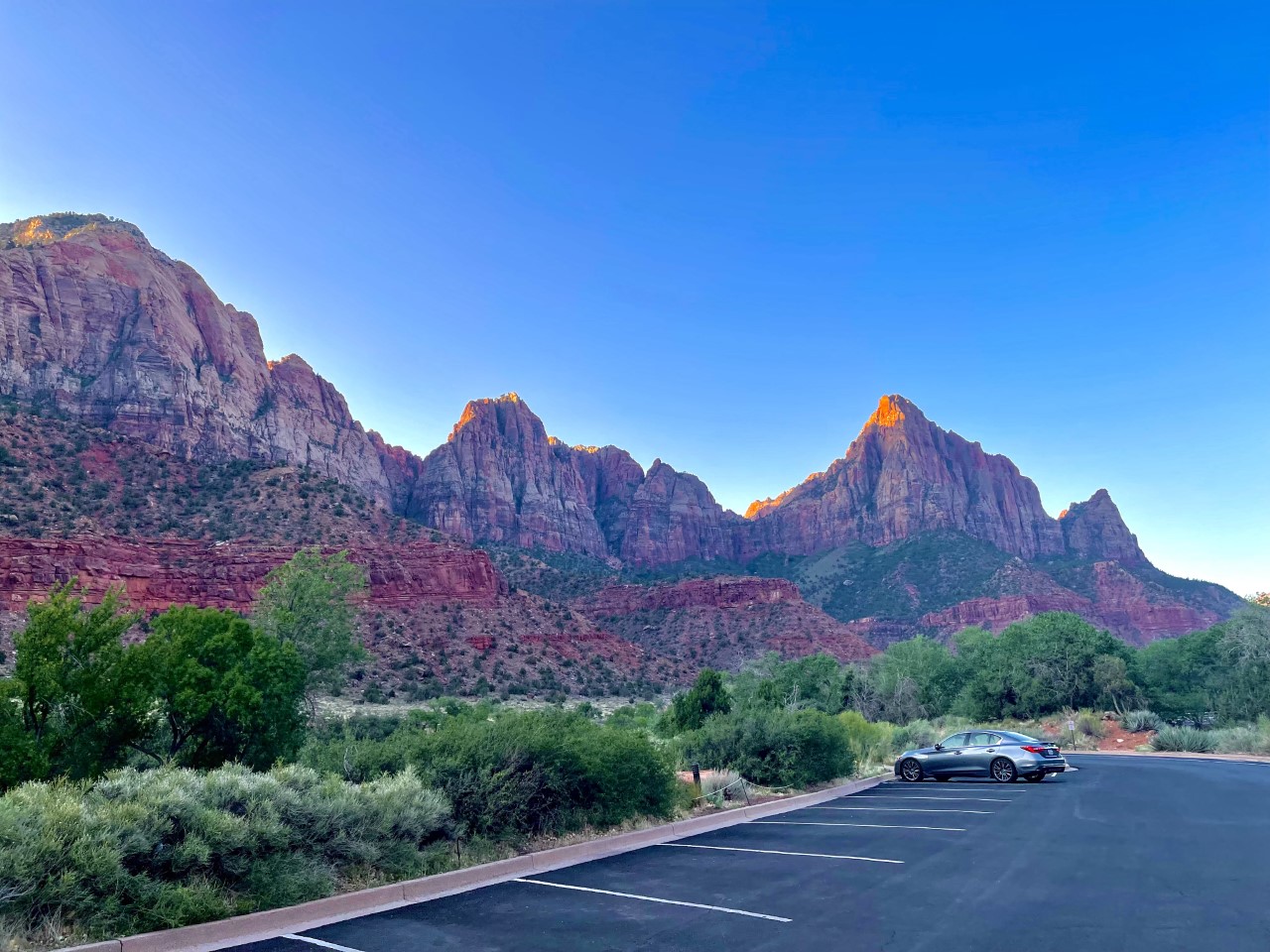 The infamous Zion National Park. Only a 55 minute drive from St George! So like, how could you not go?
There are so many hikes to choose from at Zion. We got there super early to avoid the heat and large crowds. We ended up doing an easier hike to the Emerald Pools.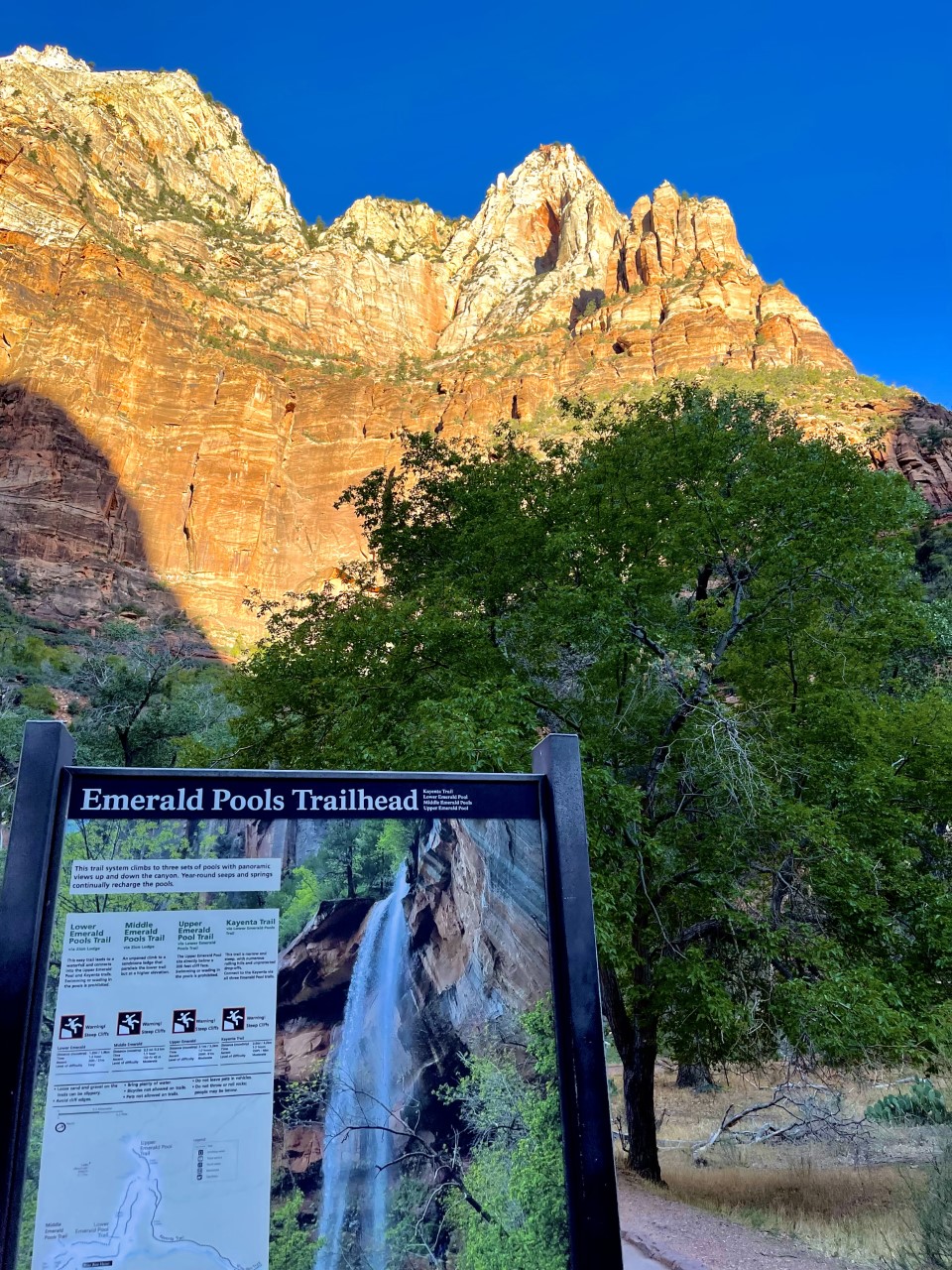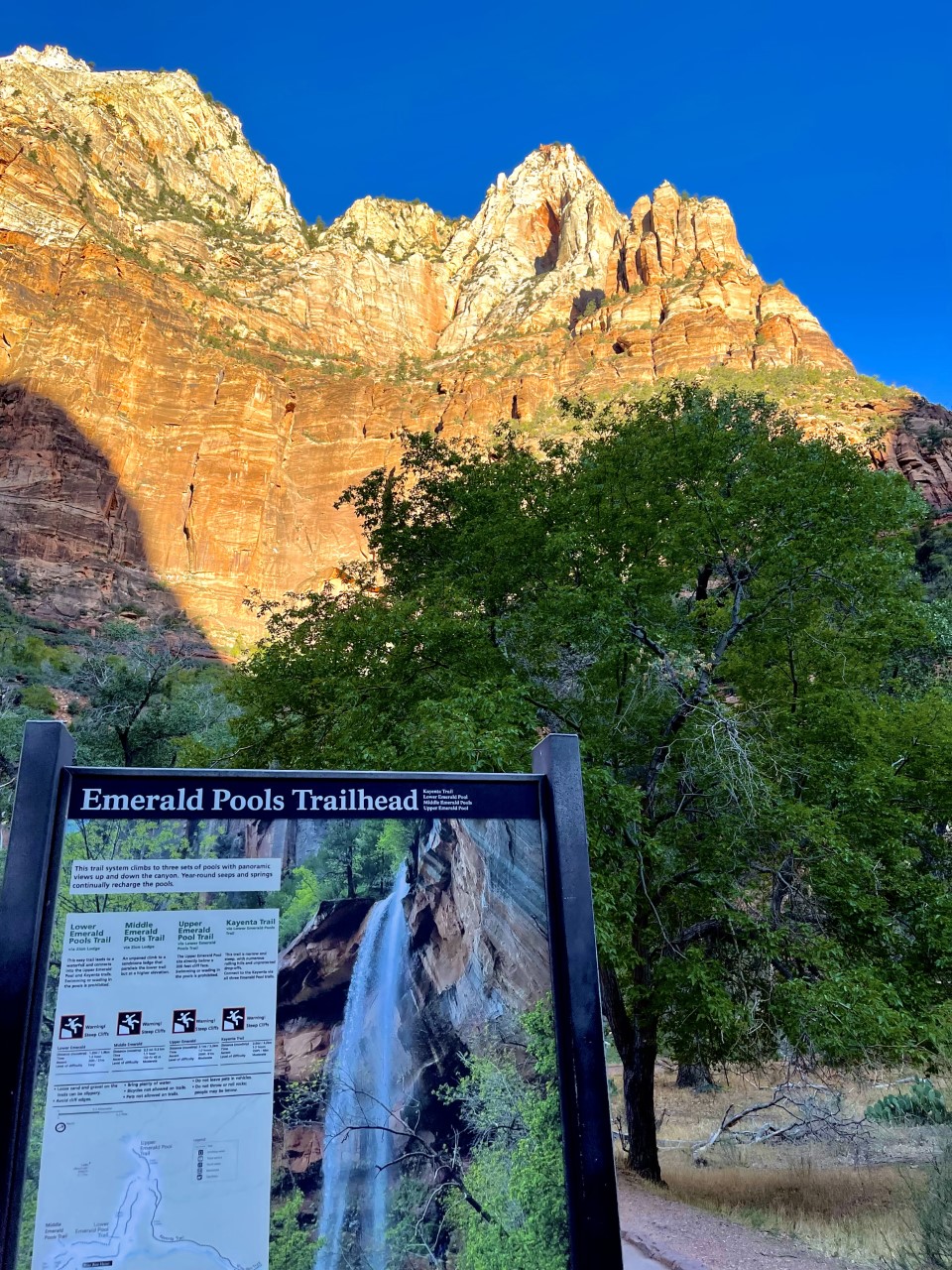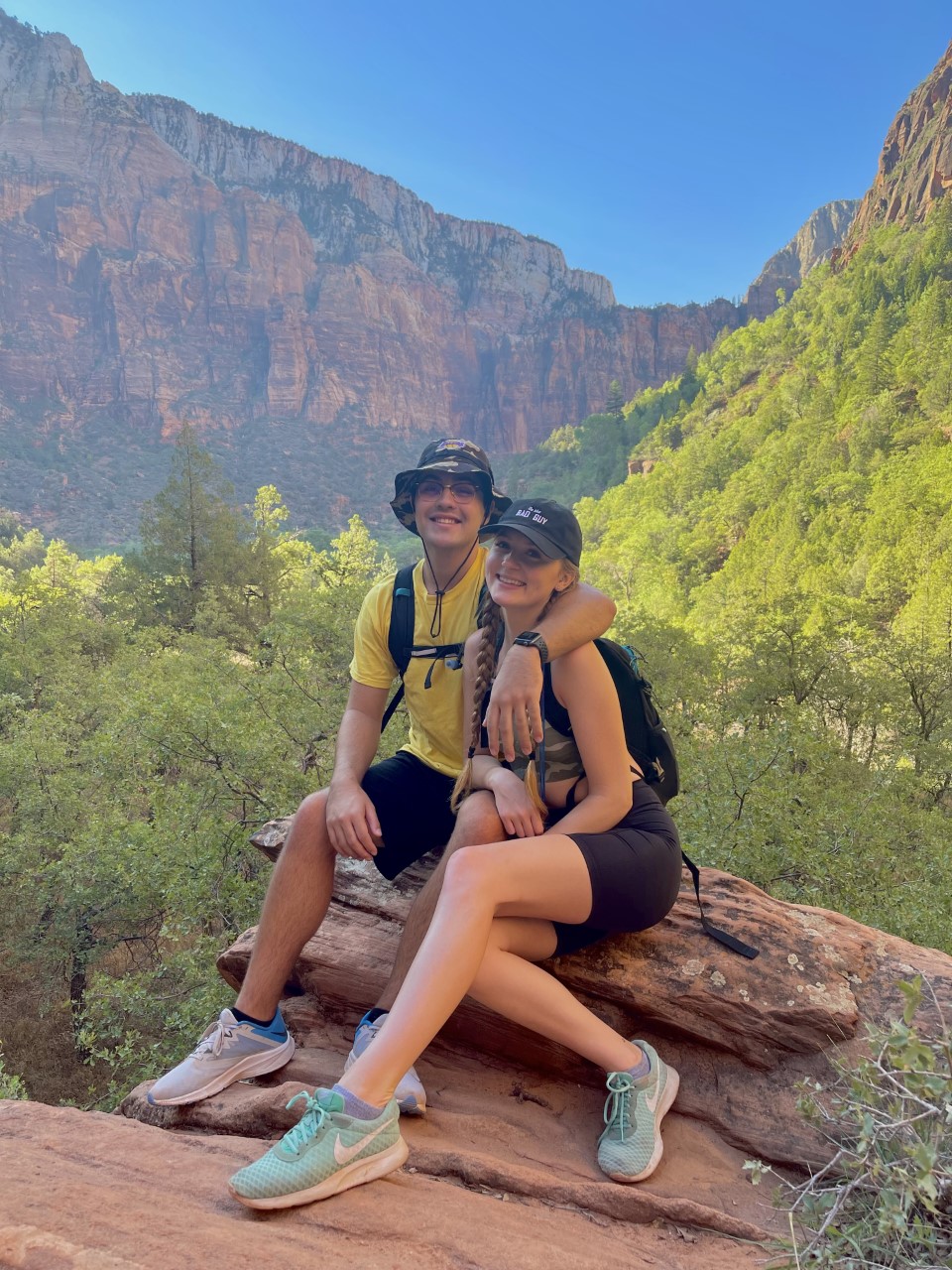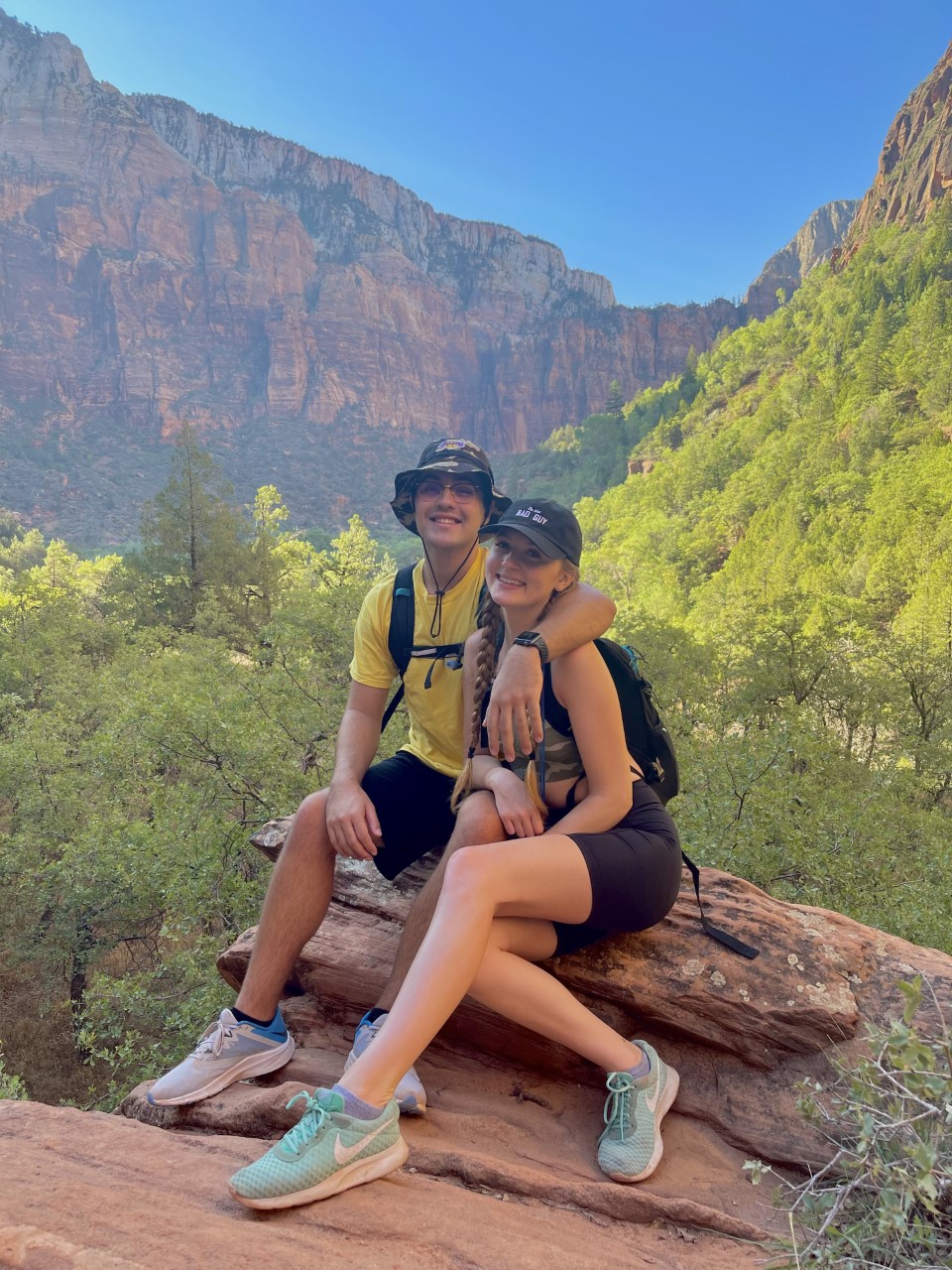 This hike loops around and is about 3 miles total to complete. There are 3 Emerald Pools, a lower, middle, and upper. Each are pools of water, one with a waterfall, one small than the others, and it's just a nice mostly shaded hike. The upper pool is the biggest, surrounded by large rocks perfect to sit on and break.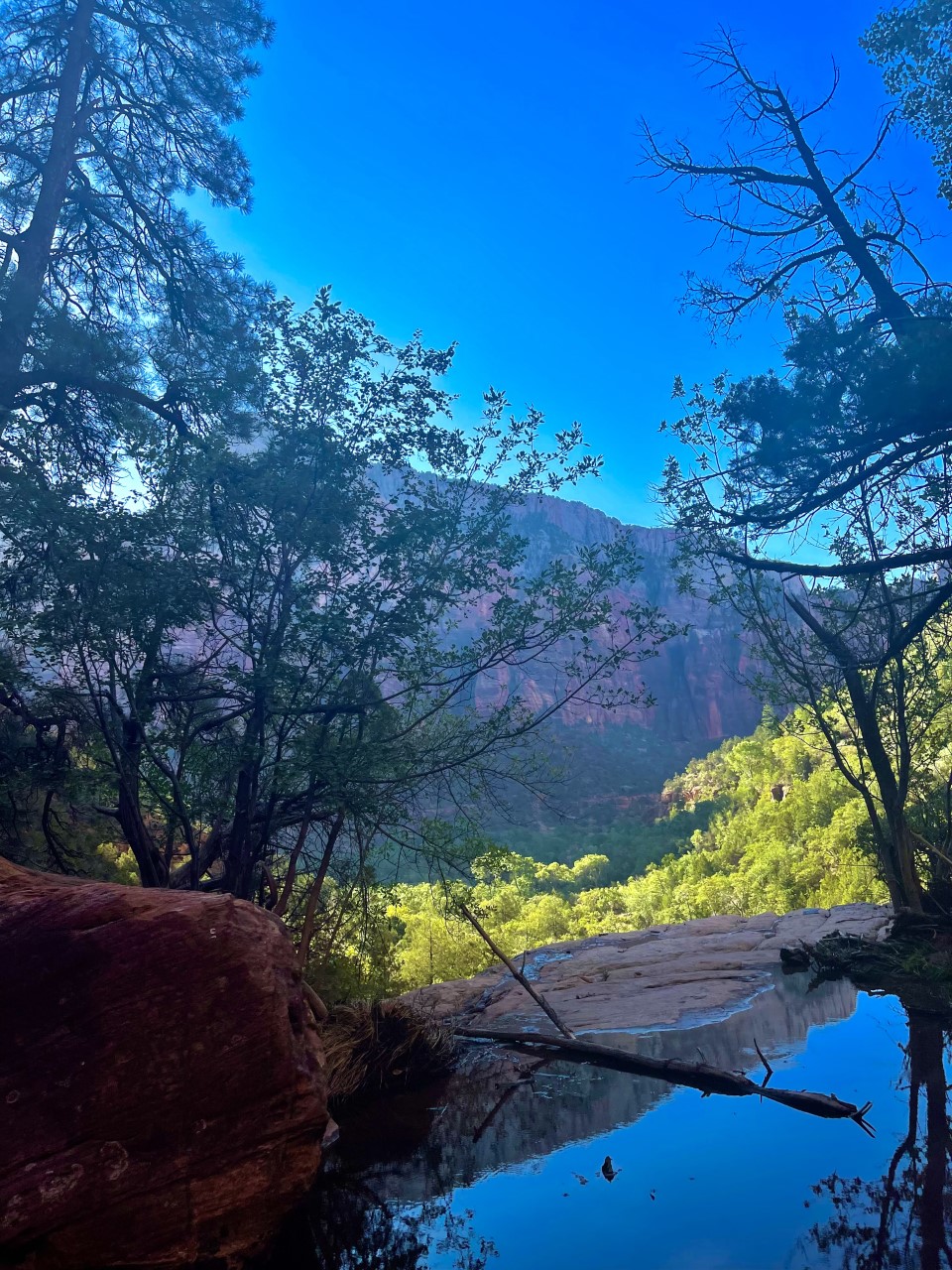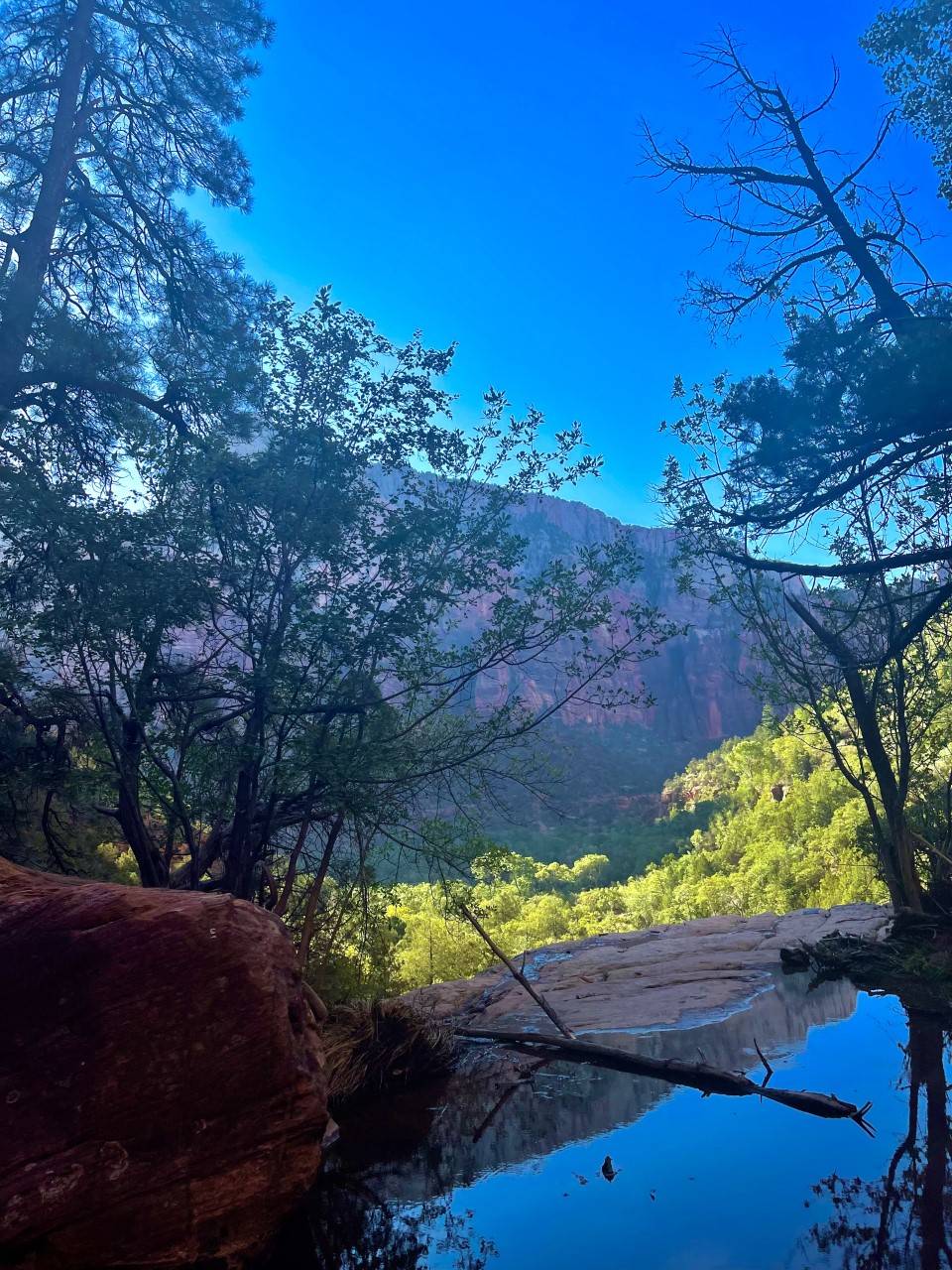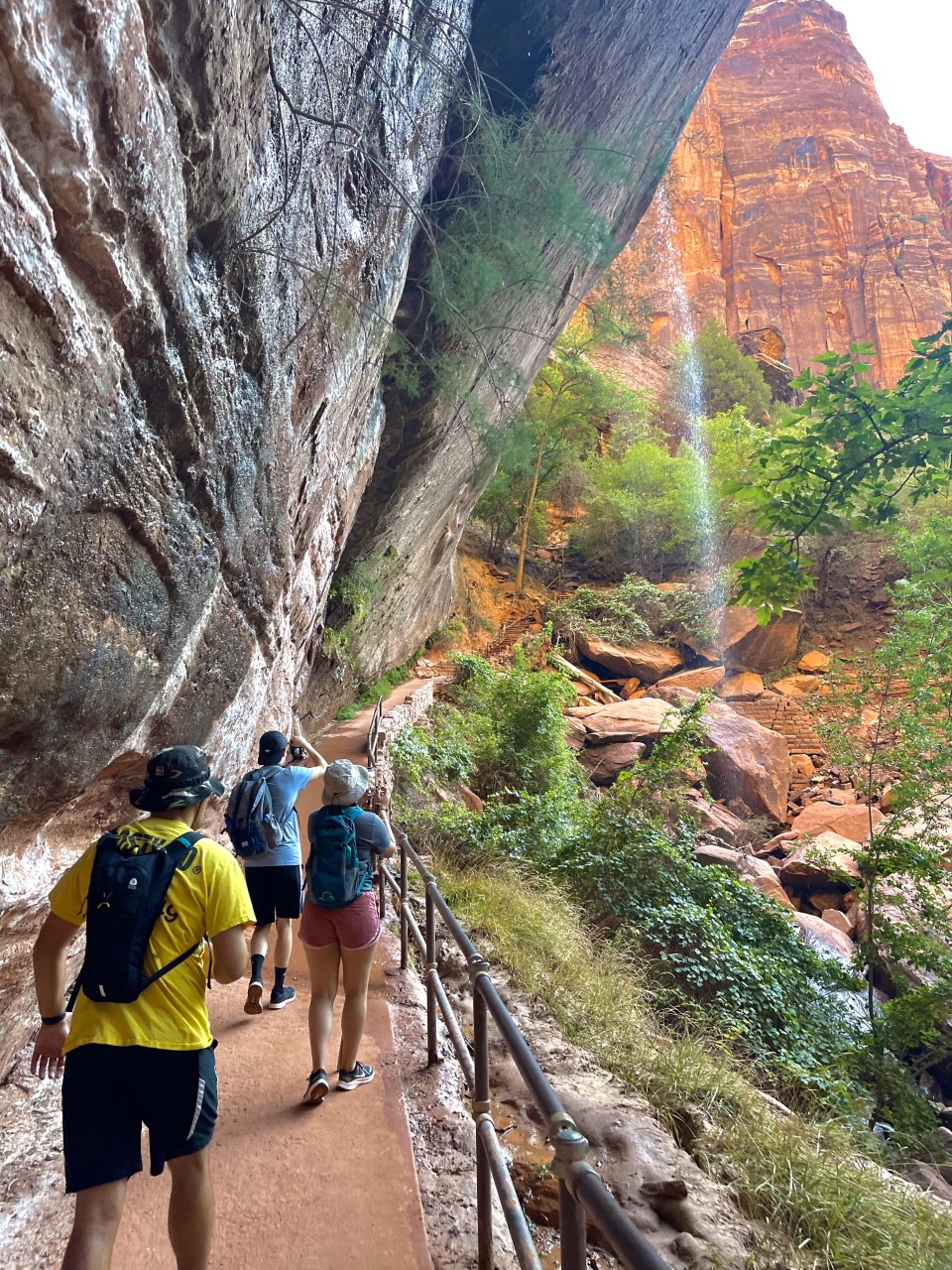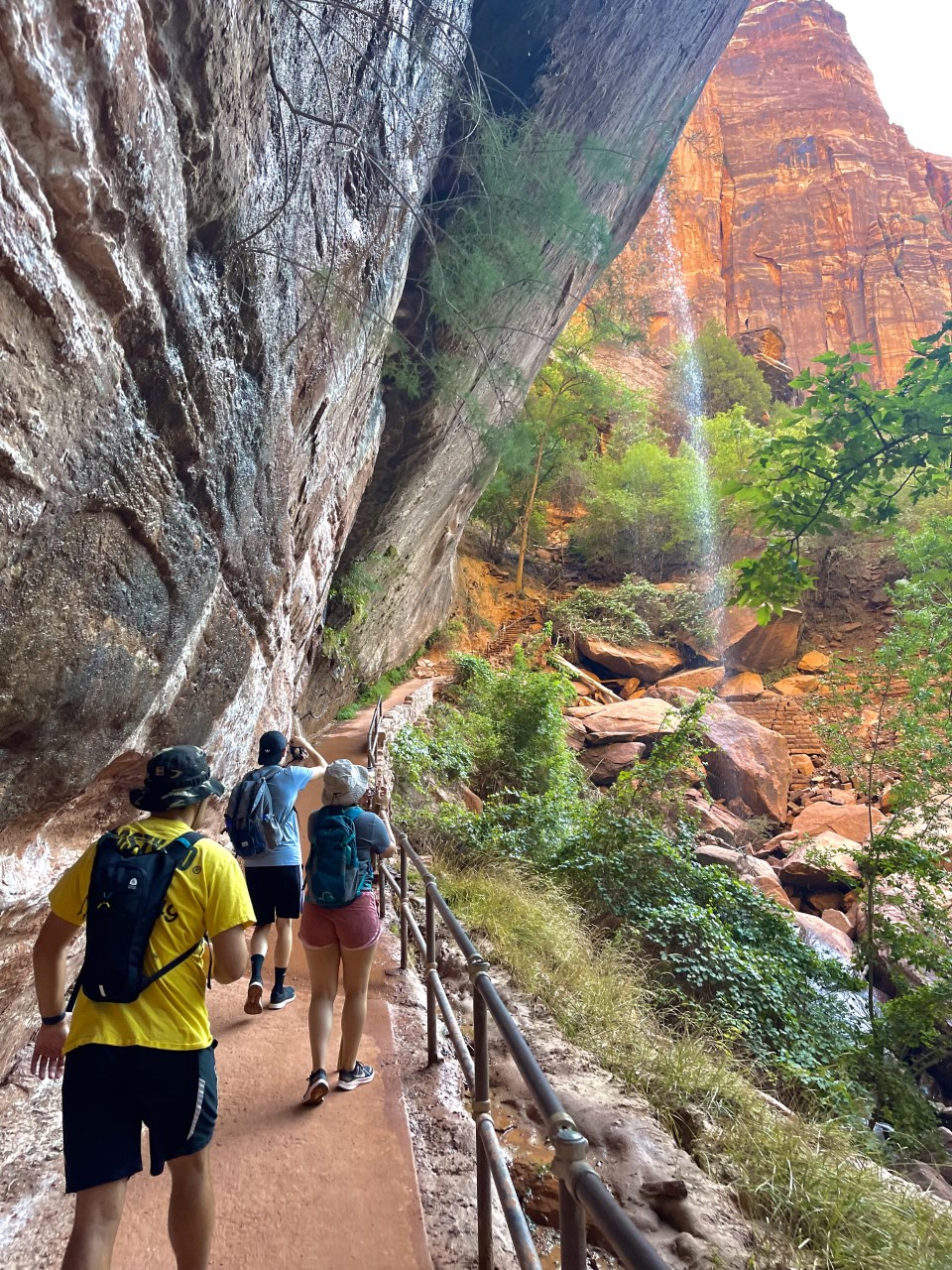 Definitely bring a hat, snacks and water (or the fantastic water backpack) and you will be good to go!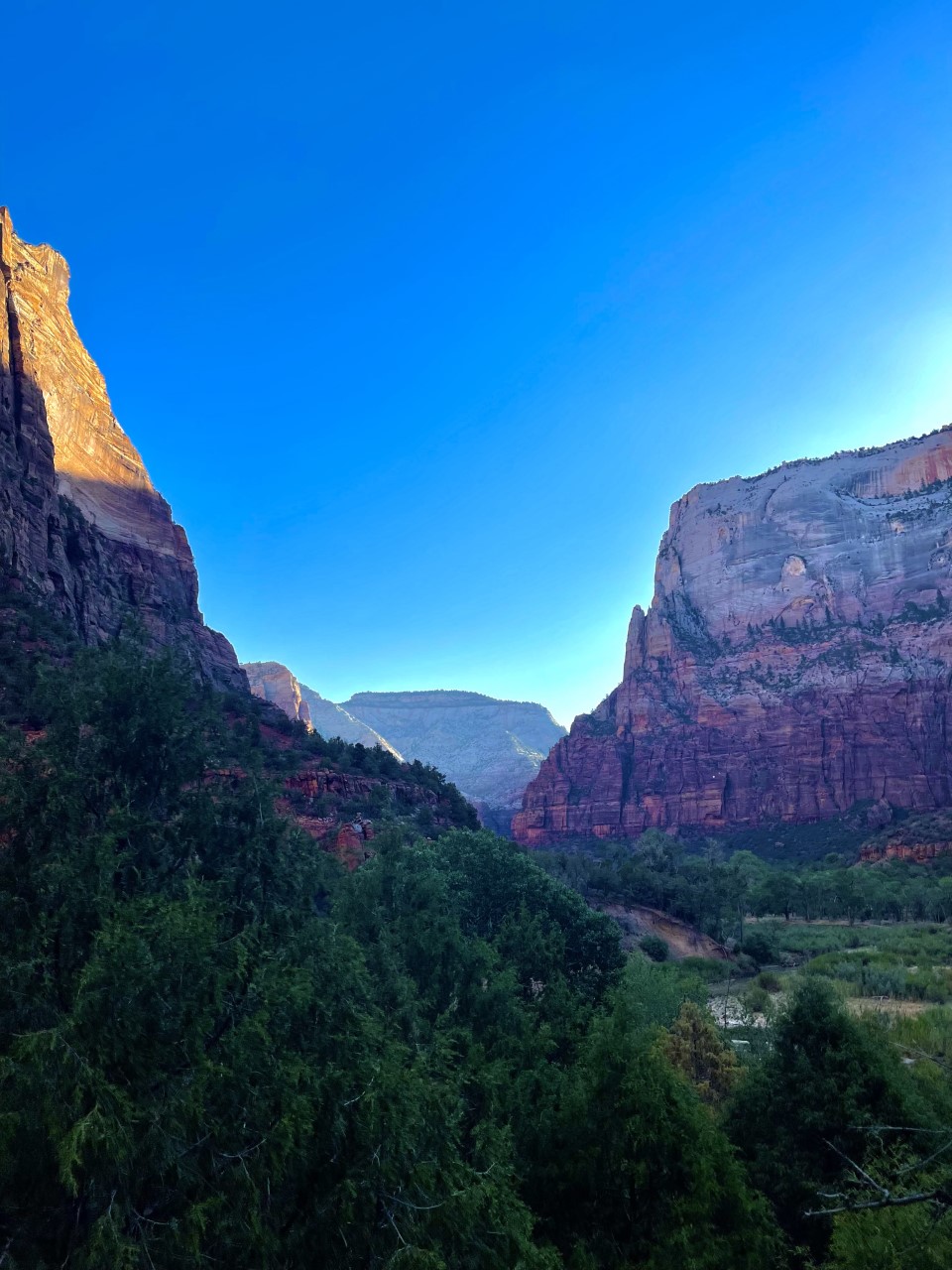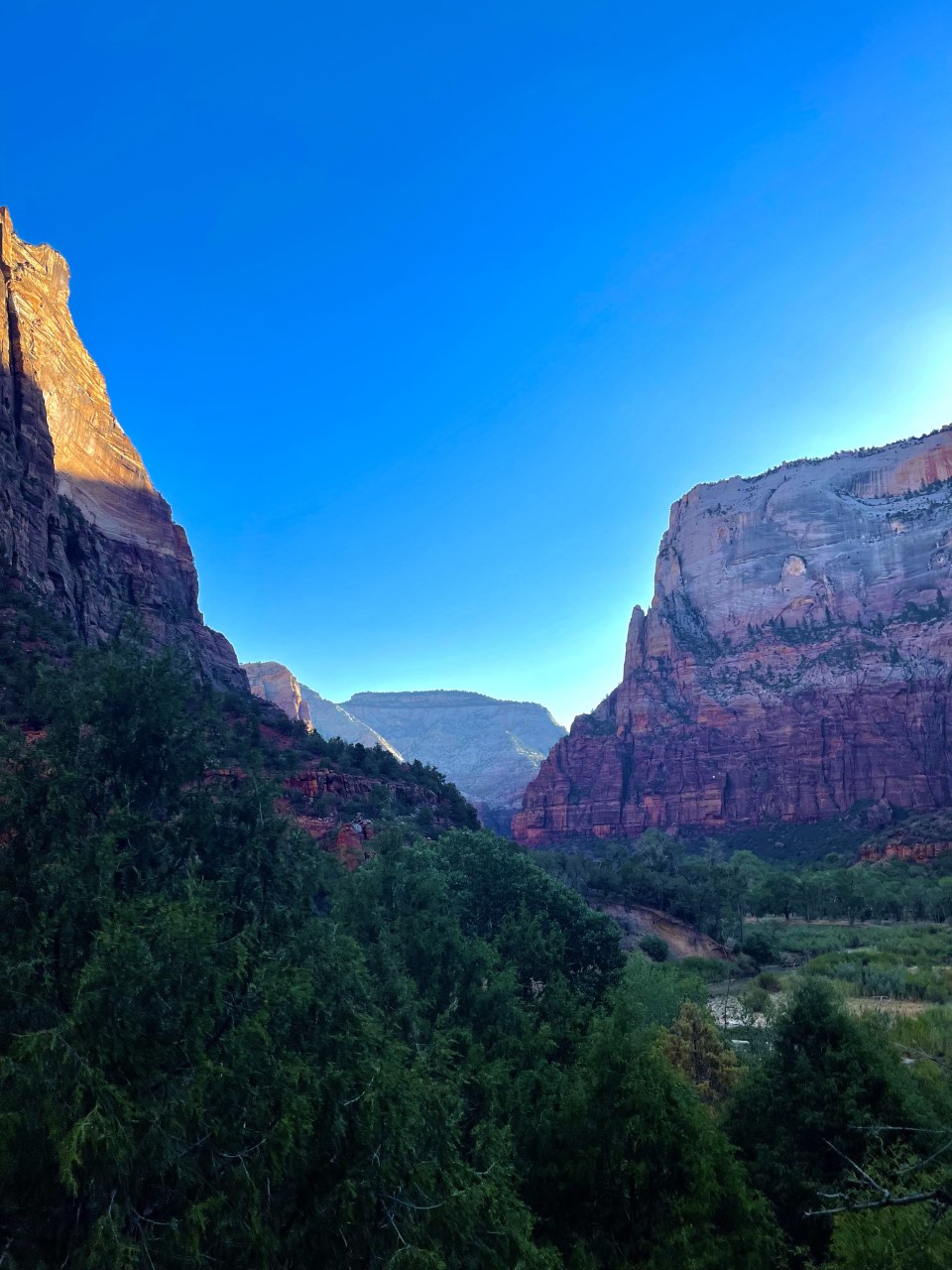 Sand Boarding At Coral Pink Sand Dunes
We didn't do this this time around, but I had gone back in December during my other Utah Road Trip and it was so, so fun. And if you have the time while in St George, it's only a 1 hour and 15 minute drive!
If you think Snow Canyon looked like Mars, the Coral Pink Sand Dunes looks identical to Mars. It was crazy. Sand for miles and very bright orange.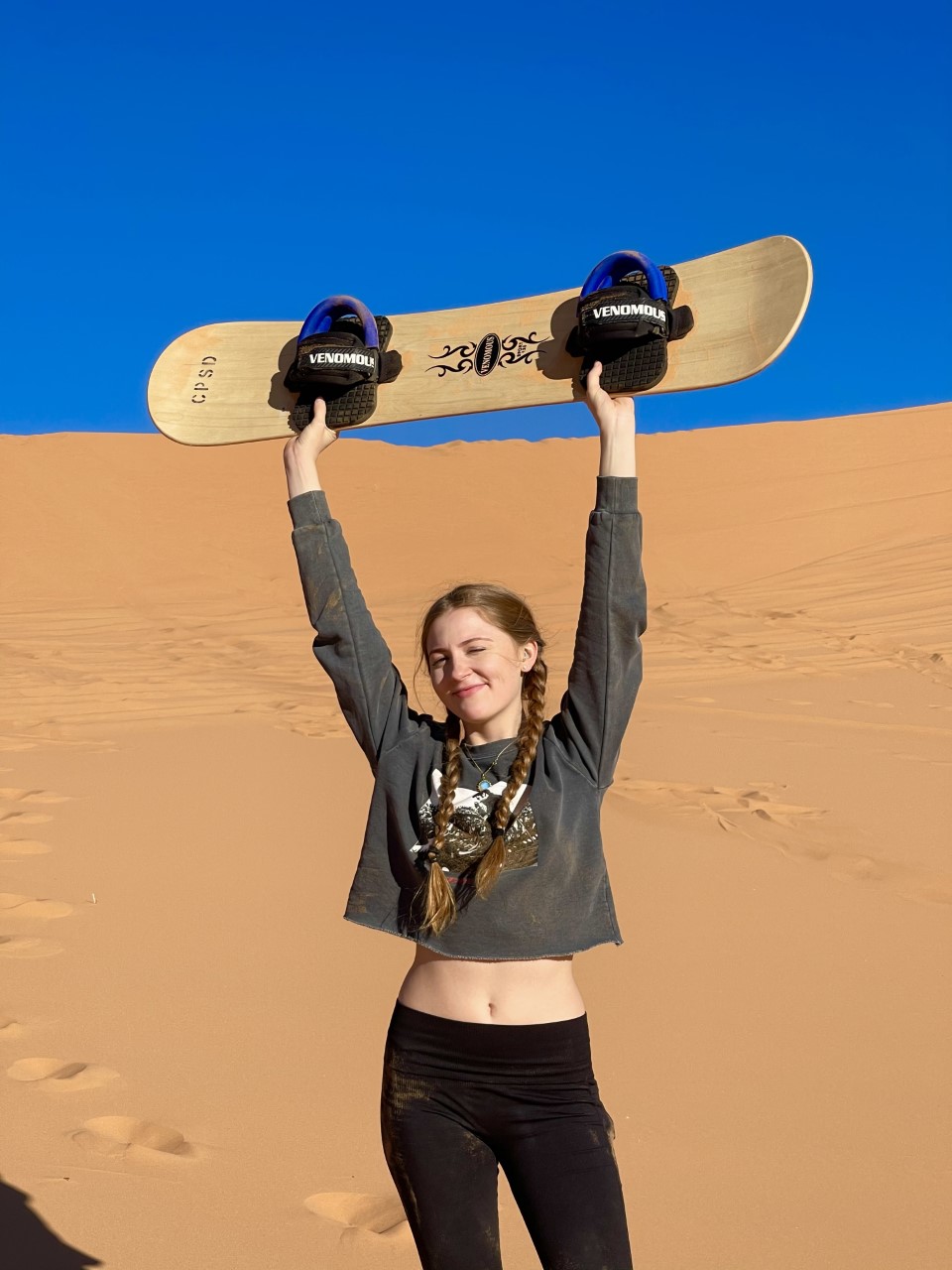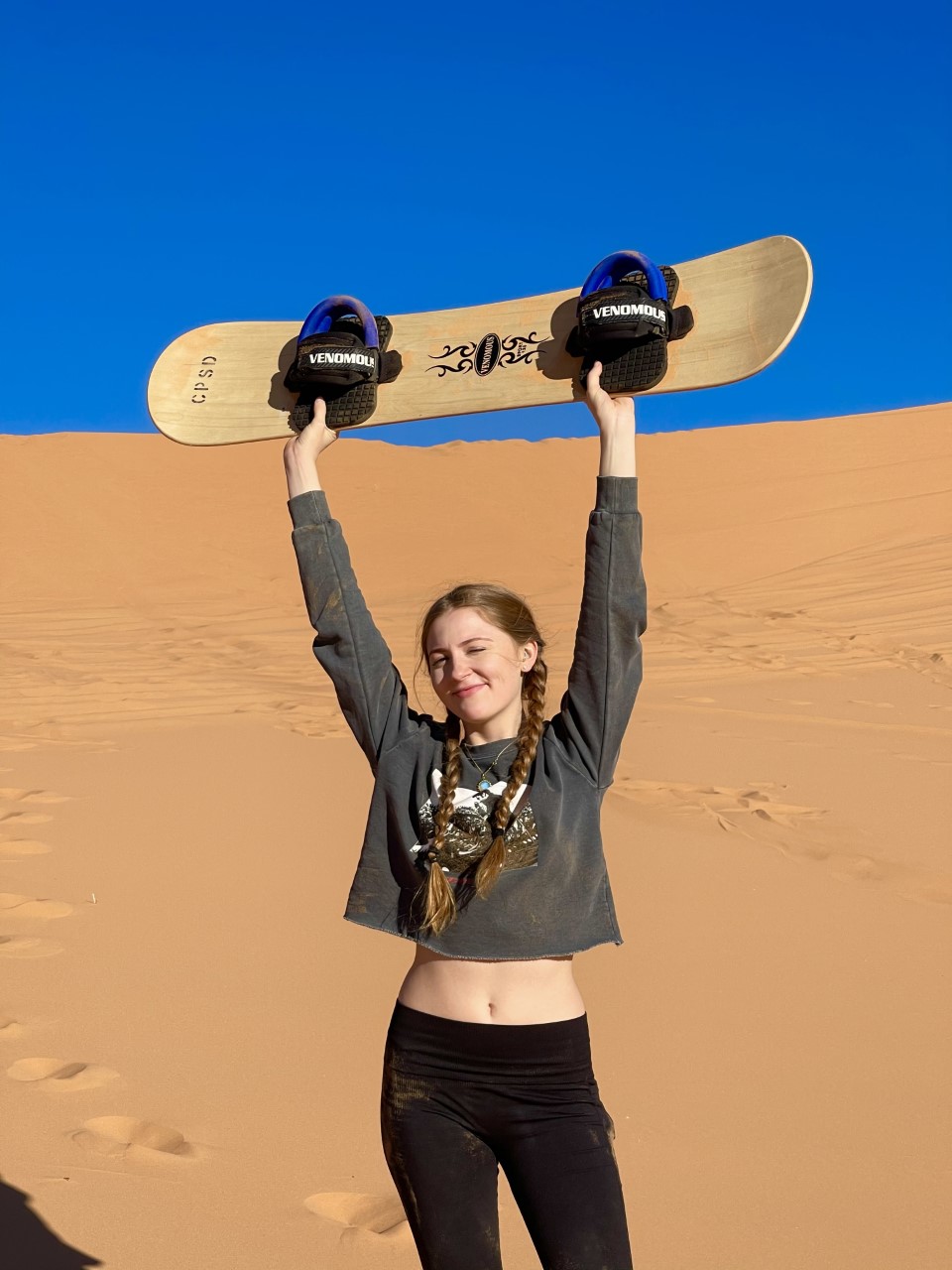 You can go Sand Sledding or rent ATVs as well, but I think Sand Boarding is the perfect way to enjoy the sand dunes and challenge your skills.
Hike Kanarraville Falls
Another place we didn't get to go to this time. As Google so perfectly describes it, Kanarraville Falls is "a route through a narrow canyon with tree ladders & rope climbs leading to dramatic water cascades."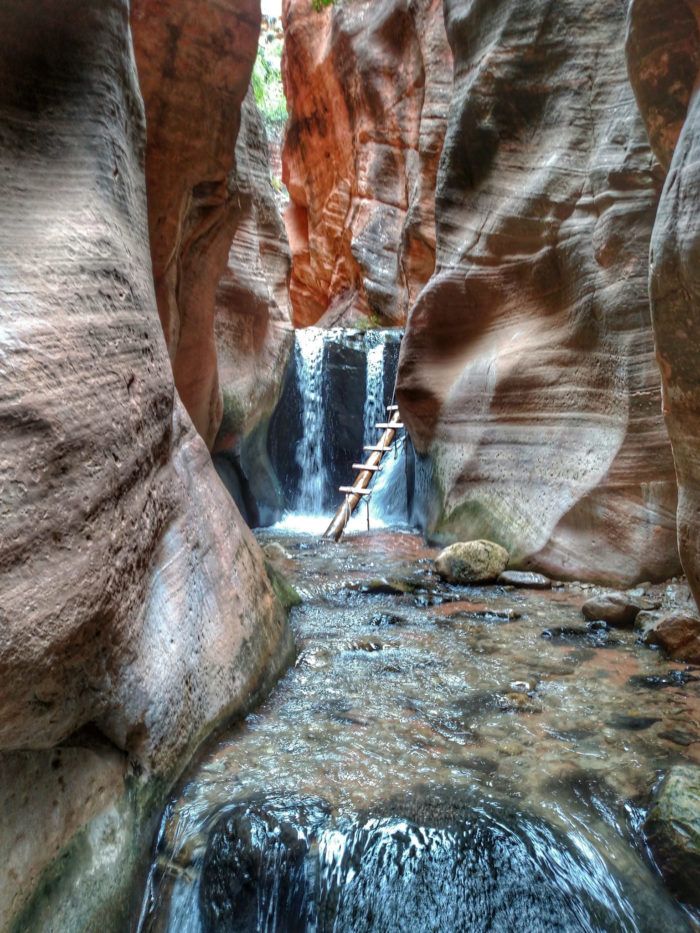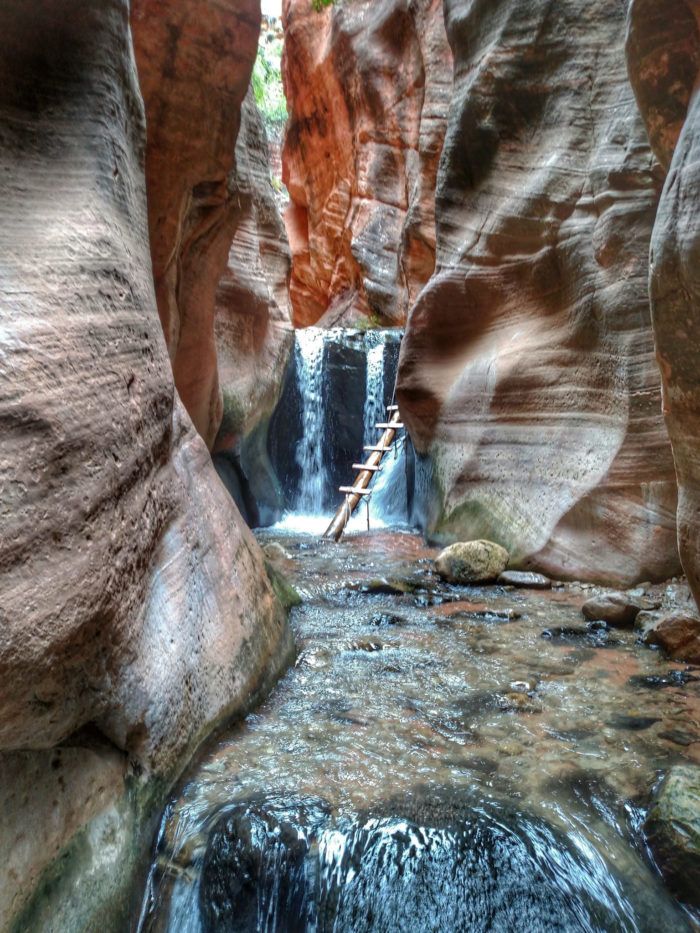 It looks beautiful and is on my St George Bucket List for next time!! Right now, they are limiting the number of hikers that can go, so you have to book tickets. If you go, take pictures and tag me on IG @jessicacastello so I can see what I'm missing!
Take A Hot Air Balloon Ride
You might see one of these take off into the Utah sky, and you might be a little jealous. But you too can be floating around in the sky carried by a balloon!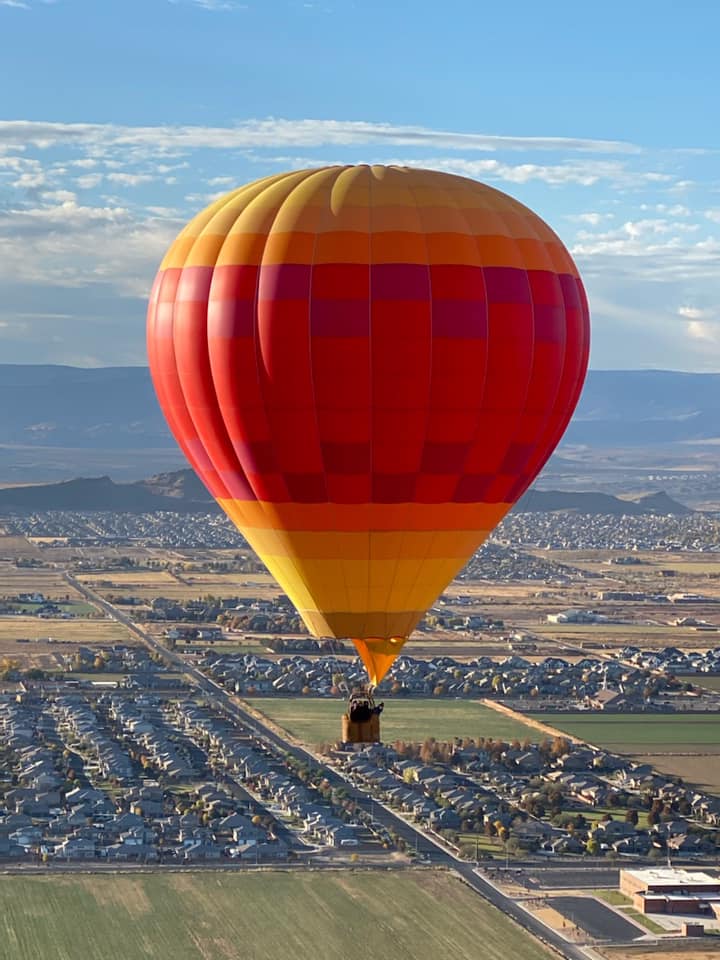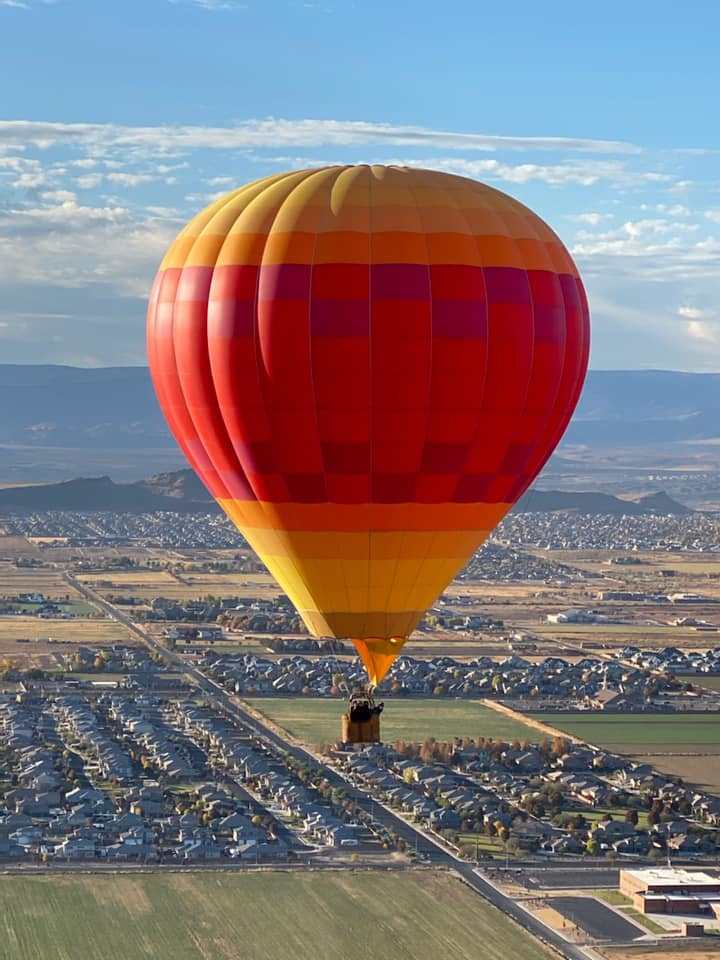 It's such a dreamy way to see Utah, and after all that road trip driving through many, many streets and roads it'll be nice to get a bird's eye view for a change.
Check out Palledin's Balloon Excursions if you're interested. You can book by calling them at (435) 632-0222, or by visiting their Facebook Page.
Zipline Across A Desert Canyon
This honestly looks so cool and I am so going to do this next time I'm in St. George. I know most people think of Hawaii or some tropical place when going ziplining, but after seeing these pictures its making me realize Utah is the perfect place.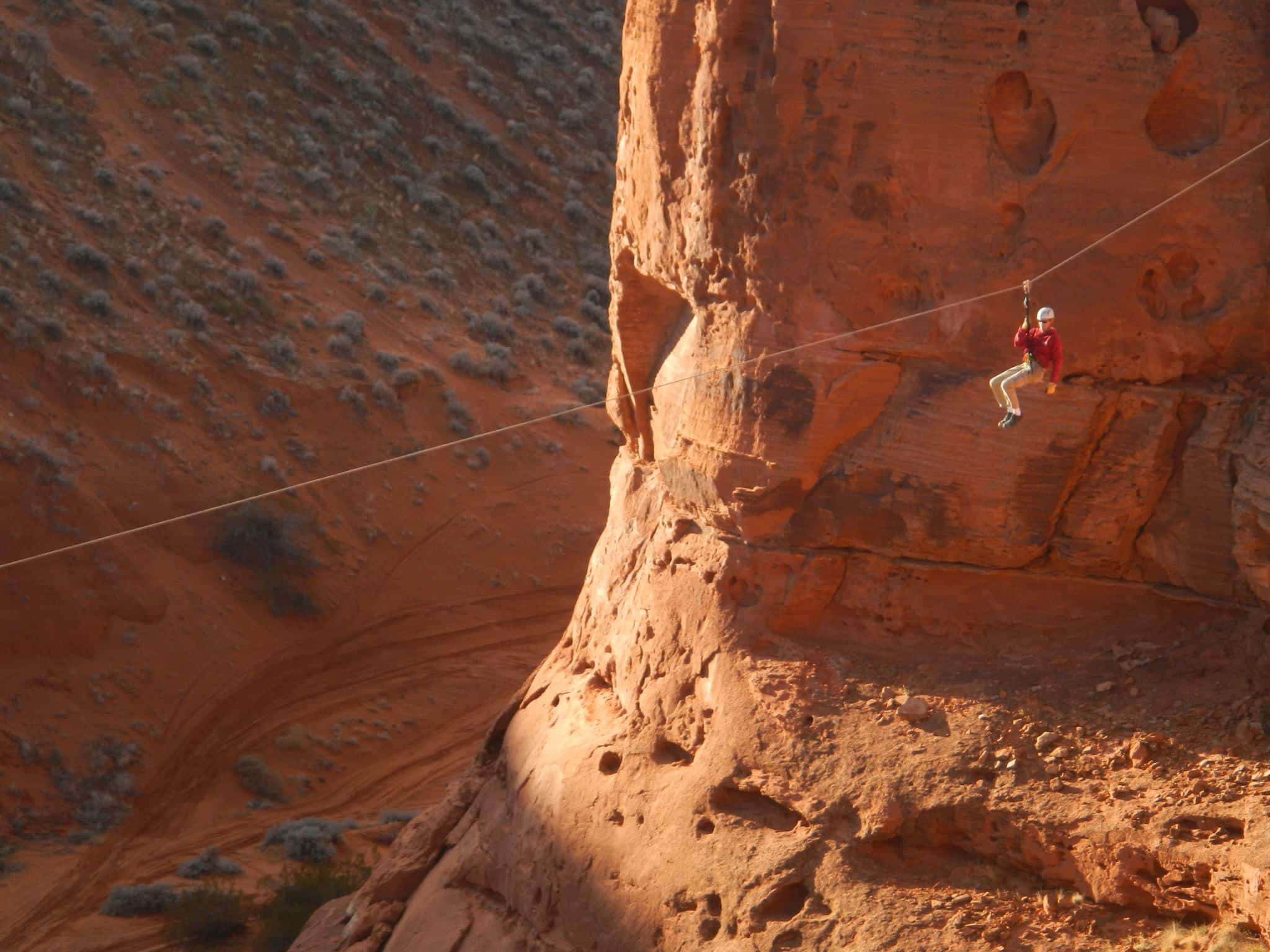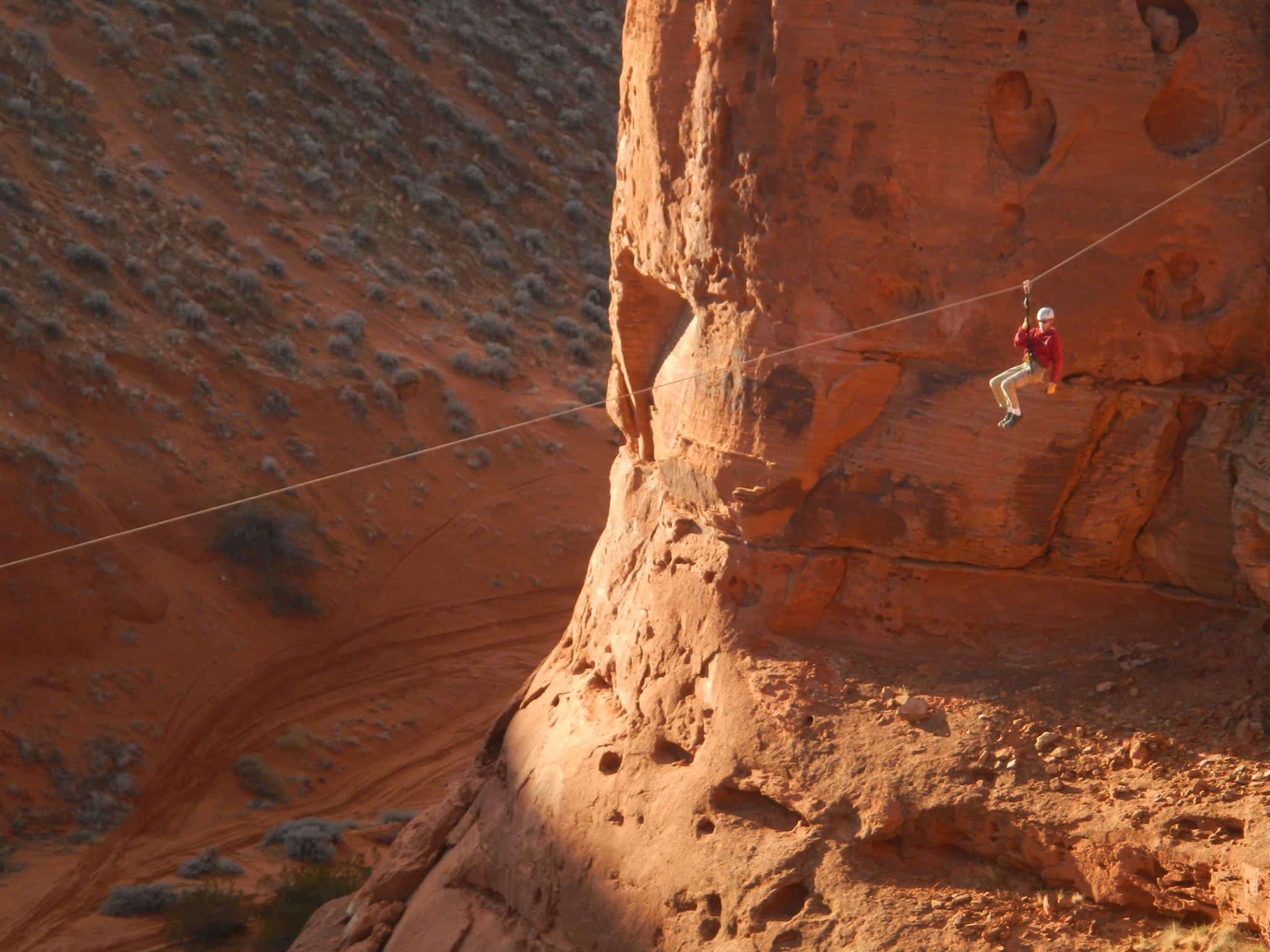 Paragon Adventure offers Ziplining and other adventure activities such as hiking, rock climbing, etc. There are different ziplining options to choose from whether or not you want to include rock climbing to get to your zipline destination, etc, and it's just really cool all the options they have. Be sure to check them out and everything they have to offer, and also check out their "zipline only" section.
And that's all for this road trip to St. George!
If there's anything else you think I'm missing for this road trip to St. George, leave me a comment or DM me on Instagram.
While in St. George, be sure to visit Dutch Bros (the best coffee in the country, but also offers delicious icey drinks for those hot summer days), Sonic Drive In (because we don't have them here in LA and they're just so cute!), and the drive through at Culver's for some frozen custard (seriously so yummy, although I don't recommend going inside to order food and eat as the service was not so great).
I hope you have a great time on your road trip to St. George!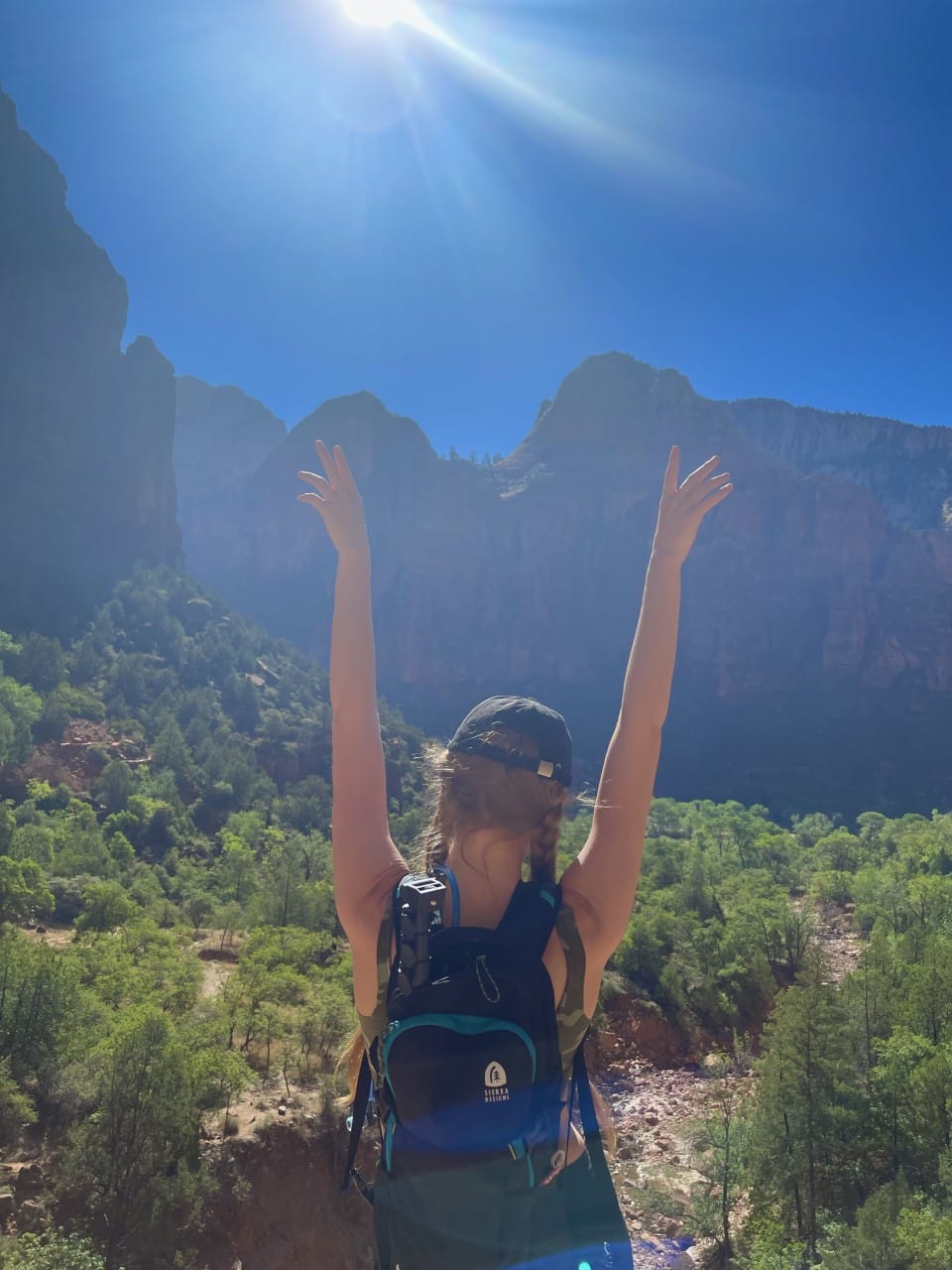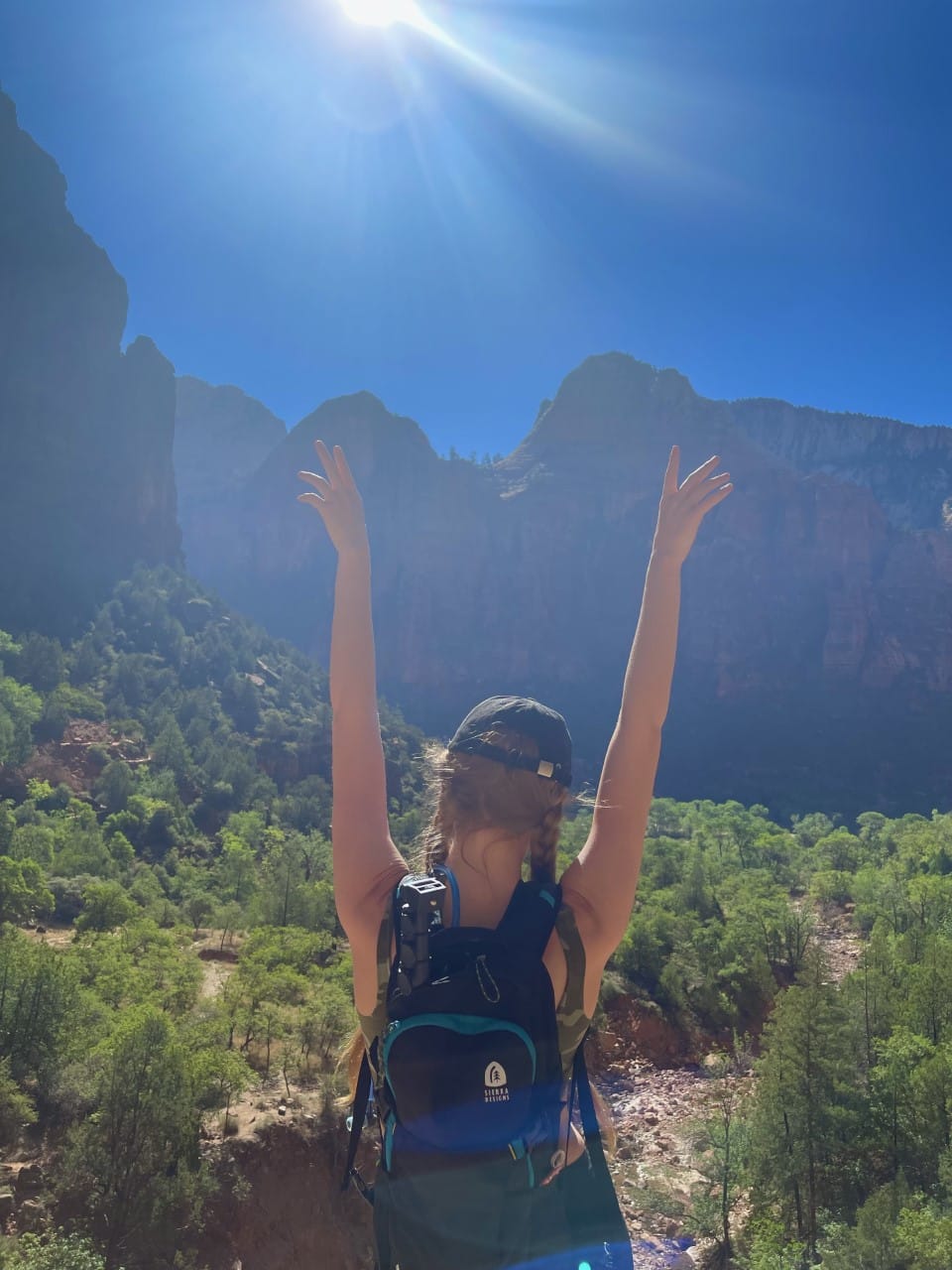 Until next time Utah! I'm already planning my next stay.
xoxo, Jess!
*all photos are mine except those with this lil star * 🙂
LET'S CONNECT!
My IG: @jessicacastello
Twitter: @jessicacastello
Traveler.com's IG: @travelerlogue